I still really, really miss A Classy Flea. I think every antiquing post I ever write will probably start out with those words. Why do all great things eventually have to come to an end?!
Sometime soon, I'm going to get in my car and drive to allll the old haunts I used to frequent back in the day when I used to go antiquing almost every weekend. I can think of 5-6 places right off the bat. I wonder if they are all still there? I need to find out.
In the meantime, today we're visiting the Marietta Antique Mall for a little stroll down their aisles. The prices here can vary drastically from being similar to the awesome deals I sometimes found in A Classy Flea to being a bit higher and more than I would prefer to spend. So there's definitely all price ranges and something for everyone.
I've never seen a piece quite like this. Is it a curio cabinet? A sideboard? A dresser? The tag said: Antique Console with Cast Metal Ornamental Trim: $725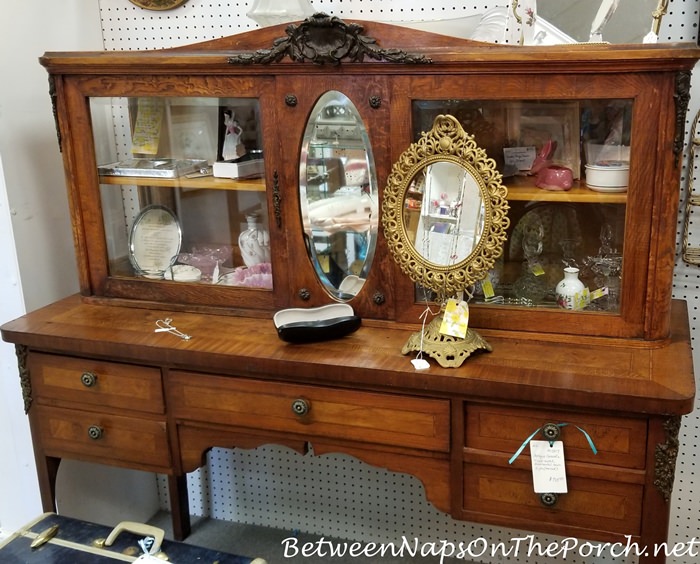 The details were really pretty, so hard to find work like this in the new furniture being produced today. It's this kind of craftsmanship that makes us value old furniture so much!
Painted Secretary: $2,800
Such a romantic piece…would be beautiful in a bedroom!
This table really tempted me. I think it was priced at $345 if I'm remembering correctly.
I would like to replace the Victorian-style table I have against the double windows at the end of my living room…the table you see there with the standing doggie lamp on top. I've been hoping to find a small to medium size chest because I love chests and I always love extra storage. When I'm out antiquing, I always have this idea in the back of my mind–the idea of replacing that table with something better suited to my tastes and this room.
The details were really pretty!
Sadly, it had some damage on top. It looked like possible water damage that had lifted the wood, would you call this marquetry? So I passed. I'll just keep looking for that perfect chest.
Beautiful French Cabinet: $1,095
Another stunning piece! Would be beautiful in a living room, study or bedroom.
Pratt & Sons, Boston, 1850 Tall Clock, 8-Day Time & Strike: $6,500
There's a clock section here in the Marietta Antique Market and I always love walking through to see what's new.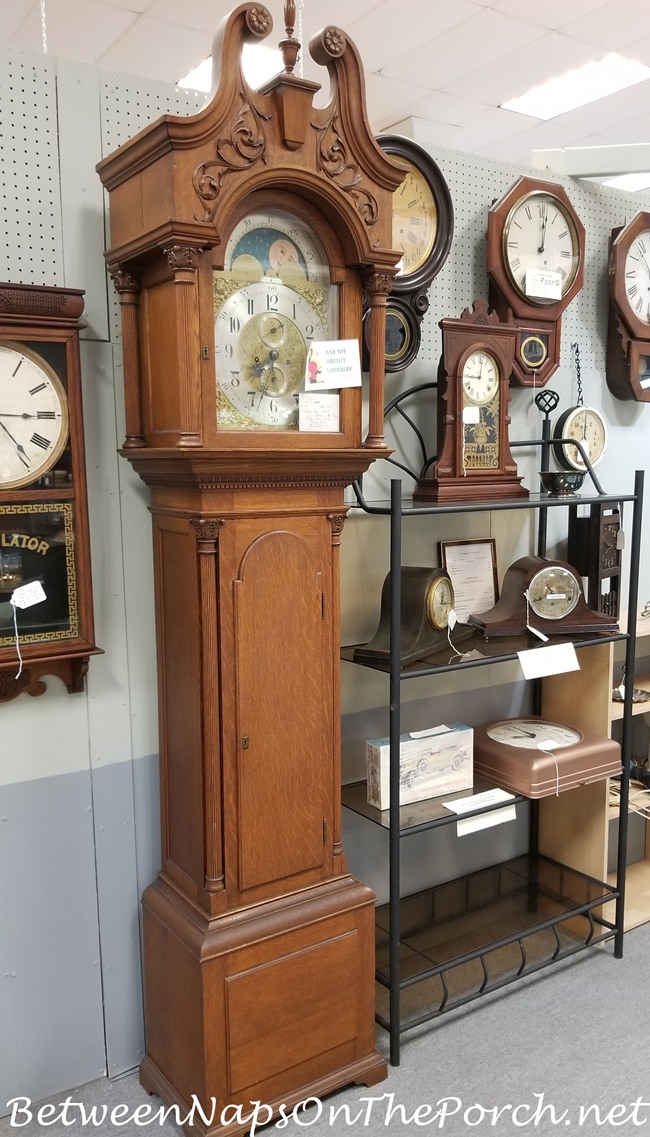 Decorative Floor Lamp: $59 firm
If you've been reading BNOTP for very long, you know I have a slight lamp addiction. lol I'm not a big fan of overhead lighting (except gorgeous chandeliers) but love lamp lighting! So I'm always trying to fit as many lamps as humanly possible into each of the rooms in my home. I wasn't crazy about the shade on this lamp, would want to replace that, but I love the base of the lamp.
I really don't need another floor lamp anywhere, but this one was very tempting. This lamp looks like a lamp I would expect to see in Mary Englebreit's adorable cottage!
Do you have her book, Home Sweet Home? If not, I very much recommend it. It's a delight and filled with wonderful photos of her dream cottage. You'll find it available here: Home Sweet Home: A Journey Through Mary's Dream Home. It's one of my faves! Anyway, I could totally see that floor lamp in her adorable cottage. 🙂
Vintage Indian Brass Engraved Floor Lamp with Night Light: $395
I liked this one a lot, too! Again, don't care for the shade, but the base was really pretty.
A closer view…I didn't see any pitting in the brass.
Omari Style Lamp: $60
It's sooo nice to see a lamp without a drum shade on it. I am not a fan of drum shades. I like this one a lot!
1800s Welsh Dresser with Spice Drawer, Original Hardware, Wales: $4,200, on sale for 3,200
Another beautiful piece I saw during my visit…
I'm always tempted by these vintage luncheon sets. I wonder when these were used…maybe when the ladies were over for a game of Bridge? At a bridal or baby shower? A picnic on the lawn? Trying to envision them in use.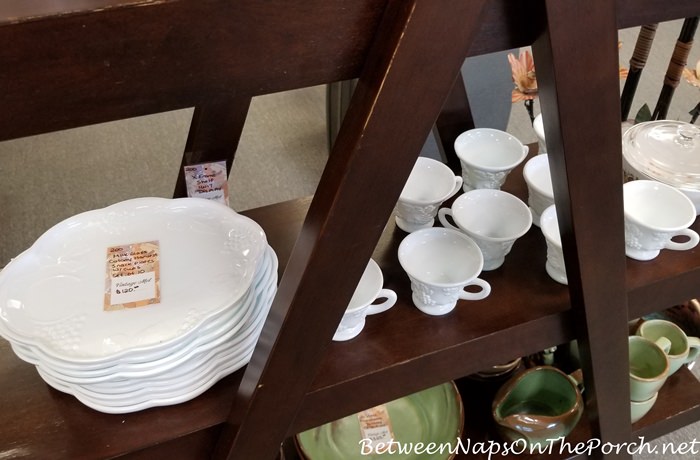 Lots of pretties!
I loved so many of the beautiful pieces I saw on this table.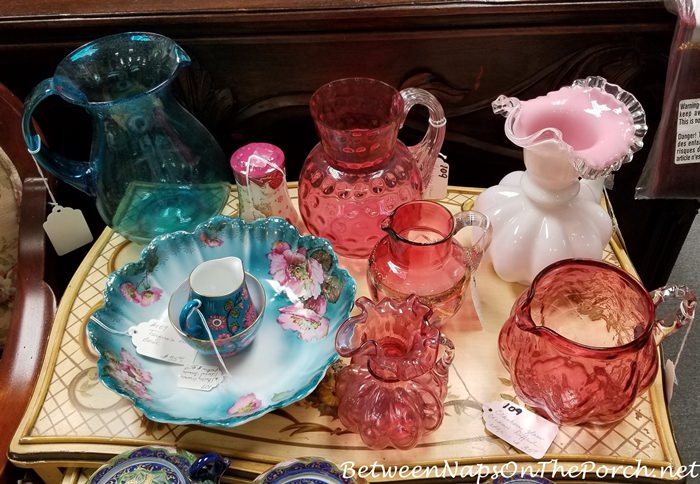 Early Cased Glass Pink & White Ruffled Edge Milk Glass Pitcher: $48
I had a hard time walking away from this stunning piece!
Just gorgeous!
My shopping trip at an end, as I walked toward the door I stopped briefly to look at this little tabletop greenhouse that appears to have been made from old windows. I'm holding onto the old windows in my home because I love the look of a true divided light window, but this is a really cute use for older windows.
I think I'll visit another antique shop or two this coming weekend. I feel the old antiquing bug reigniting! Have you done any antiquing or garage saling lately?
*If a post is sponsored or a product was provided at no charge, it will be stated in post. Some links may be affiliate links and as an Amazon Associate, I may earn from qualifying purchases. *