Welcome to the 669th Metamorphosis Monday!
How was your weekend? I hope it was great! Mine was productive as I got a few things done here in the house that I've been hoping to do for a long time. Around this time last year, you may remember that I was shopping for the perfect frame for this beautiful Chuck Pinson giclee canvas print/painting. I ended up not getting it framed because after finally choosing a frame, the frame shop realized the company from whom they purchased their stock had changed the style/design of the frame. Argggh.
I'm actually glad now that it worked out that way because when I restarted the frame-shopping process recently, I found a frame I actually liked even more.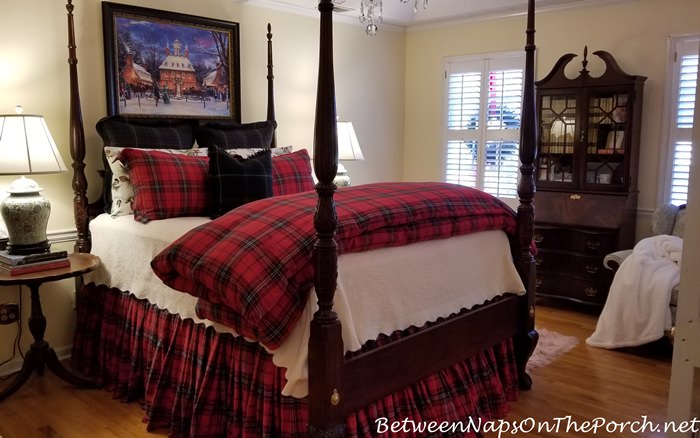 I have to say, I'm shocked at the impact adding a painting over the bed has had on the way this room looks and feels. Not sure if that's coming across in the photos. Here's how the room looked with a preserved boxwood wreath hanging above the bed.
And here's how the room looks now.
It's probably not coming across in these photos, but in person, the painting has given this room a beautiful focal point that has really elevated the whole feel of the room. It's added a bit of drama, in a good way. It's also added a touch of elegance, something I never expected!
I really do love it here! My plans are to leave it up all year long. You know how much I love a beautiful, traditional home, so even though this painting depicts the Governor's Palace in Colonial Williamsburg all decorated for Christmas, I love the idea of enjoying and keeping a bit of Christmas in this room all year long.
I've been toying with the idea of purchasing a summer-themed painting in the exact same size to have framed to go with my summer bedding, but when I tried one of my summer-bedding pillow shams on the bed underneath the painting, it looked great! I guess I'll wait until next spring to make that decision. Not sure where I would hang this one if I took it down for the summer months and I wouldn't want to just store it away in a closet for fear it would get damaged. Ummm, we'll think more about that next spring. For now, we'll just enjoy that it's finally framed and hanging! (To see this painting and other beautiful pieces by Chuck Pinson, you'll find his website here: Chuck Pinson. Note: I paid for my painting–didn't receive any discounts, just sharing his website because I love his work!)
Initially, I had the painting hanging 1-1/2 inches higher and it looked too high in relation to the bedposts on either side. Also, it was a tad higher than I liked in relation to the headboard when the shams were removed at bedtime. This height feels just right, at least it does when you're standing here in the room.
Notice the pillows I have on the bed in the photo below. I made a little change with those over the weekend, too.
In this closer view of the painting, do you spot the pillow change?
You may remember a couple of years back, I purchased this pretty flannel bedding from L.L. Bean. I love the design but I've been wishing I had purchased two sets so I'd have a spare when the other set was in the wash. Unfortunately, Bean isn't carrying this exact pattern anymore. They have a similar one on their website this year, but I don't like it as much.
A week or so back, I was "Googling" for the L.L. Bean bedding above to see if perhaps someone had a set available on eBay in "new/unused" condition. Though I didn't find the Bean bedding, I found something I loved even more. This bedding is like the L.L. Bean flannel bedding, but even better because it has Chickadees in the design! Oh my gosh, you know how I love my birds!
I can't believe the words that are about to come out of my mouth, but the quality of these sheets is so much better than my Bean flannel sheets. Don't get me wrong, the L.L. Bean Heritage flannel sheets are amazing, but their other flannel sheets, though really nice, do not feel near as nice as these new sheets I just purchased from Garnet Hill. I can't get over the weight and thickness of these sheets, they are amazing!
And when washed, look how fluffy and plush they get! They are so soft, you can literally see the fluffiness in a photo! lol They are super warm and cozy for sleeping. I love them so much, I've ordered two more sets, including the matching shams! They should arrive this week. Update: One thing I forgot to mention is that the pillowcases that come with this sheet set actually close up on the ends, so you don't have the inside pillow showing when you make up the bed. There's sort of a little pocket on the end, hard to explain. I've never had pillowcases that were designed like that before, but I really do like that feature.
Here's how they look with my winter tartan bedding.
If you like these, there's a little trick I discovered accidentally while ordering them that can save you 25%.
When I ordered the first set, I got 25% off as I was checking out. Awesome! After they arrived and I knew I HAD to have another set, when I placed them in my cart and went to check out, the 25% discount didn't appear. Ummm, maybe the sale had ended? Then I remembered something from when I ordered the first time, I had clicked on an ad I saw when I searched for "flannel sheets with pine design." So I removed the sheets from my cart, went back and Googled for "Garnet Hill, Flannel Sheets," then clicked on the first link that popped up that said "Ad" beside it. This time when I checked out, the 25% discount appeared in my cart.
So all this is to say, if you love these sheets, (or just want to check out their other products) Google the words, "Garnet Hill Flannel Sheets" then click on the very first link that pops up saying, "Garnet Hill Official Site-Take 25% Off Full-price Today." If it works as it did for me, you won't see the 25% discount until you get to the last phase of checking out, then it should appear. I would give you a link in this post for the sheets, but then you probably wouldn't see the 25% discount at checkout.
The only thing I don't like about Garnet Hill is they charge for shipping. I've really gotten spoiled by not having to pay for shipping when I shop at most places online, so it really bugs me when I have to pay for shipping. I still did it though because these are the best flannel sheets I've ever experienced, maybe even better than L.L. Bean's Heritage line. I never thought I'd find flannel sheets I liked better than Bean's Heritage line!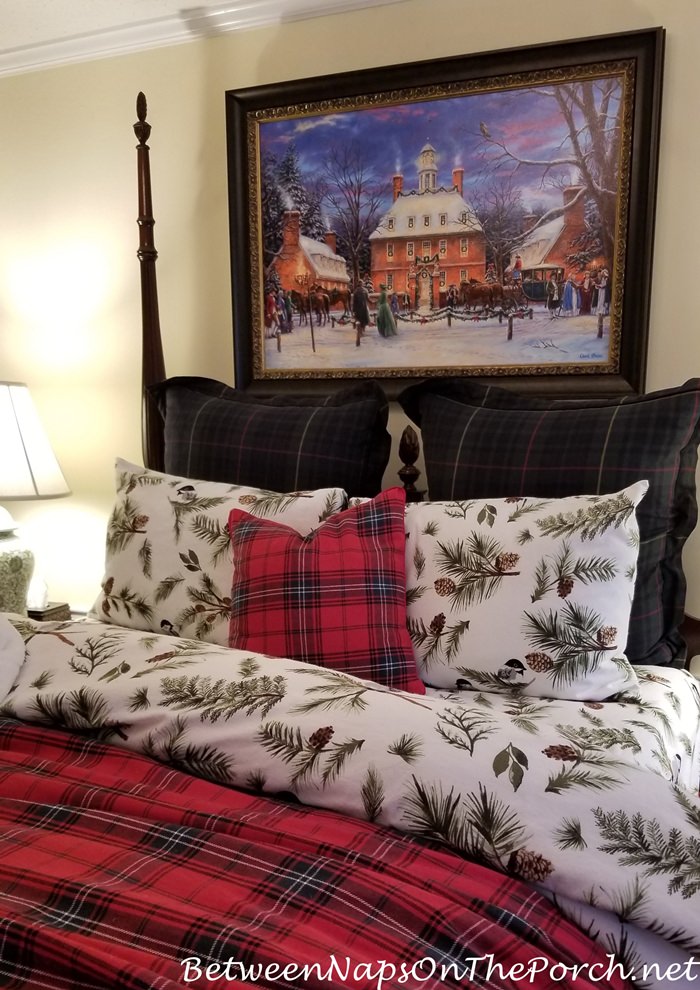 I've ordered a tartan tablecloth for the bedside table on the right side of the bed. I need to find a topper, I think. We'll see how the tartan tablecloth looks after it arrives. If it doesn't look right on the bedside table, I can always use it on my round table in my breakfast room. (All my tartan bedding, including the new tablecloth, can be found here: Tartan Bedding, Tartan Tablecloths.)
And–I would love to find draperies for this room, something that will work with both my spring-summer and fall-winter bedding. That's a tall order, but I'm going to start looking once the holidays are past. After seeing how this painting has transformed the feel of this room, I know draperies will probably do that same thing.
Looking forward to all the great Before and Afters linked for this week's Metamorphosis Monday!
Pssst: Did you know Between Naps On The Porch is on Instagram? You'll find me on Instagram here: Between Naps On The Porch.
Like to know when a new blog post is up and available to read? Subscribe for email updates, it's free and your email will never be shared.
Subscribe for free post updates via email here: Subscribe.
Metamorphosis Monday
Metamorphosis Monday is a party that's all about Before and Afters. Please link up your Before and After projects like DIY projects, room makeovers, craft projects even recipes. Any Before and After is great! Please do not link up Table Settings, save those for our Tablescape Thursday party on Thursday.
If you are participating in Met Monday, please link up using the "permalink" to your MM post and not your general blog address. To get your permalink, click on your post name, then just copy and paste the address that shows up in the address bar at the top of your blog, into the "url" box for InLinkz when prompted.
In order to link up, you'll need to include a link in your MM post back to the party so the other participants will have an opportunity to receive visits from your wonderful blog readers.
This party has ended, click button below for the links to all who participated.
*If a post is sponsored or a product was provided at no charge, it will be stated in post. Some links may be affiliate links and as an Amazon Associate, I may earn from qualifying purchases. *