Welcome to the 434th Metamorphosis Monday!
Have you ever come across a beautiful bangle bracelet online and wanted to order it, but had no idea if it would fit? I ran into that issue recently, and in my usual manner tried to figure it out the hard way. If you have a simple problem, turn it over to me and I can complicate it for you in no time!
So here's how this little tale goes: I have a fondness for Hermes's Clic H bracelets. They are fun pops of color and a lot of fun to pair with other bracelets. It also helps that my last name starts with an H, which makes them feel like an ID bracelet whenever I wear one. Be forewarned, they are addictive!
Up until recently, I've been able to resist the beautiful, printed-enamel bracelets Hermes produces, but that all changed this past week during another #instagrammademedoit moment when I fell for two of their iconic designs: the Balcons du Guadalquivir and the Grand Apparat. Just Google the name of either of those and you'll find tons of beautiful pictures showing them paired with other bracelets for some stunning combinations.
Pssst: If you're a printed-enamel-bracelet fan and already own a few of these lovely bracelets, I'm sharing some important tips I learned about how to wear and care for them further down in this post.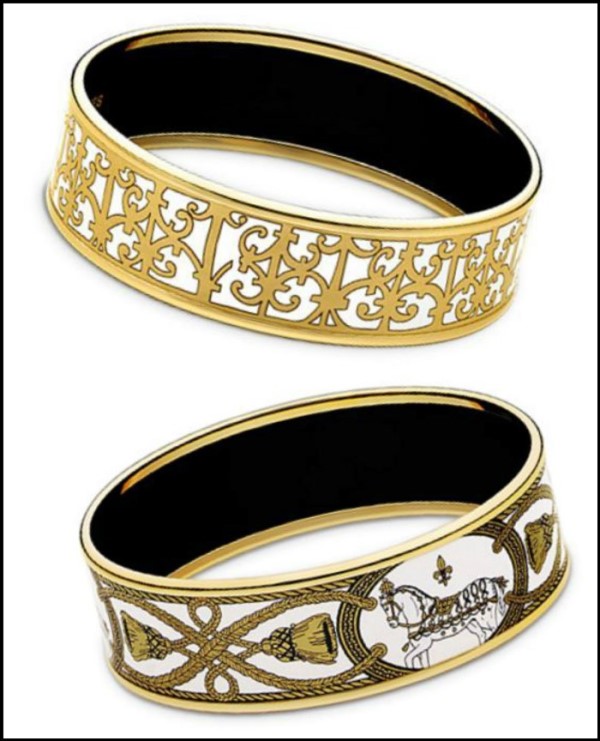 Shopping for a Hermes Printed Enamel Bracelet
In an effort to save a few $$$, I looked online to see if I could find either of the above bracelets, pre-loved. The tricky part about buying one this way was figuring out what size I would need since I had never owned one.
The chart below from the Hermes website, shows how they recommend measuring to determine the size bracelet you'll need. Unlike the Clic H bracelets, Hermes's printed-enamel-bracelets do not open with a clasp. They are solid construction all the way around, meaning the bracelet has to fit over the hand in order to wear it.
Though I have small wrists (they are 6 inches around) the width of my hand at the point shown in the diagram below is 8 inches. I had read online that very few people can wear Hermes size 62 bracelets, but I had hoped I could wear their mid-size, which is the size 65 bracelet. (See chart below) If the chart at the Hermes website was accurate, the size 65 was going to be a stretch!
The reason I wanted to purchase the mid-size bracelet is because I knew a large bangle would drive me bonkers on my small wrist. In reading online I had come across a few instances where women had purchased bracelets that once on, slid all the way up to their elbow! Yikes! I definitely didn't want that problem!
In shopping for a pre-loved bracelet, I found a Balcons du Guadalquivir bangle online in excellent, pre-loved condition and listed as being a size 65. I decided to buy it and figured if it turned out to be too small, I could probably just sell it on eBay.
After I purchased the bracelet, in a follow-up discussion with the seller about the size, she re-measured the bracelet and realized it was not a size 65 as the listing had stated, but was actually bigger. We agreed to cancel the sale, and at that point I decided to just go ahead and buy it directly from the local boutique.
A few days later I visited an Hermes boutique to get the verdict: would the mid-size, 65 size bracelet work or would I have to move up to the larger 70 size, something I didn't want to do. Tucked inside my handbag for the trip, was a secret weapon, something I had read about on the Purse Forum. Do you ever read there? It's amazing all the good information you can glean from that site when shopping for handbags, shoes, jewelry, etc…
So, what was inside my bag? What was my secret weapon? Hold that thought for just a moment!
The Hermes near me had both of the bracelets in stock. I didn't take photos trying it on in the store, but here's a photo taken at my desk today of how the mid-size (Size 65) Balcons du Guadalquivir bracelet looks going on my hand. Looks pretty hopeless, right? Like no way is that going to fit!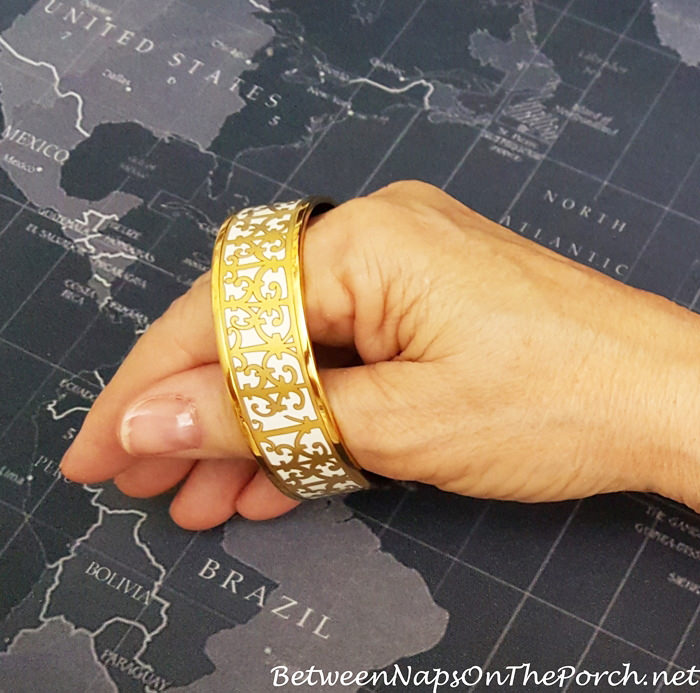 Before my trip to Hermes, I had read on the Purse Forum that it helps to try on bracelets wearing a piece of hosiery over your arm. Ummm, I haven't worn hose or knee highs in many, many years, but I looked in the drawer where I used to keep them and found a new pair of knee-highs that had never been opened. That was the secret weapon I had tucked into my purse: a never-before-worn knee-high! Ha!
I needn't have bothered because when I told my SA what I had read and pulled out the knee-high, she told me they kept them available in the store, too. Actually, the one I have is rather heavy, a really sheer one would be even better.
So, here's the funny/weird part, I was scared to death! lol There's not much that rattles this girl, I'm usually up for an adventure, but I was petrified that if by some miracle I was able to get the bracelet over my hand and onto my wrist, it would be permanently stuck there!
So many thoughts were going through my mind. What if it had to be cut off! The sales associate and I had already discussed how the printed bangles can't be repaired if they are accidentally scratched or damaged. If it got stuck on my arm, it would most certainly mean a trip to the emergency room where it would have to be cut off. I would be paying for a ruined bracelet that I'd never be able to wear.
As I voiced this concern, my fabulous SA calmly assured me I could do it. I don't know how she knew this, but she had full confidence that I could get it over my hand, onto my arm, and back off again.
Remember this chart…the one that says a size 65 will only fit a "hand circumference equal or less than 7.5 inches." I had measured my hand so many times and it was clearly 8 inches around!
The inside measurement of the size 65 Hermes bracelet is 2 and 3/8 inches across. If you have a ruler nearby, take a look at it right now and imagine squeezing your hand through a circle that size! Crazy, right?!
This was one of those moments where I decided to put my faith in someone who had been doing this a lot longer than I, the person with whom I had built a trusted relationship over the last few months–my sales associate. If I had ordered a size 65 bracelet online from Hermes, eBay or wherever, there's no way I would have had the know-how or confidence to try and fit it over my hand. It truly looks and feels impossible!
But my knowledgeable SA was standing right there saying she was sure I could do it. If she believed it would work, then I believed it, too. With her cheering me on, I went for it!
Little Disclaimer: The method I'm sharing in this post worked for me. I can't promise that it will work for you, so be sure and use your best judgement to avoid any injury to yourself or to your jewelry.
3 Helpful Tips:
1. When sliding a bangle over your hand, use a piece of sheer hosiery over the hand. Skin is naturally moist and it's easy for the bangle to catch on the skin and not slide. A sheer piece of hosiery will make a huge difference!
2. Rock the bangle from side to side, easing it back over the hand, Don't try to push it evenly all at once across the hand. It's better to work it across the hand, inching it from side to side as you go.
3. When you reach the widest point of your hand, gently push in on the wider part of your hand where the thumb connects to the hand on one side, and just above where your little finger attaches to your hand on the other side. Those areas have some "give" and you can push them in a little as you're working the bangle over your hand. Don't hurt yourself doing that. It shouldn't hurt or be uncomfortable.
3 More Tips: There really is an art to this!
4. My Sales Associate told me to take a deep breath and relax. Tensing up makes it a lot harder. She was right!
5. Often one hand is smaller than the other, so you may want to try this first on the smaller hand. I didn't check to see which hand was smaller because I really wanted to wear this bracelet on my right hand. That's just where I'm comfortable wearing a bangle-style bracelet.
6. The wider the bracelet, the harder it will be to slide on. The Balcons du Guadalquivir below is 1-inch wide. Hermes also makes this bracelet in a 0.5-inch, 1.5-inch and 2-inch size. I may get brave enough to try the 1.5-inch size sometime. Maybe. lol
Success! Never would have believed it would work! And it actually gets easier the more times you do it!
An Important Tip To Keep Your Printed Enamel Bracelet In Good Shape
Here's a very important tip that I was glad my Sales Associate shared with me. (I hate learning stuff the hard way!) She said with Hermes bangles (and I'm guessing any bangle) you should only pair/wear them with bangles that are the same size.
I was wearing a Clic H bracelet in the PM size that day. That's the smallest of the two sizes the Clic H bracelets come in. A Clic H in the PM size is definitely smaller than a Hermes, size 65, bangle.
My SA warned me that it would not be a good idea to wear the Clic H and the Balcons du Guadalquivir bracelet together because the bangle would slide right over the top of the Clic H bracelet, damaging both bracelets. It would scratch the top of the Clic H and the inside of the Balcons du Guadalquivir bangle. That probably explains why so many of the Hermes printed-enamel bracelets you see on eBay are scratched on the inside. I was wondering how that happens!
There are a lot of good reasons to shop directly from a Hermes boutique when purchasing one of their products. My experience with the SAs in the Atlanta store has been excellent and you learn so many helpful tips you would otherwise never know.
Also, there's no way I would have had the nerve to push that bracelet onto my wrist without my sales associate standing there assuring me it would work. I would most-likely have been stuck wearing a size 70 bangle that would have looked ridiculous on my small wrist and arm.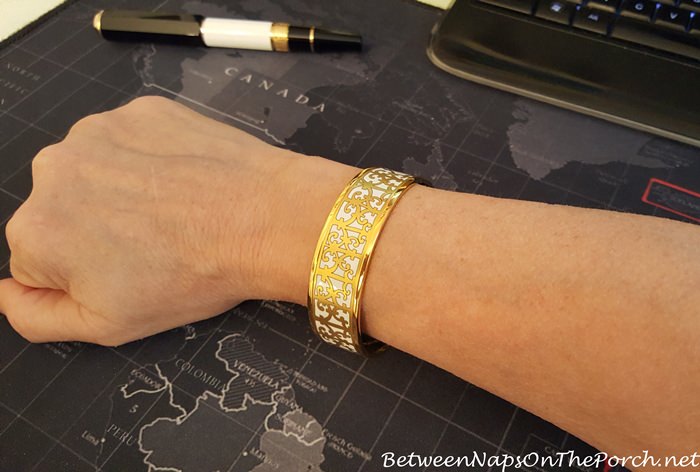 Again, do not try this if you think your bracelet/bangle will get stuck on your hand or arm.
I wanted to share my experience because I'm still a little in shock that I can take a size 65 bangle on and off my arm so easily. It still feels a bit like a magic trick each time I do it! I rarely use the stocking now that I know how to finesse it on and off. The stocking still comes in handy if it's a really humid day, something we have plenty of here in the south.
Also, hands are sometimes smaller in the morning but swell a little as the day wears on and we eat salty foods. In all those situations, a nylon hose is a fabulous tool! It also helps with the confidence factor the first few times you put a bangle on and take it off alone at home.
Have you ever run into this issue with wearing a bangle or bracelet that has to slide over the hand? Were you already familiar with the hosiery trick? I've since read about folks using plastic bags for the same purpose, but I think the hosiery method is a bit easier since the hose conforms more easily to the arm.
Would love to hear your bangle bracelet tales and struggles!
I post almost daily to Instagram. Follow Between Naps on the Porch on Instagram here: Between Naps On The Porch.
Metamorphosis Monday
Metamorphosis Monday is a party that's all about Before and Afters. If you are participating in Met Monday, please link up using the "permalink" to your MM post and not your general blog address.
To get your permalink, click on your post name, then just copy and paste the address that shows up in the address bar at the top of your blog, into the "url" box for InLinkz.
In order to link up, you'll need to include a link in your MM post back to the party so the other participants will have an opportunity to receive visits from your wonderful blog readers.
Please observe these few rules:
Please link up Before and After posts that are home, gardening, decorating, crafting, painting, sewing, cooking, fashion or DIY related.
Be sure to include a link back to the party in your post, so your readers will be able to find and visit the other bloggers who are participating.
Do not link up to the party if you're doing so to promote or sell a product.
To those who are linking up: If you notice a shop or store linking up to sell products (yes, unfortunately that does happen) please let me know so I can remove their link from the party. No one wants to click a link expecting a Before and After, only to find a spam link to an online business/store.
Click on the button to view last week's party participants.
*If a post is sponsored or a product was provided at no charge, it will be stated in post. Some links may be affiliate links and as an Amazon Associate, I may earn from qualifying purchases. *