September is halfway over and I just realized today that I hadn't shared my favorites from last month. I spent the first 3 weeks of August visiting my son, daughter-in-law, and grandsons. When I arrived, I was not happy to discover that I had left my toiletry bag with all its contents, at home! Argggh! I had it filled with everything I would need over the next few weeks and I turned right around and drove off without it.
I hopped on the computer and ordered a bunch of the things I needed from Kroger and Amazon to be delivered over the following two days. I thought about ordering a toiletry bag to store everything in but figured I would just make do until I got back home. Well, that didn't last long. When everything started arriving and I realized I had nowhere to put it all, I decided to order a bag I had seen a while back for a great price. It came in several colors and I went with black thinking it would be the most practical for travel.
I have a similar bag to this one back home–the one I left! I like that one but this one is even better! The pockets are deep enough that it will hold full size bottles. When I visit family, I always hang my toiletry bag on the closet door hook inside the closet, then I can easily access whatever I need each day. The last pocket on the end snaps off so it can be taken into the bathroom, if needed. My old bag had a removable pocket, too–but it zipped and the zipper would occasionally try to creep open. I like the way this one snaps on a lot better.
I don't wear a lot of makeup, but if you do and travel with makeup brushes, there's even a pocket for holding those. Love this bag! You'll find it available here: Toiletry Bag, Great for Travel or Everyday.
I've purchased this blanket twice, one for home and one for my son's home. It's just so soft, I like having it with me in both places. The last time I was there, I brought it back with me so I could have one on my bed and one in my office.
I brought it back to my son's home on this past trip in August and my youngest grandson could not stop snuggling up in it. lol So I left it there this time. I'm thinking of ordering it again in another design/color, just so I have two here at home again. It's just soooo soft and snuggly! I love it! If you need a super soft snuggly blanket or throw, it's available in several sizes here: Softest Blanket Ever!
I couldn't share all my faves without mentioning a few of the lamps I purchased last month. I ended up buying 5 lamps total.
I was worried the company would vanish from the site, so I replaced all the lamps I needed to replace over the space of a few weeks. Hopefully, they will be around for a while! If you are in need of a beautiful lamp with a quality lampshade, you'll find the company I purchased all my lamps from here: Beautiful Lamps.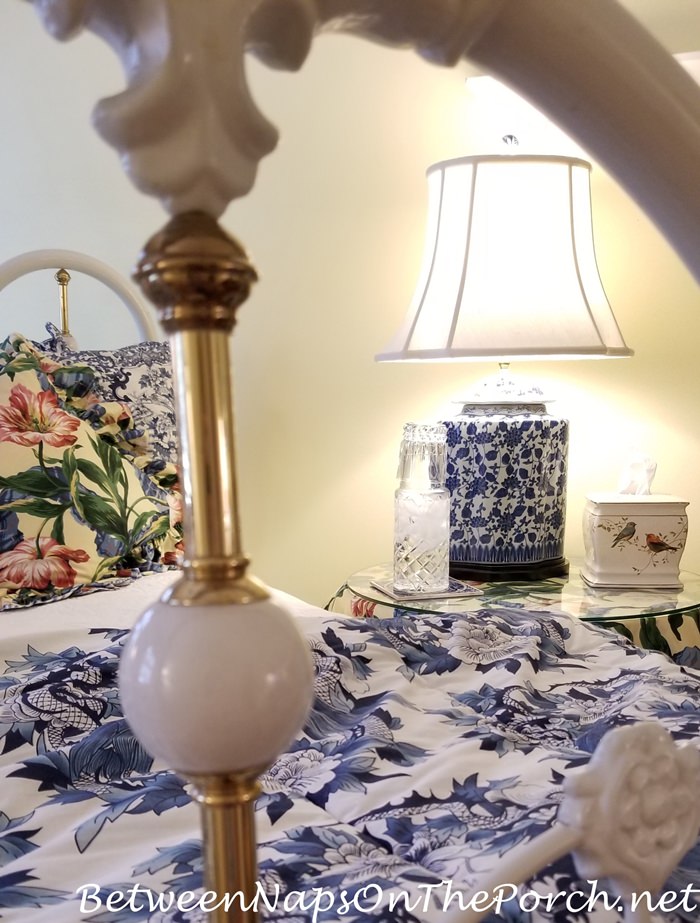 BOGO Sale
Talbots is having a sale right now that's Buy One, Get One Item, Half Off. That ends up basically being 25% off everything when you buy at least two items. Here are just a few of the items that I'm eyeing.
I love this shirt featuring an adorable cottage tucked away in the forest.
I love how it's surrounded by beautiful gardens! You'll find this cute shirt on sale here: Adorable Country Cottage Top.
I love autumn clothing, especially clothing that features woodland animals. This is the wallpaper I have in my downstairs guest bath.
Not the best photo since it was taken late in the evening, but you can see it's covered with woodland creatures including ducks, pheasants, etc…
So you know I love this cardigan sweater that features pheasants in a beautful woodland garden! Sooo pretty! If you love a woodland scene for autumn, you'll find this cardigan on sale here: Pheasant Sweater.
I'm also crazy about this shirt covered in Mallard Ducks! It would look really cute under some of my fall/winter sweaters! It's on sale here: Mallard Shirt.
Love the teal/Tiffany Blue colors in this shirt. I think it would be a great transition piece from summer to fall. It's on sale here: Floral Garden Shirt.
I love the flowers cascading down the front/shoulders of this top! This would be great for next spring, too. It's on sale here: Top with Cascading Flowers.
I love Barbour clothing and own one of their coats and one of their sweaters. If you live where it gets cold during the wintertime, this hooded raincoat looks like it would be pretty warm. It's currently on sale here: Barbour Hooded Raincoat.
This beautiful vest is the most expensive item I saw and loved, so definitely an item to catch during a sale. It's currently part of the sale here: Quilted Suede Vest.
Imagine these boots with the pheasant cardigan or the beautiful vest above! Yes! I love these and heel height is my favorite! I find this heel to be so comfortable! You'll find these boots on sale here: Boots.
This shirt is so pretty but it's the turned-up, floral cuffs that really make it for me! I love that! You'll find it on sale here: Plaid Shirt with Floral Cuffs.
Another great shirt, this one would easily go all year around. It's on sale here: Plaid Shirt.
Those are just a few of my favorites from August and from the BOGO sale that's currently in full swing!
Happy Autumn Shopping!
*If a post is sponsored or a product was provided at no charge, it will be stated in post. Some links may be affiliate links and as an Amazon Associate, I may earn from qualifying purchases. *