Years ago, shortly after my home was built in the early 1980's, the first owners turned the bedroom that's beside the master bedroom, into a dressing room/closet area. (Read more about that in this post: If These Walls Could Talk: A Mystery Alcove.
The bedroom was around 12 x 13 feet and they closed off the door/entrance from the upstairs hallway and cut a large double opening from the master bedroom, into the room. They added two long closets with bifold doors down the right wall, you can see those in this older photo.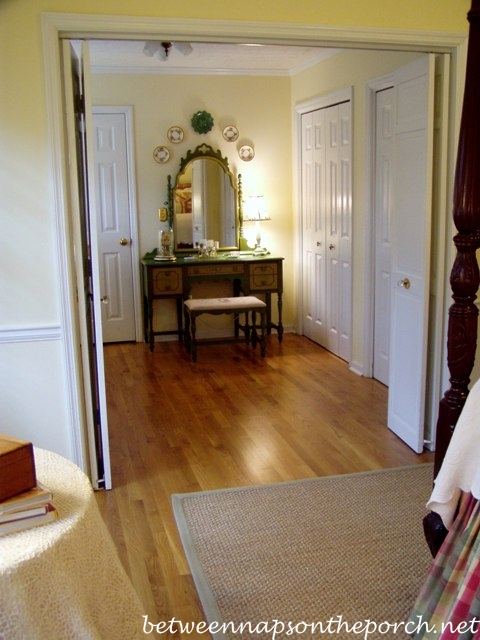 The door you see straight ahead is the original walk-in closet for the bedroom. We were told by the second homeowners (from whom we purchased the house) that this closet had its own zone on the security system because it was the fur closet of the original homeowner. When I upgraded the security system, I had that changed since I don't own any clothing that's worthy of its own zoned security closet. 🙂
The original owners also added built-in drawer storage and a dressing table of sorts, as seen on the left. I'm pretty sure this was the closet space for the lady of the house because of the dressing table/fur closet. Plus, the actual master bedroom closet that's on the other side of the master bedroom, had a tie rack mounted to the wall. They were a little ahead of their time with his and her closets.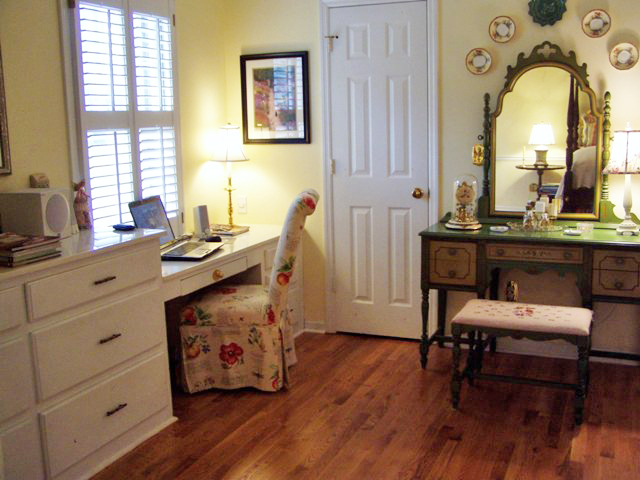 The actual master bedroom closet is off the master bath, on the opposite side of the bedroom. It's a relatively small closet measuring around 7 1/2 by 5 1/2 feet. That's a pretty small closet for two people to share, so I can see why the first owners converted the next door bedroom into a large closet/dressing room. (Bedding below is available here: Tartan Bedding.)
Today I'm sharing a very small upgrade I made to the original master bedroom closet. Unfortunately, I forgot to take any "Before" photos, but just imagine boots lined up along the wall with another row of boots in front of that. It made for a crowded experience in an already too-small space. But most of all, it was killing me that there was so much wasted space on the wall above the boots. I needed a shelf of some sort–just wasn't sure where to find one.
Purchasing several new pairs of boots this winter was the catalyst that motivated me to find a better storage solution for my growing boot collection. Even though the dressing room closet area has slanted shoe shelves built-in along the bottom of each closet, they offer zero storage for boots.
Boot Storage
So here's how the process unfolded: I Googled my head off looking for boot storage, boot shelves, etc… and couldn't find anything that fit what I had in mind. I found some interesting boot racks where you could store boots hanging upside down and I found boot storage boxes, but I couldn't find shelving that looked like it would work in the lower section of my closet.
I came across these shelves and thought they might work if I just removed the shelf in the middle, but the picture was very deceiving because though this shelf looks pretty big, the whole shelving unit is only 11.6 inches tall. My boots measure about double that in height, so that definitely wasn't going to work.
You can see in this photo from the website how short these shelves are, they only allow enough room for two pairs of very low shoes (like sneakers) to fit on each shelf. But I noticed that the shelves were stackable, so I started wondering if I could stack a couple of these units, leaving out the inner shelves to get the space I wanted for boots.
I did some measuring and drew out the plans I had in mind on a piece of paper and thought it just might work. If I stacked two units, I was hoping I could leave one of the shelves in the unit near the top. Unfortunately, it appeared my boots were going to be about 1/4 to 1/2 inch too tall, but I decided to order a couple of shelves (shipping was free) to just test out the idea. I ordered these shelves in two sizes HERE and HERE.
Note: I didn't want to spend a lot on this mini-closet update because if/when I do the master bath renovation my home so badly needs, this closet will probably be demolished and the space will be absorbed into the new bathroom. So this upgrade was less than $100 to complete.
Yup, I was right. I stacked two shelf units on top of each other and with the shelf left in place in the top shelving unit, the boots were just barely too tall to fit. I even thought about having a new shelf cut at Home Depot and adding it across the bottom, screwing it to the side walls, instead of the way the bottom shelf is currently designed to be inside the unit, but the space that would have added was still not quite enough to accommodate my black boots and a taller pair brown boots. You can see that in the photo below, the black boots are sitting directly on the floor and they still don't fit into the shelf space. Rats!
So I had to remove all the interior shelves, which I knew would probably create a stability problem. Imagine for a minute stacking two of these on top of each other, then removing all the inner shelves, except the top. The inner shelves help give structure and stacking them as I wanted, would leave only a single wood dowel holding the top unit to the bottom unit.
I decided to use some wood glue in between the units where they connect when stacked. The raw wood that's visible on the side pieces where they meet when stacked together, provided a good surface for gluing. The next day when I moved the unit, I was really surprised how well the glue had bonded the two units together.
So here's the configuration I came up with: I purchased four of the 24″ long shelf units and four of the 31″ long shelf units. I had measured and knew I had space/width for two 31″ shelves side-by-side along the wall you see below, and two 24″ units, side by side, on the end wall of the closet. I basically turned one unit upside down and let its top be the bottom of the whole unit…that's what the boots are actually sitting on. Then I used the one little wood peg that came with the shelves, along with some wood glue, and attached the other shelf unit to the top. I'm amazed by how well the glue worked, it's pretty strong!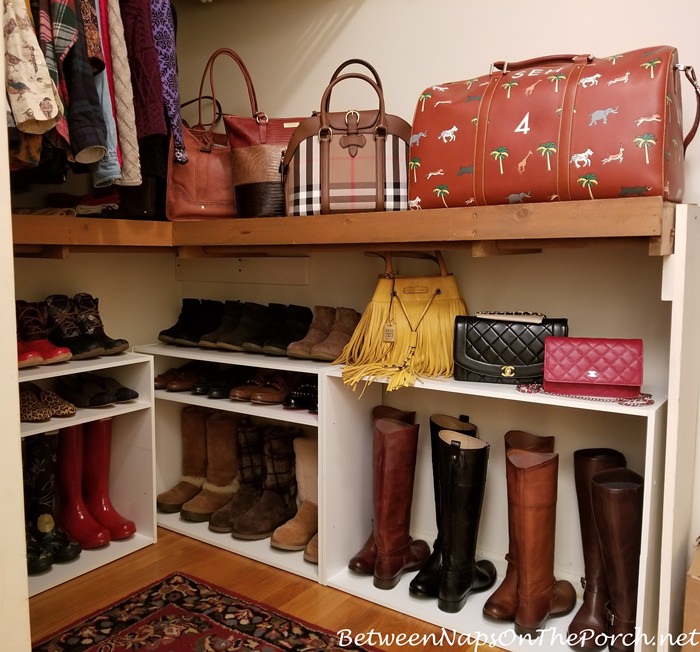 By the way, I'm not recommending you do this, it's just what worked for me. I definitely wouldn't build the shelves this way if you have pets or children going into your closet. You would need to anchor the shelves together in a better way, maybe using braces to hold the top part to the bottom unit, as well as anchoring them to the wall with the anchor screws that come with the shelves. If you anchored the top and bottom with metal plates/braces, plus anchored them to the wall, you would probably be fine. I don't have young children or pets now and these shelves won't be moved around, so this works for my situation.
For my tall boots seen below on the bottom right, I had to leave the top shelf out of that upper shelving unit to have space for the boots since they are so tall. I had planned to put more boots across the top but ended up using that space for a few of my handbags. My wicker/summer bags are stored on shelves in the dressing area closets. This closet is working well for winter bag/shoe storage and storage of some of my travel bags.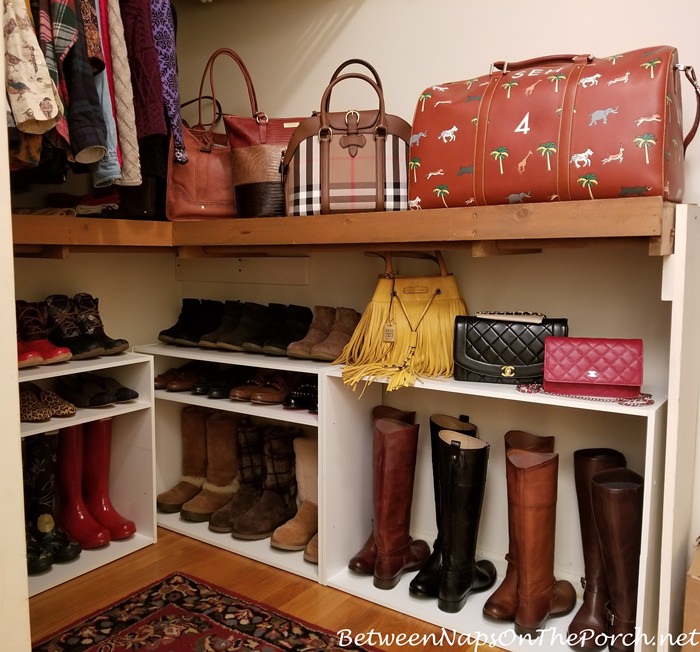 Here's how the 24″ shelving units look at the end of the closet. Again, the bottom shelf unit is turned upside down so its top is now the bottom of the unit. I was able to leave the top shelf inside the other three shelf units since my other boots are short enough to fit underneath.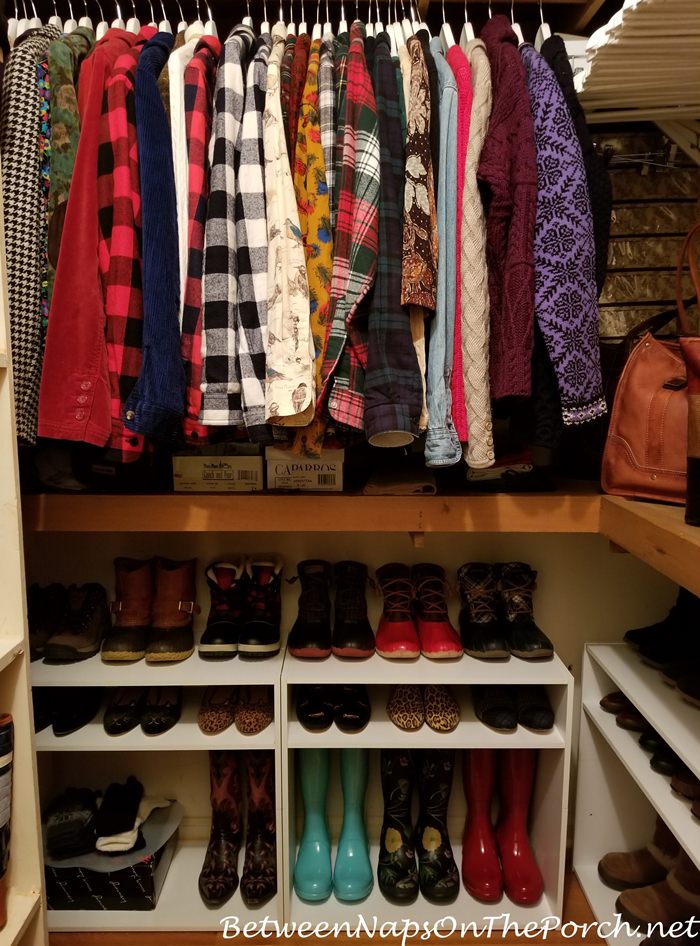 This was basically what I had envisioned all along, having my boots along the bottom and a single shelf above to hold the shorter boots. I never expected to end up with as much storage as I did, so I moved other shoes that I primarily wear during the winter to this closet, as well.
So here's how I'm using this space that's mostly for winter shoe/boot storage:
Tall leather boots are on the far right with a few handbags on the top of those two units. You'll notice that I have my three pairs of Frye leather boots and one pair of Ralph Lauren boots stored with one boot facing forward and the mate facing into the shelf.
The reason for that is tall boots flare out at the top in the calf area. I would have had to kinda squish them together at the top, to get four pairs across that shelf if they were all facing out. But by alternating how they are positioned, all four pairs fit with room to spare. I didn't have to do this with the other boots, just the taller boots.
You'll find the brown boots available here: Frye Boots, and the black pair is available here: Black Boots. Some are available in the "Extended" calf size which would be good if you're wearing them with a thicker jean tucked inside, as opposed to jeggings.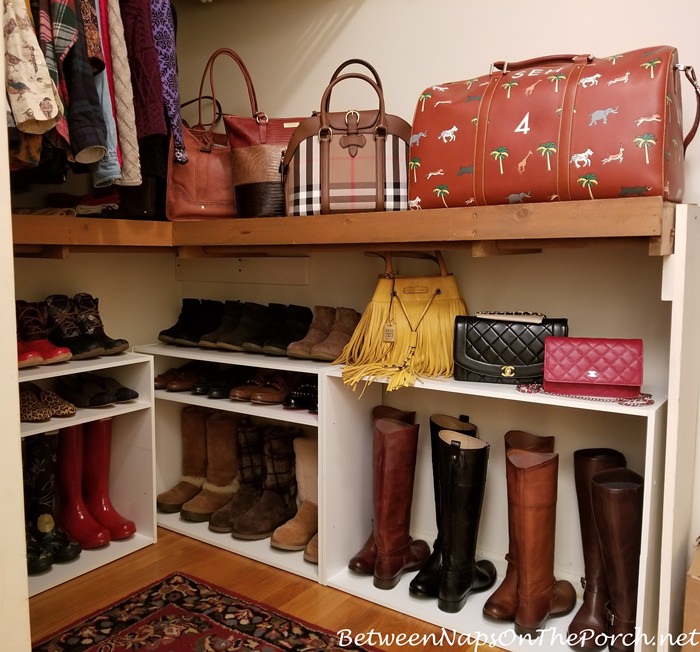 To the left of that unit, I have three pairs of Ugg boots on the bottom with some winter loafers/shoes 0n the shelf above, followed by four pairs of waterproof Tevas: 2 black, 1 brown & 1 black olive-green. I've had all those boots for several years now. Ugg boots really hold up well and are so warm for winter! It was you guys who told me about Ugg boots a few years back. I purchased a couple of style the next winter in the Ugg store in Atlanta, then later bought the brown plaid pair "New with box/tags" on eBay.
To keep my tall leather boots and Ugg boots standing up nice and straight, I ordered these boot supporters in two different sizes: Boot Shaper.
As you may recall from previous posts, my Teva boots are my go-to boots when I travel, along with a pair of Sperry duck boots. They are stylish, go with any style pants, dressy or casual, and are waterproof. They saved me in the constant monsoons we had in Italy and Holland/Belgium. They were also great for the rainy days we had in Ireland, too. Teva boots are available here: Teva Boots.
On the 24″ wide units at the end of the closet, I've stored three pairs of Hunter rain boots, above which I have three pairs of Stubbs and Wootton shoes. Two of those are very much winter shoes since one pair is tweed and the other is velvet, but the leopard print in the middle could be worn any time of the year. I just put them all in this closet to keep them all together. Tip: If you like Stubbs and Wootton shoes, J.Crew often carries them in the winter and they sometimes go on sale.
Above those are three pairs of Sperry duck boots: Navy Plaid, Red/Brown leather and Brown Plaid. You'll find the brown/red plaid pair that I have available, HERE. All the other styles for this year are available HERE. Looks like they are having a sale, too.
I love these bright yellow duck boots! They would be so cute with the yellow raincoat I purchased a few months ago. I think this is their new plaid boot for this year: Plaid Duck Boot.
The end unit on the left has a pair of Old Gringo boots on the bottom shelf…see those up close here: Winter Survival List, 2015. I need to create another Winter Survival List post sometime soon. I always love reading your comments on those posts, you share the best ideas! That's how I learned about Ugg boots–from your comments on a previous Winter Survival post. 🙂
Above the Old Gringo boots are some adorable kitty shoes shared in this post: 5 Popular Shoe Styles: Get The Look Without the Price.
Above that are another pair of red, plaid rain boots, my L.L. Bean duck boots and some hiking boots I've had for many years.
Oh, and almost forgot to mention, I added the little protective pads that you can buy in Home Depot to the bottom corner of each shelving unit. It really helped to slide them around and position them on the hardwood flooring and it raised each unit a little bit up off the floor.
Again, the shelves I used for this mini-closet update were purchased here in two sizes HERE and HERE.
The Legal blah, blah, blah:
Warning: If you configure your shelves as I did in my closet, I can't be held responsible if you get injured or a shelf falls/collapses and ruins your new pair of shoes/boots/etc…, You have to use your own judgment regarding how you use or alter these shelves. They also come with anchors so they can be anchored to the wall, so you may want to use those, as well. Again, use your own judgment, especially if you have children or pets who may try to climb or pull on the shelving, which is definitely NOT recommended.
Hope this post was helpful, or at least interesting. I don't know why someone doesn't make closet shelving with a tall space underneath for boots and shelving above for shorter boots/shoes. I know I can't be the only person needing shelving of this type for a smallish closet.
Pssst: I post almost daily to Instagram. Follow Between Naps on the Porch on Instagram here: Between Naps On The Porch. If you enjoyed this post, subscribe for free email updates when a new post is up here: Subscribe for post updates.
*If a post is sponsored or a product was provided at no charge, it will be stated in post. Some links may be affiliate links and as an Amazon Associate, I may earn from qualifying purchases. *