It happens almost every year here in Georgia,one of those strange weeks when you would swear spring has arrived. The daffodils are poking their little heads up out of the ground and the temps actually reached the 70's on the porch today. I just checked and the low for tonight is 63 degrees! Crazy, but I'm loving it!
It won't be long before the porch will be back in business. It's needs a good vacuuming and a thorough wipe down, though. Then the pollen will descend and undo all my cleaning, as it does every year. lol Oh well, I can live with pollen since green, leafy trees and beautiful flowers soon follow.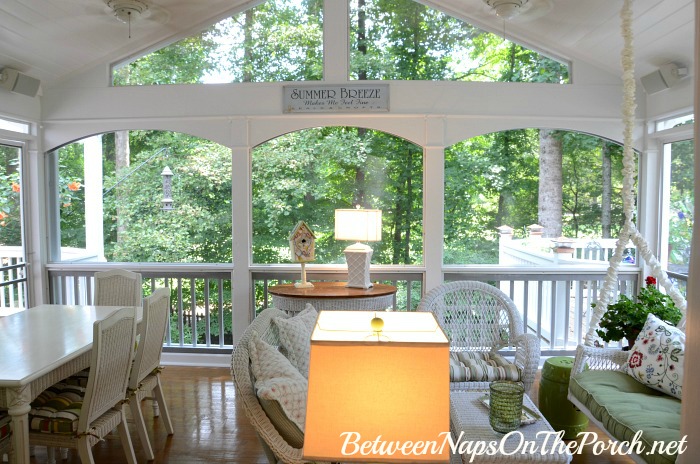 If you follow BNOTP on Instagram, you saw this photo earlier today. This is where my head is right now. Are you seeing warm temps in your area now, too? Speaking of Instagram, if you're not following BNOTP on Instagram, you can do that here: BNOTP on Instagram. Warning: it's addicting, I find myself checking Instagram several times a day. It's worse than Pinterest for me!
Today I'm sharing some recent finds that I'm absolutely loving. As usual, it's an eclectic variety of things, something for everyone.
Free Monogramming!
I've always wanted a Burberry cashmere scarf in their classic house check pattern. It's been on my wish list for many years. Though the scarf never goes on sale, right now they are offering free monogramming when you order one online! Normally, there's a $75 charge to monogram one of their cashmere scarves.
A Burberry sales associate I spoke with in Atlanta told me the free monogramming was supposed to be just for Christmas. He was surprised it was still going on. He had no idea why they had extended it, but he encouraged me to order one now before it ends. So, I did, going with their Classic Heritage Check scarf.
For the monogramming, there are 38 thread colors to choose from…and two sizes of monogram. Thank goodness they show you their "recommended colors" for monogramming because 38 colors is a lot to choose from! I considered a lot of combinations including the "Medium" size monogram in red visible in the middle picture below. The Heritage check scarf below is available here: Burberry Cashmere Heritage Scarf
They've also come out with a darling, heart-covered scarf. OMGosh, is this cute or what?! Scarf with black hearts is available here: Burberry Cashmere Heart Scarf
It also comes with red hearts, too. So cute and would be a great gift for Valentine's Day. The red heart scarf is available here: Burberry Red Heart Cashmere Scarf
I really wanted one of the heart scarfs since I love anything with hearts on it, but I decided to go with the classic house check. I chose the small monogram in the "camel" color so it would be really subtle, something I would know was there but others might not even notice. You can see how it looks in the center photo below. The Classic Cashmere Scarf I purchased is available here: Classic Cashmere Scarf in Heritage Check. Just wanted to share this with you now before they start charging again for the monogramming.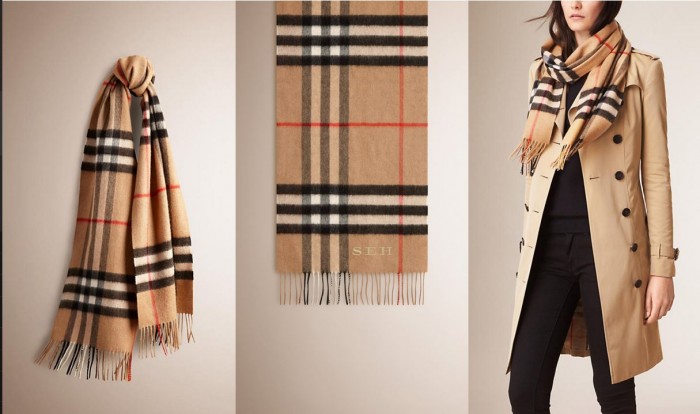 An Ingenious Device!
Do you ever hop in the car to go someplace and about half way there, realize you forgot to put on your perfume? This happens to me all the time because I'm usually rushing and don't want to be late for a movie or dinner out with friends.
One thing I have always been reluctant to do (although I know many folks do this) is keep a small bottle of perfume inside my purse. I would be so worried the cap would come off and it would either spray or leak inside my bag. I'm super picky about my handbags, so I'm just not willing to take the risk.
But then I came across this awesome little device and it changed everything! Do you see it below–the little white tube that looks like a lipstick? That is actually a Chanel perfume dispenser that's devised to be portable so you can carry your perfume with you in your purse or on a trip.
As far as I know, Chanel is only brand that makes these specifically for their perfumes, and I think Chanel only makes it for three of their perfumes at the moment. The one that I purchased was for their Coco Mademoiselle fragrance. I love the Chance scents by Chanel so decided to give Coco Mademoiselle a try since I don't have that perfume. It's just as wonderful as Chance, so I am really enjoying it.
Here's how the dispenser works: you twist the top (see arrow below) and as you twist it, the gold dispenser inside rises up and out of the top of the container. It twists/turns where you see the arrow in the picture below.
Here's how it looks when fully twisted up. Once you're done spraying the perfume, you just turn it back down and it disappears back inside the container. Is that not genius?! I think this is the answer to carrying perfume in a purse because there's no cap to pop off.
This evening, just to test it, I twisted it up half way where the spray nozzle was visible and I tried to press it down. It would not spray. Instead, it went right back down inside the container. Apparently, the only way it will spray, is if it has been twisted a complete 90 degrees so that the sprayer is all the way up and the container is fully aligned with the other side of the container. Totally awesome!
I love the styling of the container with the overlapping Coco Chanel "Cs" on top. It comes with a bottle of perfume inside and you get and two refills, seen on the left below.
Chanel makes the twist containers in three fragrances: Coco Mademoiselle, Chance and Eau Fraiche. This is the twist container for Chanel Chance and how it looks when twisted upward.
You'll find Chanel Coco Mademoiselle here: Coco Mademoiselle or here: Coco Mademoiselle and Chanel Chance here: Chanel Chance. or here: Chanel Chance. As I mentioned, they didn't cheap out on how much perfume you get either. It comes with a 0.7 bottle of perfume inside and two refill bottles of the same amount. So that's over 2 ozs of perfume…not bad!
Chanel also makes the Twist and Spray in their Chance Eau Fraiche fragrance, too! It's available here: Chance Eau Fraiche
Update: If you're a Chanel No. 5 fan, there's a fascinating book out about Coco Chanel, her life and the making of Chanel No. 5. It's called, The Secret of Chanel No. 5: The Intimate History of Worlds Most Famous Perfume. I listened to it on Audible and enjoyed it. It's also a bit of history lesson since Coco lived in France and was running a business during World War II.
Also, I found this Ted Talk to be really interesting: The Science of Scent by Luca Turin. Luca Turin has also written a fascinating book about perfume and why it has such a hold on us: It's called, The Emperor of Scent. Another good book about perfume that gives you an inside view of how new perfumes are created is: The Perfect Scent: A Year Inside the Perfume Industry in Paris and New York, by Chandler Burr. That one's available on Audible, too.
Here's where I carry my little Twist and Spray Coco Mademoiselle in my bag. My cell phone fits in the other pocket. I think I'm going to buy the Chance dispenser next. I love all the Chanel perfumes and these little dispensers are so perfect for carrying with you and for travel. Now I just need for Viktor and Rolf to invent a "twist and spray" container for Flowerbomb!
Another recent perfume purchase was Kate Spade's new, "Walk on Air" fragrance. I discovered it when I was shopping the after-Christmas sales. This entire gift set was on sale for less than what the perfume normally costs by itself. This kit came with a large bottle (3.4 oz) of perfume, 3.4 oz of lotion, a roll-on container of the perfume with lip gloss on the other end. I've forgotten now how much it was but I remember is was less than what a 3.4 oz bottle of the perfume normally costs.
That gift set is now sold out, but I noticed they are running a similar deal for Valentine's Day. It includes the same large bottle of Kate Spade "Walk on Air" perfume and an even bigger bottle of the lotion. I think the Valentine's gift set is a better deal because I didn't care for the lip gloss and don't normally use a roll-on perfume. The Valentine's Day set comes with both the perfume and the large bottle of lotion for around what the perfume normally costs. The Walk on Air Valentine Gift Set is available here: Walk On Air Set
Moving away from perfume, I couldn't remember if I had ever shared this conditioner with you. I read about it on a hair forum where folks were raving about it. I decided to give it a try and I do love it!
I usually use my favorite Millcreek Biotin Shampoo and follow it up with this awesome conditioner. It's not cheap, but it doesn't take very much so it lasts a long time. When I use it, I leave it on as long as I can in the shower, then when I rinse it out, I make sure I don't rinse all of it out. I love it and I'm on my second container now. You'll find it here: Kerastase. They also make a conditioner for super dry hair here: Kerastase. I think I may try it next.
Natural Bristle Brushes
I've been hearing about how natural bristle brushes are so much easier on the hair than the cheapy plastic brushes usually found in department stores or drugstores. I went in search of a good one and found this natural boar bristle brush. This one has a 4.3 star rating after 657 reviews, so I decided to give it a try.
It feels very different from the plastic brush I had been using, so it took a little getting used to. Now I love it and it's all I use. Since it's pretty small, I purchased a second one to keep in my purse. Great brush! You'll find it here: Natural Boar Bristle Brush
Something for Cat Lovers
My son and dil are cat lovers and have three kitties. They love the diaper genie they use for their son, so when I saw that the same folks make a Litter Genie, I ordered one for them. We set it up in their basement near the litter boxes when I was there for Christmas and my son told me that it works great. Apparently, it works the way a diaper genie does for odor control, except it's for scooping kitty litter. You'll find the Litter Genie here: Litter Genie
I'm sure I'm leaving something awesome off, so I'll come back and add it to the end of this post if I think of anything I've forgotten to share.
*If a post is sponsored or a product was provided at no charge, it will be stated in post. Some links may be affiliate links and as an Amazon Associate, I may earn from qualifying purchases. *