Welcome to the 201st Metamorphosis Monday! Hope you had a wonderful Thanksgiving!
Recently, I was chatting via email with Maggie from the blog, Crunchy Diva. Maggie's been hard at work renovating her home and you're going to love her amazing staircase makeover and mudroom addition! Here's Maggie to take you through this beautiful "Before and After."
Hi folks! I'm Maggie from Crunchy Diva and I'm here to hang out with you today while Susan wraps up her holiday weekend. I've been blogging for a bit over two months and am thrilled that Susan suggested that I write a guest post about my staircase makeover!
We've been renovating our house for a long time and are finally in the very last stages now but boy it has been a LONG haul. Each project had its own joys and traumas, but every step has given us the opportunity to make our home a little more lovely, a little more homey and a little more us.
We bought the house because it sits on the best little spot of land with fantastic gardens and lots of privacy. The house was fine and functional, but lacked umph and ahh. We wanted umph and ahh. There was only one part of the house that truly drove me nuts: the staircase.
Here's what it looked like:
Din-gee! And that handrail – are you kidding me? That isn't style – that is just sad.
I wanted a staircase that I could wrap in greens at Christmas. I wanted stairs that were open enough for my cats to reach out and grab me as I walked by. I wanted to be able to lean over the handrail and yell for my kids to come to dinner. I wanted a romantic staircase.
But what I had was a glorified laundry chute.
For a while I lived with it. I even used the stair wall behind that lovely handrail to create a funky bookcase display in the dining room -turned entry room: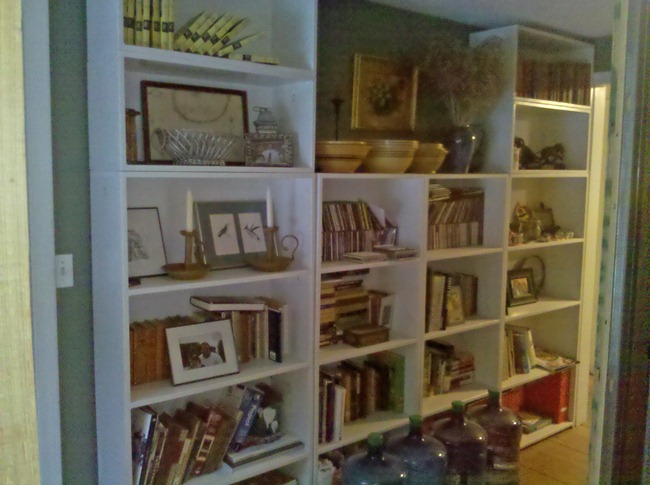 That worked for a while – I'd walk past my pretty things but then I'd turn the corner and BANG! There was that nasty old staircase again. When I worked in architecture I created beautiful spaces for other people all the time – now it was my turn. So we decided that we'd fix the stairs during the "Let's-turn-the-dining room-into-a-mudroom-and-bathroom" phase and boy are we glad we did.
The night before demo started I took down the shelves. Here's the wall without the shelves – this is looking thru the dining room from the kitchen doorway:
And the next morning the hacking began: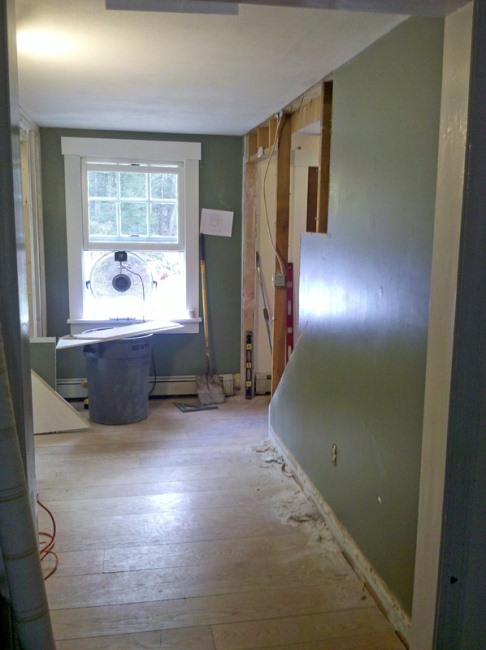 I love a good day of demo.
By the way, if you were to look to the left in this picture, you'd see the new mudroom progress:
I had to fuss with a lot of drawings to get the handrails right and how to modify stock newel posts to get the look I wanted but it all worked out just fine. And the icing on the cake was doing the faux board-and-batten look that I learned how to do at Centsational Girl.
Doesn't that look snappy?
Here's the before – just to remind you of how un-fantastic it was:
And remember the shameful handrail shot?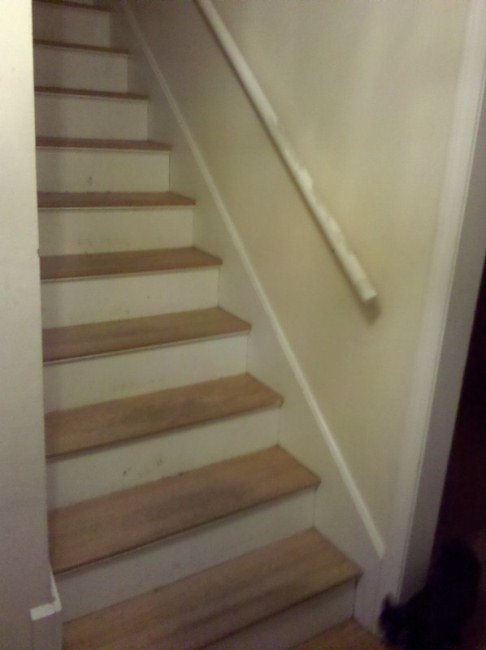 And here is what it looks like now:
And here's the look through to the mudroom:
Here's what that same view looked like before:
(See those cats? They just can't wait for their new attack-stair!)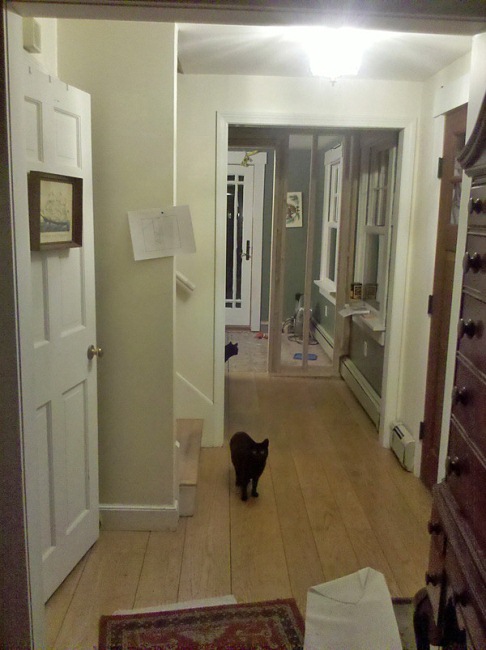 We ended up painting the stairs and handrails with Behr's Porch and Floor paint in Bitter Chocolate. We only painted the edges of the treads because we planned to install a nice Dash and Albert runner. The guy who was helping us paint was a real joker and left us this message after a day of painting fun. (Chuckle, chuckle)

Here's the runner we used. I'll be posting in December about the ups and downs of having cotton rug runners with three dogs, three cats and two teenagers. (Sorry for the blurry picture – I was taking it with my iPad and trying to snap a pet-free image before the dogs and cats got into the frame.)
And here are the plans I drew to keep us on the right track.
Here is the before:

And here it is after: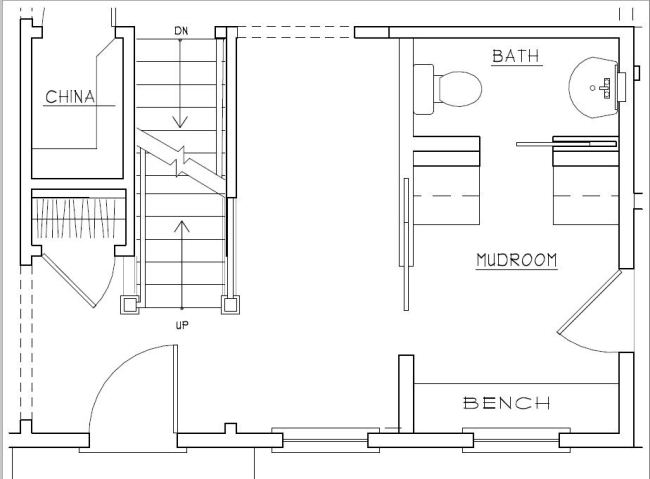 I hope you enjoyed that peek into my fun project – I'd love to have you all come over to help me wrap the banister in greens, call my kids down for supper and dodge the cats secret attacks from between the railings! I'm delighted with the outcome.
Now it is off to other parts of the house. The fun never ends! We just finished off the NEW dining room – more details on that coming soon to Crunchy Diva. Stop by and we'll chat some more!
Thanks for stopping in to say hello and thanks to Susan for inviting me as a guest into her beautiful blog space.
Maggie, thanks so much for sharing this wonderful Before and After! I would so love to knock down the wall on the other side of my staircase. Definitely saving your pics as inspiration. Just beautiful!
Looking forward to all the fabulous Before and Afters for this Met Monday!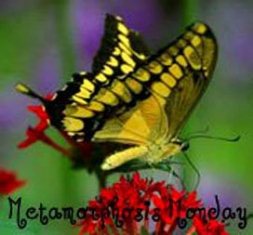 If you are participating in Metamorphosis Monday you will need to link up the "permalink" to your MM post and not your general blog address. To get your permalink, click on your post name, then just copy and paste the address that shows up in the address bar at the top of your blog, into the "url" box for InLinkz.
In order to link up, you'll need to include a link in your MM post back to the party so the other party participants will have an opportunity to receive visits from YOUR readers.
Please only link up Before and After posts that are home, gardening, crafting, painting, sewing, cooking, DIY related.
Do not link up if you're doing so to promote a website or product.
Do not link up a post that was just linked last week since a lot of readers will have already seen that post.
Do not type in ALL CAPS. It spreads the links waaaay out.
Let's try something fun today! Please visit the person who linked before you and after you…that way everyone will get some visits. Hope you'll visit more, of course.




Welcome! Thanks for coming to the party!
*If a post is sponsored or a product was provided at no charge, it will be stated in post. Some links may be affiliate links and as an Amazon Associate, I may earn from qualifying purchases. *