Welcome to the 628th Metamorphosis Monday, a blog party sharing fabulous Before and Afters!
A few weeks ago I shared Jackie's beautiful Valentine's Day table along with her dining room all decorated for Valentine's Day. I loved the darling Valentine's Day garland/banner she had hanging in front of the window in her dining room.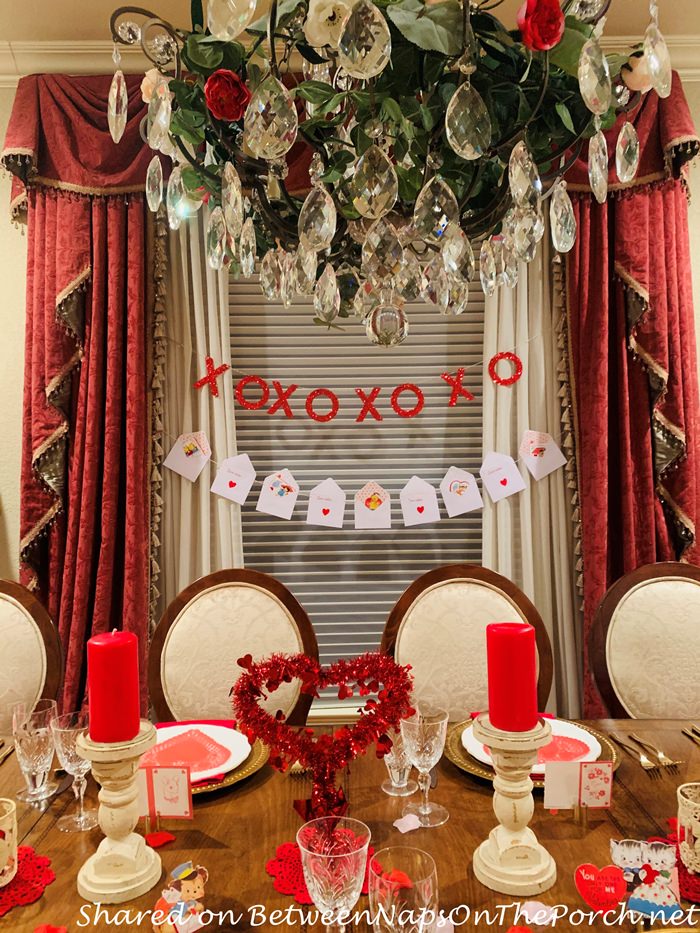 You may remember these two close-up photos that I shared of her V-Day banner.
I wondered if I could make a similar banner to hang here in my home office for Valentine's Day, only I wanted to find a way to make it without punching holes in the envelopes so they could actually be used to mail out the valentines later if I decided to do that.
I looked online and found a set of 24 beautiful vintage-style Valentine's Day cards. They appeared to be a great size for my banner project. Unfortunately, the beauty of these cards really doesn't really translate in photos. They are made of sturdy card stock and the images are done in rich, saturated colors. They are also beautifully glossy. I wish the glossiness would show in the photos because it really makes them feel high-end, though they were quite inexpensive.
Even the envelopes that come with the cards are beautiful! (Cards with envelopes are available here: Vintage Style Valentine's Day Cards.)
In the photos of Jackie's Valentine's Cards garland, it appeared they used little grommets for the string. Hoping to not have to punch holes in my envelopes since I'd love to actually mail or give them to friends, I decided to see if I could come up with another way to attach my envelopes.
To make my V-Day garland, I used this red/white yarn I've had for years. I've had it so long, I don't remember now where I purchased it. I'm guessing it may have been in Marshalls since I used to shop there a lot for gift wrapping supplies. I also used this tacky wax shown below. I wasn't sure how it would work for what I had in mind, but it worked beautifully! (Tacky Wax is available here: Tacky Wax.)
I made my garland across my kitchen counter, laying each of the envelopes face down with the yarn laying across them…kinda assembly-line style. lol
I placed a little tacky wax in the top corner of each envelope as shown below.
Then I just pressed the yarn down into the wax, making sure to squish some of the wax over the top of the yarn.
The next day I made a quick trip to Dollar Tree and picked up some hearts. The glitter ones on the left are not stickers, the felt ones on the right are stickers.
My garland held up well overnight without any cards falling off, so the tacky wax worked great! The cards are all still well-stuck to the yarn.
I tried to capture a few close-ups of these gorgeous cards for you. Again my photos do not capture their glossy finish.
I used a tiny touch of the tacky wax to hold each card in place inside the envelope. I almost hated to put any of the cards down inside the envelopes because the images are so beautiful and end up partially hidden once they are inside. But the cards do create a charming look peaking outside the pretty envelopes.
I attached a red, felt-sticker heart to each envelope to somewhat duplicate the heart we saw on the envelopes in Jackie's garland.
The inside of each card is blank so you can write your own Valentine's Day message.
I wish I could show all 24 cards from this set because every card is beautiful! I had a hard time choosing which ones to use in the banner because they are all so pretty!
Again, you can't really see the beautiful gloss finish of each card, just have to take my word for it. They look and feel very high-end.
What could be more Valentine's Day than a sweet cherub watering a rose topiary as robins fly around overhead! ♥ There are other flowers around the base of the rose topiary. These cards are just soooo pretty!
The only thing I would change if I were making this garland again is I would probably use 9 cards instead of 7 so that the cards would be a little bit closer together. I'm really happy with how it turned out, though. (Cards with envelopes are available here: Vintage Style Valentine's Day Cards.)
If you make this garland and do not plan to take it apart later to actually use the cards, you could glue or hot glue the envelopes to the yarn. I may do that if I decide to keep it in garland form. The cards are so beautiful, I was thinking about mailing them out to friends and family. Or, I may just hoard them for myself since I don't really want to part with them! Ha!
Update: Meant to mention this–if you are giving these Valentine's Day cards to friends, neighbors, or co-workers in person, I think it would be really cute to attach (either with glue or tacky wax) a candy heart to the front or back of each envelope. It could take the place of the red felt heart. I saw these chocolate heart candies below in Dollar Tree while I was there shopping for heart stickers. If you pick up some of the glitter hearts at Dollar Tree, mabye drop a few of those in each envelope, too. ♥
Hope you enjoyed this little Valentine's Day Garland DIY project! Looking forward to all the wonderful Before and Afters linked for this week's Met Monday!
Pssst: Did you know Between Naps On The Porch is on Instagram? You'll find me on Instagram here: Between Naps On The Porch.
Like to know when a new blog post is up and available to read? Subscribe for email updates, it's free and your email will never be shared.
Subscribe for free post updates via email here: Subscribe.
Metamorphosis Monday
Metamorphosis Monday is a party that's all about Before and Afters. Please link up your Before and After projects like DIY projects, room makeovers, craft projects even recipes. Any Before and After is great! Please do not link up Table Settings, save those for our Tablescape Thursday party on Thursday.
If you are participating in Met Monday, please link up using the "permalink" to your MM post and not your general blog address. To get your permalink, click on your post name, then just copy and paste the address that shows up in the address bar at the top of your blog, into the "url" box for InLinkz when prompted.
In order to link up, you'll need to include a link in your MM post back to the party so the other participants will have an opportunity to receive visits from your wonderful blog readers.
This party has ended, click button below for the links to all who participated.
*If a post is sponsored or a product was provided at no charge, it will be stated in post. Some links may be affiliate links and as an Amazon Associate, I may earn from qualifying purchases. *