Welcome to the 264th Metamorphosis Monday!
I have a mini-met for this Metamorphosis Monday, something that's so simple but has me pretty charged. (Har, har…couldn't resist.) I get just as excited about the little improvements I make around here as I do the bigger ones. Do you do that, too?
This was my battery storage system–a gallon size baggy. Pretty sad, huh?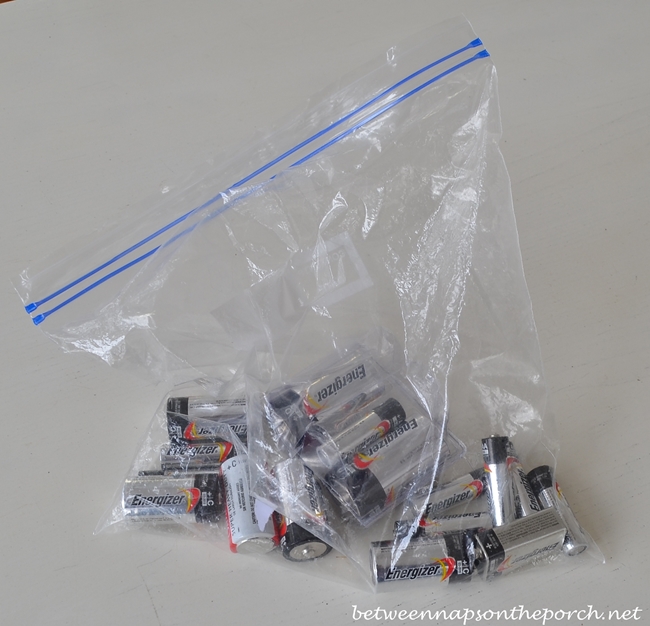 Whenever I needed a battery, I'd fish the bag out of the basket where I store them here in the office. You may remember this photo below from a previous post when I shared how I'm using all the baskets in the closet Expedit: IKEA Expedit: Sneaking a Peek Inside I'd dig through the bag hoping to find the size battery I needed. What a mess!
Recently, I decided to see if I could find a better way to store them. I searched on Google for "Battery Storage" and a number of solutions popped up on Amazon.
In my googling and searching, I found out something I had never known. Did you know, if batteries are stored where the ends accidentally touch, the battery can actually get activated and it will start draining the battery? I did not know this! That did it, definitely time to find a better storage solution.
Update: Several folks have mentioned in the comments that batteries touching can even start a fire, catching houses on fire! How have I not known this all these years? Scary to think how I've been storing them all this time! There's a link to a video in the comments of this post about a situation where that actually happened. Fortunately, everyone got out okay. I think I'll put a piece of tape over the top of my 9Volt batteries anyway, just to be safe.
I found a storage box online that I really liked but it had some dubious reviews. Mostly the reviews were positive but some folks were complaining it was difficult to get batteries into and out of the AA slots, saying the slots were too small. Other folks were complaining about the battery tester that came with it.
Since it was close to $20 + shipping, I hated to pay that and then have issues getting the batteries in and out. It may have been redesigned by now since most of the reviews are positive but I didn't want to take the chance and have to ship it back.
The next day I came across this one below. I'm not wild about the color, would have preferred it in white or cream, but I'm very happy with how well it works. The slots are plenty big enough so the batteries fit and come out easily. It even has slots for small, button batteries. Plus, at $9.97, it was almost half the price of the other one.
I like how easy it is to tell at a glance which batteries I'm getting low on. This should work well for storing rechargeable batteries, too. It's designed to fit in a drawer or hang on a wall. It's available here: Battery Caddy
I'm storing mine inside one of my office drawers. (Note arrow.)
And the tester works great! No more wondering if a battery is any good or worrying you've mixed good batteries in with bad ones. If all three lights are lit, the battery is good. If only the yellow and red lights are lit, it's getting weak. If only the red light is lit, it's discharged and no longer any good. (Not sure why but the red light looks kind of yellow in the pic below, but it's red in person.)
If you're in need of a good way to store your batteries, you'll find this storage caddy here: Battery Caddy
Do you have a good system for storing batteries? At one time I stored mine in the refrigerator. I had heard it makes them last longer. In my research this weekend, I read it doesn't make them last that much longer. I'd rather have the extra space in the fridge anyway.
Looking forward to the Before and Afters linked for this Met Monday!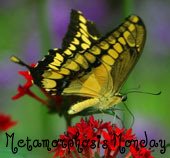 If you are participating in Metamorphosis Monday, you will need to link up the "permalink" to your MM post and not your general blog address. To get your permalink, click on your post name, then just copy and paste the address that shows up in the address bar at the top of your blog, into the "url" box for InLinkz.
In order to link up, you'll need to include a link in your MM post back to the party so the other participants will have an opportunity to receive visits from your wonderful blog readers.
Please observe these few rules:
Only link up Before and After posts that are home, gardening, crafting, painting, sewing, cooking, DIY related.
Do not link up if you're doing so to promote a website or product.
Do not link up a post that was just linked last week since a lot of readers will have already seen that post.
Do not type in ALL CAPS. It spreads the links waaaay out.



*If a post is sponsored or a product was provided at no charge, it will be stated in post. Some links may be affiliate links and as an Amazon Associate, I may earn from qualifying purchases. *