Welcome to the 765th Tablescape Thursday! How is your week going? It's been a busy one here. The painter finished painting the storage room yesterday, and on Tuesday, I started priming/painting the workbench in this room. I hope to finish it today or tomorrow. Look forward to sharing the finished space on Monday!
We are back out on the porch for this week's Tablescape Thursday. The weather has been so beautiful this week with wonderful spring temps, so it was the perfect time for a table here on the porch.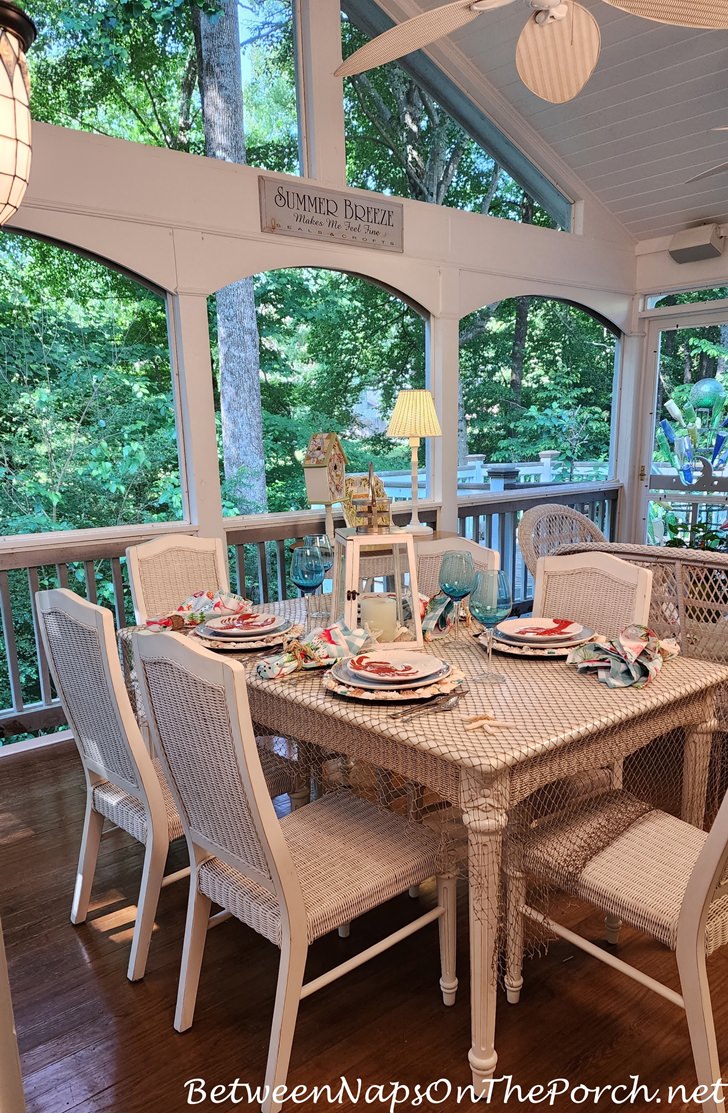 This post contains a lot of photos because I decided midstream to change one of the main elements in the table–just to see how it would look. Plus, I added some additional glasses. So it's a bit like I'm sharing two tables today.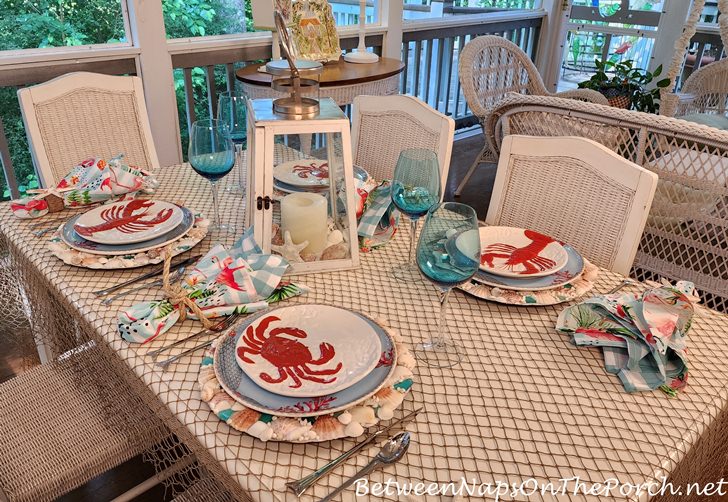 At first, I set this table without a tablecloth, but later I started wondering how it would look with a fishing net tablecloth since the dinnerplates themselves actually have netting in their design.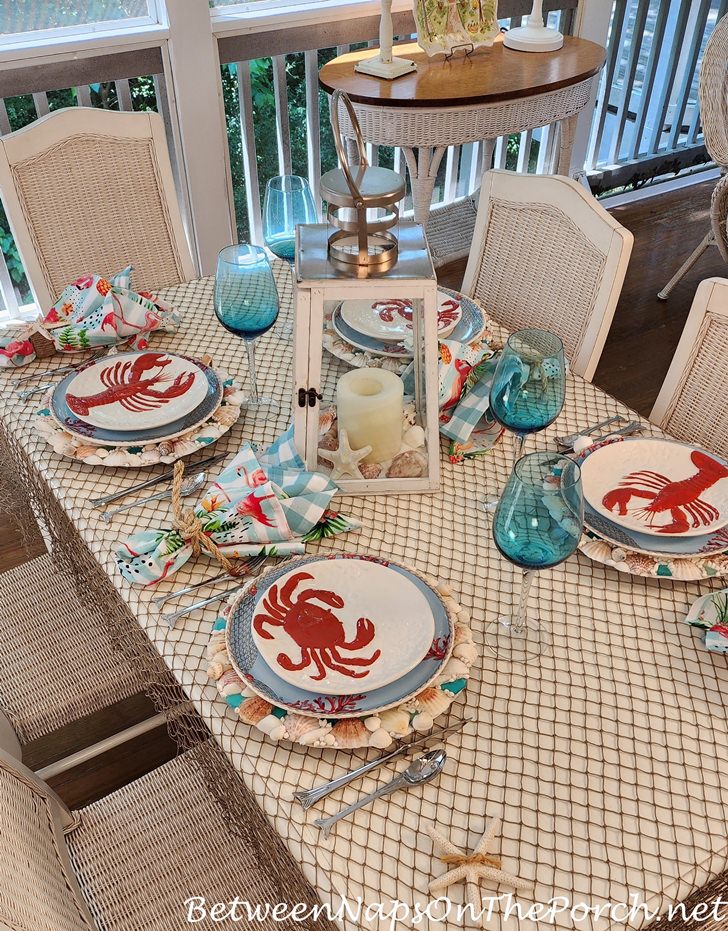 The fishing net tablecloth definitely adds a nautical feel, and it appears to have caught a lobster and crab! Ha!
The crab and lobster salad plates were a find in World Market many years back. I wonder if World Market is still open, hope it is!
I love the bold design and the embossed coral background of these plates.
The dinner plates, hallmarked "Effetti d' Arte, Italy" on the back, were the inspiration for today's table. I'm pretty sure I found these in HomeGoods, been so many years it's hard to remember. Unfortunately, they only had 3 in stock when I purchased them. It's taken quite a few years, but I just recently found two more on Etsy, giving me enough to set a table for four.
I love this color combination–coral and blue! I paired them with some shell/sea glass charger plates I made several years back. The netting on the dinner plates works well with the fishing net tablecloth, while the coral design ties back nicely to the embossed coral design on the salad plates.
I was surprised by how well my recently purchased flamingo napkins worked with the dinnerware. (Flamingo napkins are available here: Flamingo Napkins. The aqua and white buffalo plaid napkins are available here: Aqua/White Napkins.)
Lots of critters in this table with crabs, lobsters, flamingos, and sharks! Here's a close-up of the spoon and knife.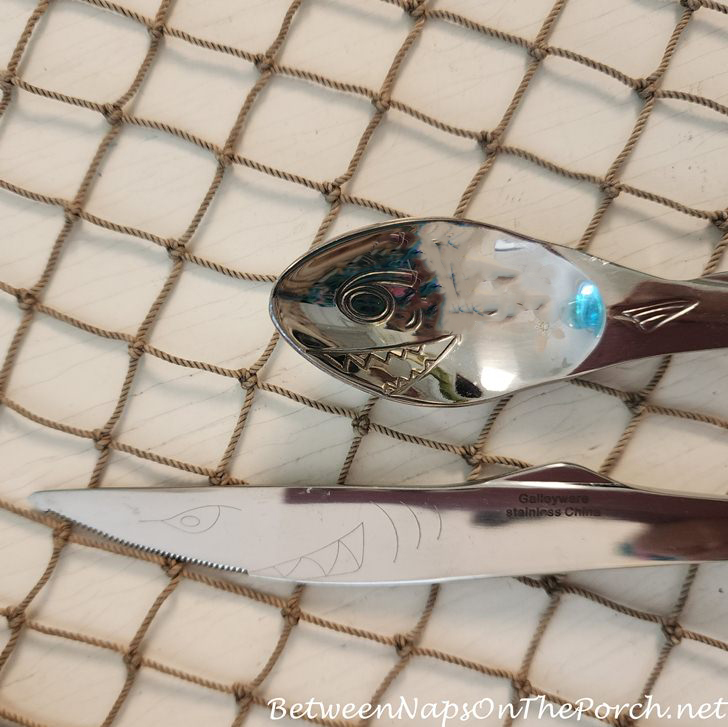 Here's a closer view of the forks from a different table setting. I found this whimsical flatware many years ago on Amazon. I love how each piece has a fin across the top! This flatware was only available for a very short time, wish they would bring it back again. Update: You'll find similar "fishy" flatware here: Fish Flatware.
I kept the centerpiece simple with a lantern that always makes me think of a lighthouse.
The candle inside the lantern is surrounded by white sand and seashells.
View from overhead…
This was how this table actually started out–without a fishing net tablecloth.
Usually, the birds stay away from the feeders when I'm moving around a lot on the porch. It didn't seem to bother a beautiful Cardinal who came down for a snack.
I think I prefer this table without a tablecloth. It just seems less busy that way. What do you think?
Which do you prefer–fishing net tablecloth or no fishing net tablecloth?
I wanted to use these nautical-tied ropes as napkin rings but I could only find two. I guess when I tied these for a previous table, it must have been a table for two. I need to find the rope and tie a few more. lol
Since I could only find two rope napkin rings, I used these DIY starfish napkin rings for two of the four place settings. You'll find the steps for making these here: Starfish Napkin Ring Tutorial.
I started out with just wine glasses on the table but later decided to add these cute tumblers featuring Adirondack chairs.
Can't remember where I found those now–most likely HomeGoods or Marshalls.
So, which way do you like this table? Do you prefer it with the fishing net tablecloth or without?
Looking forward to the beautiful tables linked for this week's Tablescape Thursday! (If you enjoyed this post, subscribe for email updates when a new post is up here: Subscribe for post updates.)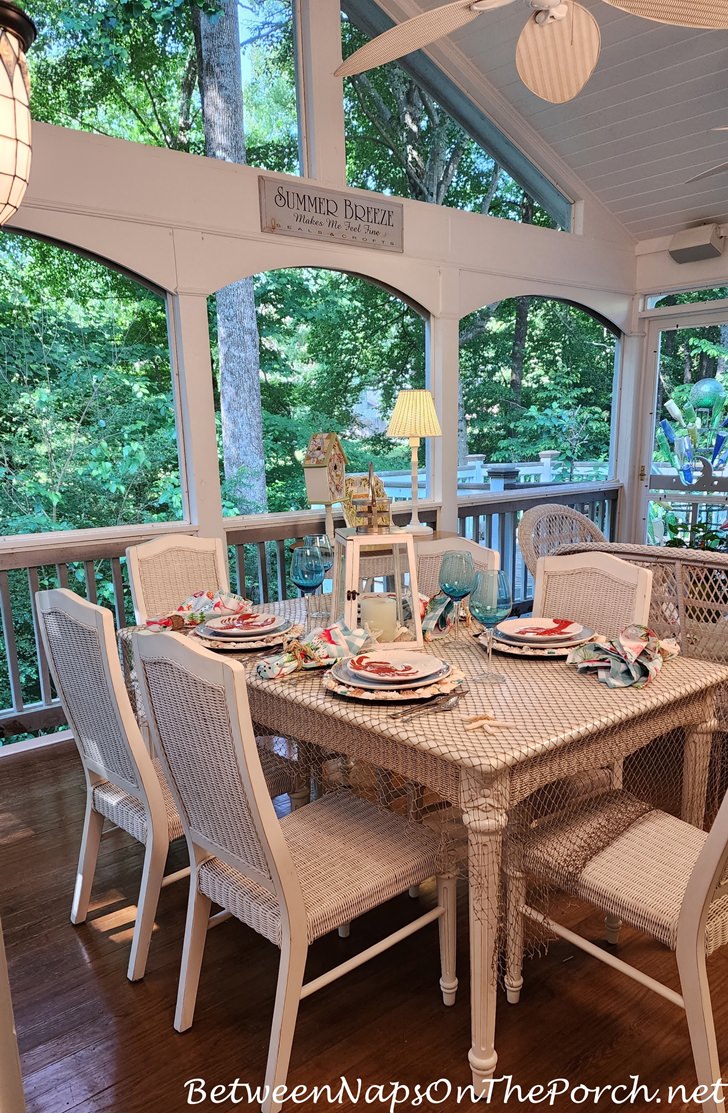 Tablescape Thursday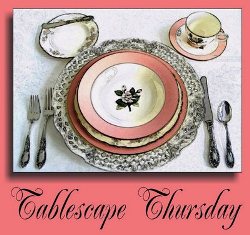 If you are participating in Tablescape Thursday, please be sure to add your permalink below, and not your general blog address. To get your permalink, click on your post name, then copy and paste the address showing in the address bar, into the "url" box when you link up. You'll need to include a link in your post back to the party to link up and participate. That's so visitors to your blog will be able to find the party and the other Tablescape Thursday participants. Please link up table-setting-related posts only for Tablescape Thursday. Please link up table-setting-related posts only for Tablescape Thursday.
You are invited to the Inlinkz link party!
*If a post is sponsored or a product was provided at no charge, it will be stated in post. Some links may be affiliate links and as an Amazon Associate, I may earn from qualifying purchases. *