One of the first things I'm going to do when I get back home is decorate for fall. I'm busting to get started! I have two wreaths I've used for my front door and over my mantel in past few years, so it will be time to pull those out and access their condition. I have a feeling it may be time for a new wreath or fall basket.
I've been wreath shopping today to see what's available and there are some gorgeous wreaths out there. Some are even on sale. This is the wreath I've been using on my front door the last couple of years. I love its soft muted colors!
I love how this wreath looks against the red color of my front door. I'm often asked what paint/color this door is painted. It's Benjamin Moore's Heritage Red.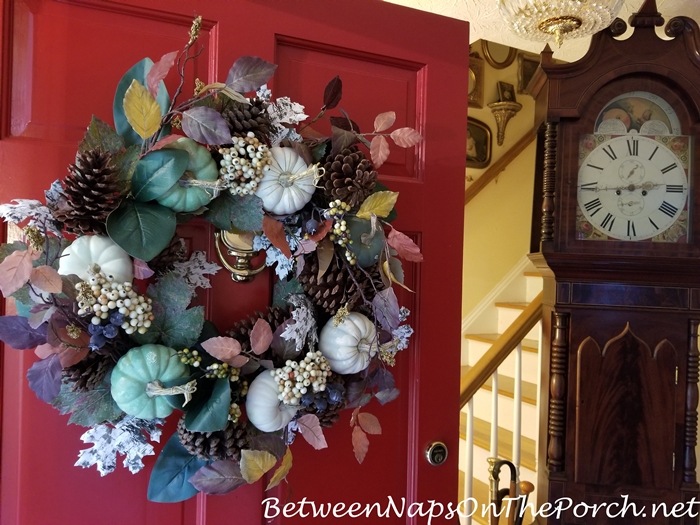 I checked today and it appears they are bringing a similar wreath back again this year. It doesn't appear that it's available to purchase quite yet, but when it is, you'll find it here: Fall Wreath.
I absolutely love the beautiful colors in this autumn wreath. I think it would even work on a red door since it contains a lot of green in the design. You'll find it currently on sale here: Autumn Wreath.
Is this not gorgeous?! I love this magnolia wreath! Because it was designed with the backs of the leaves visible, just as you would do when making a wreath for live magnolia, this wreath would work beautifully for fall. It could be used right through Christmas. This magnolia wreath is available here: Autumn Magnolia Wreath.
This is another wreath I've used for many years. It looked okay on my red front door…
…but I really prefer to use it here above the mantel. The colors really pop again the mirror that hangs above the mantel. I just noticed from the angel I took that photo, the paneling on the other side room is being reflected in the mirror. It makes it look like the mirror is divided in half. So weird! It one solid mirror from where the side panels with urns end.
Here's another slightly blurry photo that shows that a bit better.
If you like a fall wreath in autumn colors of red, orange and gold, this wreath is similar to mine. You'll find it available here: Autumn Wreath.
If you prefer a wreath in more muted colors, this one is really pretty!
I love how it looks in this photo below, such a gorgeous display! This REALLY makes me want to decorate for fall right now!
You'll find the wreath available here: Autumn Wreath in Neutral Colors. You'll find many more wreaths as well as fall and Christmas decor items by the same company here: Fall Decor.
I'm always drawn to sunflowers! One autumn, I hung a basket filled with sunflowers on my front door. Love how the yellow looks against the red.
If you love sunflowers, too, you'll find this beautiful sunflower wreath available here: Sunflower Wreath.
Have you started decorating for autumn? I can't wait to get started!
*If a post is sponsored or a product was provided at no charge, it will be stated in post. Some links may be affiliate links and as an Amazon Associate, I may earn from qualifying purchases. *