To date, the best historic home tour that I've ever taken (and I've taken a lot!) was a ramble (that's what they call them) I took with The Georgia Trust for Historic Preservation to Newnan, Georgia. I've never seen so many beautiful old homes in a single day as we did on that trip.
I'm used to historic home tours where there's one or two knock-your-socks-off homes on the tour, along with 3 or 4 other interesting homes, but this was the first tour I've ever taken where ever home on the tour was just unbelievable. These were the kind of homes you drive by and think, I would give anything to see inside that home! Or, they were the homes at the end of those mystery driveways you pass and always wonder what the home looks like at the end of the lane.
Newnan is a special place and it was truly a magical day that ended with a wonderful barbecue and an open bar. I didn't partake much from the open bar since I was driving later that evening, but when have you ever been on a historic home tour that ended with an outdoor barbecue and open bar? I would love to go on another Georgia Trust ramble one day. It's been quite a few years since I did one of those.
Recently, I came across this beautiful home that's currently for sale in Madison, Georgia. I think The Georgia Trust has done a Ramble there, as well. (Update: They have done rambles in Madison. Just found some info online about one they had in fall 2013.)
I bet this is one of those homes that makes the passerby crane their necks in hope of a better look, wondering what's it's really like inside. Are the rooms decorated? Is it filled with gorgeous antiques? Let's go inside and see!
I love the flag flying from the upstairs balcony!
Such a beautiful entry! I love an entry with wallpaper. I've been so tempted to wallpaper mine, just not sure where to stop the paper since there's not a good stopping point at the staircase.
This home is quite large and I had a little trouble figuring out all the rooms. This beautiful living room is to the right as you enter in through the front door.
This is such an interesting view…standing on the far end of the room looking back through the foyer into what I'm calling the music room. I would love to know what color paint that is on the walls. It reminds me of my favorite yellow, Duron Sugar Cookie.
The music room…
This little sitting room appears to be right off the living room. Not sure how it's used since I don't see a TV. Very pretty, though.
I've always dreamed of one day having a dining room with a fireplace. In a perfect world it would be a wood-burning fireplace and would happily maintain itself so the fire would stay burning all throughout dinner without any help. Hey, it's my dream…that could happen!
So, I have to tell you something that really surprised me. I am not a fan of kitchens with stained cabinets. I am a lover of white kitchens. But I have to say, I love this kitchen! The color of the wood is so warm and inviting! I would totally be happy in a kitchen like this.
It doesn't feel one bit "formal" or gloomy like some kitchens with stained cabinets can feel. It just feels very warm and cozy. I love the flooring, too. It looks like it would hide anything that got tracked in–my kind of kitchen floor!
In the photo above of the kitchen, you can see this cozy room in the background. I guess it's a Keeping Room. As I've mentioned before, I'm not a fan of big, huge open interiors, but I do love a kitchen that's open to a Keeping Room, especially when that room has a fireplace.
Just off of the Keeping Room is a sun-filled breakfast room. Imagine dining here with these views every morning! Notice anything unusual or special about the table? I missed it the first time I looked at the pictures.
Hint: Check out the bowl in the center of the table.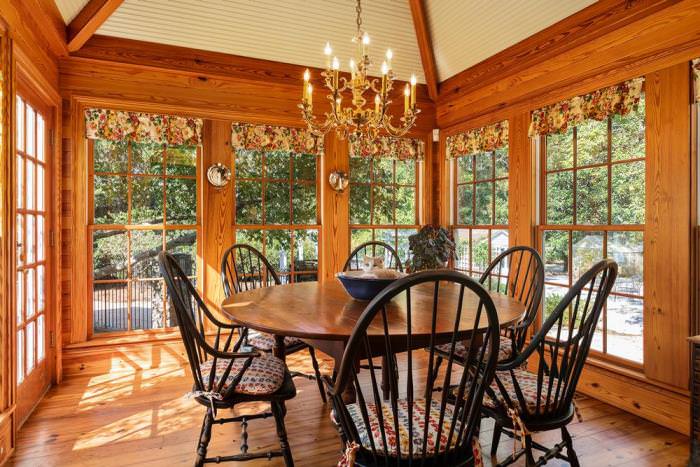 It has a very cute occupant! ♥
I'm guessing this is the den or TV room here off of the breakfast area, although I don't see a TV from this angle.
Let's go upstairs and check out the bedrooms. I love the windows on the landing!
The bed in this room definitely looks like an antique. Love how high it is! So interesting that the floor is painted in this room.
Another beautiful room! Just imagine having a fireplace in your bedroom! I would go nuts decorating all the mantels at Christmastime!
I am not sure if this room is a bedroom or not. Look at that beautiful coffered ceiling!
There's a wonderful sunroom. It appears to have the same stone/brick flooring we saw in the kitchen.
The back porch…
I love pools that look like natural water features in a backyard. What a great place for an outdoor party!
Here's the back view of this beautiful Madison, Georgia home. What a lovely backyard!
If you would like to see the other rooms in this home that I didn't include in this post, along with the rest of the property, you'll find the listing for this home here: Madison, Georgia Home for Sale.
And if you ever see Newnan or Madison, Georgia listed as a Spring or Fall Ramble with The Georgia Trust, take it! Call me first though, so I can go with you!
*If a post is sponsored or a product was provided at no charge, it will be stated in post. Some links may be affiliate links and as an Amazon Associate, I may earn from qualifying purchases. *