Forget the flowers and the chocolates, I love a gift for Valentine's Day that truly lasts, not one that's consumable or will wilt within a few days.
Today I'm sharing a few of my faves that I think any woman would love getting either from her sweetheart (or for herself) on Valentine's Day. I'm also sharing a couple of ideas for the guys because they deserve a special gift on Valentine's Day, too!
For the last year or so I've become obsessed with these gorgeous House of Sillage lipstick cases. They're made of enamel and covered in more than 300 Swarovski crystals. They are dazzling in person, photos do not do them justice! The Swarovski crystals sparkle as if they are on fire!
The House of Sillage lipsticks that fit in the cases are wonderful, too. They do not feather (so important!) and feel luxurious on the lips. The cases are so beautiful, they make you feel like royalty when you're applying your lipstick. They are bougie to the max and the perfect gift for Valentine's Day!
They come in a rainbow of colors. I've been gradually collecting them in all my favorite colors. This is where I've been purchasing mine since shipping is free, as are returns: House of Sillage Lipstick/Lipstick Cases.
Some of the cases are limited edition, I think the two floral ones at the bottom right are limited editions. Those are the first two I purchased because I was worried they would sell out. I'm surprised they are still available.
House of Sillage also makes perfume. I think that's how they first started…with perfume. I've sampled some of them and they are feminine and as beautiful as the containers they come in. I haven't purchased any of their perfume yet, maybe when I'm done obsessing over their lipstick cases. You'll find their beautiful perfumes here: House of Sillage Perfume.
2 Budget-Friendly Gift Ideas
A gift that won't break your sweetheart's (or your) budget is the leather card cases/wallets I posted about recently. I've heard such good things from so many of you who purchased these. It really is amazing to find such a beautiful, well-made, leather card case wallet for under $15! These are all available here: Leather Card Case and Wallet.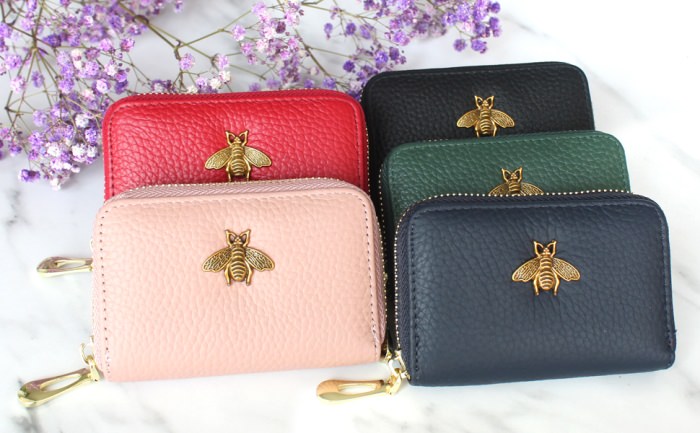 Another gift idea that is also budget-friendly are these Swarovski Crystal butterfly earrings. I think I may have shared these a couple of years back. They are beautiful!
They also come in this gorgeous pink color. I bought a pair in each color and have loved wearing them. You'll find them in three colors (including a stud version) here: Swarovski Crystal Butterfly Earrings.
A Gift for the Special Guy in Your Life
I was trying to think of an over-the-top, special gift for the guys and the one thing that keeps coming to mind is a Hermes tie. I've purchased several over the years for my son and he loves them. Hermes makes both serious and whimsical ties but the whimsical ones are my fave. My son has a ton of serious Brooks Brother's ties for court days, but I think he enjoys the less-serious ones even more.
The only place I know to buy a Hermes tie is directly from Hermes, either in person or online. You'll find all their ties online here: Hermes Ties.
Tip: Use the filters along the left side of the page at that link to narrow down to the ones you're most interested in seeing. Be sure to click on the "Theme" filter. I love shopping for the "Animal World-Wildlife" ties under that section. Also, love the "Horse-Equestrian" ties under the "Theme" filter.
Here are a few that I've given to my son over the years. Since Thierry Hermes first opened his shop making saddles and harnesses back in 1837, Hermes has always had a lot of equestrian-themed items available online. I love this whimsical/horse/clouds/jockey tie. Do you see the clouds that are shaped like horses with the jockey on top?
This tie is called "Job Interview" which cracks me up since it's covered in good-luck charms.
Another tie with an equestrian/chess theme…great for the guy who loves playing chess.
Often the back of a Hermes tie has a hidden surprise, a little joke or touch of whimsey that only he knows is there. This is the back of my son's baseball-themed tie.
He wears this one during the month of October! I love the ghosts chasing after the chariot in the Hermes logo on back.
This one is one of my favorites! You know how dinosaur obsessed my grandsons are, so I had to get this one for him last year. On the back of the tie, Tyrannosaurus Rex has taken a few bites out of the Hermes logo. 🙂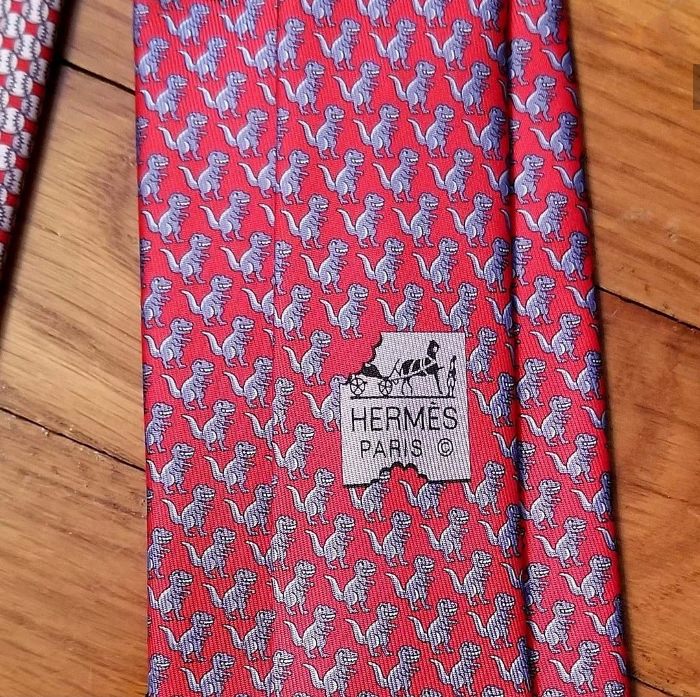 While I was visiting with my son, daughter-in-law and grandchildren during the Christmas holidays, I seized the opportunity to share all these fun Hermes ties at UnderMoonlightAndMagnolias, the IG account where I share fashioned-oriented posts. (Follow me on Instagram for fashion-themed posts here: Under Moonlight and Magnolias. Find my Home/Garden/Travel related post here: Between Naps On The Porch.)
The next morning, as my son was rushing out the door to head to work, I noticed he was wearing one of the Hermes I had given him. I snagged him and asked if I could take a photo. He laughed and said, "Sure." I pulled him into the dining room where I could take a photo in the natural light coming in through the windows.
So here's how the Hermes dinosaur tie looks when worn. It's not often I get to have a model for something I'm sharing. lol The silk Hermes uses to make their ties is incredible, but then that's what you would expect from a company famous for its silk scarves.
If I think of some additional gifts for the guys, I'll come back and add those to the end of this post. Of course, a beautiful cashmere scarf is always a great idea for the man in your life. My son is wearing a Burberry scarf in this photo. You'll find several cashmere scarves, including some beautiful Burberry scarves here: Men's Scarves.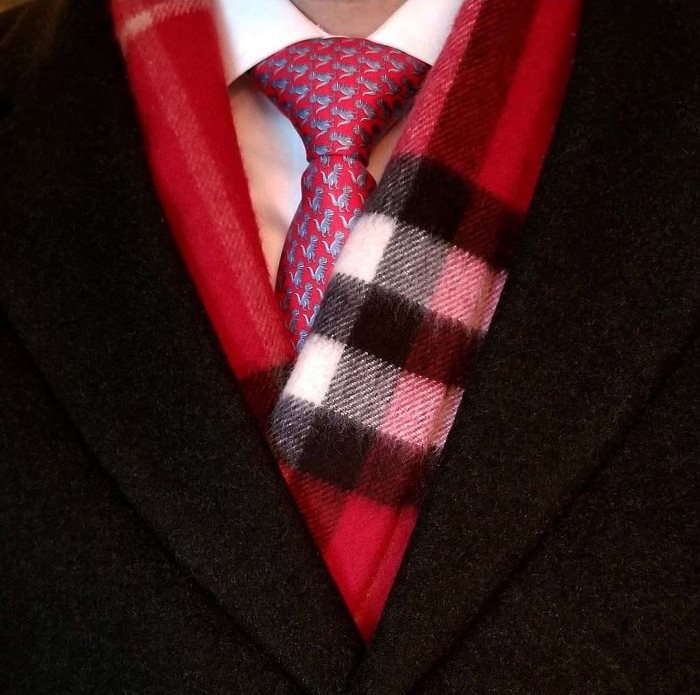 Happy Valentine's Day shopping! I'm getting ready to mail off a little package to my grandsons. Hope they like the popup cards and goodies I'm including. Marshall's had some of the cutest Valentine's Day pop-up cards for children!
Have a wonderful weekend!
*If a post is sponsored or a product was provided at no charge, it will be stated in post. Some links may be affiliate links and as an Amazon Associate, I may earn from qualifying purchases. *