Welcome to the 591st Metamorphosis Monday!
One of the things in life that makes me the happiest is when I get an email from a reader saying they have added a screened porch to their home and found my previous posts about my porch to be helpful. Recently Nancy emailed to say, "As we were building our porch, we tried to incorporate the 9 things you recommended. We were able to include all 9 things plus a couple of extras."
Pssst: If you've been considering adding a porch onto your home, you'll find the post Nancy is referring to here: 9 Great Features For Your Screened Porch."
I asked Nancy if she could share some of the details of her porch and she said, "The size is 20′ x 21′. As you can see, we have a dining area, plenty of comfortable seating, lamps, a swing, a hutch (which I love decorating for the season), music, 2 ceiling fans, a grill, a small water fountain, and a TV.

Nancy said, "The porch is one of our favorite places to sit in the morning with a cup of coffee, and then in the evening–a relaxing way to end our day."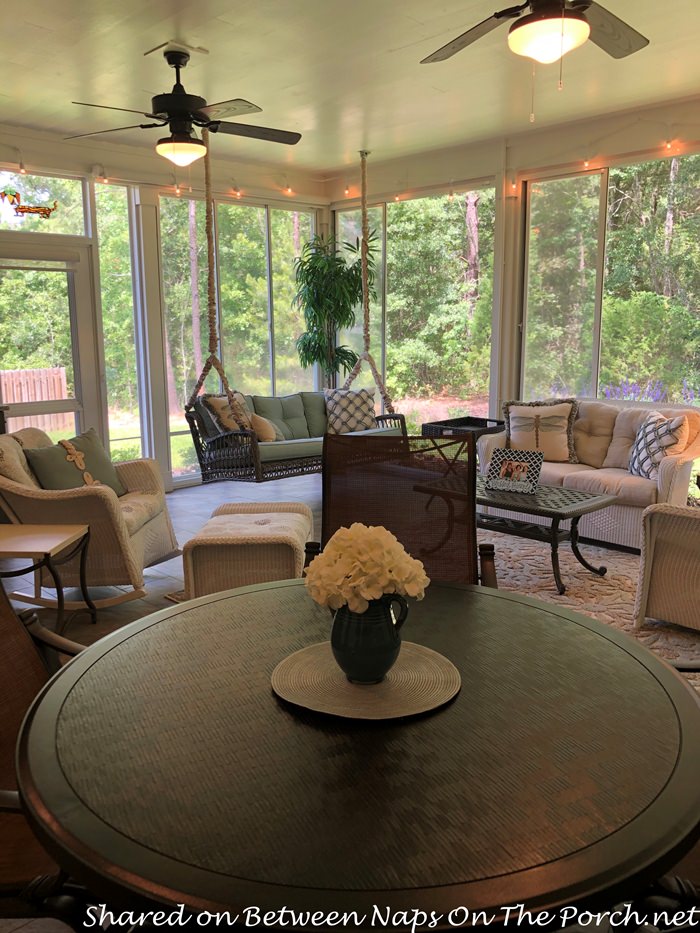 Nancy's porch has plenty of cozy seating and great places to relax and get in a little bird watching.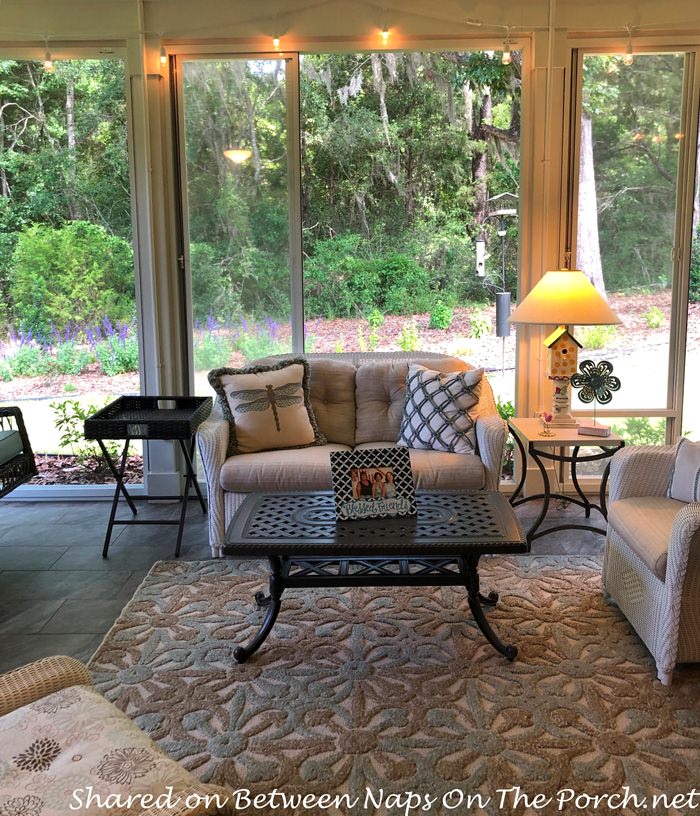 I love this adorable birdhouse lamp! Sooo cute! I asked Nancy where she found this fun lamp. She said she's had it for about 20 years and she believes she found it in Haverty's. It used to live in her sunroom before they added on the porch.
Inspired by Nancy's lamp, I've been looking for birdhouse lamps online today. I found a really cute one here: Birdhouse Lamp. I love the design!
Nancy said, "You were absolutely correct about the swing being a people magnet! It's usually the first seat taken when we have guests. We also have 4 grandchildren, who love to swing. It's a great addition to the porch!
I used the cloth lamp cord covers on the swing chains. Another awesome idea I got from you! It definitely softens the look of the swing."
Pssst: To read more about the covers I use to hide the swing chains on my porch, check out this post: How to Hide Those Ugly Metal Swing Chains.
Nancy said, "We are actually having two couples over today for a socially distanced happy hour. We can all sit 6 feet apart and enjoy a little togetherness, one of the things I've really missed during these crazy times."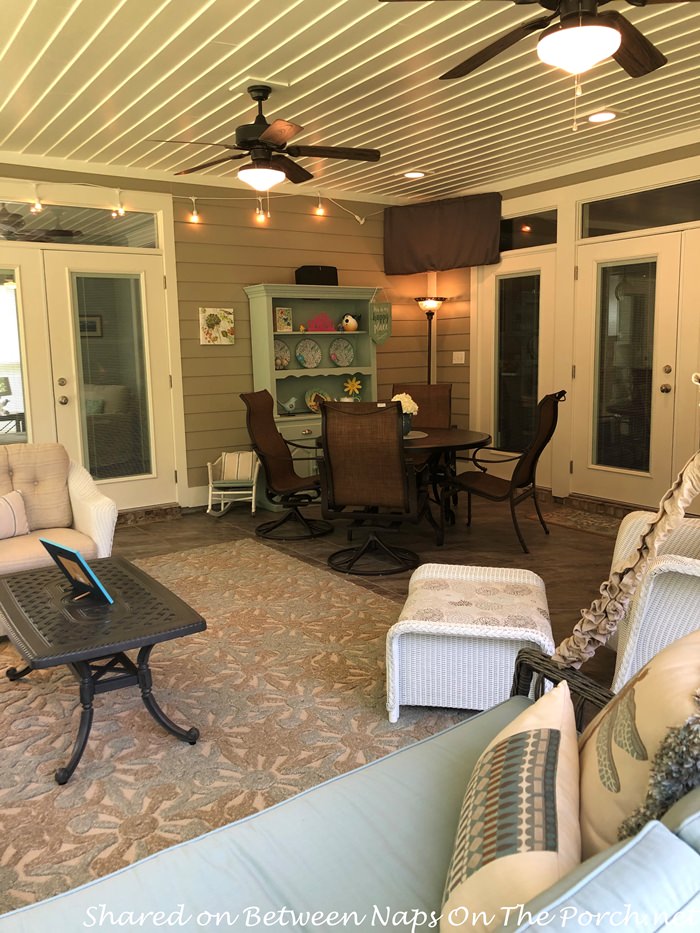 I love the dining area Nancy created for dinners on the porch. She added a hutch for storing the dishes she most often uses when dining in this cozy spot.
I think I see a TV, too–perfect for when the game's on and you don't want to miss any of the action. Hoping we'll be able to catch some games over the next few months.
As mentioned previously, Nancy loves decorating her hutch for the seasons and holidays. Currently it's all decked out for spring.
Two features that really set the mood and create a lovely ambiance for any porch are music and the soft gurgling sounds of water. If you have an open or screened porch, considering adding a small fountain near the seating areas. The sound can be so relaxing–a great stress-reducer. Nancy found this beautiful fountain many years ago at a local craft festival in Tallahassee called, Market Days. Love the water lily design!
You'll find a lot of beautiful water fountains for indoor spaces here: Water Fountains for Indoor Rooms.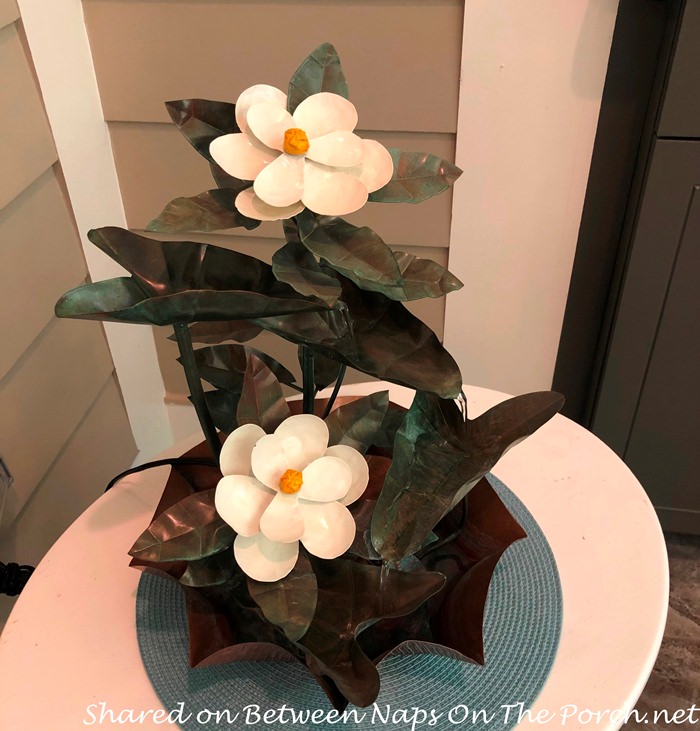 Nancy and her hubby found a great way to grill out (even on the rainy days) by incorporating a vented grill into the porch.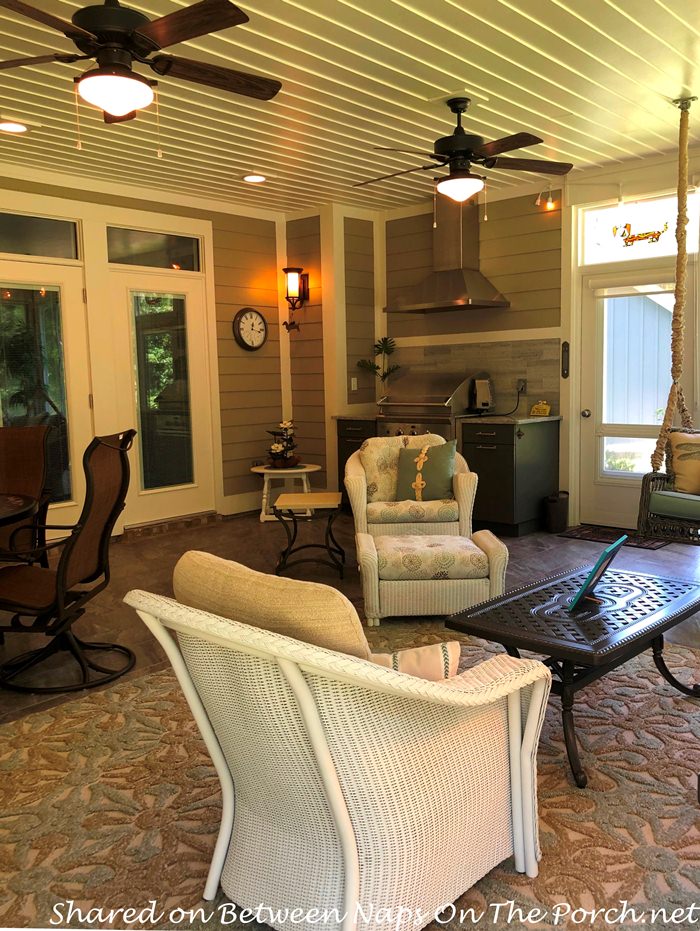 This is definitely a feature you'll want to consider if you have the space and love grilling out on a regular basis.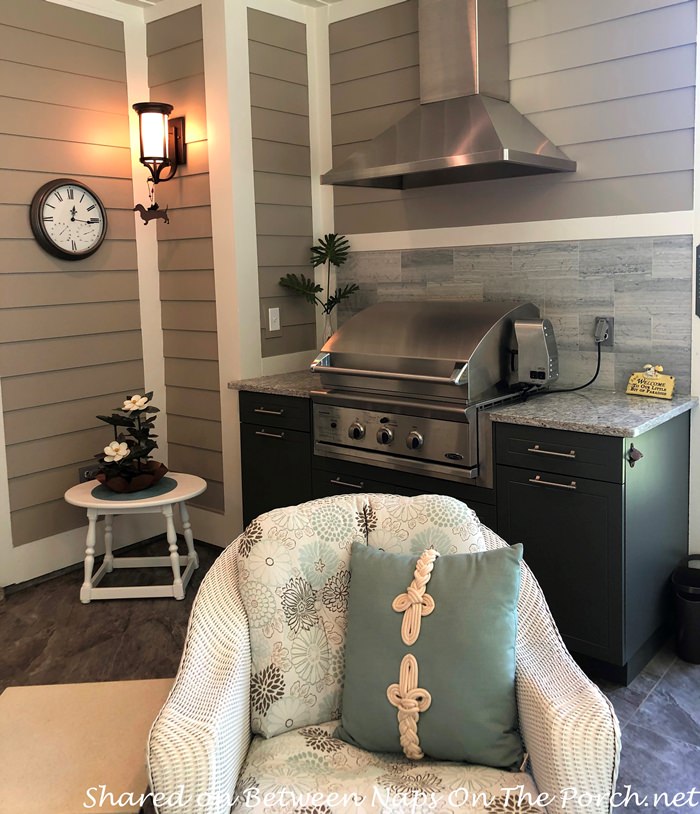 I love all the storage and the great counter space on either side!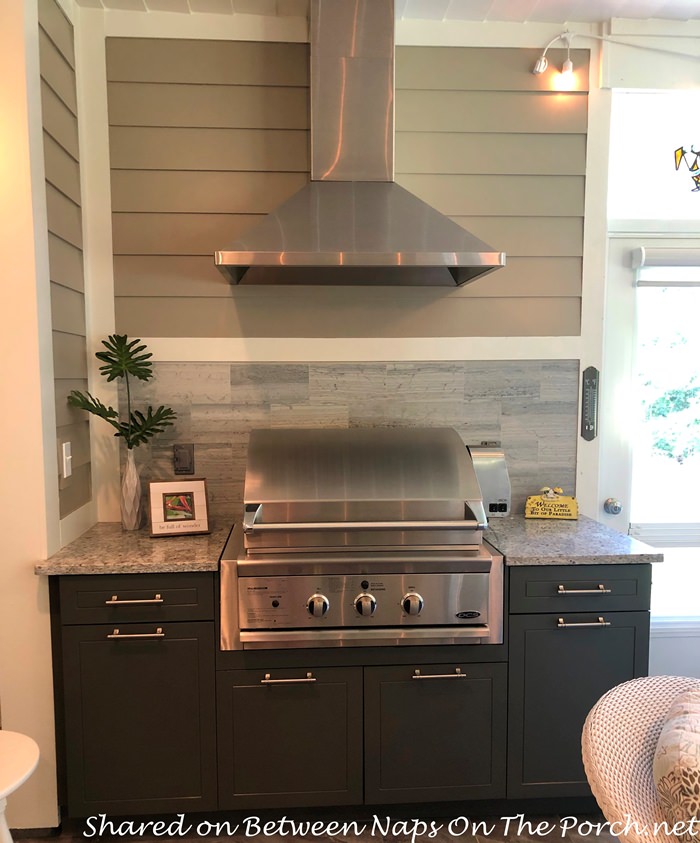 Nancy said, "We live in Tallahassee, FL, so our weather is pretty nice most of the year. We do get all the pollen like in Atlanta, so we decided to add vinyl windows. It definitely helps keep the pollen out!"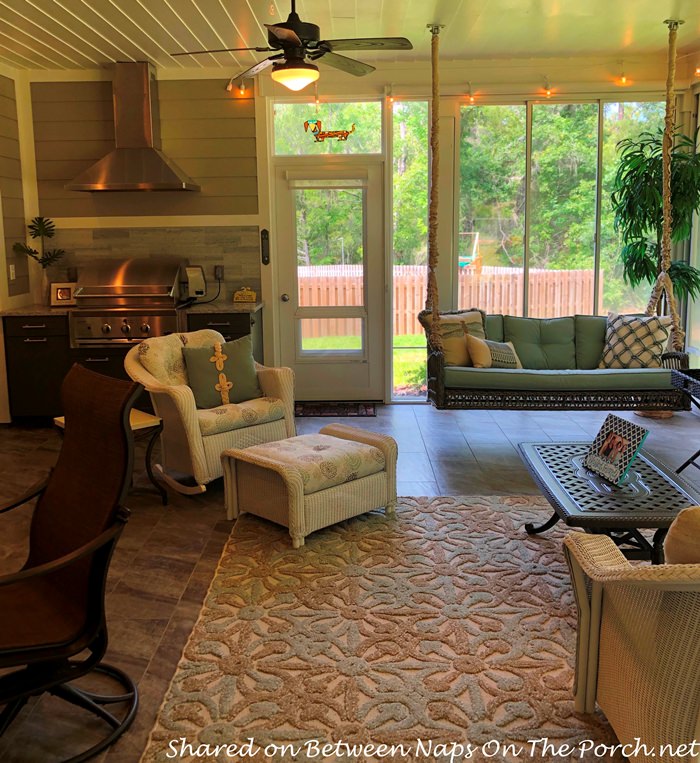 About the windows Nancy added to her porch, she said, "It also makes the porch a little more comfortable in the winter. It's nice to be able to slide them closed when it's raining too."
Here's how the porch looks with the windows closed over the screens.
And here's how they look when open. Beautiful!
Nancy said, "We have a nice rollup shade on one side, where the afternoon sun comes in. It still allows some light in, but helps with the heat of the sun."
Posted on the wall near the French doors that lead into the sunroom are all the rules that must be followed when spending time here on the porch.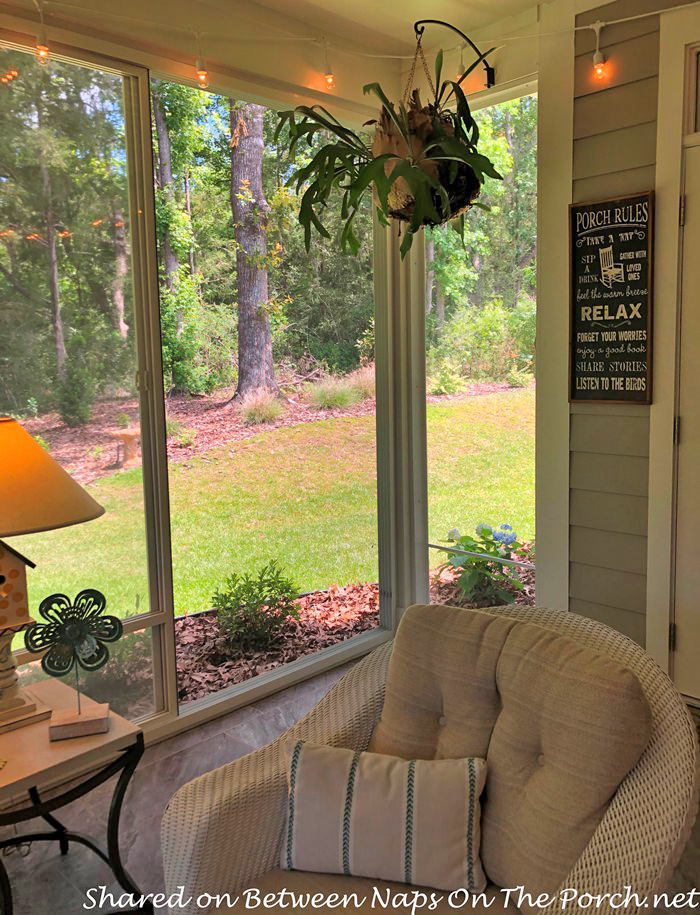 I think I could handle these without any problem. How about you? 🙂
Thanks so much to Nancy for sharing her beautiful screened porch for this week's Metamorphosis Monday! It was such a treat to tour this beautiful porch and see all the wonderful details that make it such a special place to entertain family and friends!

Curious to know how much it costs to add on a screened porch to your home? I shared the cost of adding on my porch in this previous post here: Screened-in Porches: How Much Do They Cost to Build?
You'll find 9 great features I recommend when adding on a porch in this previous post: 9 Great Features For Your Screened Porch."
Happy spring to you!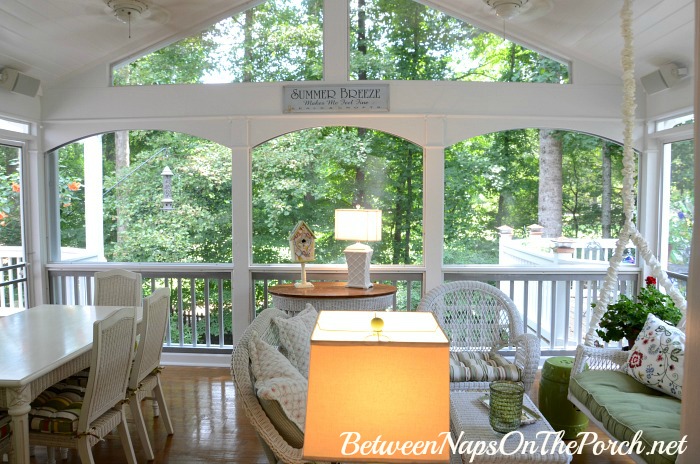 Looking forward to all the wonderful Before and Afters linked for this week's Met Monday!
Pssst: Did you know Between Naps On The Porch is on Instagram? You'll find me on Instagram here: Between Naps On The Porch.
Like to know when a new blog post is up and available to read? Subscribe for email updates, it's free and your email will never be shared.
Subscribe here: Subscribe for free post updates via email here: Subscribe.
Metamorphosis Monday
Metamorphosis Monday is a party that's all about Before and Afters. If you are participating in Met Monday, please link up using the "permalink" to your MM post and not your general blog address. To get your permalink, click on your post name, then just copy and paste the address that shows up in the address bar at the top of your blog, into the "url" box for InLinkz when prompted.
In order to link up, you'll need to include a link in your MM post back to the party so the other participants will have an opportunity to receive visits from your wonderful blog readers.
This party has ended, click button below for the links to all who participated.
*If a post is sponsored or a product was provided at no charge, it will be stated in post. Some links may be affiliate links and as an Amazon Associate, I may earn from qualifying purchases. *