Welcome to the 649th Metamorphosis Monday!
Recently I mentioned in a post that the Ikea Billy Bookcases here in my home office, make lousy bookcases. They really do! Unless you only own/read paperback books or wish to fill your bookcase shelves with a lot of tchotchkes, the shelves are going to bow. They do not hold up well under the hardback books at all!
Magdy, a lovely BNOTP reader, emailed me about a much better alternative, the Ikea Hemnes. It's made of actual wood so the shelves won't bow under the weight of hardback books. Also, the shelves are an inch or so deeper which means the handful of books I have that stick off my current shelves, would fit completely on the shelf. The Hemnes is a bit more expensive but definitely worth it since it's made of actual wood.
I read online that Ikea has supposedly improved the strength of their Billy Bookcase shelves in recent years. Not sure I trust that after my experience, so I would rather just replace my current shelves with Hemnes bookshelves. Unfortunately, the Hemnes is around 3-4 inches wider (which I actually like!) so three Hemnes would not fit on this wall in my office without removing the little blue refrigerator in the corner. I could live with that if I had another place for it somewhere upstairs, but I really don't have a great spot. For now, I think I'll just put up with my bowing shelves, but I will definitely consider changing to Hemnes sometime in the future.
Changing Gears: A Tip I Hope You Find Helpful
In the meantime, I wanted to share a tip that worked great for me recently and that I hope you will find helpful when ordering furniture from Ikea, or really any store. In a recent post, I shared that I had ordered a couple more of the Ikea Billy Oxberg cabinets for display storage. I already have one in my master bedroom that I just added an extension shelf to the top. Once the other two cabinets arrive, I may remove the extension from this one since I'll have more storage then and may not need the extension.
I don't have room for all three cabinets in my master bedroom area, so I cleared a spot on the left wall here in my guest bedroom by moving a trunk that was on that wall to another spot in the room.
So about that tip: When I first ordered the Billy Oxberg cabinets on June 24th, the first available delivery date the Ikea system offered was during the first week of August. I could not do it that week so had to schedule it for the end of August. Argggh. I called Ikea a few days later to see if they had any cancellations or could perhaps move my delivery up a few days to some time in July. Sadly, the answer I got was, No. They also don't keep a list of customers who would like to reschedule if a cancelation occurs and a closer date opens up. Drat!
I got an idea. I decided to stalk the Ikea website each day to see if maybe, just maybe, the schedule would open up–and it did! About a week after placing my order, I noticed when I clicked to "reschedule," the system showed delivery dates as soon as July 22nd, but for some weird reason, the system wouldn't let me actually change my existing delivery date.

I called Ikea the next day and was told that though customers can't change their delivery date online (despite the fact it actually shows a "reschedule" link to do that!?) the represenative could change it for me. So the Ikea rep was able to move my delivery to a date later this month. Yay! That's so much better than having to wait all the way to the end of August.
So my big tip is, if you order something from Ikea, or really any company, and you get a way-far-out delivery date, make a note to check back either online or via phone each day to see if the schedule opens up. Right now, a lot of companies are having stock/delivery issues, so they may quote a far-off date when in reality stock may become available much sooner.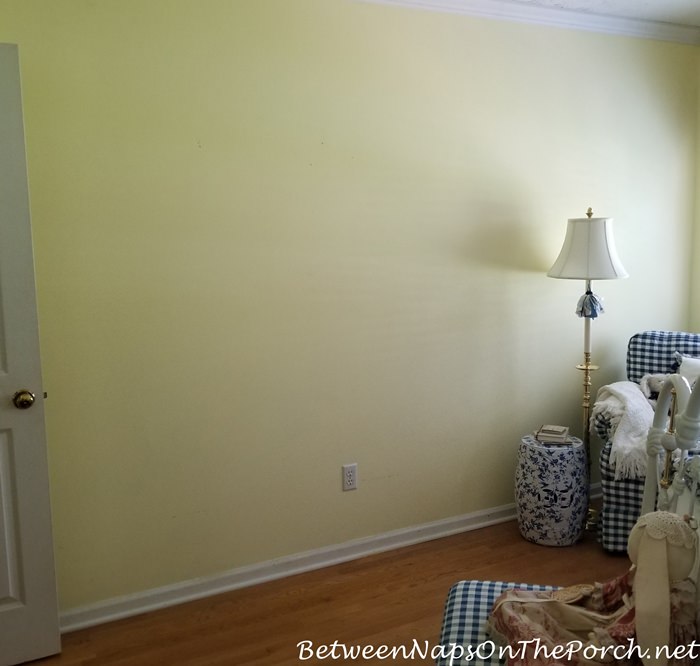 Catch-up Post Is Coming
I'm going to create a catch-up post this week and answer some of the questions I've gotten about past mini-projects I've started/been working on…like framing the painting that I purchased to go over my bed, scheduling the roof cleaning, having the new screened doors installed, how button covers actually work to protect t-shirts, etc… I wanted to include all of that in today's post but it's just too much for one post. But I will definitely do that post this week, so watch for that if you've been wondering about any of those things.
In the meantime, here's a small but significant upgrade I made this past week that I'm sooo happy about. In the past, whenever I have needed a step ladder (like when I placed the extension shelf on top of the Billy Oxberg) this is the ladder I've always used. In this old photo from a few years back, I was using it as a temporary stand to hold mealworms for the bluebirds nesting in the dovecote in my front yard.
Notice the bottom step on that ladder–see how skinny it is? Dangerous! I've almost slipped off that step more than once when trying to carry something heavy up or down the ladder. I love standing on the platform part of this stepladder when I'm retrieving stuff from high places or painting molding, but that skinny step on the way down is a definite hazard.
A few days ago, after using that ladder to add the extension to the Billy Oxberg, I noticed the rubber covers on the feet of the ladder were completely worn through. Thank goodness the metal part of the ladder didn't dent or scratch my hardwood flooring. Not sure how because they were sharp! I thought about replacing the rubber feet but I couldn't even get the rubber covers off.
At that point, I decided to treat myself to a much better, safer ladder. I noticed this ladder has outstanding reviews HERE, and after using it, I understand why–it's a great ladder! It comes in various sizes and I chose the 4-step size because I wanted the shelf, but honestly, the 3-step version would have been totally adequate for most of my needs because the 3rd step places my head within 6 inches of my 8-foot ceiling.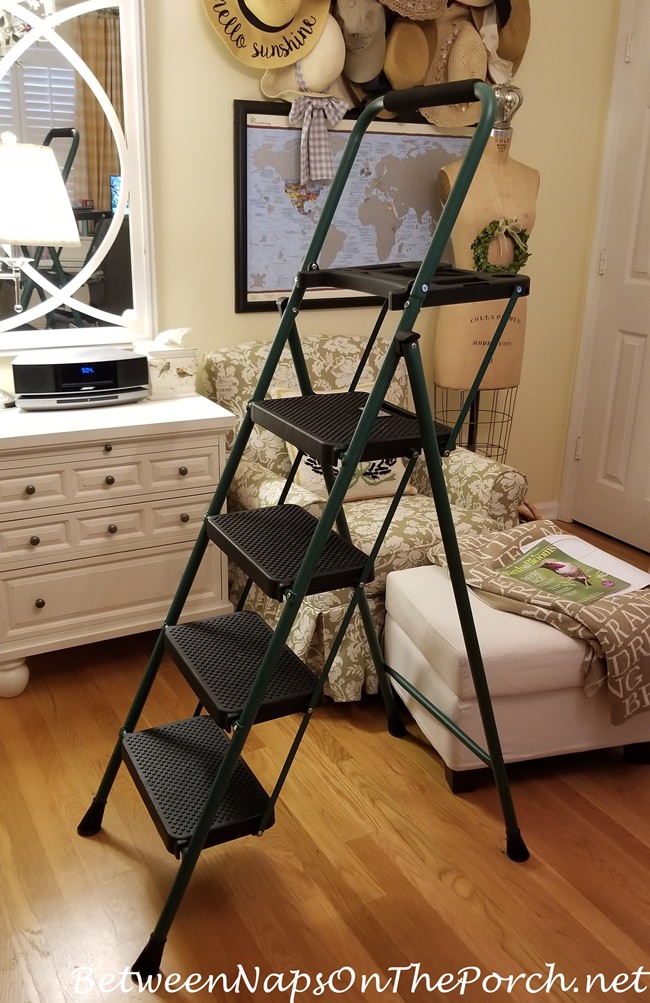 I used it this weekend to clean the chandelier here in my bedroom where I have much higher ceilings, and it worked great!
I love having a shelf available when I'm working on something and need a place for nails/screws and a screwdriver or hammer. Of course, a shelf really comes in handy for holding a can of paint when painting molding, etc…
I LOVE these nice wide steps! They are so comfortable and stable when climbing. I also like their non-slip surface. The really wide feet are great–they feel much more stable and shouldn't scratch or damage my hardwood flooring. Love that!
If you need a safer/better step ladder, I very much recommend this one. If you don't need the shelf and you have 8-foot ceilings, you could probably get by with the 3-step version which is a bit lighter for carrying. (Update: I just discovered they make this ladder in a 3-step with a tray, too! You'll find it here: 3-Step Ladder with Tray. )You'll find this ladder in a 2-step, 3-step, and 4-step version (like I have) here: Step Ladder.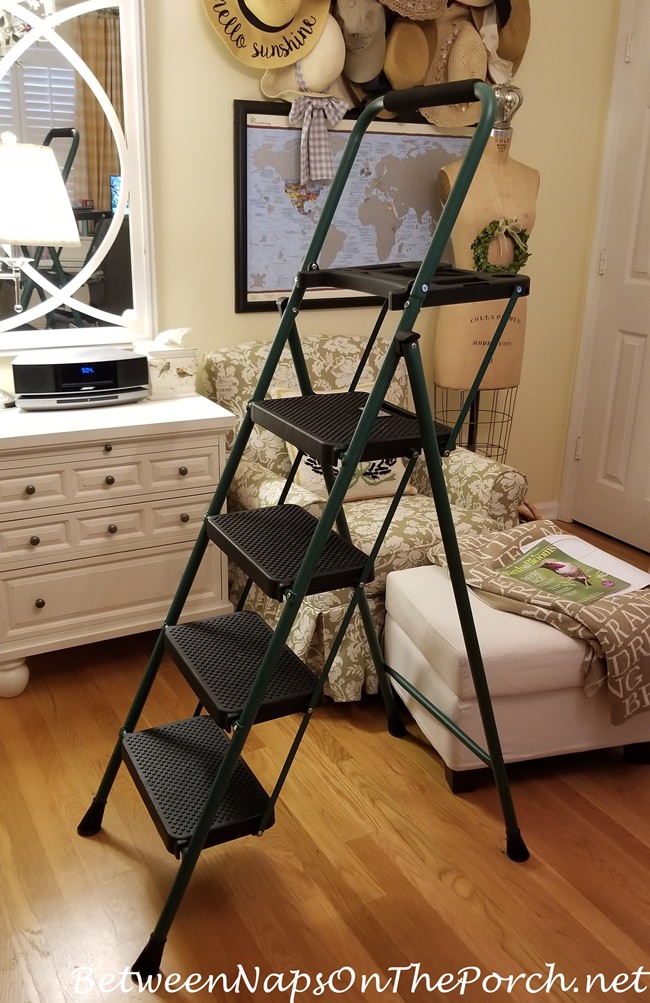 Looking forward to all the great Before and Afters linked for this week's Metamorphosis Monday!
Pssst: Did you know Between Naps On The Porch is on Instagram? You'll find me on Instagram here: Between Naps On The Porch.
Like to know when a new blog post is up and available to read? Subscribe for email updates, it's free and your email will never be shared.
Subscribe for free post updates via email here: Subscribe.
Metamorphosis Monday
Metamorphosis Monday is a party that's all about Before and Afters. Please link up your Before and After projects like DIY projects, room makeovers, craft projects even recipes. Any Before and After is great! Please do not link up Table Settings, save those for our Tablescape Thursday party on Thursday.
If you are participating in Met Monday, please link up using the "permalink" to your MM post and not your general blog address. To get your permalink, click on your post name, then just copy and paste the address that shows up in the address bar at the top of your blog, into the "url" box for InLinkz when prompted.
In order to link up, you'll need to include a link in your MM post back to the party so the other participants will have an opportunity to receive visits from your wonderful blog readers.
This party has ended, click button below for the links to all who participated.
*If a post is sponsored or a product was provided at no charge, it will be stated in post. Some links may be affiliate links and as an Amazon Associate, I may earn from qualifying purchases. *