Since we're deep into sweater weather where I live, I've been very tempted to try out one of the battery-operated sweater shavers, the kind that removes pills and fuzz from sweaters. I've been using a sweater comb and it does work just fine, but with the number of sweaters I have, and wear (I wear one almost every day) it can take a while to de-fuzz them all.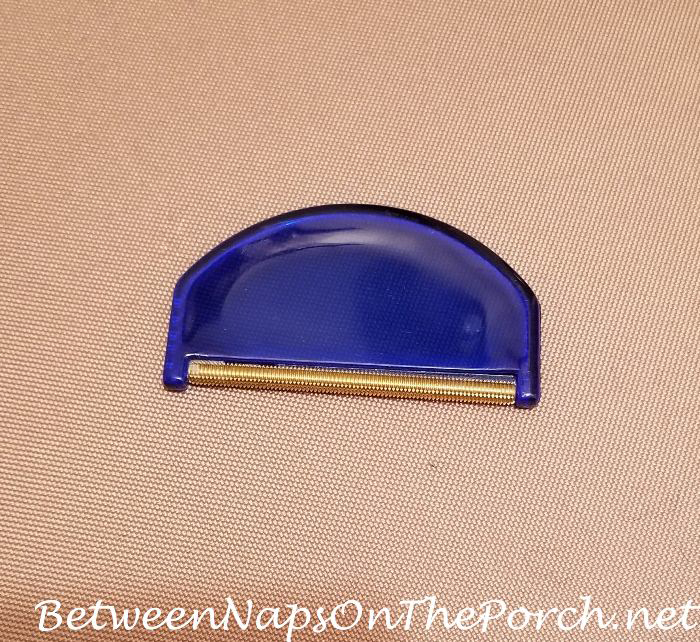 Recently, I ordered the sweater shaver you see on the right in the picture below, then remembered shortly after it arrived that I had purchased one from Brookstone a few years back. I found the Brookstone shaver buried back in a closet and tried it out on one of my sweaters. It worked okay but because of its size (it's the one on the left below) I found it awkward and clumsy to use. I think that's why I quit using it a few years back.
I started to return the one on the right when it arrived since a couple of you warned me in the comments on a previous post that they can sometimes cut a sweater. Yikes! I decided to go ahead and give it a try before returning it since the reviews had been quite good. I tried it out today on the two sweaters seen in the background below.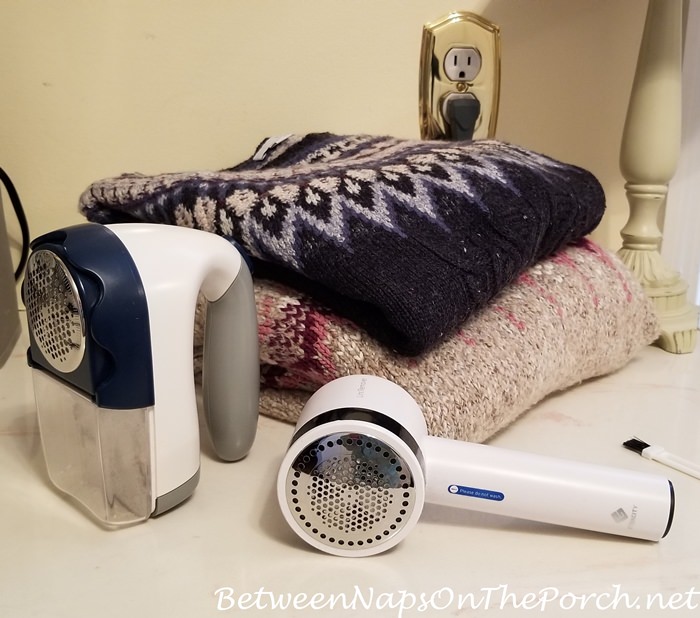 One of the reasons I initially chose this shaver is because it looked like it would be easy to maneuver due to its design with the long handle and smaller head. It was!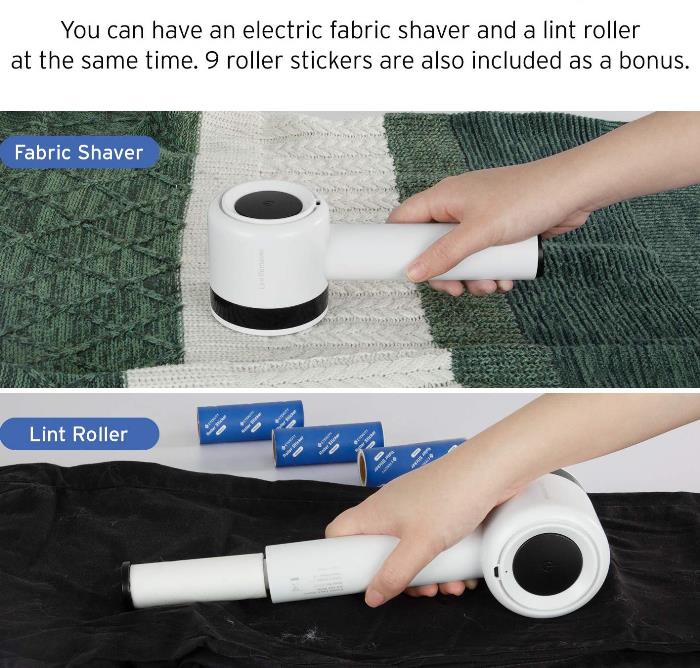 I also liked that it's rechargeable, so I wouldn't have to deal with replacing batteries.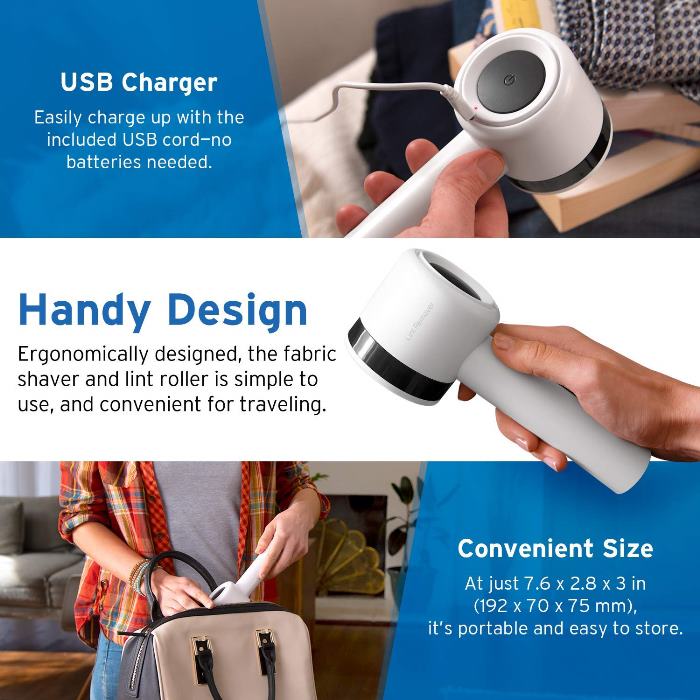 You may remember this sweater when I first purchased it a year or two back. I love this sweater but I don't wear it as often as I'd like because it does tend to fuzz up rather easily. (The little white specks on the sweater are not fuzz, they're just part of the design.)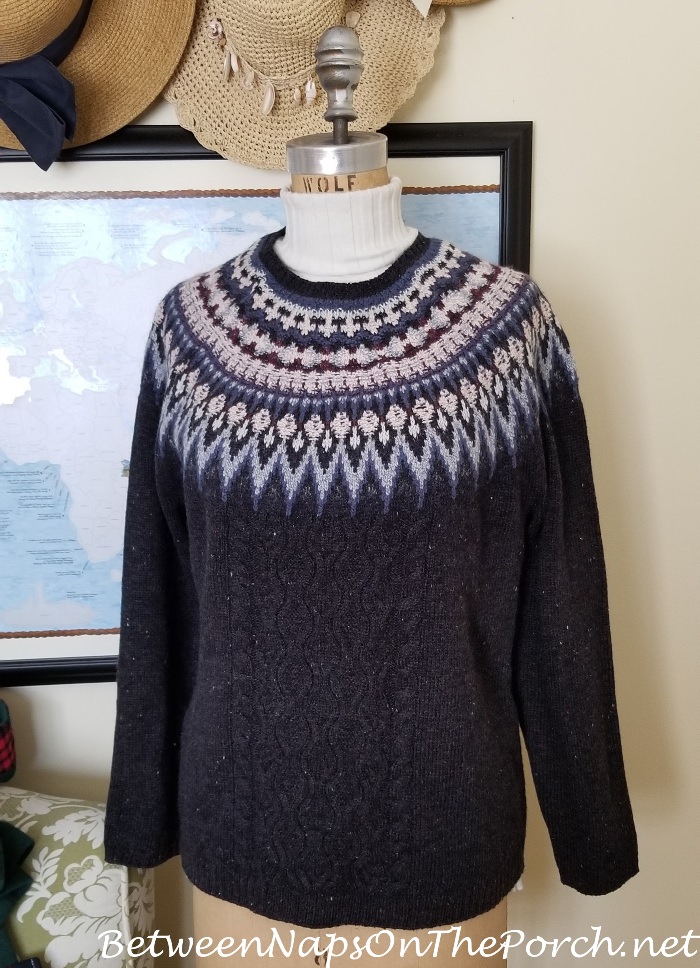 Here's how the right side looked today before I used the shaver on it. The left side looked just as fuzzy and pilly.
Here's how it looked after I shaved it with the new sweater shaver. I can't get over how fast it was and how smooth the sweater looked afterward! It literally looks brand new, like the day I brought it home! I am pretty much in love with this shaver now!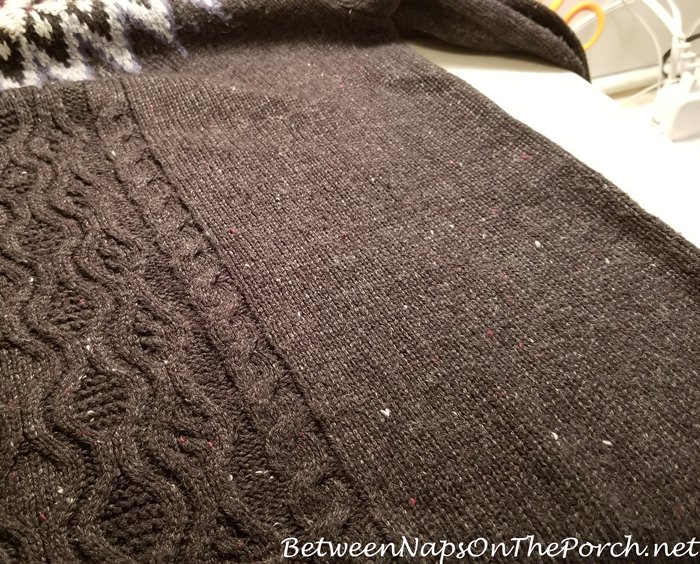 How To Avoid Damaging Your Sweater with a Battery-Operated/Electric Sweater Shaver
So I was thinking about the sweater cutting concern and I think I may know a way to avoid that problem. Ya know how sometimes you'll catch a sweater on something and get a big pull? I just did that yesterday as I was getting out of the car. I was wearing another sweater and I caught it on the clasp of one of my handbags. Unfortunately, I didn't realize it at first so my sweater ended up with a big pull sticking out.
I was able to pull the big snag back through to the other side, but it dawned on me that if I were to get a pull like that and not realize it, then used my sweater shaver, the snag could end up being cut. So, I think electric/battery-operated shavers are safe to use, as long as you look over a sweater first to make sure there aren't any nasty pulls sticking way out that could be cut. If your sweater is just covered in fuzz and little pills like these two were, I don't think you'll have anything to worry about.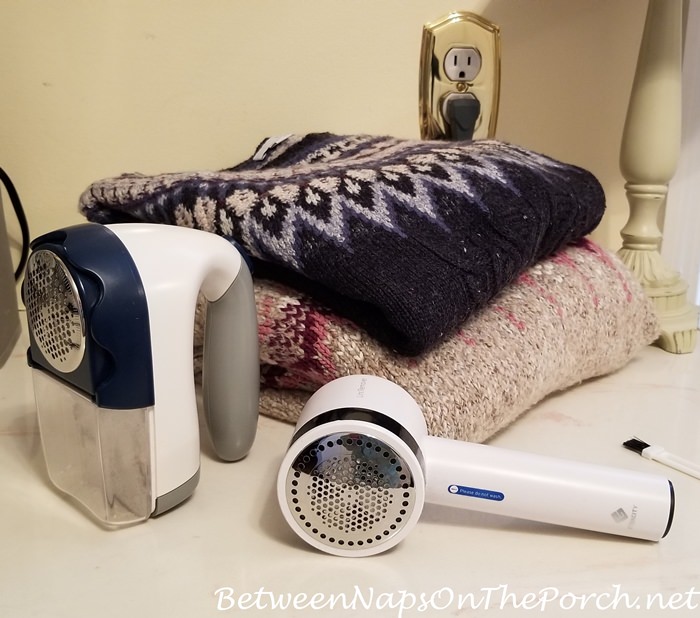 I was really pleased with how this one worked. I will still use my sweater combs when I travel since they are so easy to pack in a suitcase, but I love this sweater shaver for using here at home. It definitely makes the de-pilling/de-fuzzing go a lot faster.
I couldn't believe how much fuzz it removed! The little chamber where the fuzz collects is very easy to empty. It's easy to tell when it needs emptying because the motor starts to slow down and will actually stop. I found I could pretty much de-fuzz a sweater before it needed emptying. Emptying it takes about 10 seconds because you can just shake or blow the fuzz out.
If any fuzz gets caught under the blade, which is removable, it's easy to grab with the brush that comes with the shaver. It's also easy to just pull the blade assembly off, but that's really not necessary to empty the fuzz.
I am so happy with how well it worked! Definitely recommend it if you have a lot of sweaters like I do and would like a faster way to de-fuzz them. You'll find this one available here: Sweater Shaver.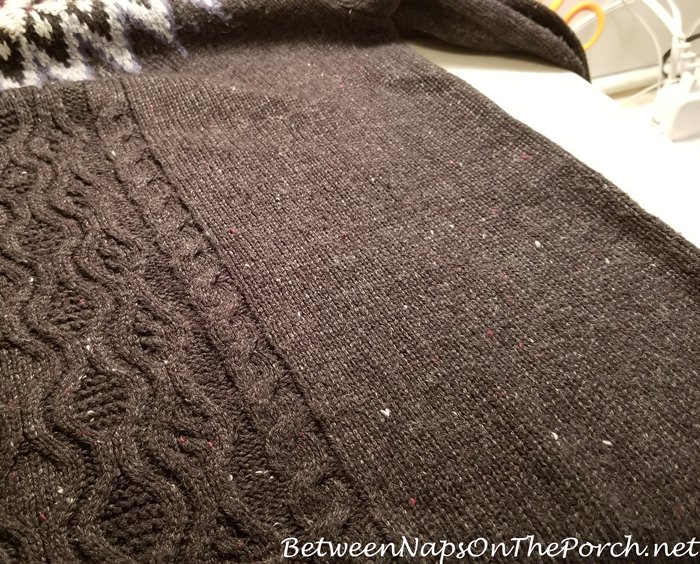 If you are leery of using an electric sweater shaver, these are the two combs I've used and they do a great job, too. You'll find these here: Sweater Combs for Cashmere and Wool.
Have you been noticed how the days are getting longer? The daylight is staying a little longer with each passing day. We'll relish and enjoy these last days of winter; I do love having an excuse to wear sweaters and my cozy, warm Uggs. But I am getting excited at the thought of spring and warmer temps!
How about you? Are you ready for spring?
*If a post is sponsored or a product was provided at no charge, it will be stated in post. Some links may be affiliate links and as an Amazon Associate, I may earn from qualifying purchases. *