Welcome to the 609th Tablescape Thursday!
I wish I lived near Jackie so she could teach me her ways. During this lockdown we've all been experiencing, Jackie scored some amazing deals on both furniture and dinnerware via some of the auction houses in her area. She had been hoping to update her dining room table and chairs. Jackies was able to acquire the beautiful table you'll see in today's table setting for just $200! To top that off, she found her chairs, 10 in all, for just $300. Wow! I would love to replace my dining room furniture so this truly inspires me to check out the online auctions more often.
Jackie shared the story of how she first fell in love with the dishware she used in today's table setting, Faenza Garofano Carnation. Jackie said, "My Mother had a plate of this pattern displayed when I was a young girl in the house and I always loved it."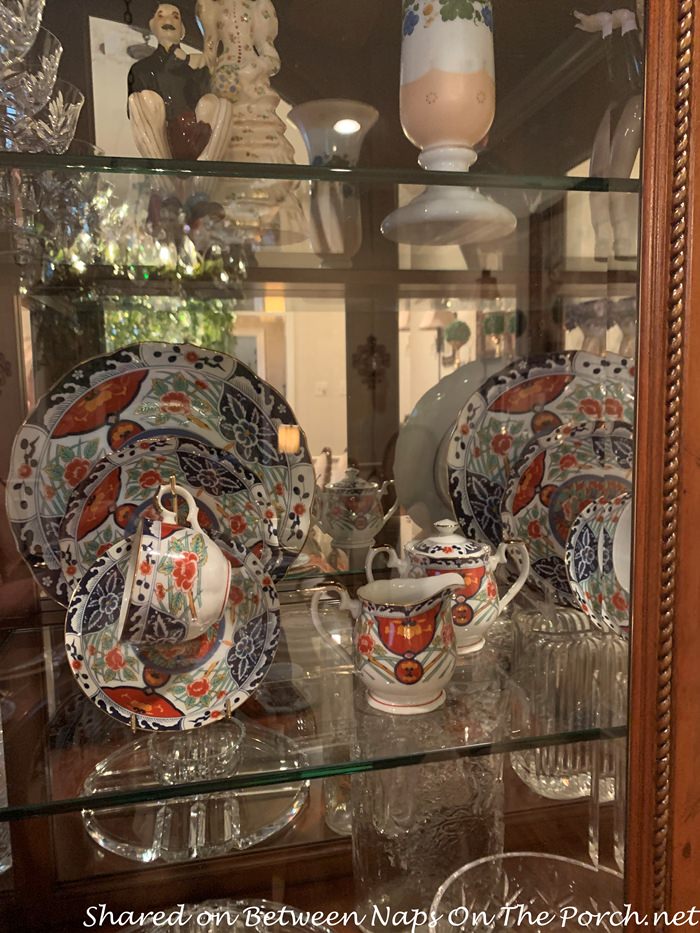 "I found the ashtray at a thrift store for $1.69. Later, I picked up another dish, then I was on the hunt for it."
Jackie said, "After telling my mom how much I loved her plate, she gave it to me. I just had 3 pieces that I displayed in my china cabinet. Then when the pandemic hit, I found shopping estate online auctions was very addicting."
Ha! I know that feeling…the thrill when you win an online auction for something you really, really want!
Jackie continued, "I could not believe my eyes when I saw the lot of the Garofano Carnation! It was a dream come true! I had to win it. And I did!
Jackie said, "My old dining room set was not worthy so I began looking for more furniture and it was really easy to find!"
So acquiring the beautiful Faenza Garofano dishware actually inspired Jackie to buy new dining room furniture…love that!
I love this view of Jackie's beautiful table!
Jackie also got an amazing deal on her beautiful Garofano dishware. Jackie said, "This is the pattern I have been searching for, it's typically $350 a place setting. I won it on an auction for $400. It was a steal. I have bowls too-service for 13."
I was reading about the Garotano Carnation pattern online this morning and this beautiful pattern has a rich history. Marco Polo brought back pieces of the Garofano pattern from the Orient in 1279. Apparently, the Garofano design was initially developed in the Italian region of Lombardia. It later became a world-famous signature pattern from the Majolica town of Faenza.
I love the richness of the pattern and color. It reminds me very much of the Imari pieces I used to occasionally buy while antiquing. Jackie also got an amazing deal on her beautiful crystal at auction, paying only $30 for all of it!
I don't know which I like best…the beautiful Garofano Carnation pattern or the gorgeous inlay on Jackie's new table!
Jackie's dog, Willa, helped out with her table setting, offering moral support as needed. I see a sweet kitty baby in this photo, too.
The Faenza Garofano Carnation pattern sets a stunning table! You can really see the lovely shape of Jackie's new table in this photo. I love how each place setting is accented by the beautiful inlay in the table!
Thanks so much to Jackie for sharing her amazing auction finds and this stunning table setting for this week's Tablescape Thursday! This was such a treat: we got to go antiquing today AND enjoyed a beautiful table setting!
Looking forward to all the beautiful tables linked for this week's Tablescape Thursday!
Pssst: Did you know Between Naps On The Porch is on Instagram? You'll find me on Instagram here: Between Naps On The Porch.
Like to know when a new blog post is up and available to read? Subscribe for email updates, it's free and your email will never be shared. Subscribe for free post updates via email here: Subscribe.
Tablescape Thursday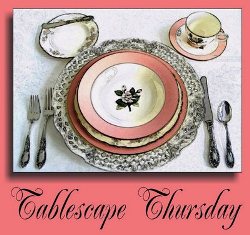 If you are participating in Tablescape Thursday, please be sure to add your permalink below, and not your general blog address.To get your permalink, click on your post name, then copy and paste the address showing in the address bar, into the "url" box when you link up. You'll need to include a link in your post back to the party to link up and participate.
That's so visitors to your blog will be able to find the party and the other Tablescape Thursday participants. Requiring a link back also prevents businesses and scammers from linking up to sell their products. (Yep, that really happens, unfortunately.)
Please, don't add your post name/blog name ALL IN CAPS…it tends to create big spaces between the rows of links.
Please do not link up table settings that were just recently shared in the last few weeks for Tablescape Thursday.
This party has ended, click button below for the links to all who participated.
*If a post is sponsored or a product was provided at no charge, it will be stated in post. Some links may be affiliate links and as an Amazon Associate, I may earn from qualifying purchases. *