Welcome to the 610th Tablescape Thursday!
Thanks so much for all the comments on yesterday's post: Where Would You Like to Live for the Rest of Your Life. You gave me so many awesome ideas and suggestions, I have a lot to think about.
I LOVED the idea of renting for a while in any place I may be thinking of moving–brilliant idea. I know from the comments that so many of you are also struggling with this decision, trying to decide if you should stay where you, move closer to family, or move to a place where you've always dreamed of living. I will keep you posted on my plans as they develop in the future. Thank you again for all your wonderful, helpful thoughts and ideas! ♥
It has been raining a lot here in Ohio over the past few weeks. I've been hoping to set a table outside, but Mother Nature hasn't been cooperating. We finally got a break in the weather over the Memorial Day weekend and I thought it would be fun to carve out a watermelon in the shape of a whale for my grandsons.
You may remember when I did that a few years back for this summertime table setting. (View this table setting in full here: Summer Table with Carved Watermelon Centerpiece.)
I got the idea (and instructions) from this book purchased many, many years ago. I feel very nostalgic when I use this book because it's one of the 2-3 cookbooks my sister and I both purchased back in the day. She was much more into the cooking than I am and as I recall, she recommended this book and that's how I ended up buying it. Sadly she passed away a few years back, but if she were here now, she would get the biggest kick out of knowing that I still refer to this book today.
A few years back I set this table outside while my son, daughter-in-law and grandsons were gone for the day.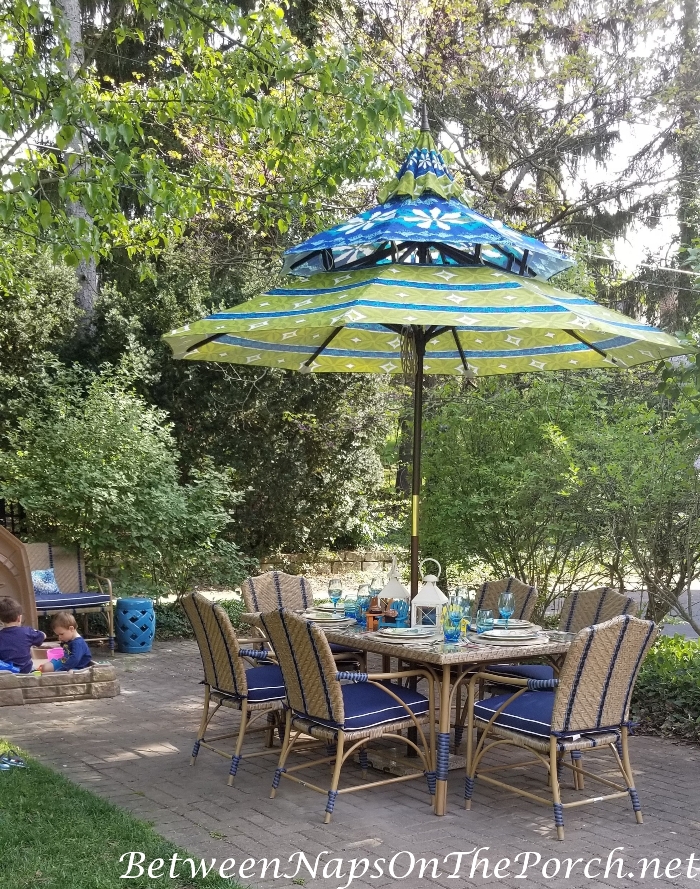 I used a fun dishware I picked up in Pier 1 that year. Sadly, I read recently that all the Pier 1 stores will be going out of business soon. I really hate hearing this. I loved shopping in Pier 1 and have purchased so many wonderful things from them over the years, including much of the furniture on my screened porch.
Here's a closer view of a place setting from that previous table.
This was a very rushed table setting, literally thrown together in two minutes' time. I didn't get to fully set this table because the food was coming off the grill and we needed to eat while it was still hot. So try to imagine salad plates at each place setting, they would have been perfect for the fruit. lol
In this photo, you can see a recent addition to this beach-themed setting, the beach coasters I shared in a previous blog post.
I love these coasters for summer! They are really beautiful in person and well-made. (They are available here: Beach-Themed Coasters.)
Here's how the carved watermelon centerpiece turned out.
His little whale face isn't as symmetrical as it was the last time I carved it. I'm blaming it on a 4 and 6-year-old asking me every 5 minutes what I was doing. 😉
This is such an easy piece to make, especially if you're alone while carving it! 😉 You'll find the full tutorial here: Carved Watermelon Whale Centerpiece.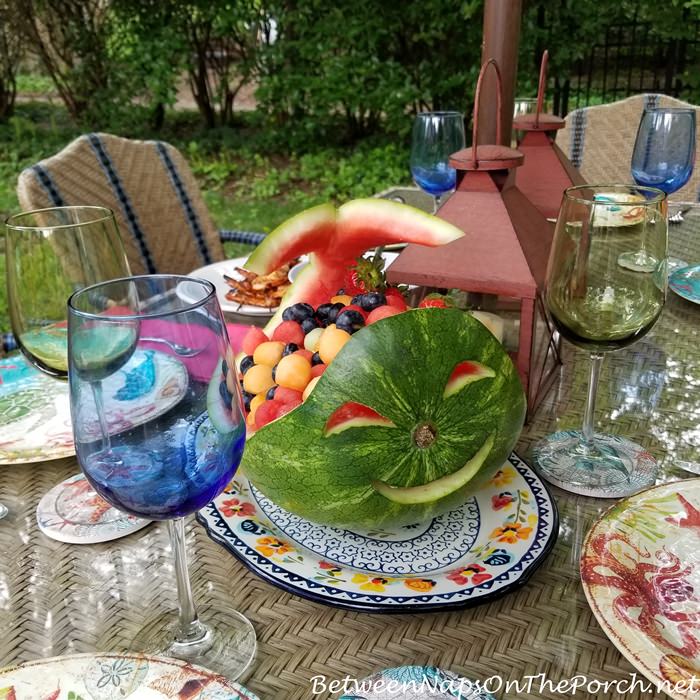 A view from the top…two little boys had already made off with most of the strawberries by the time I took these photos. lol
This was some of the food my daughter-in-law and son prepared for this meal. I think my dil made the Brussel Sprouts in her Air Fryer mentioned in this post: Nancy's April Favorites and the Ones I'm Buying for Myself.
My son grilled the shrimp on his Big Green Egg. We also had hamburgers and hotdogs, if I'm remembering correctly. We've had so many dinners from the grill recently, they're all starting to run together.
It was raining (again!) this morning but it appears the sun is out now. I think I'll head outside to enjoy it while it lasts. Hope you are having a wonderful sunny day wherever you are right now!
Looking forward to all the beautiful tables linked for this week's Tablescape Thursday!
Pssst: Did you know Between Naps On The Porch is on Instagram? You'll find me on Instagram here: Between Naps On The Porch.
Like to know when a new blog post is up and available to read? Subscribe for email updates, it's free and your email will never be shared. Subscribe for free post updates via email here: Subscribe.
Tablescape Thursday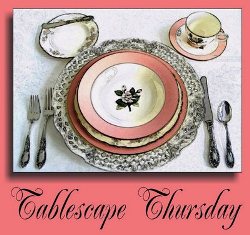 If you are participating in Tablescape Thursday, please be sure to add your permalink below, and not your general blog address.To get your permalink, click on your post name, then copy and paste the address showing in the address bar, into the "url" box when you link up. You'll need to include a link in your post back to the party to link up and participate.
That's so visitors to your blog will be able to find the party and the other Tablescape Thursday participants. Requiring a link back also prevents businesses and scammers from linking up to sell their products. (Yep, that really happens, unfortunately.)
Please, don't add your post name/blog name ALL IN CAPS…it tends to create big spaces between the rows of links.
Please do not link up table settings that were just recently shared in the last few weeks for Tablescape Thursday.
This party has ended, click button below for the links to all who participated.
*If a post is sponsored or a product was provided at no charge, it will be stated in post. Some links may be affiliate links and as an Amazon Associate, I may earn from qualifying purchases. *