Welcome to the 421st Tablescape Thursday!
Every so often I have to spend some time working on the technical end of the blog…this past week was that time. With my hosting services help, BNOTP was moved to a newer, faster server, so hopefully, you're finding things a bit speedier each time you visit.
Pagination Now Works!
If you were one of the dearhearts who has emailed or asked how to get to the very first blog post I ever wrote for BNOTP in order to read the blog from the beginning, the pagination is now finally working as it should at the end of the home page.
Click over to the home page HERE, scroll down to where you see the page numbers and click the last page which is currently number 277. It should take you to the very first post. I'm not sure why it wasn't working correctly before but it magically fixed itself with some of the recent changes I made this past week. Yay! 🙂
Biscuit Making: Take II
Since I didn't get a chance to set a new table this week, I thought I'd give you a little update on my biscuit making trials and share a few things I'm loving for the table.
You may remember these, my first attempt at making biscuits from scratch? Okay, quit laughing! 😉 Though they looked quite funny, they actually tasted pretty good!
I took everyone's advice in the comments on that post and the second time I made them using the same recipe (I'm determined to master this recipe before moving on to another one) I handled the dough as little as possible.
To help with that, I mixed up the dough in a much wider bowl. Last time I had used my Kitchenaid bowl which is very deep and kinda narrow. That made it difficult to really mix the cream into the dough. This wide bowl that's part of a mixing bowl set I was given when I got married, worked much better. I am starting to understand why bakers use those wide, wooden dough bowls! Using the wider bowl, I was able to mix in the cream, without having to stir the dough so much.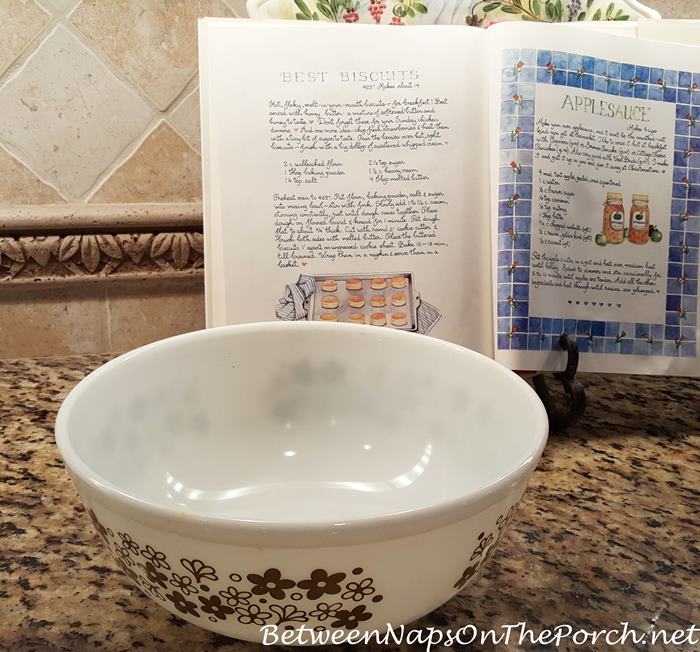 I peeked in to see how they were doing part way through the baking process. They were rising pretty well.
Second Attempt…getting better
Here's how they turned out, definitely look better than my first attempt! (You'll find the recipe for these biscuits in this post: Best Biscuits)
Unfortunately, when I made them for a third time during the week my friend Linda was visiting for our Staycation, they turned out more like biscuit pancakes! lol They still tasted good, so they didn't go to waste, but they were pretty flat. I didn't think to take a photo, but just imagine biscuits that looked more like small, fat pancakes. 🙂
Linda mentioned that the biscuit cutter I was using looked a bit too wide. That's when it dawned on me, it was probably really meant for cookies, not biscuits. I measured it and yep, it was definitely too wide.
I went online and read a ton of reviews and this style biscuit cutter had the best reviews. Folks were complaining about other styles being flimsy and bending. This one is made of stainless steel and has a double handle, so I guess that's why the reviews were so much better.
So I purchased the set seen below. The one you see that's third from the right is the 2-inch size. You can see the one I've been using all the way down on the far left. So I've definitely been using a "too big" biscuit cutter for my biscuit making.
I'm going to give my new 2-inch cutter a try today and if the biscuits spread out too much again, I'm going to break down and purchase a biscuit tin or biscuit pan. I think this new, smaller cutter will help them to rise higher, too–since they won't be so wide. At least they'll appear higher since they'll be skinnier. lol
If you're in need of a set of stainless steel biscuit cutter or cookies cutter in varying sizes, you'll find the set I purchased here: Biscuit Cutter: 5 sizes. I really do like this set because it feels super sturdy. Will let you know how my 4th attempt comes out!
Update: I discovered recently that Natalie Dupee wrote an entire book on just the topic of making biscuits! I haven't ordered it yet, but I'm thinking about. The book is available HERE.
Tabletop Goodies I'm Stalking Right Now
Halloween Glasses: These are on sale and I'm OBSESSED! Love 'em!
Halloween Haunted House Mug Toppers: I love these adorable mug toppers! What a great way to top off a mug of hot chocolate, coffee or hot cider, especially when entertaining. They're also on sale at that link.
PSSST: Not table related, but I just noticed the Christmas pillow I purchased last year for my bed is back in stock and is actually on sale.
If this pillow stole your heart like it did mine, you'll find it available here: Christmas Pillow with Santa & Reindeer
Looking forward to the beautiful table settings shared for this week's Tablescape Thursday!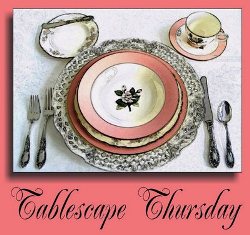 If you are participating in Tablescape Thursday, please be sure to add your permalink below, and not your general blog address.To get your permalink, click on your post name, then copy and paste the address showing in the address bar, into the "url" box when you link up. You'll need to include a link in your post back to the party to link up and participate.
That's so visitors to your blog will be able to find the party and the other Tablescape Thursday participants. Requiring a link back also prevents businesses and scammers from linking up to sell their products. (Yep, that really happens, unfortunately.)
Please, don't add your post name/blog name ALL IN CAPS…it tends to create big spaces between the rows of links.
*If a post is sponsored or a product was provided at no charge, it will be stated in post. Some links may be affiliate links and as an Amazon Associate, I may earn from qualifying purchases. *