With all things "Tuscany" on the brain these days, I have just the book to share. Author, Frances Mayes has written some great books over the years. One even inspired a movie, remember Under the Tuscan Sun? After seeing the movie and loving it, I purchased that book, as well as two of her other books, In Tuscany and Bella Tuscany. I loved them all. They aren't action-packed page turners but they are completely enchanting as they describe the every day adventures Frances Mayes and her husband encounter while living in Tuscany. The book I'm sharing today continues the story of their beloved home in Italy but guides the reader in bringing a little bit of Italy into their own home.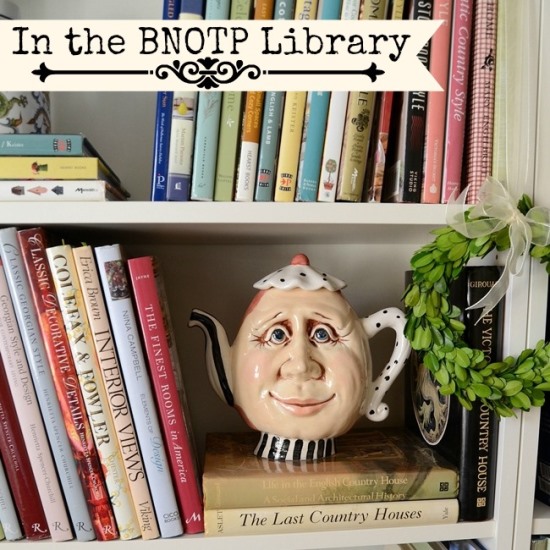 In the BNOTP Library: Bringing Tuscany Home: Sensuous Style From the Heart of Italy

Author: Frances Mayes
3 Things I Like About This Book:
Bringing Tuscany home is not your typical decorating book, it's more a book about the Tuscan lifestyle, including a lot of information about the food and the wine enjoyed there. If you love trying new recipes, particularly Italian foods, you'll find plenty of that in this book. In this book, Frances Mayes shares ways the reader can add a bit of the Tuscany look and lifestyle to their own home. In addition to furnishings and decor for the home, you'll find chapters on gardening and cooking, with lots of recipes.
In typical Frances Mayes style, the book skips around a good bit. I like the author's style of writing because it always feels like a visit at the kitchen table with a good friend. One minute you're talking about wine and the best vineyards, then the next you've moved on to talking about something entirely different. The book is written like she's sitting across from you, sharing wonderful stories from her life in Tuscany. I like that kind of writing because you learn about what it's like to live in Tuscany, without even realizing you're learning. You just absorb it through the stories.
It's Frances Mayes's writing that makes this book (really all her books) a great read. Her descriptions are wonderful and they almost make you feel you are there experiencing Italy with her. My favorite part of the book, besides the stories Frances tells, are the pictures she shares of her own home and gardens in Italy. She gives us a look into what everyday life in Italy is like and what it would be like to live there fulltime.
Take a tour of the movie house in Under The Tuscan Sun in this post: Tour Bramasole in the Movie, Under The Tuscan Sun
You can read more about this book, Bringing Tuscany Home: Sensuous Style From the Heart of Italy
at Amazon where I normally buy my books, via the picture link below.
Pssst: If you would like to be notified of new "In The BNOTP Library" posts, subscribe to have updates delivered to your Inbox HERE or via the gray subscribe box at the end of this post.
You'll find previously featured books from the BNTOP library here: In The BNOTP Library or just click on the collage below.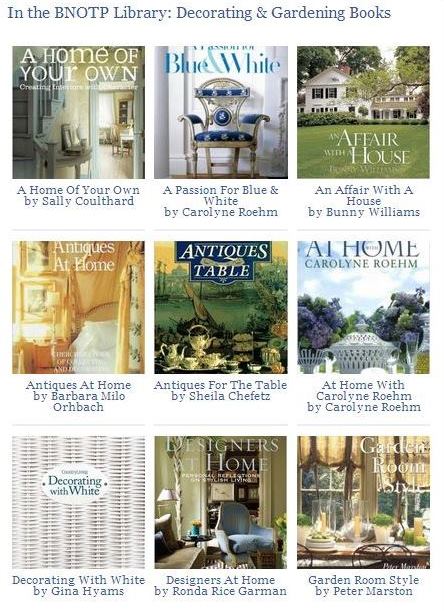 *If a post is sponsored or a product was provided at no charge, it will be stated in post. Some links may be affiliate links and as an Amazon Associate, I may earn from qualifying purchases. *