Welcome to the 328th Metamorphosis Monday!
Recently on Instagram, I shared a picture of a puzzle I was putting together. (You can follow BNOTP on Instagram here: BNOTP on Instagram) I wondered if anyone would be able to recognize it, in its half-finished state. They did! Can you tell what it is?
If you guessed Cinque Terre in Italy, you're right! Cinque Terre means "The Five Lands."
There are actually five villages in the Cinque Terre coastal area of Italy, but the village of Manarola seems to be the one most photographed and pictured on posters and in magazines.
It's easy to see why it is photographed so often. Truly, all five villages are beautiful!
A Fashionable Before and After
My "Before and After" this week is a fashion change I'm making for my trip to Italy. You may be interested in this if you are planning to travel this summer or in the future.
In Rick Steves's YouTube videos about traveling to Italy, he warns travelers of the real danger of being robbed on the street. Apparently, there are folks called Gypsies who will attempt to rob you, as well as bad guys who zoom by on motorbikes and snatch your purse as they go by. Another trick thieves will do is cut the shoulder strap of your purse or bag as they run by.
So instead of carrying my usual summer bag, I purchased a much more secure bag for my trip to Italy. Actually, I ended up purchasing two items: A bag and a mini-pouch. The pouch is a Lewis N. Clark, RFID Secure, Pouch. (RFID stands for Radio Frequency Identification) It is meant to be worn around the neck and underneath your clothing.
You know how so many credit cards these days have microchips in them? Unfortunately, some of the bad guys have scanners that can read the data right off your credit card and passport as they pass by. They don't even have to steal your purse to get your credit card and passport info and unfortunately you don't realize what's happened until the damage is done.
This little pouch has pockets that are RFID secure so credit cards and passports can not be scanned while inside the bag. I purchased it at Amazon here: Lewis N. Clark Luggage Rfid Neck Stash
The Travelon Anti-Theft, RFID Safe, Cross-Body Bag
I'll probably be carrying my credit card(s), ID and passport in the Lewis N. Clark bag under my clothing, but I still needed a way to carry my iPad, lipstick, tissues and other random stuff I'll want to have with me whenever I'm out for the day.
I fell in love with this highly rated Cross-body Travelon bag on Amazon. I have no idea why it's priced so low on Amazon at $29.95, because this exact same bag at the official Travelon website is $57. The Amazon price is amazing considering its high-tech design.
It comes in several colors; I went with "stone" since that should go with just about anything I happen to be wearing. It also comes in black, navy, brown and purple. I love the style of it! Since it's a cross-body bag, it can't be yanked off your arm or body. Also, the strap has a cut-proof cable running through it so it can't be cut off. Actually, multiple areas of the bag are reinforced with wire-mesh, chain link construction to prevent a slash and grab robbery. Plus, it's lightweight, weighing just 12 ozs.
It has several velcro pockets on front for carrying items you need to reach easily like maps, language phrase books, tissues or chapstick. From what I've read in the reviews, the zippered pocket on front will easily hold a cell phone. Update: My bag arrived today and my large Samsung Galaxy phone easily fits inside the front zipper pocket, even inside its heavy-duty Otter box. Plus, there's a lobster claw clasp that you can hook to the zipper so no one can easily access the pocket to take the phone.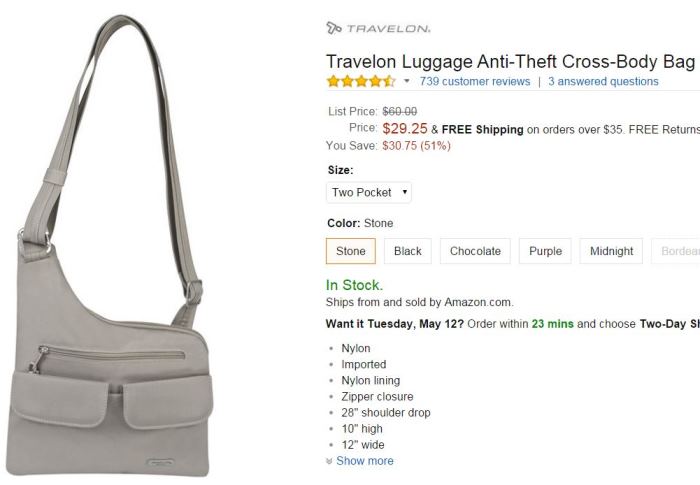 There's another large zippered pocket on the back. I'm hoping my iPad will fit in there. If it doesn't, I hope it will fit inside. Update: My iPad Air didn't fit in the outside zipper pocket but it fit great inside the bag even while inside its protective leather case. So, the bag will definitely hold an iPad.
The main zipper that opens across the top of the bag has a little lobster claw catch that can be used to further secure the zipper. That makes it impossible for someone to unzip it without you noticing it. It also has a special screw type mechanism where you can lock the strap onto a chair back. That way when you're eating in a restaurant, no one can grab it as they pass by. I think I'll just my bag on though, even in a restaurant. I don't want to take any chances.
There are additional pockets inside the bag and those are RFID secure so no one can scan and steal info from your credit cards or passport. There's even a little LED flashlight attached inside so if you need to open it in a dark area, you can see inside. This bag is truly amazing! It was designed for travel so they've thought of everything!
I probably won't need the pouch that's worn underneath the clothing since this bag is so secure, but it was so inexpensive I went ahead and ordered both. I have a feeling I'll be using this cross-body bag for future home and garden tours and for shopping trips here at home, too. A cross-body style bag has always been my favorite for shopping because it leaves both hands completely free.
I purchased the Crossbody Travelon Bag on Amazon here: Travelon Luggage Anti-Theft Cross-Body Bag, Stone, Two Pocket
If you plan to travel and carry a bag that doesn't have the RFID blocking feature built into it, you may want to consider purchasing Credit Card & Passport Holder cases. They will also protect your cards and passport from being scanned by bad guys passing near. I didn't order these since the two bags I ordered have RFID secured pockets for holding credit cards and passports. The credit card/passport holder cases can be found here: Credit Card & Passport Holders Case Set W/anti-theft Rfid Blocking Capabilities for Security
Hope this information is helpful if you plan on doing some traveling this summer or in the future.
That's one more thing checked off my Travel "To-Do" list! 🙂 Do you have a favorite bag that you always use when traveling?
Looking forward to all the fabulous Before and Afters for this Met Monday!
Metamorphosis Monday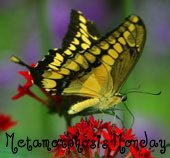 If you are participating in Metamorphosis Monday, you will need to link up the "permalink" to your MM post and not your general blog address. To get your permalink, click on your post name, then just copy and paste the address that shows up in the address bar at the top of your blog, into the "url" box for InLinkz.
In order to link up, you'll need to include a link in your MM post back to the party so the other participants will have an opportunity to receive visits from your wonderful blog readers.
Please observe these few rules:
Only link up Before and After posts that are home, gardening, crafting, painting, sewing, cooking, DIY related.
Do not link up if you're doing so to promote a website or product.
Do not link up a post that was just linked last week since a lot of readers will have already seen that post.
*If a post is sponsored or a product was provided at no charge, it will be stated in post. Some links may be affiliate links and as an Amazon Associate, I may earn from qualifying purchases. *