Welcome to the 724th Metamorphosis Monday! Hope you had a fabulous weekend! I got a bit of disappointing news on Friday–the drywall company that was supposed to start the drywall process in the unfinished side of the basement this week is putting me off for a couple of weeks. At the last minute, he had a huge job come in, a customer who is having him smooth out all the ceilings throughout her whole home. Here where I live, a lot of older homes have these stippled ceilings with a flower-like pattern. You can see what I mean in this photo taken in my entry below. I've never been crazy about this style of ceiling, would much prefer a smooth ceiling myself.
I can't blame my drywall guy for not turning down a big job. I guess the customer needed it done right away. He wanted to reschedule for the 27th but that date isn't good for me, so now we're planning for early January.
It has been raining almost constantly here for the past week or so. I'm so over rain now and would love a few days of sunshine, but the forecast shows more headed our way later in the week. With all this rain, it's been the perfect time to start on my little booknook that arrived yesterday.
You may remember in my recent gift suggestion post , I mentioned that I had ordered one of these adorable book nook kits.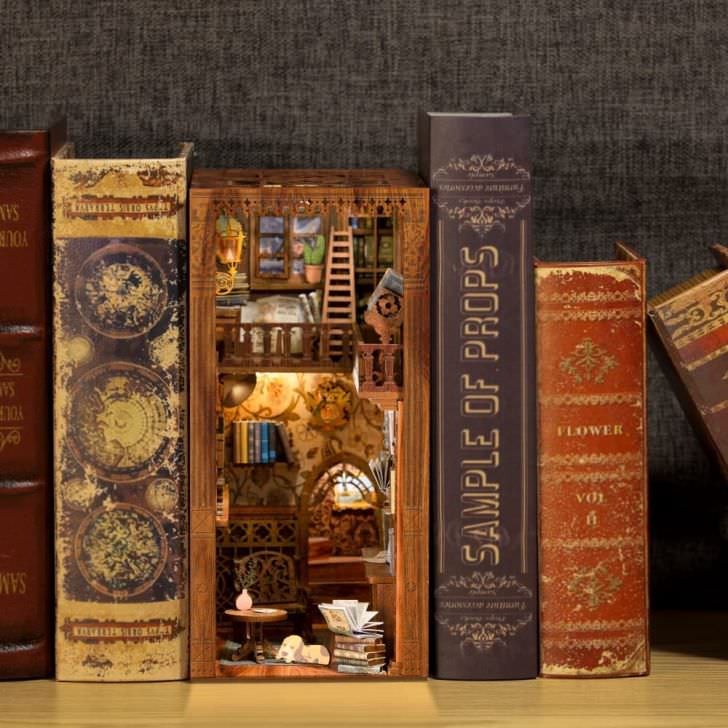 I've always admired these enchanting little book nooks and love how they look tucked in between books on a shelf. ♥ This is the one I purchased and you'll find it (along with several other designs) here: Book Nook for Bookshelf.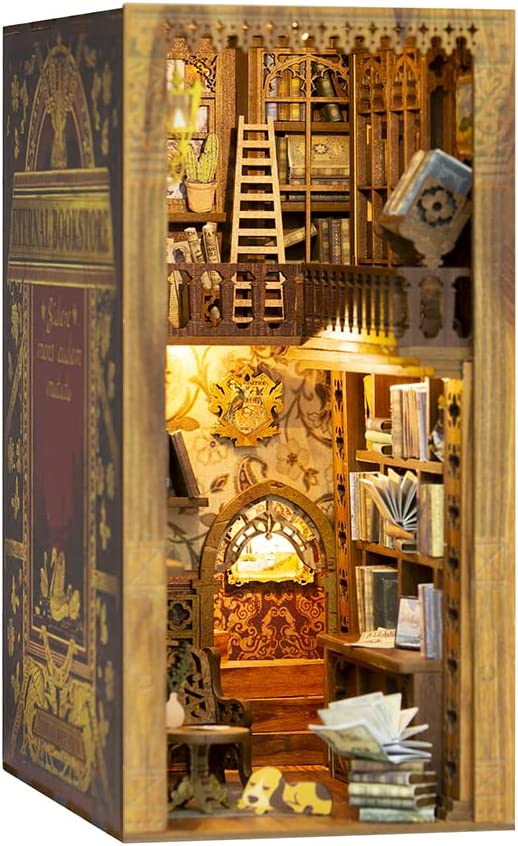 When my kit arrived, this was what I found inside: instructions, little book covers to be cut out, the electrical wiring for the lighting, and the wood pieces that make up the little nook.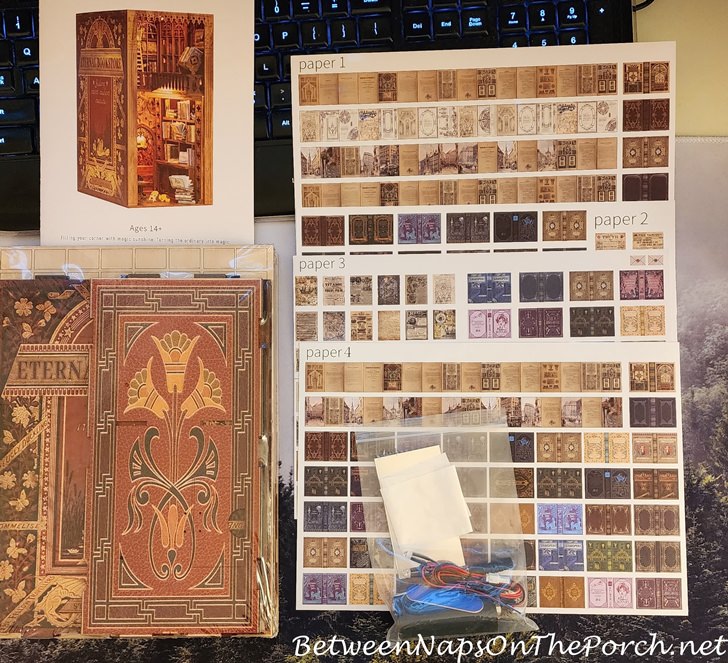 I got off to a rocky start–a crazy series of missteps. It took me a while to figure out which piece was my starting wall.
Then I proceeded to glue these two tiny shelves on the wall, upside down–and I did it with super glue so there was no changing it! You would think I would have noticed after the first shelf, but nope! I did it with both shelves! Arghhh!
I guess I was tired since it was pretty late when I got started. Fortunately, I had stain markers on hand so I just stained the top surface of the shelves and now they look fine.
Just when I thought I was really getting the hang of it, I reached for a little bag that held the tiniest screws you've ever seen in your life–screws that are needed to attach a tiny hinge on a little door on one of the walls. I had forgotten that I hadn't snapped the bag back closed, so the 4 minuscule screws went flying. It took me 15 minutes with a flashlight to find them all. I'm amazed I found them that quickly since they are about the size of a crumb. lol After that, things started to go a lot more smoothly.
Before I ever got started, I found several videos on YouTube showing step-by-step how to build this specific book nook. If you purchase this book nook and you've never done one before (like me) you'll find the videos here: Eternal Bookstore Videos. The top two videos at that link are the ones I watched and bookmarked for future reference.
I want to share a couple of tips I found helpful in the videos and in the reviews for these kits online. As you punch out the little wood pieces, there will be a couple of rough spots where they were originally attached. The kit comes with a little file to smooth out those rough spots. Afterward, I used my stain markers to touch up the lighter spots where they had been attached. (You can see one of those lighter spots on this tiny piece below that was designed to prop up the tiny book on the shelf.) If you don't have stain markers, I very much recommend them. They are awesome for touching up scratches on furniture. You'll find some here: Wood Stain Markers for Touchups and here: Wood Marker for Touchups.
Another tip: I found it helpful to write in pencil the number of the piece on the back of each piece as I punch them out. If you've punched out several pieces, that helps to make sure you're using the correct piece when you start assembling them. So here's my progress so far. Despite my initial hiccups, I had so much fun with this kit! For glue, I mostly used Aleene's Tacky Glue which looks white when it first comes out, but dries clear. It's available here: Aleene's Tacky Glue. For a few spots, like the shelves, I used a tiny bit of super glue but I think the tacky glue would have worked just fine if you don't mind waiting a few minutes for it to set up. I was impatient and wanted to go ahead and place the picture on the shelf (as seen below) so that's why I used super glue for the two little shelves.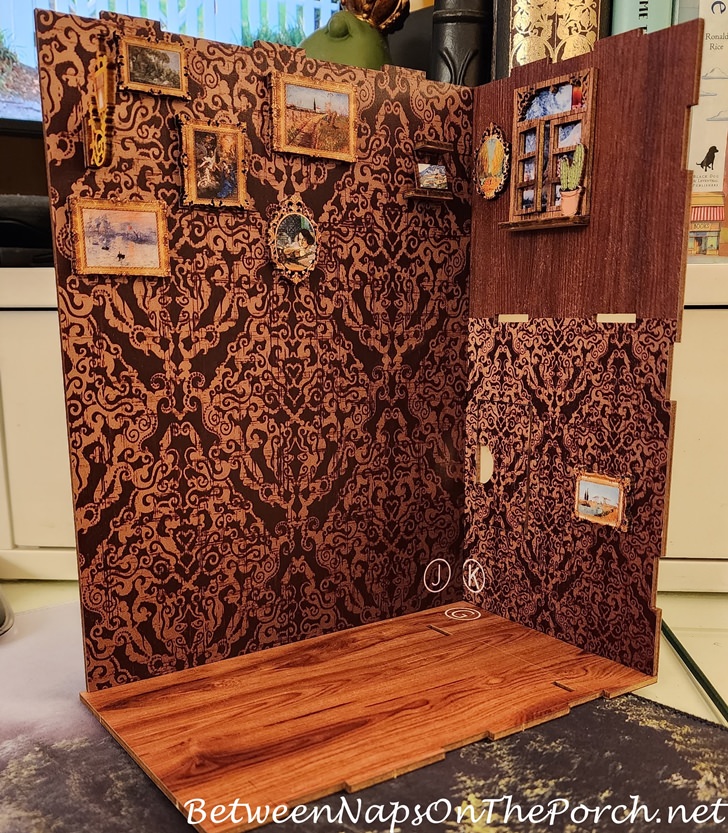 Another glue I saw recommended in a video is Uhu Glue. I purchased some last night and it should arrive in about a week, but I may be done by then. I still thought it would be good to have it on hand because I think I'll be making more of these cute nooks in the future. You'll find Uhu Glue here: Uhu Glue.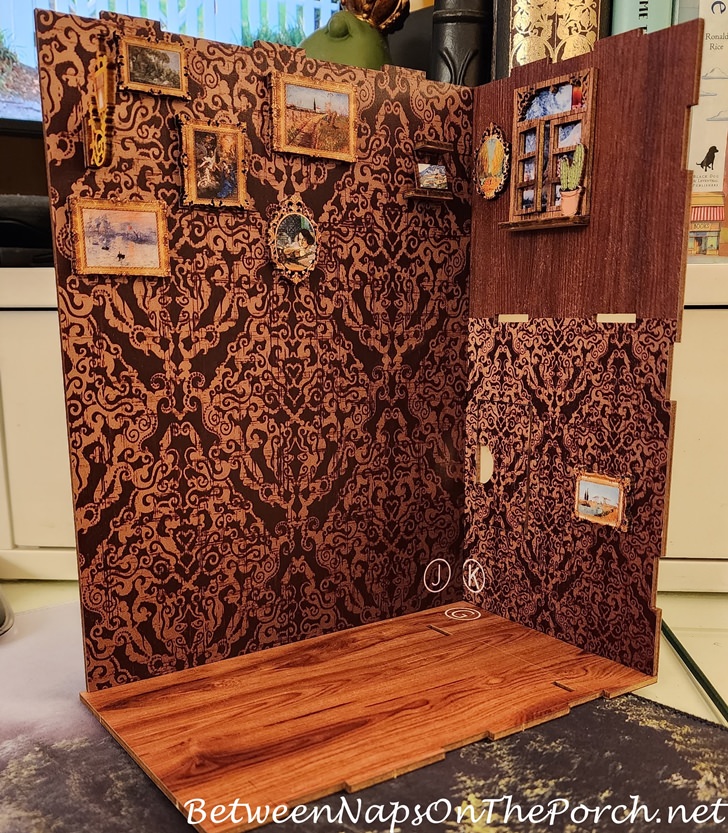 Here are the remaining pieces I'll be working with next. It's like doing a 3-D puzzle and I'm really enjoying the process–when I'm not dropping stuff and gluing it on upside down. Ha!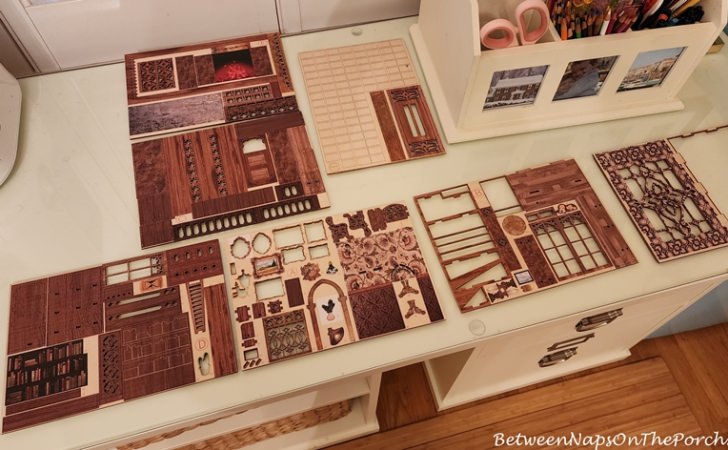 I'll share this adorable book nook once it's done. I already have a couple of spots in mind for where I'm going to place it once it's finished. Have you ever put together a little book nook? If so, where did you place yours once it was completed? Have a particular book nook brand that you really love? Would love to hear about your experience with making these!
Looking forward to all the great Before and Afters linked for this week's Met Monday!
Pssst: Did you know Between Naps On The Porch is on Instagram? You'll find me on Instagram here: Between Naps On The Porch. Like to know when a new blog post is up and available to read? Subscribe for email updates, it's free and your email will never be shared. Subscribe for free post updates via email here: Subscribe.
Metamorphosis Monday: Metamorphosis Monday is a party that's all about Before and Afters. Please link up your Before and After projects like DIY projects, room makeovers, craft projects even recipes. Please do not link up Table Settings, save those for our Tablescape Thursday party on Thursday. If you are participating in Met Monday, you'll need to link your post to the party using the "permalink" to your MM post and not your general blog address. To get your permalink, click on the name of your post, then copy and paste the address that shows in the address bar at the top of your blog, into the "url" box for InLinkz when prompted. NOTE: Please do not link up more than 3 posts from your blog. In order to link up, you'll need to include a link in your post back to the party so visitors to your blog can find the other party participants. When linking up to the party, give the InLinkz system time to find the link in your post to avoid having your link held for moderation/approval. Thanks!
This party has ended, click button below for the links to all who participated.
*If a post is sponsored or a product was provided at no charge, it will be stated in post. Some links may be affiliate links and as an Amazon Associate, I may earn from qualifying purchases. *