Welcome to the 642nd Tablescape Thursday, a blog party sharing beautiful table settings for all occasions!
I've been working on a table to share this week but it's not quite ready for prime time. Yesterday was my birthday so I gave myself the day off to relax and play a little. As you get older, seems like celebrating each birthday becomes a bit more important–know what I mean?
I'll share in another post the two small birthday presents I gave myself this year. One was an item I missed out on when it was available in store and figured I'd never see it again. I was stunned when I spotted it at Fashionphile, my fave online store for purchasing pre-loved items. I'll share it in an upcoming post in case it's something you would enjoy seeing.
New Year's Eve: Dining on a Snowy, Star-filled Night
A couple of weeks ago, Warren, whose tables I've shared here at BNOTP before, shared a special table he put together for New Year's Eve. I loved it from the moment I saw it, then I read his inspiration for creating the table and loved it even more! I'll let Warren describe this beautiful table for you.
Warren said, "At the end of each year, I ask my friends to select which of my tablescapes is their favorite. This year, their choice is the New Year's Eve silver and blue tablescape.
"My inspiration for this tablescape came from a picture of a winter scene at night taken in February of 2019. A fluffy snow had fallen all day. In the evening the snow stopped, the wind was calm, the clouds parted, and a full moon shone brightly. The newly fallen snow, blue in the moonlight, looked like a sea of twinkling diamonds; it was magical. The first picture shows the sparkling snow but does not do justice to its brilliance."
"Accordingly, I set out to capture the magic this winter night in my tablescape. A dark blue tablecloth served as my canvas."
"A white table runner with snowflakes continued the theme."
"I placed at the center three long stem globe candle holders, which provided the "moonlight" for the setting."
"Supporting the tall candle holders was a wreath of silver ornaments topped with deep blue glass balls."
"Translucent white and glistening ceramic trees, illuminated from the inside with strings of line lights, flanked the tall candle holders."
"Tea candleholders were placed around the runner."
Kathie, Warren's lovely wife, recently found two flower-shaped holders. Warren said they "provided much twinkle and sparkle to the tablescape."
Warren said, "Johnson Brothers "Blue Will0w" plates were placed on silver brocade chargers. The sterling silver flatware was made by Towle and was a wedding gift to my parents in 1929."
"Dark blue napkins atop the plates sported silver Christmas tree napkin rings made by Lenox."
"Most of the glassware is from Waterford's Marquis Collection."
"Sparkling white snowflakes were scattered around the table thereby reinforcing the nocturnal winter mood."
"Finally, I added four "Snow Babies." My mother had collected Snow Babies and had a large collection when she died twenty years ago."
"My grand-niece was the recipient of most of the collection but I kept four, which we prominently display in our china cabinet at Christmas."
"It seemed appropriate to include the Snow Babies as a symbol of rebirth provided by the New Year."
Thanks so much to Warren and Kathie for sharing this stunningly beautiful New Year's Eve table setting! I loved hearing the stories behind all the beautiful treasures Warren used to create this snowy, star-filled-night setting for a truly wonderful New Year's Eve celebration.
New Year's Eve has always been a special time, but this year, the start of the New Year seemed to hold even more significance than ever for so many of us. It's been a very hard 2020 for so many families and even 2021 has seen a bit of a rocky start, but I know in my heart that it's going to get better and that 2021 will truly be a year of rebirth, a fresh start.
I'm so looking forward to sharing this upcoming year with you, my dear friends! Much love and Happy New Year to you!
Looking forward to all the wonderful table settings linked for this week's Tablescape Thursday!
Did you know Between Naps On The Porch is on Instagram? You'll find me on Instagram here: Between Naps On The Porch.
Like to know when a new blog post is up and available to read? Subscribe for email updates, it's free and your email will never be shared. Subscribe for free post updates via email here: Subscribe for Post Updates.
Tablescape Thursday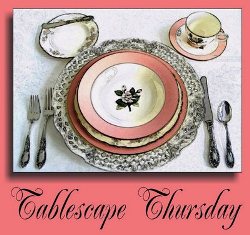 If you are participating in Tablescape Thursday, please be sure to add your permalink below, and not your general blog address. To get your permalink, click on your post name, then copy and paste the address showing in the address bar, into the "url" box when you link up. You'll need to include a link in your post back to the party to link up and participate.
That's so visitors to your blog will be able to find the party and the other Tablescape Thursday participants. Requiring a link back also prevents businesses and scammers from linking up to sell their products. (Yep, that really happens, unfortunately.) If you see a post that's not table setting related, let me know and I'll remove it.
Please, don't add your post name/blog name ALL IN CAPS…it tends to create big spaces between the rows of links.
Please link up table setting or table setting related posts only for Tablescape Thursday.
This party has ended, click button below for the links to all who participated.
*If a post is sponsored or a product was provided at no charge, it will be stated in post. Some links may be affiliate links and as an Amazon Associate, I may earn from qualifying purchases. *