Welcome to the 624th Metamorphosis Monday, a blog party sharing fabulous Before and Afters!
Each year I love to put together a post with my favorite winter survival goodies, those things that help make the winter season a lot more comfortable and maybe even a little fun. If you've been reading BNOTP for very long, you probably know that I pretty much go into hibernation come wintertime.
Has this fall/winter flown by for you, so far? It really has for me, maybe because I was in Ohio for almost a month and every day was super busy. We still have around 3 months of cold weather ahead of us, maybe 2-1/2 here in Georgia if I'm being optimistic.
One of the things I've been enjoying the most has been the heated throw my grandsons gave me for Christmas. I love using it in the evenings over my lap when I'm working at my desk. Before I left to come home, my grandsons were using in the evenings to watch TV. They loved it so much, I felt kinda bad when I packed it away to return home. lol I think I need to buy one for my oldest grandson whose birthday is next month…maybe an early birthday present.
If you're cold-natured like me, you'll find a great selection of heated throws/blankets here: Heated Throw/Blanket.
Update: I had a few questions about the heated plaid throw my grandson gave me. I looked online and found it on sale here: Plaid Throw.
I rave about Cutemol all the time here on the blog. My daughter-in-law and I couldn't survive without it since it is about the only thing that saves our fingers from cracking during the winter months.
My DIL recently told me that it's finally a "Subscribe & Save" item on Amazon. She signed up for that right away since she orders all the time, as I do. Neither of us ever want to run out, it's that good! Cutemol is also excellent for dry feet/heels, transforms them almost overnight. Can't say enough good things about it! Def a must on my winter survival list every year! You'll find it here: Cutemol.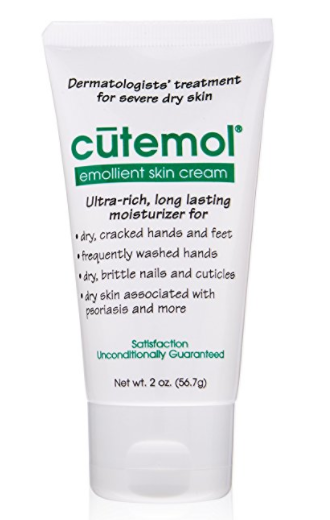 You're probably sick of hearing me go on about these merino wool socks. They are my favorite for fall and winter. I'm going to put together a post soon on little shortcuts I've created/found to make life a bit easier and these socks are going to be in that post for another reason. Anyway, if you hate having cold feet, these are so warm, comfy, and soft. Love them. You'll find them here: Merino Wool Socks. You'll find the men's version that I gave my son for Christmas here: Men's Merino Wool Socks.
Another one of my winter faves is Woodwick Candles. I buy them in both the large and smaller size. I love having one burning during the day while I work in my office. I find the wood-burning/ crackling sound they make so soothing and cozy. Kinda makes me feel like I have a wood-burning fireplace here in my office.
My absolute favorite scent is Fireside. I found out during Christmas that Fireside is also my daughter-in-law's favorite scent in Woodwick Candles.
I also love Frasier Fir, really they have so many wonderful scents, hard to pick a favorite! You'll find them available in a lot of places. Over the years I've bought them HERE and HERE and HERE. They are currently on sale at that last link so I think I'll pick up a couple of more before the sale ends.
Another must-have for winter for me is a good book or 10. You'll find a bunch of my favorite Decor books here: In The BNOTP Library.
Right now, I have two on my wishlist. Would love a copy of Timeless by Patrick Ahearn–available here: Timeless: Classic American Architecture for Contemporary Living.
Even more, I would really love James Farmer's latest, Arriving Home, available here: Arriving Home, A Gracious Southern Welcome.
I already have James's book, A Place to Call Home, and it's wonderful! So I know I would love Arriving Home, too!
I've been meaning to share a favorite that I bought for myself and my daughter-in-law this winter. You may remember this long, over-the-top-luxurious cashmere sweater that I purchased last year. I loved it so much, I ended up buying a second one in the same color (black) when they went on sale that year.
I stalked the site all last winter until one finally showed up in this gorgeous camel brown color. It had sold out but I guess they found one last one somewhere and I ordered immediately before it vanished again. I have so enjoyed wearing this sweater in both colors!
Well, this year, they came out with it in a new style. Argggh! lol I was going to pass it by since I already had it in both black and gold in last year's style, but then it went on a killer sale and I couldn't resist. I ended up buying this year's style in black for me and the golden brown for my daughter-in-law. I gave her one of my black sweaters from last year (since I had purchased two in black last year–can you tell I'm obsessed with this sweater!) so now she has last year's style in black and this year's style in gold.
We are both pretty obsessed with these long, cashmere sweaters! She loves to wear her's while working from home since her desk/work area is tucked into an adorable dormer alcove in her home, thus tends to be a bit chillier than the rest of the room. I can't recommend this sweater enough…it is luxury personified! I just looked and it appears that it's still on sale, I'm tempted to buy it in the Pine Green color before the sale ends. You'll find it in three colors here: Long Cashmere Sweater.
Hope you enjoyed this list of some of my winter faves! Happy Winter Shopping!
Looking forward to all the wonderful Before and Afters linked for this week's Met Monday!
Pssst: Did you know Between Naps On The Porch is on Instagram? You'll find me on Instagram here: Between Naps On The Porch.
Like to know when a new blog post is up and available to read? Subscribe for email updates, it's free and your email will never be shared.
Subscribe for free post updates via email here: Subscribe.
Metamorphosis Monday
Metamorphosis Monday is a party that's all about Before and Afters. Please link up your Before and After projects like DIY projects, room makeovers, craft projects even recipes. Any Before and After is great! Please do not link up Table Settings, save those for our Tablescape Thursday party on Thursday.
If you are participating in Met Monday, please link up using the "permalink" to your MM post and not your general blog address. To get your permalink, click on your post name, then just copy and paste the address that shows up in the address bar at the top of your blog, into the "url" box for InLinkz when prompted.
In order to link up, you'll need to include a link in your MM post back to the party so the other participants will have an opportunity to receive visits from your wonderful blog readers.
This party has ended, click button below for the links to all who participated.
*If a post is sponsored or a product was provided at no charge, it will be stated in post. Some links may be affiliate links and as an Amazon Associate, I may earn from qualifying purchases. *