There is sooo much inspiration to be found in Blogland these days, the cover of a magazine has to REALLY grab me to convince me to buy the magazine. The October issue of Country Living did just that. I loved the toile covered pumpkin on the cover. I glanced inside and saw there were directions with the "how to." I couldn't wait to give it a try.
Another pumpkin inside was decorated using images from Pictorial Webster's: A Visual Dictionary of Curiosities
Isn't it awesome! I love it!
Supplies you'll need to Découpage your pumpkin:
A Craft Pumpkin
Mod Podge
Foam Brush
A fabric you love (you don't actually use the fabric…more on that in a sec)
I didn't want to buy a yard of fabric just for this project, so I searched around the house for something I already had that I thought would make a cute pumpkin. I spied this cute pillow in my Master Bedroom.
My friend, Carol, made it for me a few years ago and I love the cute floral fabric she used for the center and back of the pillow.
To create this pumpkin, you will need to photocopy the fabric you wish to use. Then you will découpage that onto your pumpkin. I tried copying the pillow pattern on my home copier but it didn't work too well. I think my printer was low on colored ink. So, I headed off to the Office Depot near my home. They easily copied it on their color printer. Copies were .49 cents each. I asked for 10 copies, but in the end, I only used 6.
Tip: Copy your fabric on a laser printer (not ink jet) to avoid problems with the design/print running or smearing once you apply the Mod Podge.
One More Tip: If the pattern you choose to copy has a direction to the pattern, try to copy it with the pattern going the longest direction on the paper. For example, if you're copying your fabric pattern onto standard copy paper which is 8.5 x 11 inch paper, have the direction of your pattern going the length of the paper…the long way (11 inches). Mine was not photocopied that way. It was photocopied with the pattern going the short way…the 8.5 inch way. I'll explain why it's better to go the other direction in a sec.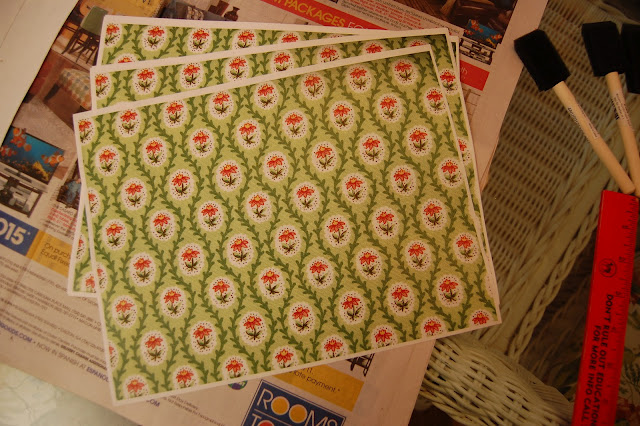 Here's how the copies looked…pretty much exactly like the fabric.
Here's a view of the back of the pillow…that's the side the guy at Office Depot used to copy the pattern. I was amazed at how great a job their printer did.
You will need to cut your paper into one inch wide strips. I turned over one piece of paper and drew lines in 1 inch increments. Then I held three sheets together and cut them all at once.
After you cut out your strips of paper, using a foam brush, lightly apply Mod Podge to the back of one of the strips of paper. Then starting at the top of your pumpkin, right underneath the stem, apply the strips of paper to your pumpkin.
Now, the reason you want the pattern to run the long way (the 11 inch way) is because on a small to medium size pumpkin like the one I bought at Michael's, 11 inches will stretch all the way from the stem to the bottom of your pumpkin…and will curve underneath. That means, you'll have very few "seams" running sideways on your finished pumpkin.
Unfortunately, since I didn't know to tell the nice guy at Office Depot to copy it that way, my 8.5 inch strips ended pretty high up, so I have lots of seams running around my pumpkin. You can see in this pic below (on the left side) where my 8.5 inch strips ended. So, if your fabric has a pattern that has a definite direction (like my floral fabric) if you can, copy your fabric where the pattern direction runs the longest length of your paper…not the shorter direction.
If you're planning on making a toile pumpkin, the directions for the green and white toile pattern shown on the front of the magazine suggests "tearing" out the toile scenes, leaving about 1/4 inch of white space around each scene. Then you découpage those onto the pumpkin. In other words, if you're using a toile pattern, after you copy it onto paper, don't cut your paper into strips for that type pattern. Instead tear out the individual scenes and découpage those onto your pumpkin. The torn edges will feather out, per the directions…and look better than if the scenes were cut out.
This was the very first time I've ever used Mod Podge or découpaged anything. It worked great! Once you finish découpaging your pumpkin and have it fully covered, you put a very light/thin coat of Mod Podge all over the pumpkin. The directions recommend placing your pumpkin on a bowl, cover one side with Mod Podge, let it dry, then turn your pumpkin over and do the other side. It dries very quickly.
If your pattern is light colored, the directions for the green and white toile pattern suggests painting the pumpkin with two coats of a flat, acrylic paint in the color of the background of your fabric, prior to applying your pattern. I ended up not doing this because the orange of my pumpkin did not show through the paper/pattern I chose. Just check that first before you start découpaging.
Tip: You may need to make a tiny cut in your paper occasionally to make it lay down flat on your pumpkin surface. That's better than getting a yucky wrinkle…something I learned the hard way.
Here's the finished pumpkin.
A bit closer view
This was a super easy project to do. I had so much fun with it, I ended up decoupaging a pumpkin for the guest room too.
Here's how it turned out. You'll find the full tutorial for the blue and white pumpkin in this post: Decoupage a Pumpkin for a Blue and White Room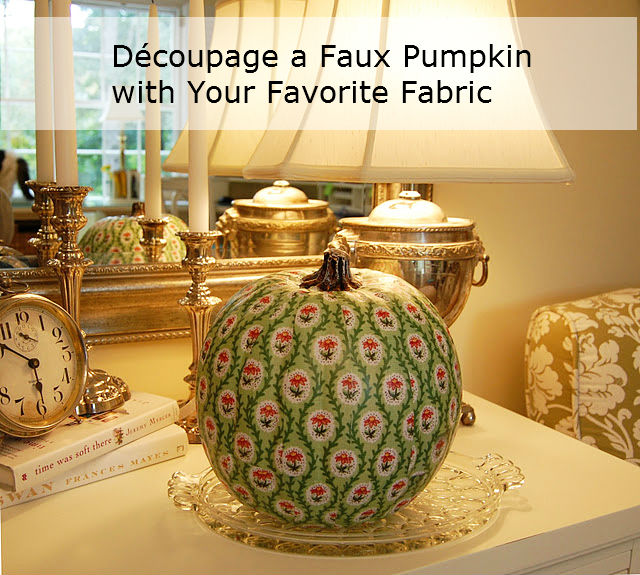 Costs Breakdown:
Pumpkin: On sale for 50% off at Michael's: $6.49
Mod Podge: used 50% off coupon from Michael's website and bought a large 16 oz bottle: $4.50
Foam brush: .07 cents
6 Color copies of my floral pattern from Office Depot: $2.94
Total Cost: $14.00
You can do this project for less if you buy the smaller bottle of Mod Podge, but I wanted to have some left over for any future projects. I still may do the Webster's Pictorial pumpkin. 🙂 As it turned out, it doesn't take much Mod Podge at all, so a smaller bottle would still leave plenty left over for future projects.
Related links in this post:
Master Bedroom
Office Library
Pictorial Webster's: A Visual Dictionary of Curiosities
*If a post is sponsored or a product was provided at no charge, it will be stated in post. Some links may be affiliate links and as an Amazon Associate, I may earn from qualifying purchases. *