Well, I think I've made a final decision about my bedding. I should know very soon but I'm 99% sure I'm going with the bedding I shared from Williams-Sonoma Home in yesterday's post. So what has moved me further along in that direction?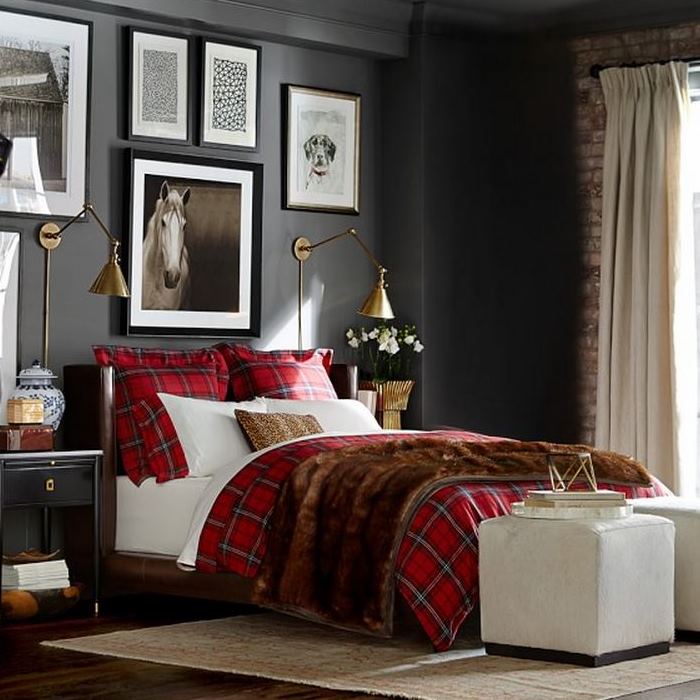 This little tartan pillow is to blame. A few days after I ordered the bedding, I revisited the WS website to gawk at it again. In the midst of my gawking, I noticed some of the "extras" they have in this tartan fabric, including the pillow below. I decided to order one thinking it may look good on the bed or in a chair in the bedroom.
Well, Mr. Tartan Pillow came today (still awaiting the bedding) and he pretty much sealed the deal…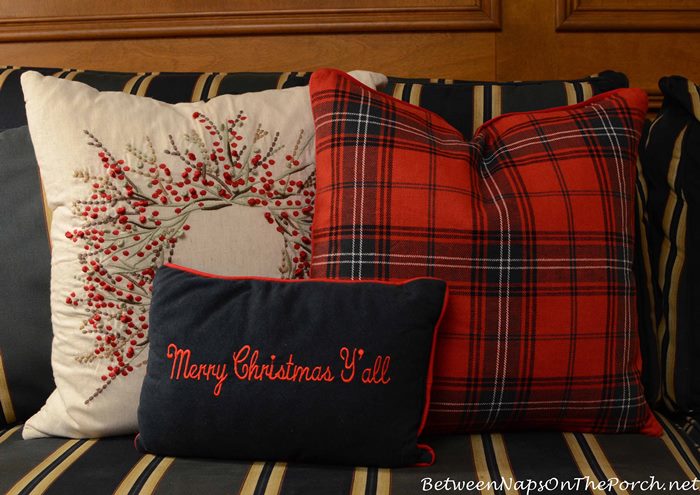 …so much so, I went online to Amazon today and cancelled my order for this bedding. Fortunately, it still hadn't shipped. Was it a sign? 😉
In case you missed yesterday's post, it was under consideration as a possibility until the pillow came today. (See yesterdays post HERE for more info.)
I had a feeling I would love the tartan fabric based on how much I loved the look and feel of this Christmas stocking I found on clearance in Williams-Sonoma last year. It's made from the same fabric as the bedding, or at least it appears to be.
The pillow is definitely made from the same fabric as the stocking. A blend of linen and cotton (55% linen, 45% cotton) almost gives the pillow a feeling of wool. I love how it feels!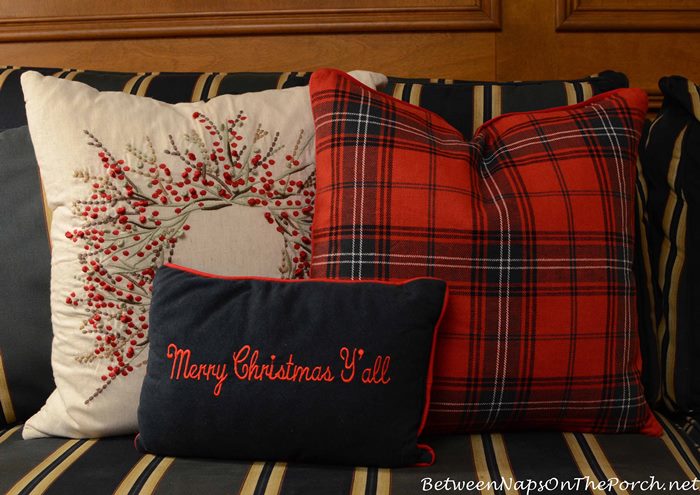 You may remember the wreath pillow from seeing it on the swing when I decorated the porch last Christmas. (That post can be viewed here: Screened-in Porch Decorated for Christmas
Per Williams-Sonoma's super nice customer service, the duvet and the standard shams shipped on Monday so they should be arriving on Friday. The Euro shams are on backorder until January, something I unfortunately knew when I ordered those. I keep hoping that will change…have no idea why they can't get them in until then.
So with that decision probably made (can't 100% commit until the duvet comes on Friday) I started pondering what I'm going to do about a bedskirt. Then it hit me, I love this tartan fabric so much, why not make the bedskirt out of it, too.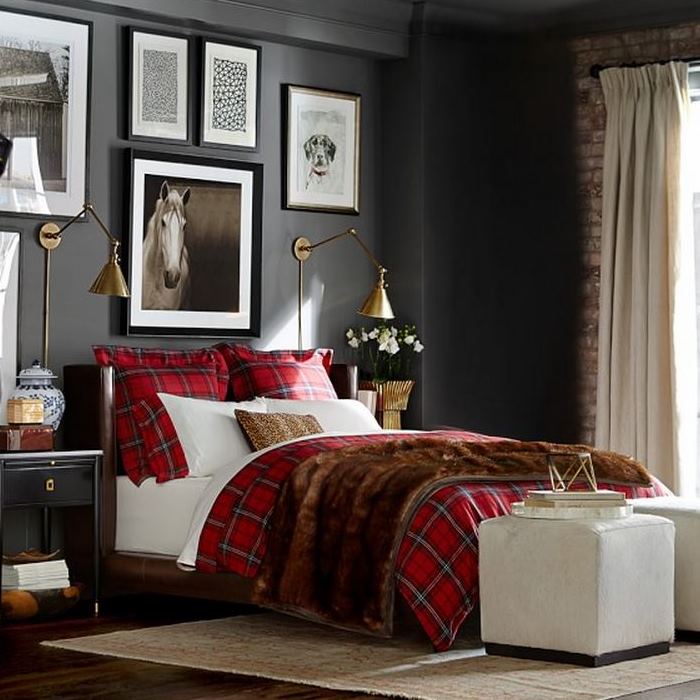 I'll most likely place the duvet across the foot of the bed like I normally do with the comforter in my current bedding. And I'll probably use the ivory matelasses I already have or maybe buy a solid red one…or use a red wool blanket I purchased recently. So, why not go with the tartan for the bedskirt. There's just one problem, I can't locate the tartan fabric online anywhere.
I called WS's customer service and asked if they offered the fabric in yardage. Turns out, they do offer several of their upholstery fabrics by the yard, but not this tartan fabric. Boo hiss. I politely suggested they might want to consider offering it too, since it would come in handy for making a bedskirt to go with the bedding.
Plan B
Then I went with plan B. I had noticed Williams-Sonoma has a bunch of tablecloths in this tartan fabric. They come in a lot of sizes and one size is a whopper at 70″ x 126″. I don't know if the tablecloths are made of this exact same fabric but they look like they are and they're the same composition: 55% linen and 45% cotton.
I did a little measuring and my current bedskirt is around 82 inches long down the sides and 62 inches across the foot. If the tablecloth is the exact same fabric as the duvet and shams, there should be more than enough fabric to make a bedskirt from the tablecloth. So I ordered the giant tablecloth and I'm keeping my fingers crossed that's it's made from the same tartan fabric as the bedding and pillows. I'll let cha know once it arrives. Update: I'll have to make a plain(not pleated) skirt or order at least one more tablecloth if it's to be a pleated skirt. Wish I could just find this fabric!
This past weekend I stopped by Starbucks for one of their mocha coffees…have you tried those? On my gosh are those good! They are made with dark chocolate so they aren't sicky sweet like most hot chocolate drinks. With mocha coffee in hand, I wandered into the Barnes and Noble that's attached and look what I found!
I purchased two…one for me and one for a friend. I tucked a few more pretties down inside my friend's tote since her's will be a Christmas gift. She's one of the friends I took a birding trip with to Jekyll Island for the Georgia Colonial Coast Birding and Nature Festival a few years ago, so I think she'll really like it.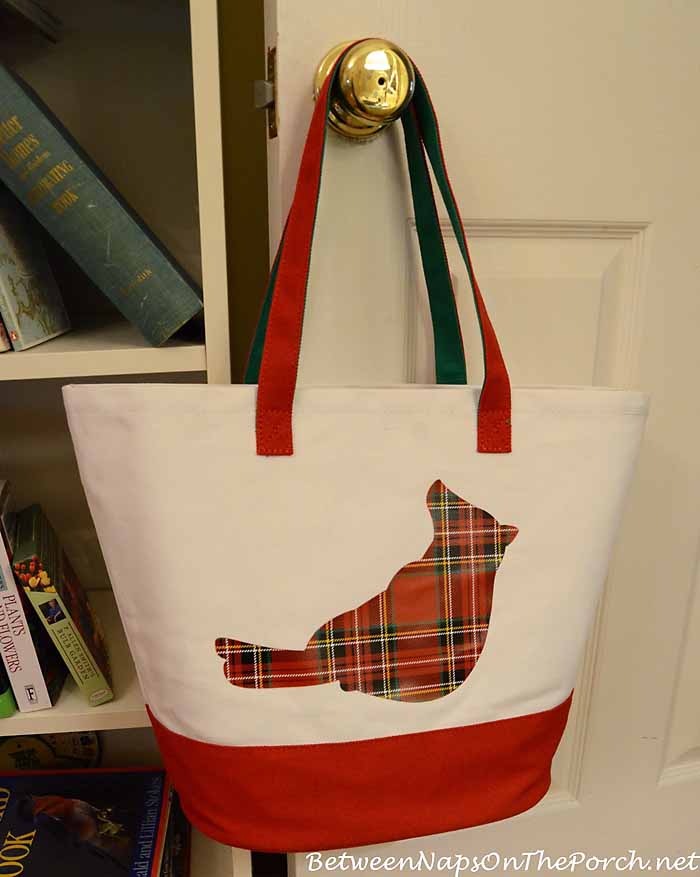 They are only $9.95 if you make a second purchase. Since I purchased two bags, that's what I paid. I just love 'em and wanted to share this in case you are as tartan obsessed as I am and are looking for a Christmas present for a friend…or maybe for yourself. 🙂 The snowflake tote would make a great Hanukkah gift.
Have you started your Christmas shopping? Got any great recommendations for gifts?
*If a post is sponsored or a product was provided at no charge, it will be stated in post. Some links may be affiliate links and as an Amazon Associate, I may earn from qualifying purchases. *