Welcome to the 545th Metamorphosis Monday!
Beautiful Oakwood, Ohio is so picturesque with its tree-lined streets. It truly feels like you've stepped back in time to a much simpler life, one where the mailman still walks door-to-door to deliver the mail, slipping it into the little slot right beside the door.
I could drive around all day just oohing and ahhing over all the beautiful homes.
Love how our flag is so proudly displayed in front of this beautiful home!
Another beautiful cottage–hard to see but hidden behind the trees is a lovely porte-cochere on the side of the home, perfect for pulling under on those rainy days.
As soon as this post goes up, I'll be heading out for the 9-hour trek home. My daughter-in-law and I were almost in tears last night because it has been a wonderful four weeks. I will miss her, my son and grandsons so much. It's been a wonderful summer so far, can't believe how fast it's passing by! This has to be the busiest summer I can ever remember.
In case you have grandchildren or little ones still at home, I thought I'd share how the dinosaur play pool looked set up for the boys.
As you can see in the above photo, we pulled the rainbow sprinkler I had set up a few days before over to the play pool.
This is a fairly large pool, large enough that one of the adults in the family may have gotten in and stretched out with a cool drink in hand during all the playtime. 🙂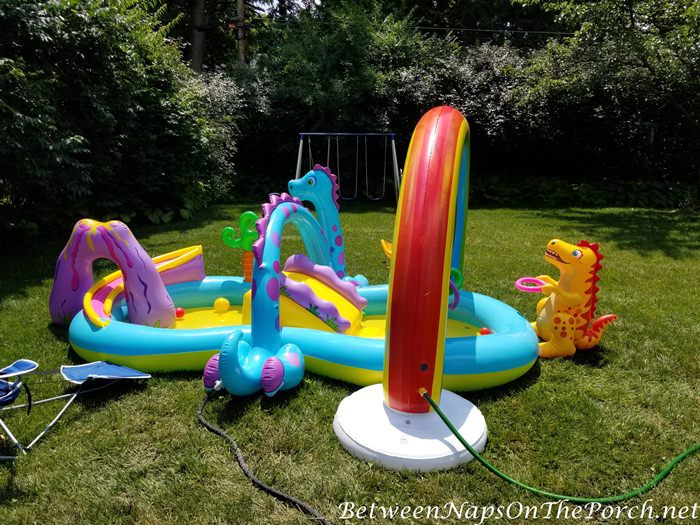 So the boys got a double sprinkling when they came down the slide in the pool: once going down the slide and again as they landed. Definitely recommend this dinosaur play pool if you have little ones around. (Find it here: Dinosaur Play Pool. Rainbow sprinkler is available here: Rainbow Sprinkler.)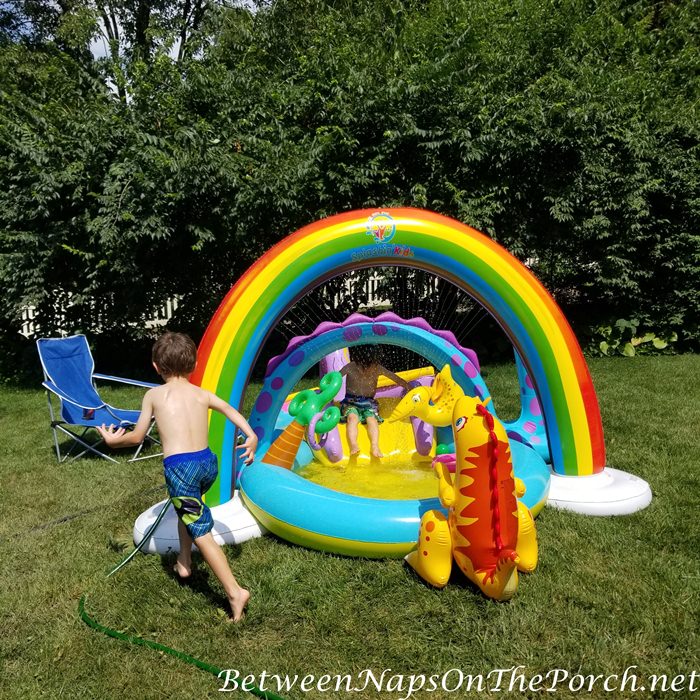 Weeding Done!
The mini landscaping/weeding project I started was completed. I liberally sprinkled preen down once the weeds had been pulled, then covered as many areas as I could with landscaping fabric. Some areas that were mostly weed free didn't get landscaping fabric.
In the photo below I had run out of mulch, but it's a good image to show how the fabric looks down. I made another trip back to Lowes for 12 more bags of their brown mulch that's currently on sale for just $2 a bag.
Sideyard before…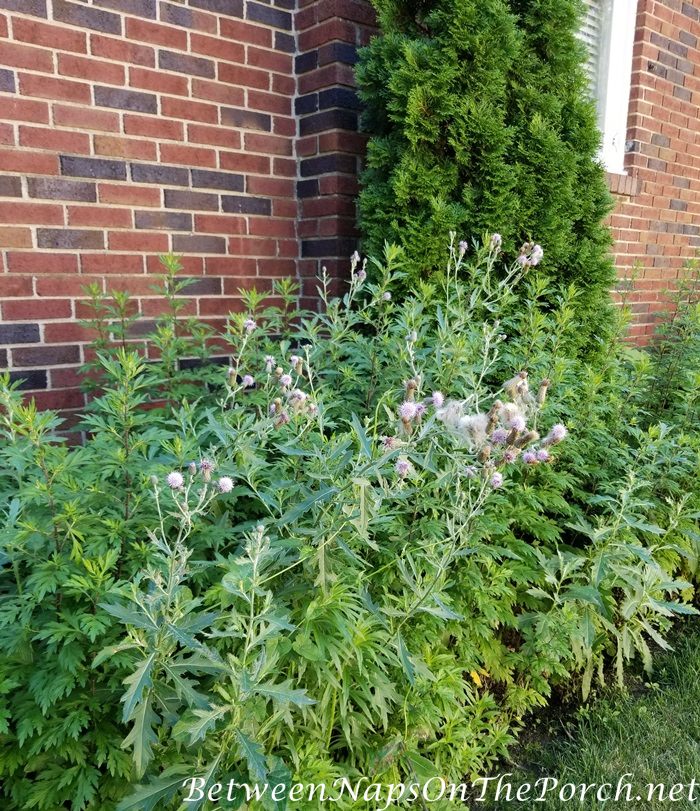 After with weeds gone, Preen applied, landscaping fabric and mulch in place. I would love to see some evergreen shrubs on the side of the house eventually, instead of just the hostas that were transplanted here from the backyard when the landscaping was done a few years ago. I think shrubs would help fight off the weeds a bit better.
The Oakleaf Hydrangea is in the process of turning a gorgeous rose pink!
There's some landscape fabric on this side, as well, but in the areas that didn't get the fabric, some spot-weeding will need to be done. I'm so hoping this fights back the thistle that's been trying to take over the front and side gardens each year!
My daughter-in-law, Nancy, makes the yummiest breakfast casserole! I'm going to attempt to make it once I'm back home. It's made from zucchini, red onion, spinach, bell pepper, tomatoes, feta cheese, eggs and a bit of seasoning. I think that's all the ingredients. Healthy and really good!
Anyone else make a similar recipe? She adds and subtracts some of the ingredients according to what she has on hand at the time. I'm a recipe follower where she is great at looking in the fridge and coming up with something that tastes amazing! That's a talent I don't have! lol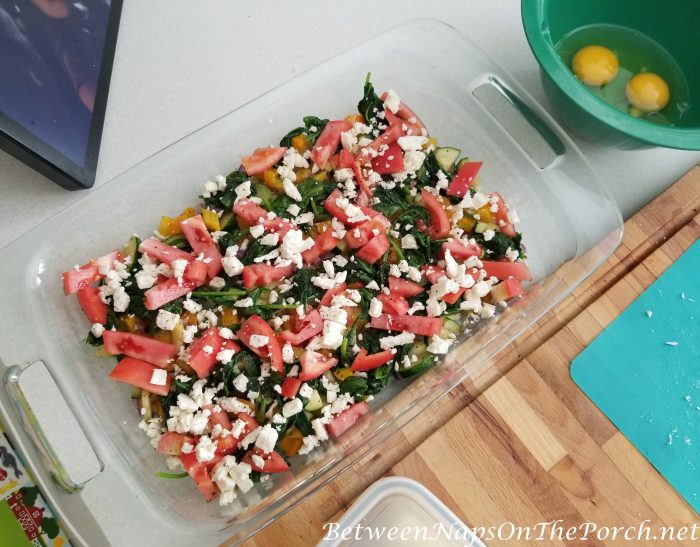 Okay, time to quit procrastinating and start the 9+ hour drive back home. Ugh. At least the weather is gorgeous, so it should be a sunny drive.
Looking forward to all the great Before and Afters for this week's Metamorphosis Monday!
Metamorphosis Monday
Metamorphosis Monday is a party that's all about Before and Afters. If you are participating in Met Monday, please link up using the "permalink" to your MM post and not your general blog address. To get your permalink, click on your post name, then just copy and paste the address that shows up in the address bar at the top of your blog, into the "url" box for InLinkz when prompted.
In order to link up, you'll need to include a link in your MM post back to the party so the other participants will have an opportunity to receive visits from your wonderful blog readers.
Feel free to link up Before and After posts that are home, gardening, decorating, crafting, painting, sewing, cooking, fashion, travel or DIY related. Please do not link up to the party if you're only doing so to promote/sell a product.
To those linking up, if you notice a shop or online store linking up to sell products (yes, unfortunately, that happens) please let me know so I can remove their link and block them from participating in future parties.
This party has ended, click button below for the links to all who participated.
*If a post is sponsored or a product was provided at no charge, it will be stated in post. Some links may be affiliate links and as an Amazon Associate, I may earn from qualifying purchases. *