Welcome to the 301st Metamorphosis Monday!
Pssst…come over here a second, I want to show you something.
We're in the Christmas section of Wal-mart…what do you see? Looks like ornaments, right?
I'm seeing something else. Those antlers, the ones in a circle shape there on the top row…
To me, those look like great napkin rings…
…for a Christmas table setting. Remove the sprig of greenery and it would work great as a napkin ring for an autumn, Thanksgiving, woodland or hunt themed tablescape. (Tablescape can be viewed here: Dashing Through The Snow) Actually, I'd probably leave the greenery for those, too…I just like how it looks.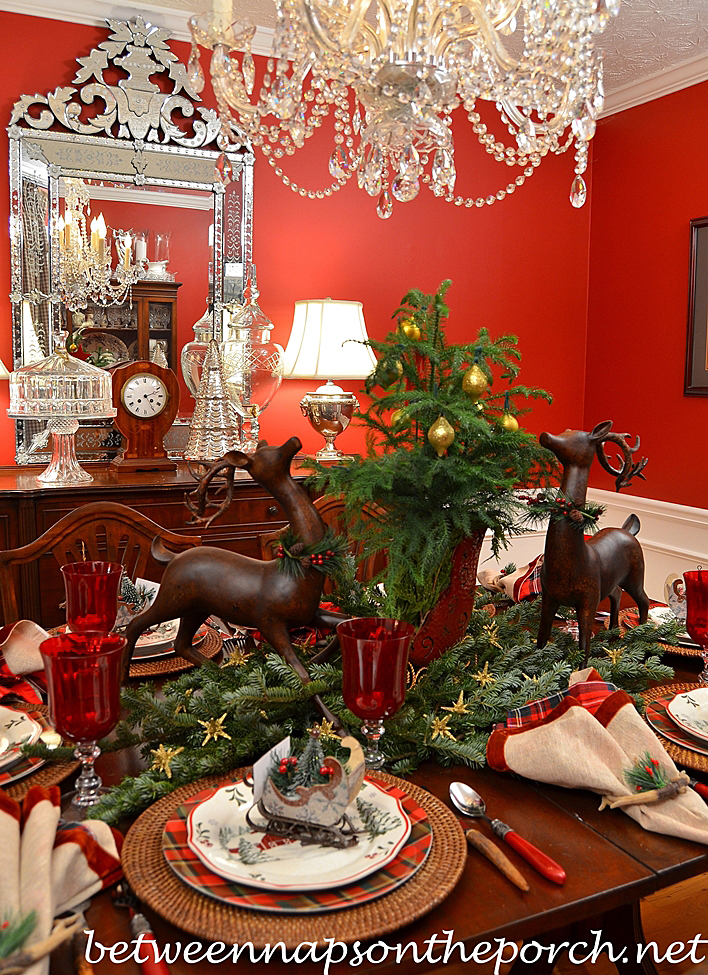 See the antler ornaments hanging there on the left on the second row? Those come in pairs…two antlers for $1.97.
One set of those will make wonderful placecard holders for two place settings.
That works out to less than $1 per placecard holder!
They are perfect for a fall, Thanksgiving or Christmas table setting with a woodland or nature theme. (Tablescape can be viewed here: A Cozy Woodland Christmas Table Setting)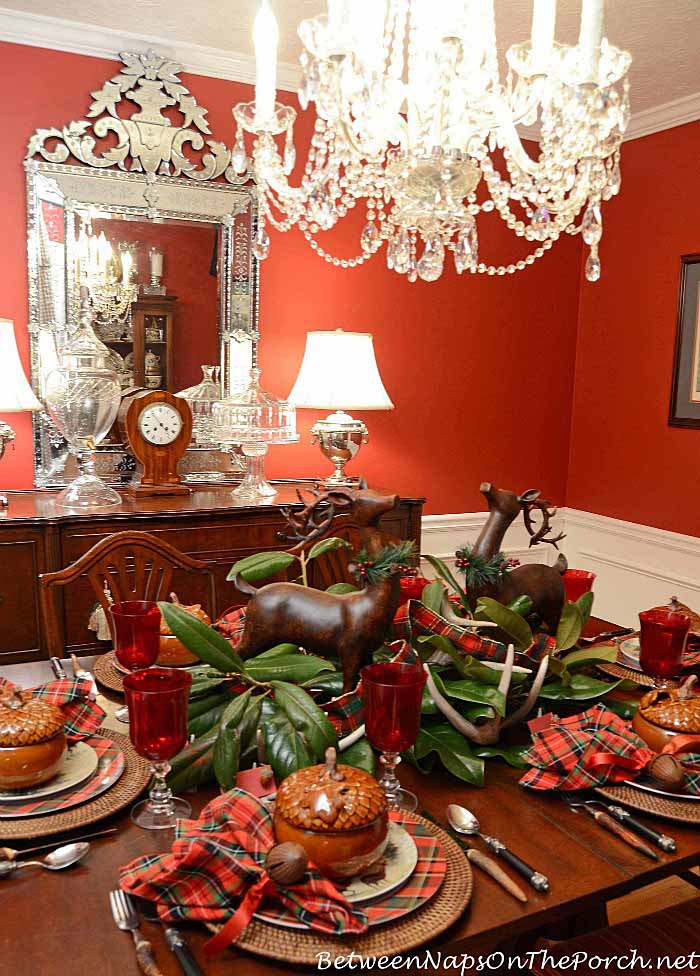 Notice the sleigh there on the bottom row…
Those make excellent placecard holders…
…in a Christmas tablescape.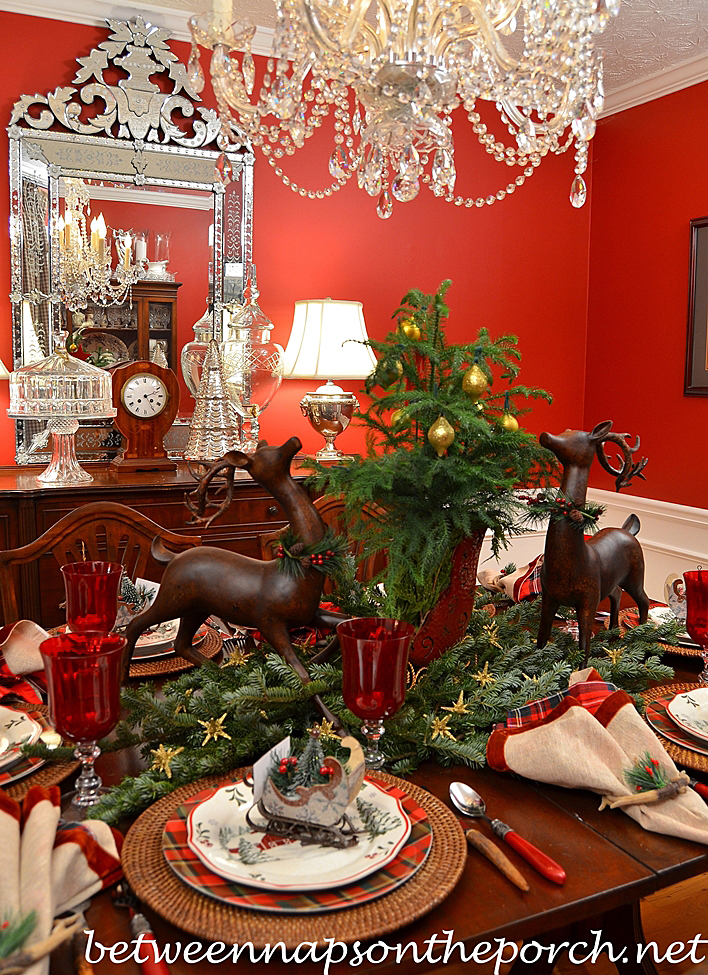 …especially when there's a sleigh on the salad plate. 🙂 (Tablescape can be viewed here: Dashing Through The Snow)
I purchased all the above ornaments placecard holders and napkin rings last year and I was surprised to see Wal-Mart has them in again this year. They must have sold well last year for them to bring them back. Just wanted to let you know in case you are in need of some very affordable placecard holders or napkin rings for your holiday tables.
I also purchased a few of these little sleds last year to use as placecard holders but never got around to using them in a tablescape. So those may show up in a table setting this season…in which case, forget you ever saw this and act all surprised! 😉
It's Back!
Well, at least it's starting to hit the shelves. A couple of months ago I mentioned I was pretty sure Wally World would be bringing back the Better Homes and Garden Christmas dishware again this year? I've heard from 4-5 folks who have seen it in their local store. I stopped by a Wal-Mart near me last week to see if they had it in, yet. They didn't have any plates, but they did have the large platters. I bet if I go back this week, the plates will be there.
I noticed it's also available online. Took me a while to find it but I think this is it: Better Homes and Gardens Christmas Dishware. It looks like they replaced one of the salad plates that depicted a red bird last year with a snowy owl for this year. I hope they have those in the stores…definitely need to add an owl to my collection. The dinner plates in the set online are prettier than the ones from last year, too….much more decorative! By the way, I'm not affiliated with Wal-Mart in any way…just mentioning this so there won't be any disappointed folks this year.
If you're new to reading BNOTP and would like to see a close up of the dishware and the adorable patterns, check out these three Christmas table settings from last year:
A Christmas Table Setting with a Touch of Whimsy
Looking forward to the other Before and Afters for this Met Monday!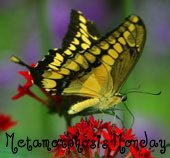 If you are participating in Metamorphosis Monday, you will need to link up the "permalink" to your MM post and not your general blog address. To get your permalink, click on your post name, then just copy and paste the address that shows up in the address bar at the top of your blog, into the "url" box for InLinkz.
In order to link up, you'll need to include a link in your MM post back to the party so the other participants will have an opportunity to receive visits from your wonderful blog readers.
Please observe these few rules:
Only link up Before and After posts that are home, gardening, crafting, painting, sewing, cooking, DIY related.
Do not link up if you're doing so to promote a website or product.
Do not link up a post that was just linked last week since a lot of readers will have already seen that post.
Please do not link up more than 2 Before and Afters each week. Thanks!


*If a post is sponsored or a product was provided at no charge, it will be stated in post. Some links may be affiliate links and as an Amazon Associate, I may earn from qualifying purchases. *