Do you love decorating with pillows? I really love it when a pretty decor item is also functional and pillows definitely fall into that category. In addition to lamps, cozy throws, art, and books, I love, love, love using lots of pillows in all the rooms of my home. They can add so much whimsy, not to mention a ton of cozy during the fall and winter months. I guess in a way, they are like the scarf or jewelry we add to an outfit, that finishing touch that makes a room feel complete.
Before I get into today's post, just want to mention I'm having a few technical difficulties these days. So posts are taking a bit longer to create than they normally would. Don't want to bore you with all the details but in a nutshell, I finally, finally broke down and upgraded my computers (first my laptop and then my desktop) to Windows 10.
I loved Windows 7 and had primarily resisted upgrading to another Windows version because the newer versions no longer included Picture Manager, the system I've always used to organize and store all of my photos. If I had upgraded when Windows 8 first came out, all my photos (and there are thousands!) would have been tossed in a random mess onto my computer since there was no Picture Manager in Windows 8. I know this is what would have happened after the update because I was one of the many unfortunate folks whose computer was automatically updated one night while they slept. I awoke to an absolute disaster!
After a good deal of research online, I found the steps to revert my system back to Windows 7. I think I shared that in a post back when it happened. After a telephone call to Microsoft, my system was set to no longer update automatically to Windows 8. That lasted two years and then the persistent messages to update started appearing again exactly two years later from the date the updates were turned off. Anyway, there's a lot more to this story, but I won't bore you with all the details.
I'm guessing Microsoft must have received a ton of negative feedback because they eventually made Picture Manager available online for download. I spent Monday evening and all day yesterday adding the downloadable version of Picture Manager to my laptop and desktop and upgrading my laptop/desktop to Windows 10.
I'm not sure if it was absolutely necessary to download Picture Manager again since I had a version already on my computers, but I think it was because the version I downloaded looks and functions differently from my 2010 version of Picture Manager, and not in a good way. This is how I've been consoling myself and keeping my energy up: Hot Apple-Berry Pie and my favorite, Peppermint Icecream. lol You need carbs when you're under stress!
Anyone else use Picture Manager for storing or editing their photos? I really like the cropping tool in PM and how you can organize/store photos. It isn't perfect but def better than other photo management systems I've tried.
Okay, how about some fun stuff and a little Christmas eye candy. Today I thought I'd share some of the whimsical pillows I use throughout my home during the Christmas months. Not sure if I can remember where all the pillows came from now, but most probably came from HomeGoods or Marshalls. I always check out their pillows whenever I'm shopping in one of those two stores. Not much of that happening these days, though.
Let's start in the living room. (Photo below is from 2017)
I'm pretty sure I found this adorable Christmas Advent calendar pillow in HomeGoods or Marshalls one year.
I just noticed it's missing it's green felt Christmas tree that you move from day to day. I bet someone named Charlie pulled it off when he was here visiting. I need to look for it and reattach it.
Still cute though, even without its green tree.
This pillow usually ends up on the sofa since it's a great size for a sofa. The colors also work really well in this room. I just checked and surprisingly this pillow is still available! You'll find it on sale here: Crewel Embroidered Pillow.
This wee pillow adds a bit of Southern charm to this room.
This pillow normally ends up on my bed.
But this year it landed here on one of the chairs in the bedroom.
I love Rudolphs's antlers sticking out through the sunroof and his scarf flying in the breeze 🙂 The looks on Santa's face says, "I'm on a mission!" Rudolph is along for moral support. 😉 This pillow was available HERE but it appears to be no longer available.
The upstairs living room (aka the bonus/frog) probably has the most Christmas pillows of all. (Photo below is from a few years back.)
This whimsical pillow depicting a note to Santa resides here on the sofa.
I love the big lumbar pillows for sofas. I'm pretty sure this pillow was another find in HomeGoods or Marshalls.
There's an armoire in this room that sometimes gets decorated for Christmas. I actually left the greenery up last year because I love seeing it lit all throughout the year. On either side of the armoire, there are chairs and dormer windows.
I bought two of these adorable reindeer pillows one year. They tend to roam…
…sometimes ending up on the porch…
…and sometimes in the guest room.
This year they are here in the upstairs family room.
Did you notice the little Christmas pillow tucked into the dormer seat?
I love a cute dormer window, especially if it has a window seat. They can be so fun to decorate!
The chair on the other side of the armoire has the same pillow.
I couldn't part with all my son's stuffed toys from his childhood. Now my grandsons play with them when they visit.
There's also a window seat under the double windows in this room.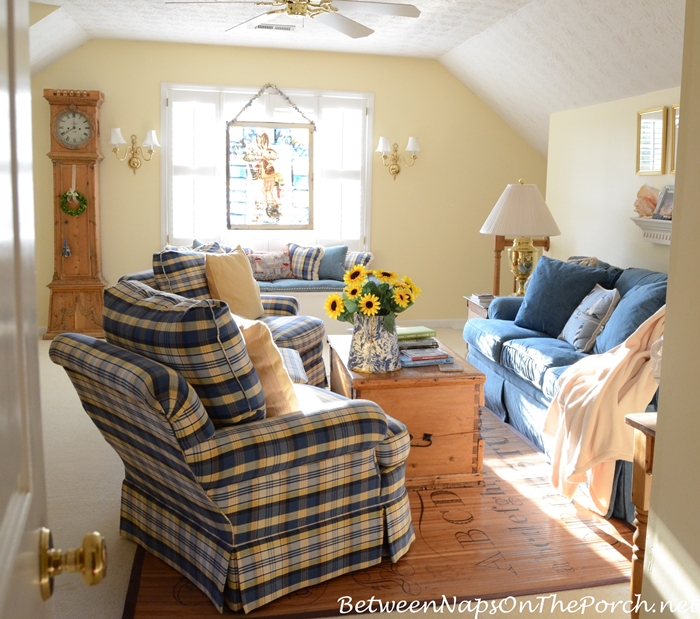 The bunny window no longer hangs above that window seat. I moved Miss Bunny here to the garage where she now presides over the potting bench.
This is the pillow that ended up in the window seat this year. It looks kinda lonely, need to pull out a few more. lol
Originally I bought two of that style pillow for the front porch benches.
But this year I bought two inexpensive pillows for the front porch, pillows that I would be okay with them getting rained on. I'll try to share those soon. Update: These are the two pillows I currently have on the porch: Pillow 1 AND Pillow 2.
I'm super impressed with the quality and how they've held up. I expected to have to toss them after this year since I'm leaving them outdoors full time, but they've been rained on several times and still look brand new!
Let's check out the guest bedroom…
A little Scrooge humor for this room…
And another cute Advent Calendar pillow. Charlie didn't get to this one, it still has its red present that gets moved from day to day. I need to move it, it's currently tucked into day 2.
Remember the swing out on the screened porch, shared in a recent post? Hard to see but there are two pillows underneath all the gifts.
Underneath all the presents are these berry wreath pillows, bought many years ago. I have a mental image of my son at Thanksgiving, leaning back in the swing against those pillows with his feet propped up on the wicker coffee table, morning coffee in hand. ~~sigh~~
Hope this post put a smile on your face today. How is your holiday decorating going?
*If a post is sponsored or a product was provided at no charge, it will be stated in post. Some links may be affiliate links and as an Amazon Associate, I may earn from qualifying purchases. *