Welcome to the 619th Metamorphosis Monday, a blog party sharing fabulous Before and Afters!
I had so much fun this weekend decorating the front porch for Christmas.
It was just starting to get dark outside as I finished, so I hurriedly grabbed my camera from inside and snapped a few pics before all the light was gone.
As I snapped, it got darker and darker and that magic time, The Blue Hour, began to appear. Just look at that beautiful, blue sky!
If you came to see me, this would be the view as you walked down the walkway and approached the porch.
This year I purchased two new pillows for the benches on the porch. I was out shopping and came across these cute Christmas pillows and they were so reasonably priced, I decided to try them here on the porch, leaving them out on the benches full time.
Normally I don't do that with my holiday pillows. I may put them out on the benches for a day or two or when I'm expecting guests for a party, but normally I would bring them back in to save them from fading or being rained on.
But these pillows were so inexpensive, I decided to leave them out to enjoy every day.
Here's the other pillow I purchased. The quality of both pillows is really nice. Amazed they are so nice for such a reasonable price.
I just checked and it looks like both pillows are still available. You'll find them here: Farm Fresh Cut and Carry Pillow and here Merry and Bright Pillow.
I love a fresh wreath for the door at Christmastime.
Both HomeDepot and Lowes usually have beautiful wreaths available this time of year. I found this wreath in my nearby HomeDepot. They normally come in several sizes. I always go for the bigger size because I love when a wreath really fills out the door.
I love the mix of greenery in this wreath. It appears to be a mix of Frasier Fir, Cedar and Pine. I also love the little frosted pine cones.
I was tempted to add a few red berries from my Savannah Hollies which are covered in berries right now, but I love this wreath just as it so much, I decided to skip the berries this year.
The cedar garland around the door is also from Home Depot. In case it's helpful to know, I used three, 20-foot rolls around my door. It actually takes around 24 feet of garland to go fully around all three sides of my door, but I can normally make it look full with just three.
The way I hang my garland is I start one of the garlands at the floor on one side, bringing it up and over the door and down the other side where, as anticipated, it stops about 2-3 feet up from the floor of the porch.
Then I start the 2nd garland on the opposite side and again, it doesn't quite reach the ground on the other side of the door, but that's okay since the first garland already fully reaches the floor on that side.
Finally, I swagged the 3rd garland even across the top and down the sides which gives the garland a much fuller look. Just sharing this in case you have a similar size front door and are wondering how much garland you'll need for a fairly full look. You could use 4 rolls, but I think 3 works great.
Also, I prefer cedar garland over pine garland because it always seems to be a bit fuller. It takes a lot of pine garland to get a full look.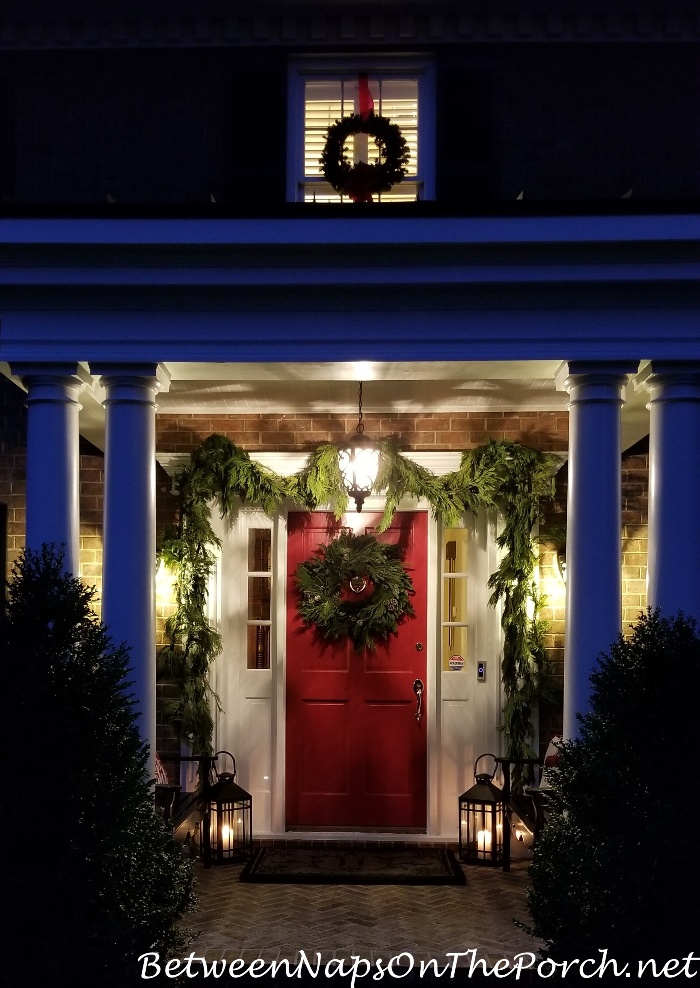 Merry Christmas and Happy Holidays to you!
Looking forward to all the wonderful Before and Afters linked for this week's Met Monday!
Pssst: Did you know Between Naps On The Porch is on Instagram? You'll find me on Instagram here: Between Naps On The Porch.
Like to know when a new blog post is up and available to read? Subscribe for email updates, it's free and your email will never be shared.
Subscribe for free post updates via email here: Subscribe.
Metamorphosis Monday
Metamorphosis Monday is a party that's all about Before and Afters. Please link up your Before and After projects like DIY projects, room makeovers, craft projects even recipes. Any Before and After is great! Please do not link up Table Settings, save those for our Tablescape Thursday party on Thursday.
If you are participating in Met Monday, please link up using the "permalink" to your MM post and not your general blog address. To get your permalink, click on your post name, then just copy and paste the address that shows up in the address bar at the top of your blog, into the "url" box for InLinkz when prompted.
In order to link up, you'll need to include a link in your MM post back to the party so the other participants will have an opportunity to receive visits from your wonderful blog readers.
Update: Please do not link up table settings/tablescapes for Metamorphosis Monday. Please save those for our Tablescape Thursday party on Thursdays. Recipes are fine because that's definitely a "Before and After" but please save your beautiful table settings for Tablescape Thursday. Pretty vignettes (transformations) you've created on atop a chest or somewhere in your home are great for our Before and After party, but let's save the actual table settings for Tablescape Thursday.
This party has ended, click button below for the links to all who participated.
*If a post is sponsored or a product was provided at no charge, it will be stated in post. Some links may be affiliate links and as an Amazon Associate, I may earn from qualifying purchases. *