Welcome to the 701st Metamorphosis Monday!
For many, many years I've been itching to spiffy up my garage. I've always hated this concrete floor. It's so depressing to look at and never really feels clean.
Last week I got a quote for having Epoxy flooring installed. Tomorrow I'll be getting a quote for another type of flooring that is also very popular called Polyaspartic Polyurea. I think both flooring types end up being finished with a Polyaspartic top coat but I'm still learning about both processes. This was the color I ended up choosing when I looked at the Epoxy samples. I think it would help brighten up the garage…well, that and a fresh coat of paint on the walls.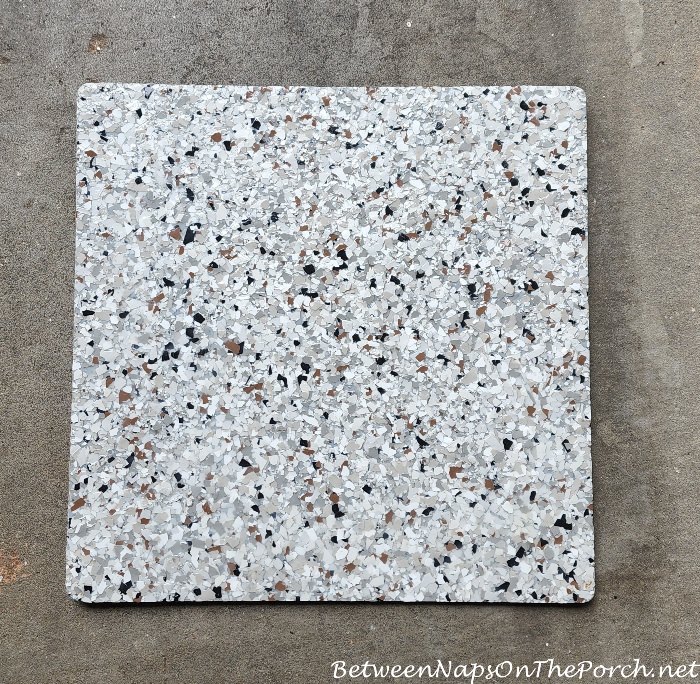 I can barely move this morning because I spent the weekend clearing everything out of the garage that doesn't get used on a weekly basis. Over in the far right corner near the garage door, I had one of those tall, plastic shelving units with the open/holey type shelving. I'm not sure how else to describe it. It was always messy because the open design of the shelves held on to every leaf or debris that found its way into the garage and spiders loved building webs around it. I managed to get everything that was stored on it moved over to the shelves of the potting table–that is, the stuff I didn't end up donating or tossing out. The shelving unit is currently laying outside on the driveway. I will probably hose/scrub it down and place it in the basement for some additional storage down there. Update: Did that this afternoon–one thing off the to-do list.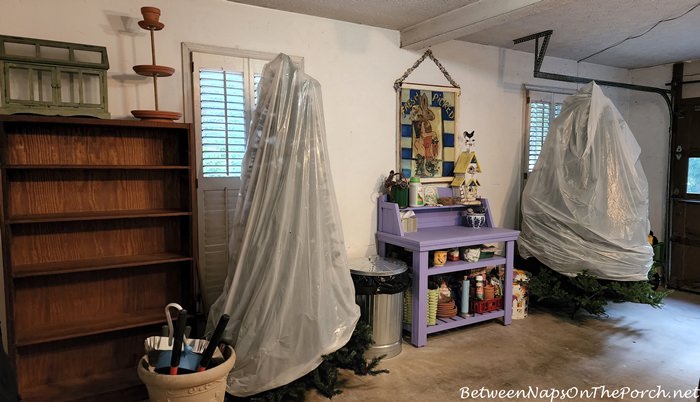 You may remember when I took all of my son's childhood bedroom furniture to his home in Ohio for a fun bedroom makeover for my two grandsons. (Bedroom makeover can be found here: Dinosaur-Themed Bedroom for Two Dinosaur-Loving Boys.) The large bookcase on the left was the only piece I couldn't fit into my SUV, so it's still in the garage. I cleared everything off of it in preparation for having it moved to either the basement or the "formal" living room which is really just a storage room since it never gets used. Update: Moved it today–it's now in the formal, never-used, living room.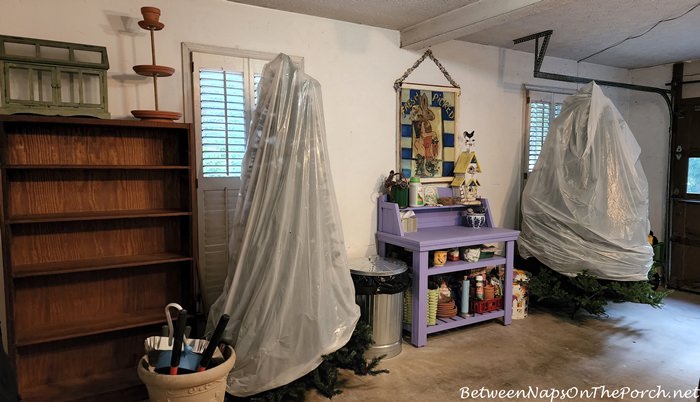 Most of the items that had been stored on this bookshelf were rarely ever used. The only thing I moved, again to the potting table, was a box of trash bags. My new philosophy on garages is, if something isn't being used on a weekly basis, it doesn't get stored here. It should make it much easier to keep the garage clean without having so many open shelving units to clean and clean around.
My dish storage stays since I love having it so convenient/available for setting tables for Tablescape Thursday. The only cabinet I think I'm going to move is the first one on the far left.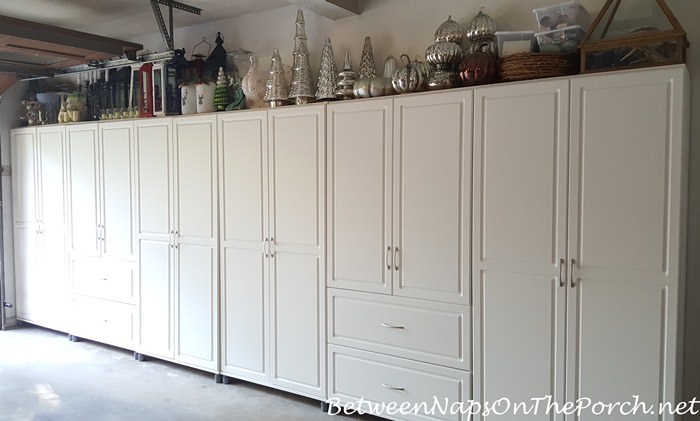 It's the only cabinet that gets dusty inside–I think because it's right by the garage door. The rest have stayed nice and clean these past 4 years. Can you believe it's been over 4 years since I created this dish storage area?!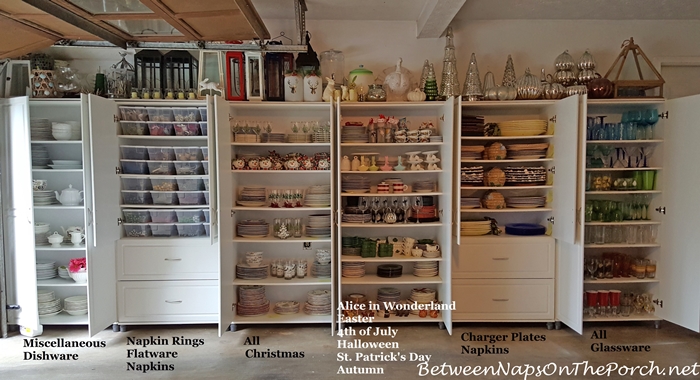 I'm going to move that one cabinet near the garage door to the front of the garage and add two more just like it for additional storage. My garage is pretty big (22 x 22 feet) so there's plenty of room for cabinets along the front wall. After the flooring is installed, I hope to get the garage walls and the garage door painted. The garage door is already painted white on the outside, not sure why it was never painted on the inside. That should also help brighten things up.
The two cabinets I want to add to the front wall of the garage (along with the one I'll be moving) will help ease my cramped flatware and napkin ring storage.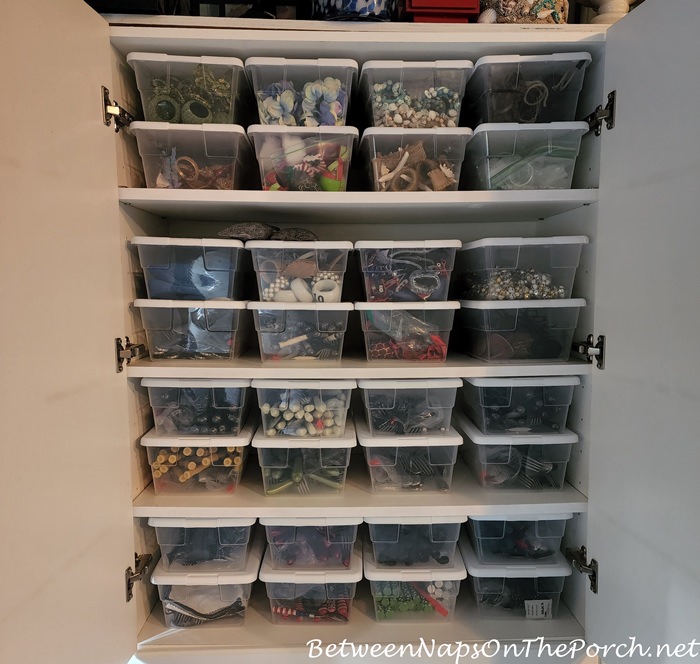 The plan is to make one of the new cabinets a dedicated cabinet for holding charger plates. (Cabinet is available here: Storage Cabinet.)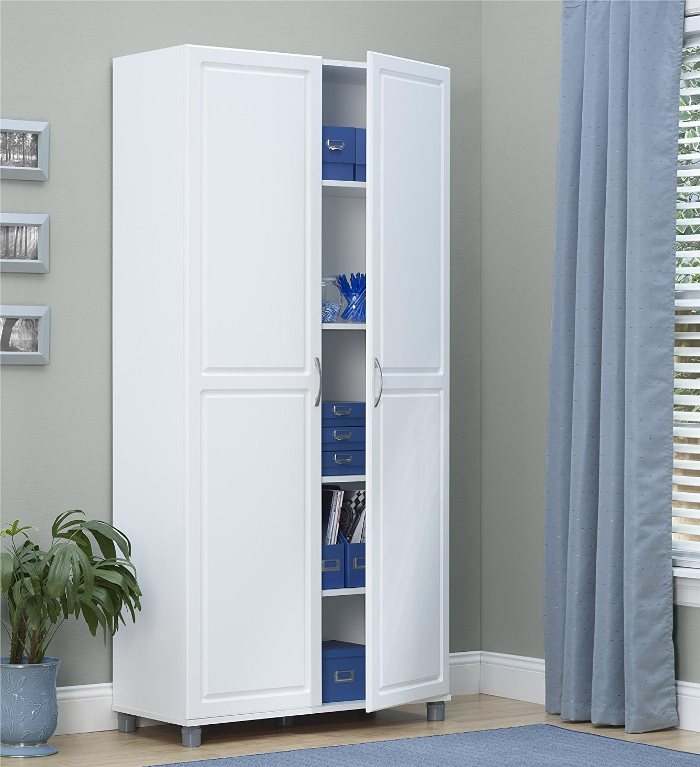 That would give me space for two more sets of charges that are currently being stored on top of the cabinets.
The two cabinets with drawers (which hold all my napkins) will become storage for flatware (left cabinet) and napkin rings–right cabinet. Currently, the right cabinet on this end with the drawers is housing the charger plates. Once I make the change, I'll take photos to show how the new storage looks and works. I've already ordered additional clear, storage bins for the flatware and napkin rings. Can't wait to have more space for those!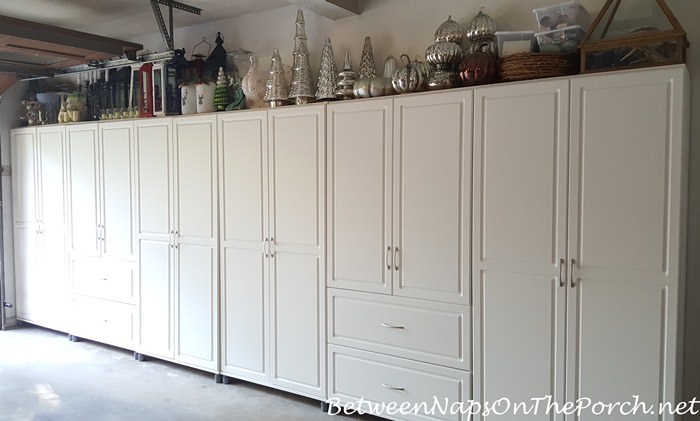 I just purchased two sets of these checkered napkins in new colors.
I already have them in quite a few colors and love using them in table settings!
This time I chose a set in the yellow and white check. They come in sets of 12, so the pricing is quite good. I just noticed another set that I have them in is visible in this photo–the tan and white check.
I also added this pretty aqua and white color. Those should come in handy for beach-themed tables. Oh, and the cobalt blue and white check ones are visible in this photo, too. You'll find these napkins in many colors here: Buffalo Check Napkins.
So to recap, new flooring will be installed, and hopefully, while the dishes are out of the cabinets, the walls and ceiling will be painted–along with the brown garage door. I'm probably going to call movers to help me move the bookcase out. (Nope, already did it.) I wish I could move the Christmas trees out but I really disliked it when I had them stored in the basement because it was a pain bringing each section up the basement stairs, not to mention the biggest section would barely fit through the door to the basement. Where do you store your Christmas tree? If I were building a house from scratch, I think I would add a huge closet someplace on the main level just for Christmas tree storage.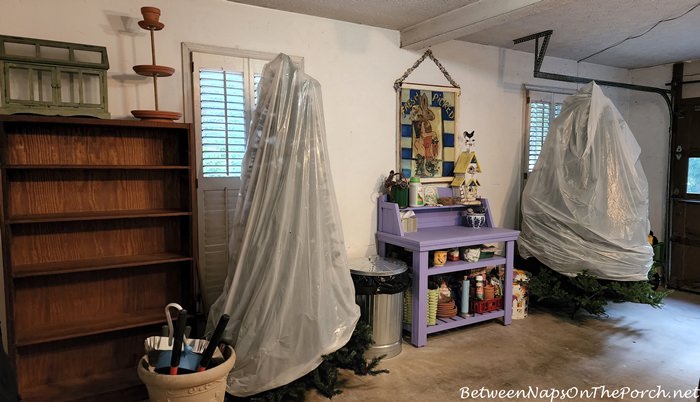 Looking forward to sharing this garage makeover with you sometime in the next few weeks. In the meantime, I'll leave you with this beautiful image of Ruth's deck decorated for Independence Day. Isn't it wonderful! Happy 4th of July!
Looking forward to all the wonderful Before and Afters linked for this week's Met Monday!
Pssst: Did you know Between Naps On The Porch is on Instagram? You'll find me on Instagram here: Between Naps On The Porch.
Like to know when a new blog post is up and available to read? Subscribe for email updates, it's free and your email will never be shared. Subscribe for free post updates via email here: Subscribe.
Metamorphosis Monday
Metamorphosis Monday is a party that's all about Before and Afters. Please link up your Before and After projects like DIY projects, room makeovers, craft projects even recipes. Any Before and After is great! Please do not link up Table Settings, save those for our Tablescape Thursday party on Thursday.
If you are participating in Met Monday, you'll need to link your post to the party using the "permalink" to your MM post and not your general blog address. To get your permalink, click on the name of your post, then copy and paste the address that shows in the address bar at the top of your blog, into the "url" box for InLinkz when prompted.
NOTE: Please do not link up more than 3 posts from your blog. In order to link up, you'll need to include a link in your post back to the party so visitors to your blog can find the other party participants. When linking up to the party, give the InLinkz system time to find the link in your post to avoid having your link held for moderation/approval. Thanks!
This party has ended, click button below for the links to all who participated.
*If a post is sponsored or a product was provided at no charge, it will be stated in post. Some links may be affiliate links and as an Amazon Associate, I may earn from qualifying purchases. *