Welcome to the 49th Metamorphosis Monday!
Today is the last Metamorphosis Monday before Christmas…so I thought I'd share a few pics of the metamorphosis my home goes through each year around this time.
I love wreaths…can you tell? I tend to decorate very traditionally…just love the Christmas reds, greens, and golds. (Warning: This post is picture intensive.) Hope you enjoy!
This pic was taken last year. This year, I replaced all the old, weathered hanging ribbons with a good bit wider ribbon, and I think it looks a lot better.
Gas lantern with an oak leaf flame…
Do you think the bluebirds who nest here in the dove cote each spring would be pleased?
Welcome! So glad you are here!

A little decorating on the front porch…
The Entry: The torch lanterns always get wreaths each year…
Swarovski Ornaments on a silverplate tree (tree is from Ross Simon)
A wreath for the Grandfather Clock…
Family room: I love fresh greenery for the mantle. I always head over to a local tree lot and ask for their scraps on a Friday or Saturday night when they are busy and have an abundance of scraps/trimmings. They are always happy to get rid of them since it's less for them to burn.
I added nandina berries from my yard…
Along with a few large ornaments…
I don't remove the decorative pieces that are on my mantel year 'round. I just add the greenery around them.
I love wrapping the presents each year. Making bows is really easy and goes quickly once you know how to make one. I purchase ribbon all year long as I find it on sale at Dollar Tree or Old Time Pottery. Even The Home Depot is a great place to buy ribbon inexpensively at Christmas time.
Vintage ornaments fill a vase…
While a small wreath replaces the normal tassel on the secretary…
Do you remember these as a child?
After seeing this adorable gingerbread house in Bab's tablescape on Saturday, I made a beeline to Bath & Body Works to get my own. They are on sale right now…only $20. If your local B & B Works doesn't have any left, you may still order them online and shipping is only around $5, per Katherine at Lady Katherine Tea Parlor. Thanks for sharing that information, Katherine!
I found an easier way this year to press the cloves into the oranges. Just use an ice pick or skinny nail to make the holes, in the pattern of your choice. It makes poking the cloves into the orange a lot easier, and the whole process goes much faster.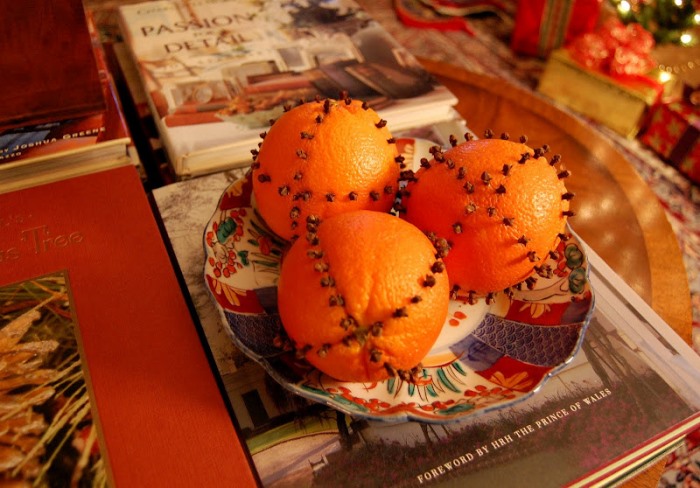 Of course, the best decoration of all is Mr. Max. 🙂
Screened-in Porch: On the porch, a wreath hangs on the door to the kitchen/breakfast area…
A little tree lights up the porch for the Christmas season.
Dining Room: A couple of years ago, I added this wreath to the dining room mirror for Christmas. I stuck red berries into it that year. I liked the look of the wreath so much, I decided to leave it there once Christmas was over, minus the red berries.
Kitchen: I saw this done on an historic home tour one year…I love the look! I'd like to find some fatter wreaths, though…but these will do for now.
This corner in the kitchen looks like it was designed to hold a Christmas tree.
(Tablescape on table can be viewed, HERE.)
This is the "family" tree, filled with ornaments from family vacations and the most treasured of all, those made by my son as he was growing up. I bet you have a tree just like this in your home, too. It's my favorite tree to see when visiting someone's home….they are always so special. Designer trees are nice…and beautiful…love seeing those, too. But the tree with all the ornaments we collect over the span of our lives…those are truly special.
I just liked this shot with the deer head on the cuckoo clock silhouetted against the wall. See the little angel on the top of the tree?
I made her around 26 years ago…back in my crafty days. I'm surprised she is still holding together all these years later.
Our Advent Calendar for the past 20+ years. You just take the little ornaments out of the pockets…
And place them on the tree each day.
Guest Room: I love that you get to enjoy the wreaths from the inside, too. If you've thought about putting the wreaths on your windows, do it! You'll love it…totally worth the effort and you can reuse them year after year.
This little doll house was decorated for Christmas when I first discovered it at a local antique shop. I replaced the decorations with some I made, since the ones it had were crumbling apart with age. Now, I'm toying with the idea of removing the Christmas decorations so it will work well for any time of year. Ummm, maybe I can find a way to attach the decorations just for Christmas each year.
I've been inspired by the way Kim at Daisy Cottagehas decorated her darling doll house with painted furniture. I've never furnished this one because all the fancy furniture I found just didn't seem to be right for it.
Once I saw the painted furniture in Kim's, I knew what this little house needed.
Upstairs Family/Bonus Room:
Upstairs Grandfather Clock…
The upstairs family room has a bit of a nautical theme.
Thanks, Bonnie, for sending this pic to remind us all to take some time to pamper ourselves just a bit during the holiday rush. I couldn't stop laughing when I saw it! Merry Christmas, Everyone!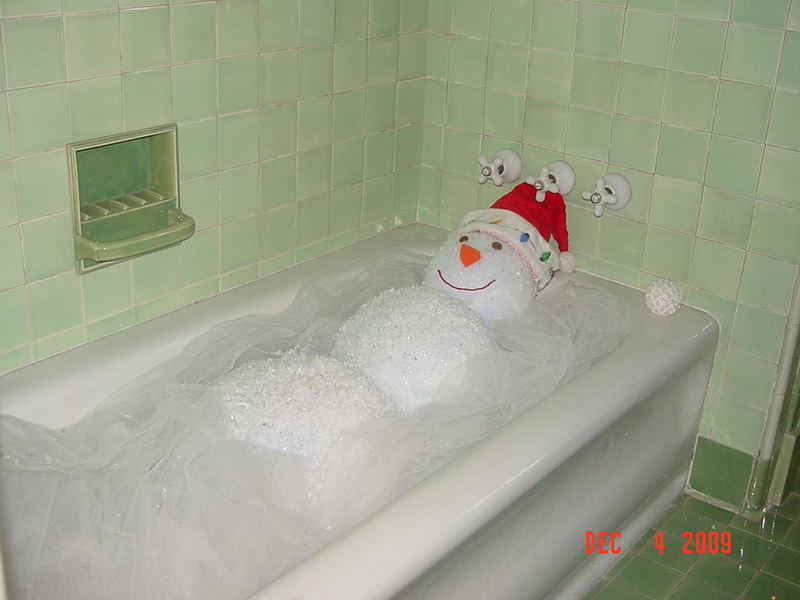 Looking forward to seeing all your "Before and Afters."
If you are participating in Metamorphosis Monday, please be sure to add your permalink below, and not your general blog address.
Don't forget to copy and paste the Met Monday logo button to your computer so you can add it to your side bar and your Met Monday post. That way visitors will know that your are participating in Metamorphosis Monday.
Please be sure to link back to the host blog, Between Naps on the Porch, so your fellow bloggers who are participating today, will get lots of visits, as well.
Please do not add your link below until your Met Monday post is actually published to your blog.
Fabulous "Before and Afters" await your visit:
*If a post is sponsored or a product was provided at no charge, it will be stated in post. Some links may be affiliate links and as an Amazon Associate, I may earn from qualifying purchases. *