Welcome to the 689th Metamorphosis Monday!
In a post a few weeks back, I mentioned that I was starting to think more about renovating my two upstairs bathrooms. I was finding it difficult to motivate myself to begin the planning process. Bathrooms typically don't excite me, at least not like travel and handbags! Ha! Then I received an email that definitely upped my level of excitement ten-fold!
Sam, a wonderful BNOTP reader wrote, "I just saw your post about remodeling the master bedroom and had to share as our bathroom remodeling is just approaching its one-year anniversary! We have a small bathroom that was original from 1950. It's our only second-floor bath (plus a powder room downstairs). So it presented some problems you definitely will not have but I am 100% on board with having a walk-in shower only! It makes our small bathroom feel so much larger. Plus, we never used the tub. We got rid of the tub and never looked back."
"We were unable to expand the size of the bathroom because that would have involved losing a bedroom and linen closets which we couldn't afford to do. We also had a terrible bulkhead that made the ceiling over the tub/ shower a foot lower. This also led to the small feel and made it so that I had to have all our shower curtains hemmed because the rod was lower than it should have been. Talk about frustrating, lol. The exterior wall also has a slant and we obviously couldn't change the roofline."
Sam said, "While I didn't mind the retro Tiffany blue tile with the black border, the floor was horrible and a lot of the tile was cracked and in worse condition than it appears in the pictures."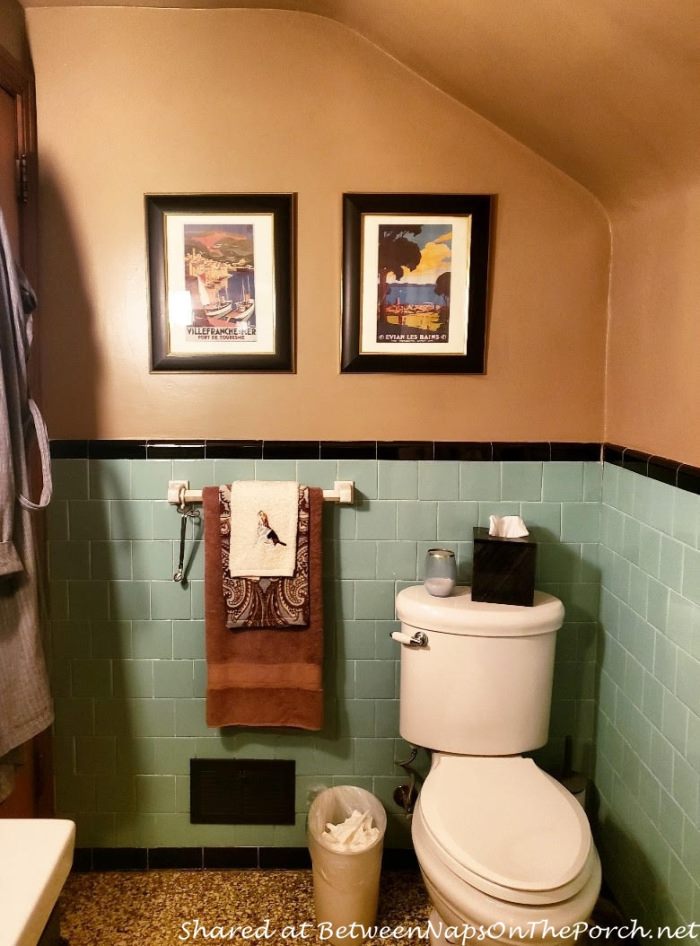 For this renovation, everything was removed right down to the studs!
Sam said, "The room was completely gutted. The glass shower door and the removal of the bulkhead made a great difference."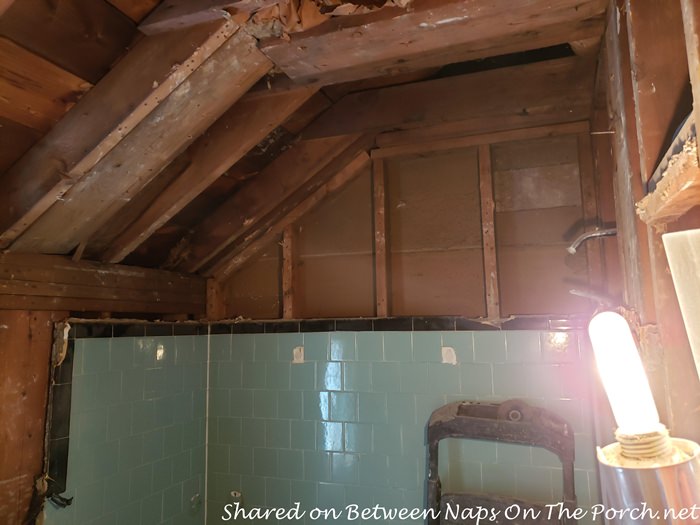 It's so interesting to see what's behind the walls, isn't it? I have to admit, I love a slanted ceiling, especially in older homes. It adds such a cozy vibe and gives a room so much personality, but I can imagine it's not easy to design around. You're going to love this shower area in the "After" photos–they blew me away!
Sam shared a photo of the old insulation they found in the walls. I'm sure this was state of the art back in the 1950s!
Sam said, "We had a kitchen & bathroom designer (Chris Setlock, Setlock dot com) that my husband knew through an acquaintance and he came and spoke to us and did some designs. He was great to work with, he's actually working on plans for my brother & sister-in-law's 1950s bathroom currently.
So our basic criteria were that we wanted a walk-in shower, the bulkhead over the tub removed, better lighting, an outlet (we previously had no outlets in the bathroom! Life used to be so different, lol), an exhaust fan–it was like a sauna in there, and I wanted the black and white Carrara marble basketweave tile for the floor. I had seen it years ago and fell in love with it. I assumed marble wall tile would be too expensive so I asked for a beveled white ceramic subway tile for the walls. Since we had a border prior (which was just a line of black tile) Chris suggested a border."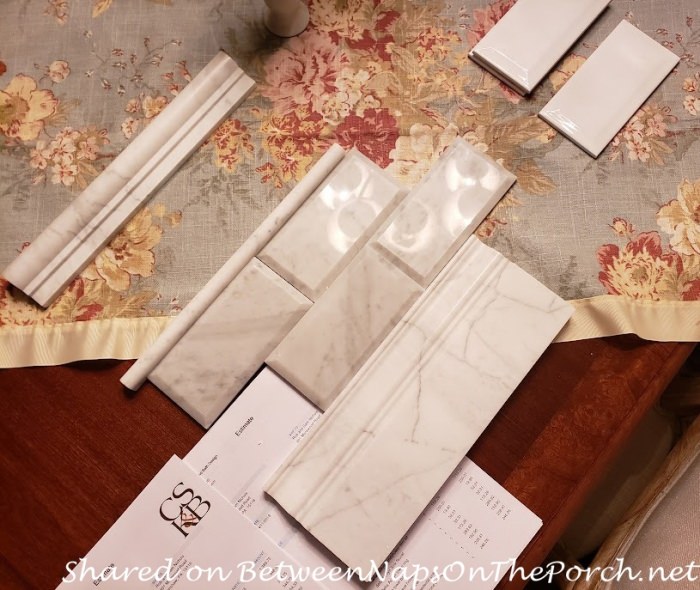 These samples are beautiful! I love it already from just seeing the options!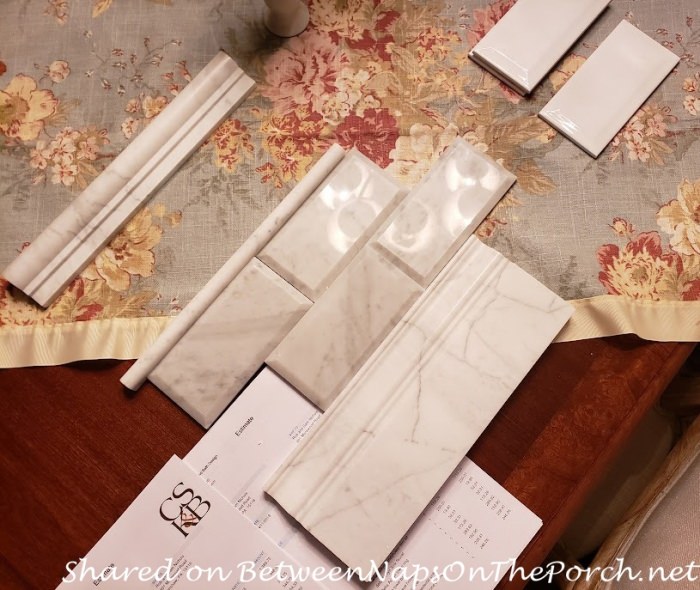 Sam said, "Can I tell you how thrilled we were when he came back with samples and plans and said he found marble wall tile for basically the same price as the ceramic! The base tile he found was stunning as well. Way nicer than I expected. He found the tile at Carrara Marble. They sent the samples you see in the pictures. There are some white ceramic tiles as well. You can see how much nicer the marble is! Chris basically told us what to order & had us order the tile. It came on a pallet on a huge truck."
Are you excited and ready to see how this 1950s bath renovation turned out? 🙂
Soooo beautiful! When I saw Sam's photos of the finished room, my jaw literally dropped! Back in the day when I used to go on home tours a lot, I would occasionally see basketweave tiled floors in baths and I absolutely loved how it looked! I always thought I would love to incorporate that element into a future bath renovation, so I was thrilled to see how gorgeous it turned out in Sam's bath! It's such an elegant, luxe look! Sam said, "The basketweave border was Chris's idea with the pencil and chair rail tiles."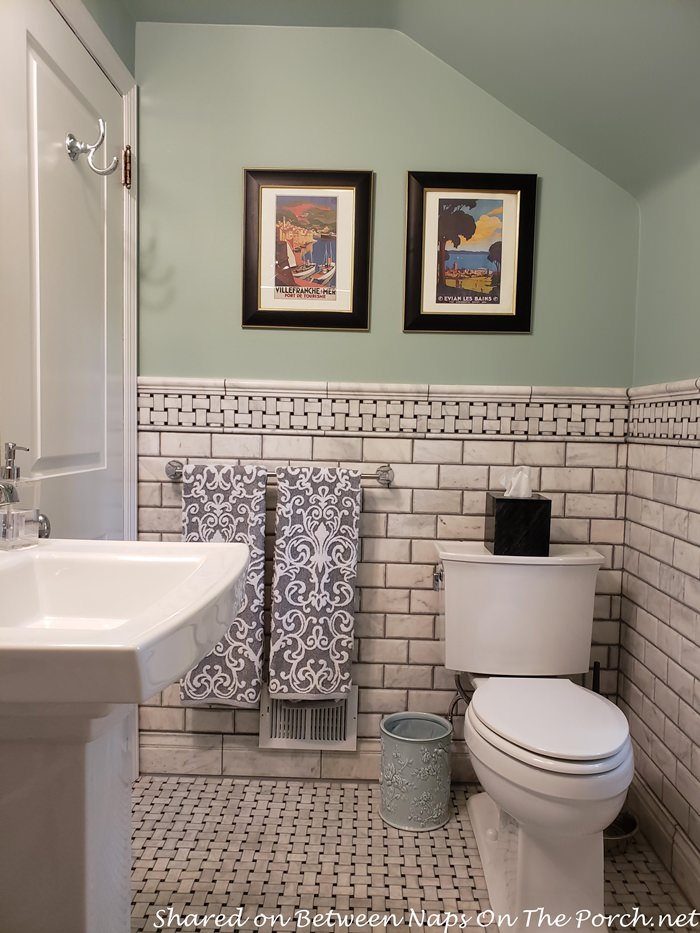 Wow, look at the shower now! The low bulkhead is gone and it makes the room feel so much bigger! The slanted ceiling looks cuter than ever! I love the built-in seat and shelf! The glass doors are stunning! What do they call it when the doors are kind of floating with not frame? I love that look–feels so much more open that way! I like the darker grout, too. It doesn't seem like it would be such a nightmare to maintain like white grout can be.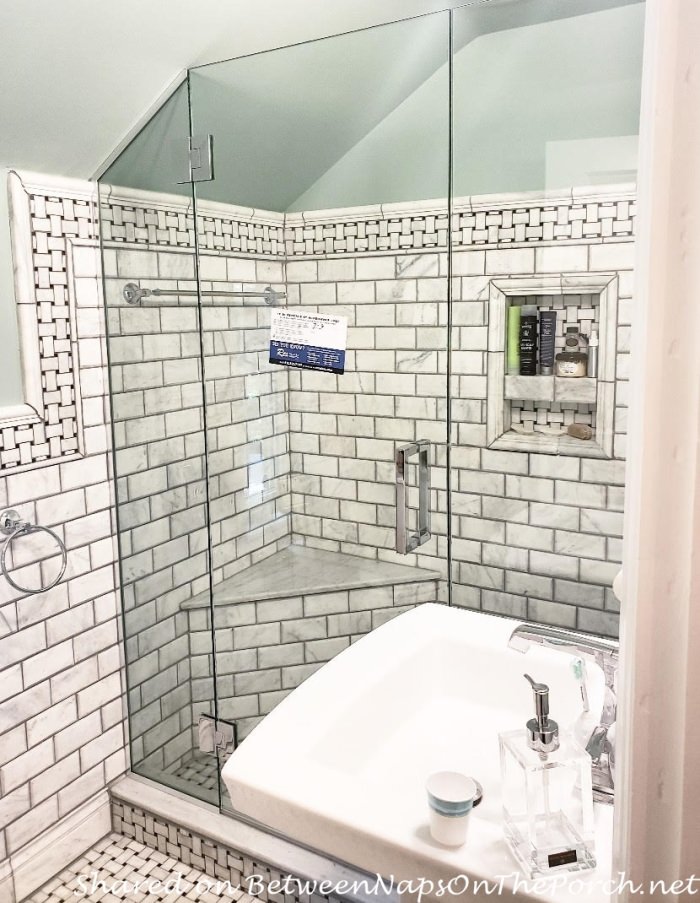 This is just so elegant and next level! I would be thrilled if my master bath renovation turned out like Sam's!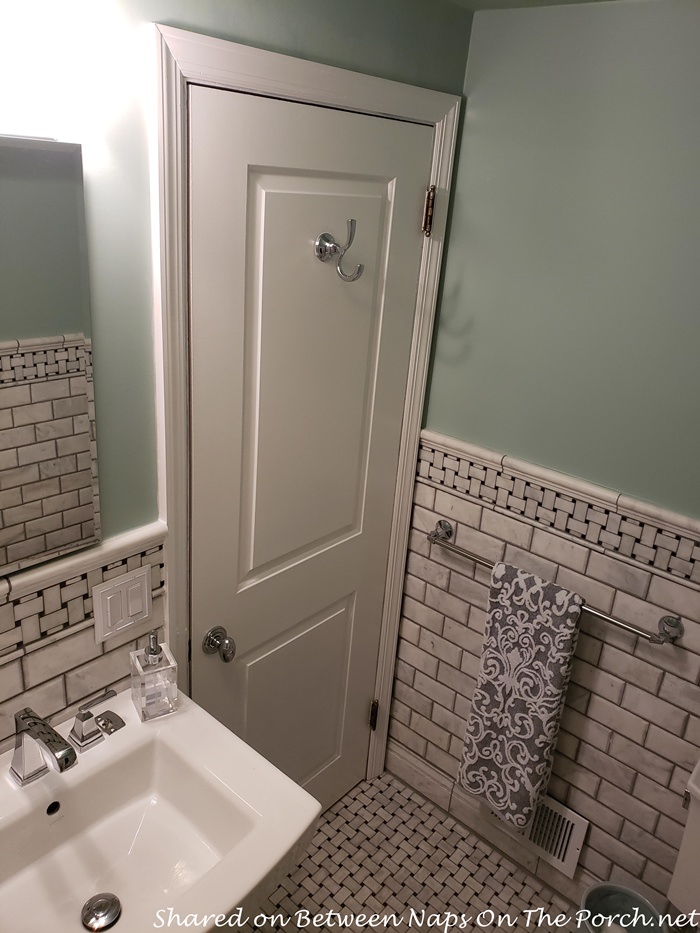 I saw so many wonderful ideas that I would love to incorporate into my bath reno, including one that I never even knew existed. Sam said, "Oh, one other thing, I included a picture of one of my splurges. The doorknob from Baldwin Brass is chrome on the bath side to match the bathroom and brass on the hall side. I had seen that in older homes and thought it was classy, lol."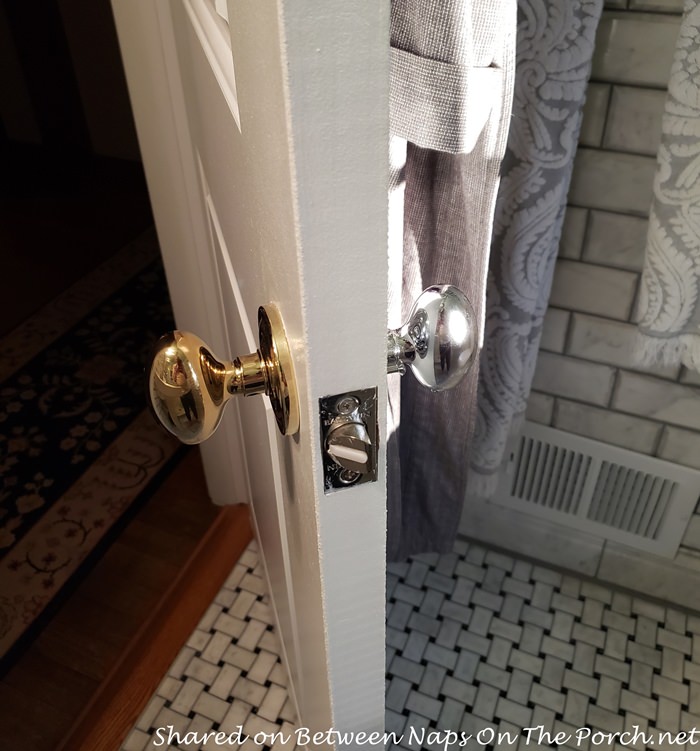 Can we just go back and look at this beautiful tile and those gorgeous doors one more time?! ♥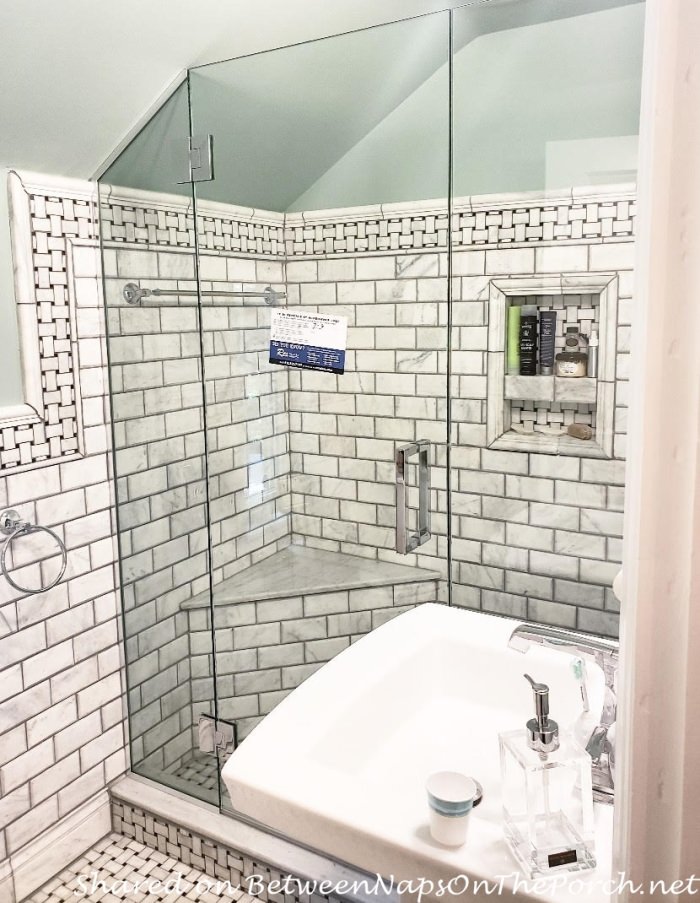 Sam, thanks so much for sharing this beautiful, elegant bath renovation! This has provided so much inspiration for those of us who are seeking ideas for designing our own bathroom makeovers!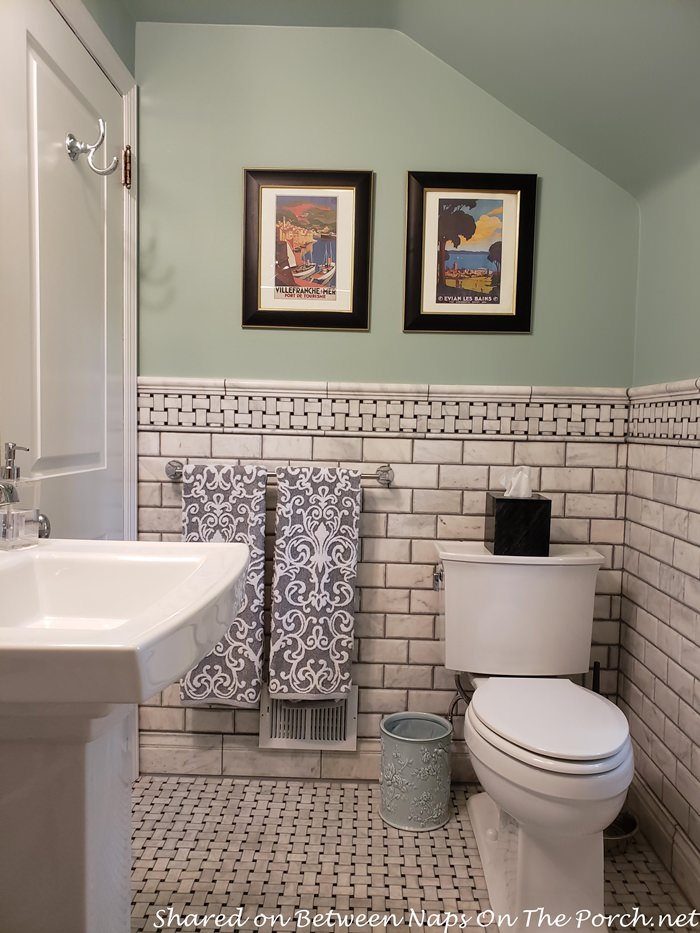 Looking forward to all the wonderful Before and Afters linked for this week's Met Monday!
Pssst: Did you know Between Naps On The Porch is on Instagram? You'll find me on Instagram here: Between Naps On The Porch.
Like to know when a new blog post is up and available to read? Subscribe for email updates, it's free and your email will never be shared. Subscribe for free post updates via email here: Subscribe.
Metamorphosis Monday
Metamorphosis Monday is a party that's all about Before and Afters. Please link up your Before and After projects like DIY projects, room makeovers, craft projects even recipes. Any Before and After is great! Please do not link up Table Settings, save those for our Tablescape Thursday party on Thursday.
If you are participating in Met Monday, you'll need to link your post to the party using the "permalink" to your MM post and not your general blog address. To get your permalink, click on the name of your post, then copy and paste the address that shows in the address bar at the top of your blog, into the "url" box for InLinkz when prompted.
NOTE: Please do not link up more than 3 posts from your blog. In order to link up, you'll need to include a link in your post back to the party so visitors to your blog can find the other party participants. Thanks!
This party has ended, click button below for the links to all who participated.
*If a post is sponsored or a product was provided at no charge, it will be stated in post. Some links may be affiliate links and as an Amazon Associate, I may earn from qualifying purchases. *