Welcome to the 504th Metamorphosis Monday!
Back in May 2016, I redid the landscaping directly in front of my home. I chose Green Beauty Boxwood shrubs as my foundation plants and this was how they looked on the pallet at the store just prior to having them delivered.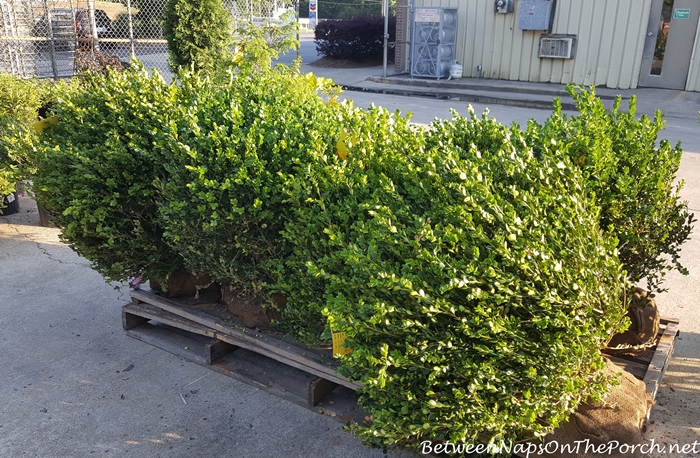 Here's how they looked after I planted them over the course of a few days. It was a challenge keeping them watered until I could get them all in the ground. Fall is the better time to plant shrubs since our summers are so hot here. I was afraid I wouldn't be able to find such large boxwood shrubs in the fall, so I went ahead and purchased them while they were available. Here's how I plant trees and shrubs in Georgia's challenging red clay soil: How I Plant Trees and Shrubs in Georgia's Red Clay Soil.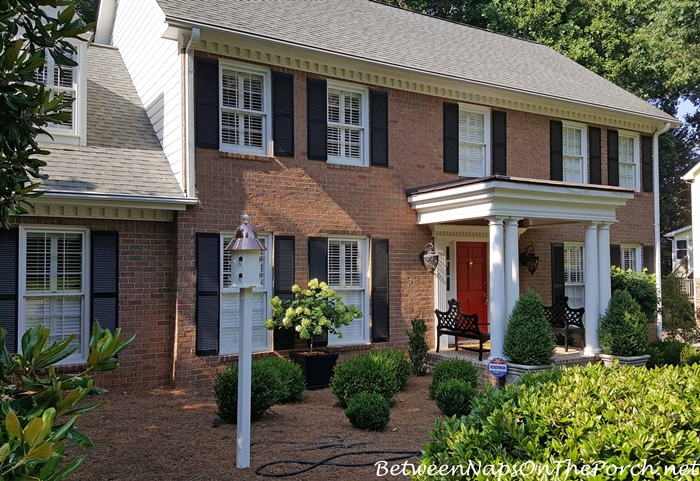 I tried to plant them far enough apart to allow for growth, even though they are supposed to be slow growing. The five larger boxwood shrubs are Green Beauty and the two smaller ones up front are Baby Gem Boxwoods. The tall, skinny boxwood at the back near the bench is Green Tower. The two boxwood topiary style shrubs in the planters are Green Mountain boxwoods.
I kept things symmetrical, planting both sides in a similar fashion. Again, you can see the spacing between the plants. I tried to leave plenty of space for future growth although these particular boxwood shrubs are supposed to be slow growers and stay low, exactly what I needed for this area. I know an all boxwood landscape may not appeal to everyone, but I love the serenity and continuity it creates.
Here's one last view of the shrubs on the left shortly after planting. Notice the spacing/size of the plants.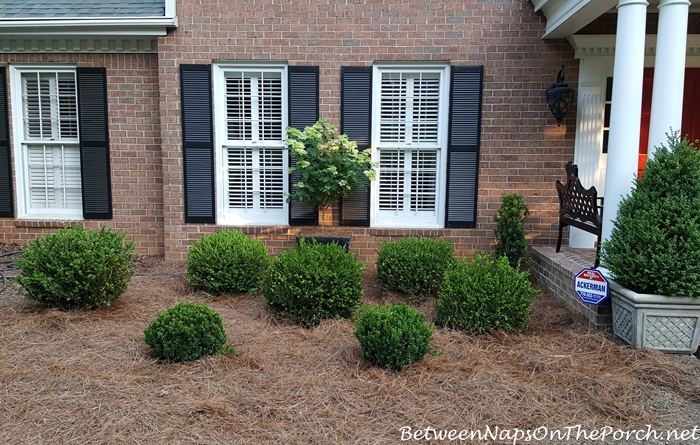 Last winter we had an epic snowstorm here in the Atlanta area.
I was pretty upset when I saw what it did to my boxwood shrubs, especially the two Baby Gem Boxwood near the front. I went out several times to brush the snow off of them the best that I could, but it continued to snow and eventually, you couldn't even see the smaller Baby Gem boxwoods at all! They looked like giant spiders in the photo below. 🙁
Just wanted to share an updated photo of how all the boxwood shrubs look now. They have grown tremendously, so much for being slow growing! Thankfully the Baby Gems have fully recovered. And notice how fat they are! They are quickly filling in the gaps I left between the shrubs.
Please excuse my sad hydrangea in the back. This photo was taken a few weeks ago right after I had been out of town for a couple of weeks, and apparently, we didn't get a lot of rain during the time I was gone. It's okay, just very wilted. It should be fine again next spring.
I think I'd like to keep these shrubs in a ball shape for a more formal look. I'm not sure if I should trim off some of the taller, scraggly looking growth now, or wait until early spring of next year. It looks pretty messy so I'm tempted to trim off those really tall shoots now to round out the shrubs a bit more.
Here's the other side…I can't get over how much they have all grown!
One more little landscaping update…
A few years back I had to have the 25+ foot Leyland Cypress I had planted here 20 years+ before, removed. They had become way too large and no longer looked good. Plus, they had created a dark tunnel here on the side of the house, completely shading out the grass on this side of my home.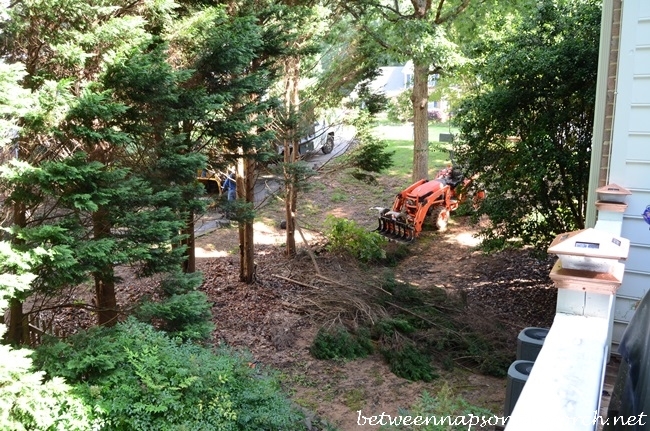 Most were replaced with Savannah Holly trees since I didn't want the trees to get quite as tall again on the side of the house.
But I decided to go with Leyland Cypress again for this area in the backyard for the fast-growing screening they provide.
I figured my neighbors would like the screening and I knew I would enjoy it for my screened porch and decks which are two stories up. Here's how the trees looked right after planting in October 2014.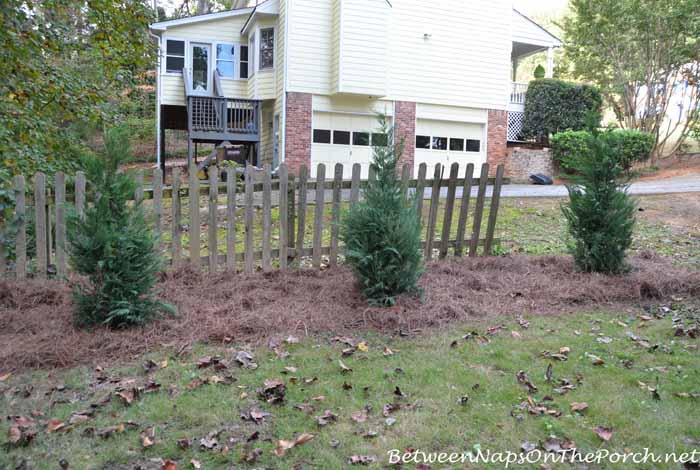 Here's how they looked two years later in June 2016. Though they were growing quickly, they were growing a bit slower than they had the first time I planted them so many years ago. I think the slower growth this time around is due to the shade they are getting from the trees in my backyard.
I took this photo this past summer. It has been 4 years and the trees are just starting to provide a bit of screening for the porch and decks that are two stories up.
By next summer they should provide screening again for the porches and deck. I love my neighbors, they are a wonderful family, but I'm sure they would prefer looking at greenery over staring at my decks and porch–not to mention that crazy woman who stands on chairs every Wednesday to take photos of her table. 😉
Just wanted to share these two updates. Leyland Cypress trees have gotten a bad rap in my area over the last few years. I think there was a disease that was affecting many of them. However, mine never got whatever was going around, they had just grown too tall and no longer looked full around the bottom. I think these will do fine here on this side of the backyard, at least for many more years. I'll share a photo next summer to give you an idea of how they look.
Hope you enjoyed this quick update on some of the landscaping I've shared in the last few years. I'm looking forward to all the fabulous Before and Afters linked for this week's Metamorphosis Monday!
Pssst: I post almost daily to Instagram. Follow Between Naps on the Porch on Instagram here: Between Naps On The Porch.
If you enjoyed this post, subscribe for free email updates when a new post is up here: Subscribe for post updates.
Tip: If possible, please do not use a Hotmail e-mail address to subscribe. Hotmail's servers are notorious for filtering out perfectly good emails.
Metamorphosis Monday
Metamorphosis Monday is a party that's all about Before and Afters. If you are participating in Met Monday, please link up using the "permalink" to your MM post and not your general blog address. To get your permalink, click on your post name, then just copy and paste the address that shows up in the address bar at the top of your blog, into the "url" box for InLinkz.
In order to link up, you'll need to include a link in your MM post back to the party so the other participants will have an opportunity to receive visits from your wonderful blog readers.
Please observe these few rules:
Please link up Before and After posts that are home, gardening, decorating, crafting, painting, sewing, cooking, fashion or DIY related.
Be sure to include a link back to the party in your post, so your readers will be able to find and visit the other bloggers who are participating.
Do not link up to the party if you're only doing so to promote or sell a product.
To those who are linking up: If you notice a shop or online store linking up to sell products (yes, unfortunately, that does happen) please let me know so I can remove their link and block them from participating in future parties. No one wants to click a link expecting a Before and After, only to find a spam link to an online business/store.
*If a post is sponsored or a product was provided at no charge, it will be stated in post. Some links may be affiliate links and as an Amazon Associate, I may earn from qualifying purchases. *