Imagine traveling to the northern part of England and staying in this 16th-century storybook home! This is The Bastle, a farmhouse built during the time Elizabeth I was Queen. Can you imagine?!
A nighttime view…
This storybook stone cottage reminds me so much of the home in the movie, The Holiday. (Take a tour of that movie house here: Tour the Home in the Movie the Holiday.)
Remember the living room in the home in The Holiday?
The living room in The Bastle reminds me a lot of that storybook cottage that was sadly just a faux house built for the movie.
The word "bastle" comes from the French word Bastille, which refers to a strong, fortified building where valuable livestock, horses, as well as people would stay during difficult or tumultuous times.
Back in the day, if trouble was brewing, the livestock and horses would be housed on the lower level of The Bastle at night, while the family would sleep above, pulling up a retractable ladder when they retired for the evening. So glad we don't have to worry about raids and such in this day and time!
Love the big fireplace in the kitchen!
Note the wonderful old crossbeams overhead here in the dining room. I'm drooling over the grandfather clock!
This may be my favorite room of all, such a cozy bedroom! Love all the exposed rock, brick and timbers overhead! To read more about this wonderful farmhouse and The Joiners Shop next door, check out The Bastle website here: The Bastle.
You'll find more information about booking a stay at The Bastle here: Book Your Stay. I would love to stay in this wonderful farmhouse so conveniently located near the Scottish border!
Egypt Bound
I'm starting to prepare now for my upcoming trip to Egypt. I've been thinking a lot more about what I'll be wearing and will share what I'm taking in my post on Friday.
I've been wearing white jeans a lot this summer, they go with everything, including so many of the summer tops I've purchased the last few years. I just ordered two more pairs of white jeans HERE since they are currently on sale 25% off. Actually, everything is currently 25% off, so good time to stock up for fall!
White is so great at reflecting the sun's rays. I have some white linen pants I thought about taking, but they are slightly see-thru since they're linen, so I think I'll be sticking with my white jeans and a few long dresses. I'll be sharing more about that on Friday, along with the new carry-on bag I just purchased.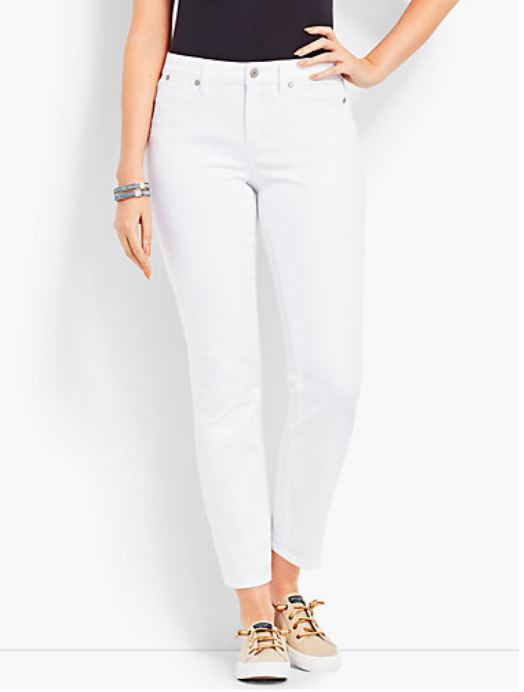 Here's one more sale that I'll be checking out today for fall clothing: Friends and Family-40% Off. I can't pass up 40% off! Great time for picking up a few Christmas gifts if you like to shop ahead for Christmas.
*If a post is sponsored or a product was provided at no charge, it will be stated in post. Some links may be affiliate links and as an Amazon Associate, I may earn from qualifying purchases. *