Cold, what cold? In my mind it's summertime. We're out on the deck, the sun is shining and the hamburgers and hotdogs sizzling on the grill smell heavenly.
Did you hear that? It's the doorbell, barely heard over the beautiful music emanating across the porch and decks on this gorgeous summer day. Friends are arriving and the fun is just beginning. Time for partying and playing outside again.
Okay, maybe I'm a little premature but in another month or two, this is where we'll be, running about getting those outdoor spaces ready for the warm summer days ahead!
Recently, I came across this beautiful deck designed by Designer, Eric Ross. If you haven't visited his website, you will definitely want to check it out. You'll find a link at the end of this post.
Is this not heaven…so many things to love!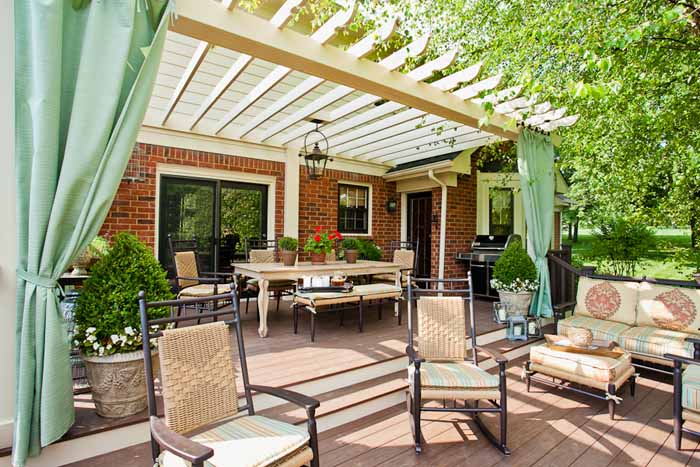 There's a beautiful dining area with a lovely lantern hanging overhead.
Just beyond you'll find a wonderful spot to sit and talk with friends or enjoy the beautiful view. Looking for a fun way to decorate a corner of your deck or porch? Consider painting birdcages with a durable outdoor paint and group several together for a whimsical display.
It's so nice to see garden seats in their natural habitat…the great outdoors. lol Most of mine are relegated to a life of captivity inside my home, although I do have one escapee out on my porch as seen in this post: A Garden Seat for the Porch.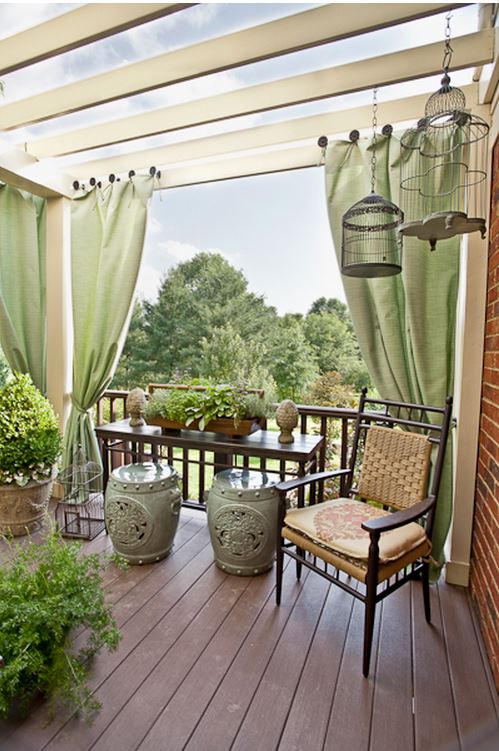 Stunning! I love the outdoor curtains at the perimeter of this lovely oasis. They soften all the hard lines you normally see on a deck and make a deck feel more like a true living space.
Notice the boxwood planters. I fell in love with the simple beauty of a boxwood shrub in large planter last year and added a couple to my front porch area as seen here: Boxwood Topiaries for a Traditional Landscape. I'd love to add some to my decks this year.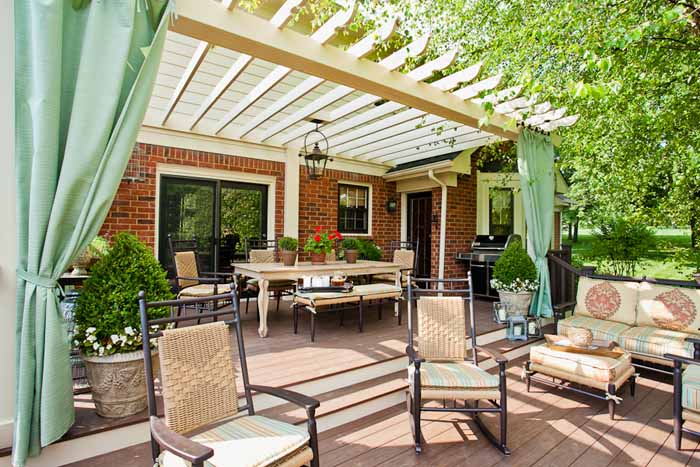 Love this cozy seating area! If I attended a party here, this is most likely where you would find me…cozied down into the corner. I could definitely be lured away for a tour of the garden, though! Lanterns placed around the deck add so much ambience when evening arrives.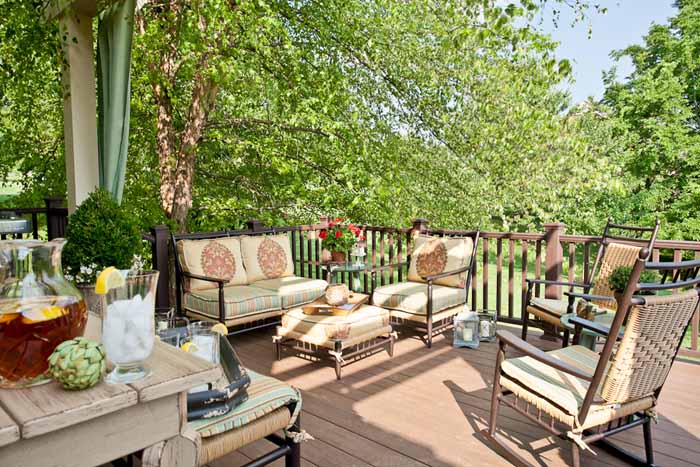 I love how a boxwood anchors this corner of the seating area.
Notice the double staircases going down. I'm sure that added a bit to the construction price of this beautiful deck but what great style and function it added! I also like the stepping stones at the foot of the stairs, so much prettier than a concrete pad.
Does this whet your appetite for summer? It surely does mine!
See more of this beautiful deck and read about its design at Eric Ross Interiors.
Thinking about adding on a screened porch? Read about my porch addition and get down a breakdown of the costs to build it here: Porch and Deck Addition
*If a post is sponsored or a product was provided at no charge, it will be stated in post. Some links may be affiliate links and as an Amazon Associate, I may earn from qualifying purchases. *