Welcome to the 329th Metamorphosis Monday!
How was your weekend? I was supposed to clean out the garage but instead I spent part of the weekend doing this. The addiction continues. 😉 With summer almost here and dreams of travel always on my mind, I'm loving travel puzzles these days.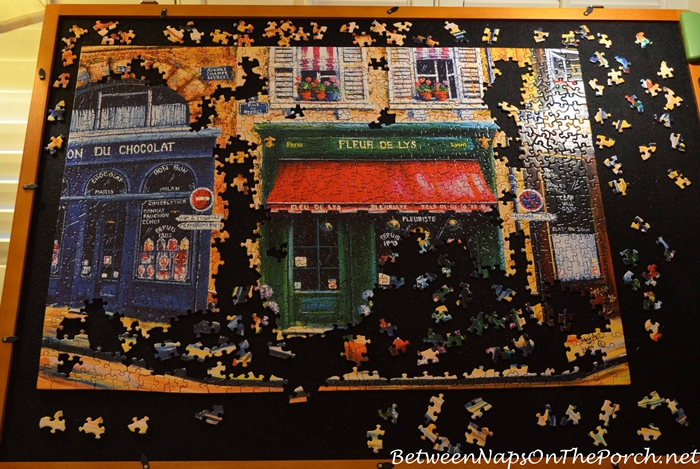 This one will look like this once completed, well except the blue shop is also visible in the puzzle. I Googled to see if there really is a Fleur De Lys in Paris and there is, although it doesn't quite look the same as this one. I want to walk down streets that look like this so badly it hurts!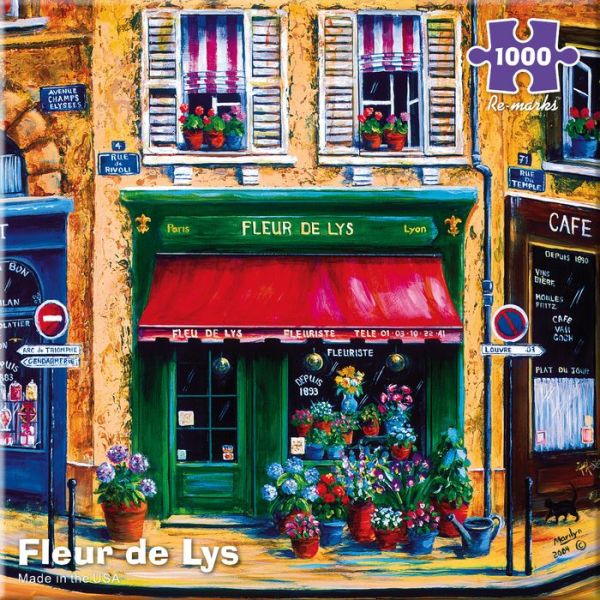 A Peek Inside My Travel Purse
Last Monday in THIS post, I shared a change I was making in my purse/bag for travel. After hearing so much about issues of theft in Europe for naive, unsuspecting tourists, I ordered a bag that was getting amazing reviews on Amazon.
The Travelon Anti-Theft, RFID Safe, Cross-Body Bag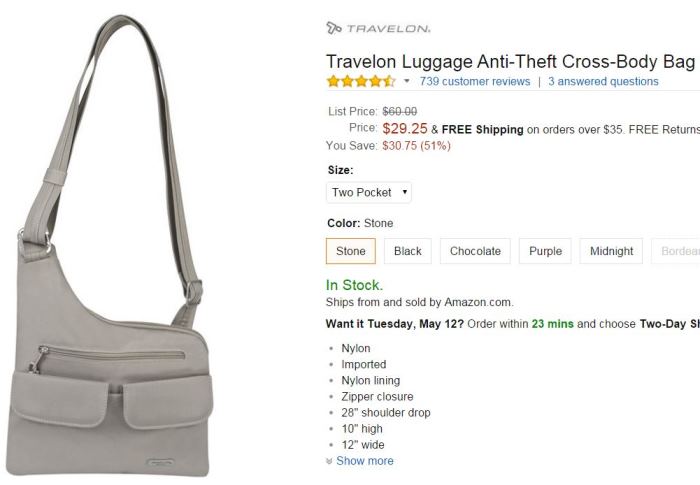 It arrived a few days ago and I love it! Several folks wrote or e-mailed questions about this bag, so as a follow-up to that previous post, I'm sharing exactly how it looks in use so you can see what fits inside the bag. So far, it exceeds my expectations!
I went with the color "stone" but the bag comes in a variety of colors including Navy, Black, Purple and Chocolate.
You can see the area where the cut-proof cable runs through the shoulder strap of the bag. I was happy to see that it's totally comfortable on and you don't even notice it's there. The body of the bag is slash-proof, as well. That's to prevent slash and grab thefts.
I was hoping one of the pockets on the front of the bag would work for my Lonely Planet Fast Talk Phrase book
I purchased for Italian and it easily does. The pockets on front are nice and roomy. Even my cell phone (inside a heavy-duty Defender Otter Box) fits easily inside either pocket. I'm not sure what I'll put in the other one, most likely lipstick and tissues.
For now, I plan to carry my cell phone in the zipper pocket located above the two flap pockets on front.
It easily fits inside that pocket with room to spare. Out of curiosity I tried my Kindle and it fit, too! My Kindle is the second version, or is it the 3rd…forgotten now. Anyway, it's 5 inches by 7 1/2 inches in size and it fits inside this pocket, too.
That particular pocket is also one of two latching pockets on this purse. Since this is a crossbody bag, it's highly unlikely someone will try to steal from a pocket while the bag is hanging on your body directly in front of you, however, you can never be too safe. The latches take a little maneuvering so if you choose to use them, I think they will ensure what you place in the pocket is safe from theft while you're wearing your purse.
There's another zipper pocket on the back of the bag.
My iPad Air didn't fit inside this outside pocket but it did fit inside the bag…more on that in a sec. My Kindle definitely did, with room to spare, so I would imagine an iPad mini or any similar device would fit. I won't be carrying the Kindle on tours, but I may take it on the long plane flight over. (The spots you see on the photo below, are not on the bag. I think they are on my camera lens since they keep appearing in photos. I need to take my camera in for a cleaning sometime soon.)
Kindle down inside bag…
My plans right now are to carry my credit card, debit card, passport and IDs under my clothing in this Lewis N. Clark Neck Pouch
with RFID blocking technology that prevents a bad guy from scanning and reading credit cards.
But it's nice to know that the 5 slots inside the bag are also RFID secure so if don't want to wear the above pouch underneath my shirt, I can carry my cards safely inside the bag without worrying about a bad guy scanning them.
I have an iPad Air and it fits nicely inside the bag while still inside its blue Apple iPad case. I was so happy to see it could be left in its protective case and still fit inside the bag.
Just for fun, I stuck my travel guide for Naples & the Amalfi Coast
inside the bag, but it's unlikely I'll carry the whole book with me. Rick Steves, crazy man that he is, rips the pages he needs right out of his guide books. I'm going to follow a suggestion made on my previous post and just photocopy the pages of the places I'll b visiting and carry that particular day's destination with me each day.
Notice the two pen slots. I'll only be carrying one pen with me so I tucked the small LED flashlight that's designed into the bag, inside the slender pocket where the other pen would go. That way it's out of the way, inside the bag. The flashlight hangs on the small, black strap you see tucked inside the pen pocket.
The other side of the bag has two pockets, one of which is a great size for a passport as you can see here. I'll be carrying tissue in the other pocket. Nothing worse than going to a bathroom only to discover there's no paper! I just noticed, there's another zippered pocket above the two small pockets inside. I can't believe all the little storage pockets on this bag! I think I'll tuck a little notebook or diary in that pocket for jotting down notes along the way.
I took the flashlight out of the pen pocket for this picture so you can see how it just hangs down inside the purse. If you're not carrying an entire book inside your purse, you'll have room for more stuff. I couldn't pull the bag open and take photos at the same time but it's plenty roomy enough for the things you need to carry while touring each day.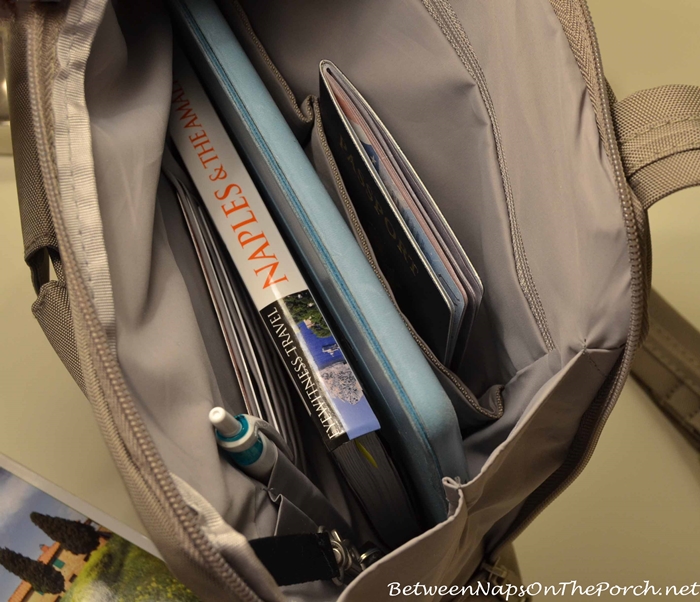 The main compartment of the bag can be doubly secured with the latching mechanism. I plan on using those latches because I won't be accessing the inside of my bag that often on a tour and it only takes a few seconds to open it. What makes it secure is you have to hold the bag a certain way to get to the latch to open it. So I don't think anyone will be able to easily unlatch it, undetected.
The bag also has a metal hook thingy so you can hang your bag onto a chair back. I doubt I'll use this and will most likely wear my bag even while eating. I just wouldn't feel comfortable having my bag hanging behind me on a chair, even with this type latch.
I love this bag! I'm so tempted to order a second one in Navy. This is going to become my house touring, garden touring and all-day-shopping bag, in addition to being my travel bag. I've always loved crossbody bags because they don't slide off your shoulder and they free up both hands for whatever you're doing.
You can read more about this bag on Amazon here: Travelon Luggage Anti-Theft Cross-Body Bag, Stone, Two Pocket
I've discovered that a big part of traveling is the anticipation you enjoy the months prior to a trip. At first I was a little disappointed that the deal I found for my trip to Italy (read more about that here: Trip to Italy) was for a trip in the fall. Now I'm glad because I've come to realize the preparation, anticipation and dreaming period is one of the best parts of traveling! How did I not know this?!
Part of the dreaming has included purchasing two books. I spent about half an hour one evening reading all the reviews and looking at the various travel books online. The ones I like best are the Eyewitness Travel
books because they aren't just filled with pages and pages of information like most travel guides. Instead the info is punctuated with photos showing the major attractions or highlights in that particular area or place. They are filled with pictures all throughout. I like their byline: "The guides that show you what others only tell you." They are beautiful books! I'd buy them even if I didn't have a trip planned!
These books are dense and packed with information, so again, I'll just make copies of the pages I need to take with me each day while on tours. But I'm having so much fun drooling over them in advance of the trip. You can see all of the eyewitness travel books here: Eyewitness Travel Guides
Are you traveling anywhere this year? I'd love to hear about your travel plans so please share in the comments. I have the travel bug bad!
Looking forward to all the fabulous Before and Afters for this Met Monday!
Metamorphosis Monday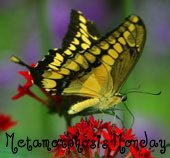 If you are participating in Metamorphosis Monday, you will need to link up the "permalink" to your MM post and not your general blog address. To get your permalink, click on your post name, then just copy and paste the address that shows up in the address bar at the top of your blog, into the "url" box for InLinkz.
In order to link up, you'll need to include a link in your MM post back to the party so the other participants will have an opportunity to receive visits from your wonderful blog readers.
Please observe these few rules:
Only link up Before and After posts that are home, gardening, crafting, painting, sewing, cooking, DIY related.
Do not link up if you're doing so to promote a website or product.
Do not link up a post that was just linked last week since a lot of readers will have already seen that post.
*If a post is sponsored or a product was provided at no charge, it will be stated in post. Some links may be affiliate links and as an Amazon Associate, I may earn from qualifying purchases. *