Welcome to the 760th Tablescape Thursday! It was in the 70s yesterday so I couldn't resist setting a table here on the porch. There was a fresh, light layer of pollen on the surface of the table that had to be cleaned away first. Be glad when pollen season is over. I think we're on the tail end of it now.
I started out with plans to use these sunflower napkins I shared recently. In the process of looking for my sunflower salad plates, I got totally distracted and ended up spending quite a bit of time reorganizing a kitchen pantry where I store a lot of my dishes. I really just wanted to keep doing that all day (I love playing in the dishes) but I kept reminding myself that I was supposed to be setting a table. lol Do you ever do that–start out with one intention and get totally off track?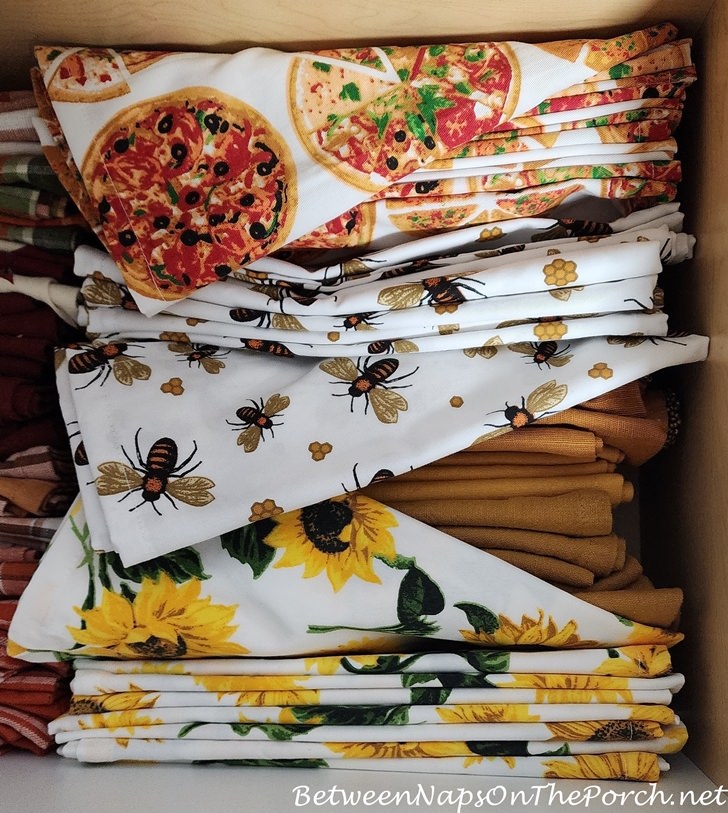 While trying to decide what charger I wanted to use for my sunflower table, I spotted these square-shaped, rattan chargers inside the cabinet where I store all my chargers. Screeeecch! That sound is the brakes in my brain screeching to a halt and doing a 180° turn. I've been wanting to use these square chargers in a table ever since I purchased them many, many months ago. (Charger plates are available here: Rattan Charger Plates.)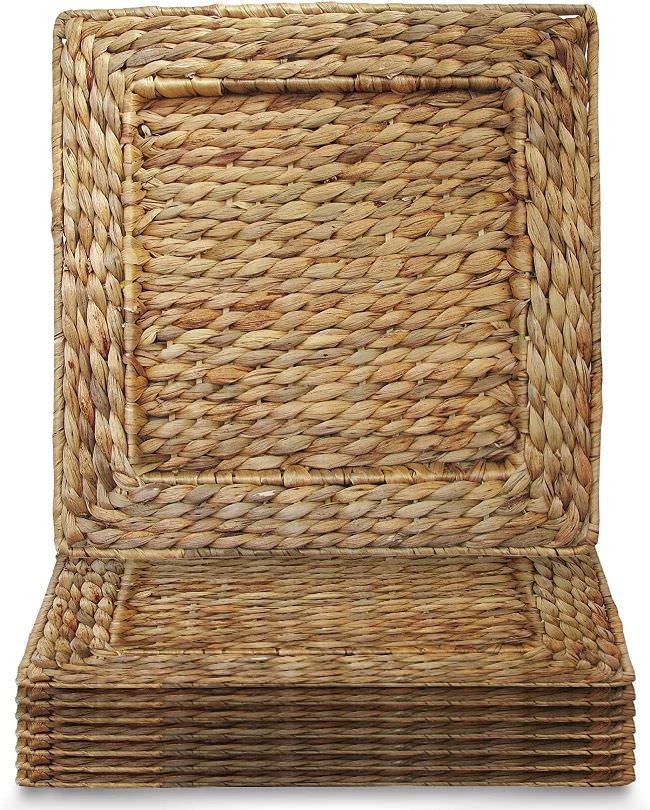 So we're headed to the beach this week. I know it's still a little chilly for a beach trip, but we'll pretend we're in Palm Beach or someplace where it's nice and warm. Or maybe we're at the Gulf where the ocean water is always a lot warmer. Are you with me? Let's go!
These were the chargers that were paired with the dinnerware I'm using today, back when I first purchased it in 2008. I love the design but I've always felt over the years that they were a bit too small to really act as a charger plate.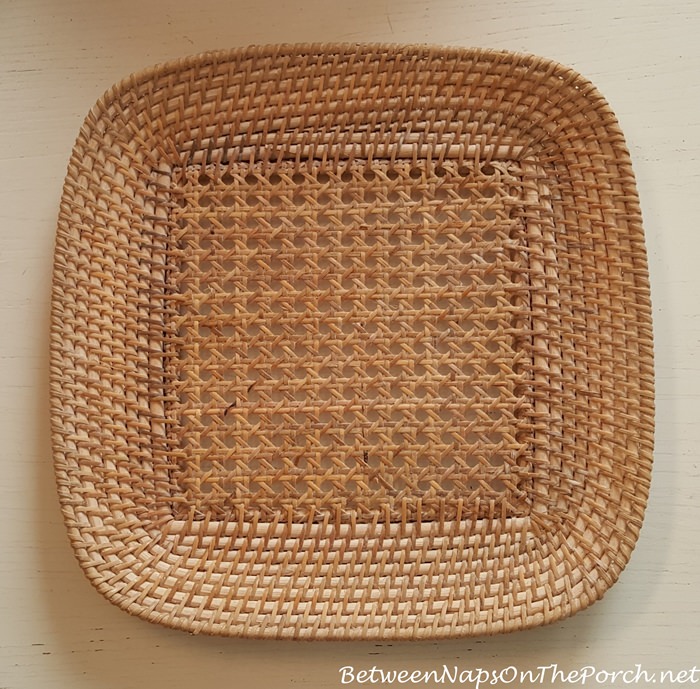 In this previous table, you can see how they are just barely larger than the dinner plate itself!
So I couldn't wait to see how the new chargers would work with this beachy dinnerware I've had for so many years.
Do you remember the post a while back where I shared how I was storing a lot of my dinnerware after just having added three new cabinets to the garage? In that post, I shared how I was able to get all of this beachy dinnerware together in one cabinet. In the past, the glassware had been stored separately in another area. I really like having this entire set all together in one cabinet for the first time.
This dinnerware is the "Shoreline Collection" from Home/Studio and was a find in Kohl's back in 2008 around the time the screened porch was being completed. I only had 3 or 4 sets of china back then and I wanted something really different and fun for porch dining.
You may recognize the napkins I'm using from when I shared them recently in this post: How I Store/Organize my Napkins + Some New Additions for Spring and Summer.
I paired them with an aqua and white buffalo-check napkin, a purchase from last summer. I've never used either of these napkins in a tablescape before–we're breaking out all the new stuff today!
I didn't do a great job of capturing it, but there are actually touches of aqua here and there throughout the nautical napkins. I was surprised by how well they paired with the aqua color in the buffalo plaid napkins and the dinnerware. (The nautical napkins are still available here: Nautical Napkins. The aqua and white buffalo plaid napkins are available and on sale for 30% off, here: Buffalo Plaid Napkins.)
Since some of the napkin designs are on sale, I just purchased two new sets today. I love the designs and their generous size! The aqua shell napkin rings were from Cracker Barrel several summers ago.
This dinnerware set was offered with two salad plate options–a starfish design and this shell salad plate pictured below. I loved them both so ended up purchasing some of both. I decided to go with the shell plates for today's table.
The aqua-blue wine glasses are from Pier 1 many years ago. The flatware is also from Kohl's I think. I believe I purchased it in 2008 around the same time I purchased the dinnerware.
I hadn't planned on sharing this photo since I wasn't crazy about the angle, but I just realized, you really don't see the cute shorebird that's on this end of the table in any of the other photos.
I love collecting these adorable little sea birds whenever I spot them in HomeGoods or Marshalls. They are so fun to decorate with during the summer months and look great perched on a stack of beach house books or alongside a basket of seashells.
Do you see the shorebird at the other end of the table?
Here's a better photo of him from a previous table setting. He was the first little seabird I ever purchased and kicked off a small obsession collection. Ha!
Do you have a seaside vacation or a beach trip planned anytime soon?
I'm looking forward to the beautiful tables linked for this week's Tablescape Thursday! (If you enjoyed this post, subscribe for free email updates when a new post is up here: Subscribe for post updates.)
Tablescape Thursday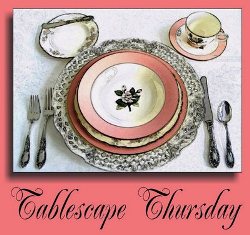 If you are participating in Tablescape Thursday, please be sure to add your permalink below, and not your general blog address. To get your permalink, click on your post name, then copy and paste the address showing in the address bar, into the "url" box when you link up. You'll need to include a link in your post back to the party to link up and participate. That's so visitors to your blog will be able to find the party and the other Tablescape Thursday participants. Please link up table-setting-related posts only for Tablescape Thursday. Please link up table-setting-related posts only for Tablescape Thursday.
You are invited to the Inlinkz link party!
*If a post is sponsored or a product was provided at no charge, it will be stated in post. Some links may be affiliate links and as an Amazon Associate, I may earn from qualifying purchases. *