Happy Weekend! Hope you are having a great one! I didn't want to let April get totally gone without sharing my favorites from last month.
Sooo, ya know how Legos can be a bit pricey…when I was shopping for something fun for my grandsons for spring/Easter, I came across this adorable Lego bunny set and was surprised by how reasonably it was priced. This set actually makes into three different animals. I ordered a set for each of my grandsons and they loved it! When I visited them a few weeks back, I asked if they had tried making any of the other animals. They said they made them all and eagerly ran to get them to show them to me. I loved seeing how excited they were–they seriously love Legos! If you're looking for a fun spring Lego set, definitely recommend this one available here: 3-in-1 Bunny, Cockatoo Parrot and Seal Lego. Is it wrong that I want to order one for myself?! Ha!
I have been cleaning like crazy, especially out on the porch, so I have to highlight my favorite cleaner for the seriously tough dirt. This Super Cleaner is great for cleaning almost anything–including fabric, carpet, wood trim, plastic, vinyl, metal…etc… It's the one thing that helped me get denim stains off the leather car seats on my previous car. Love it! You'll find it available here: Super Cleaner.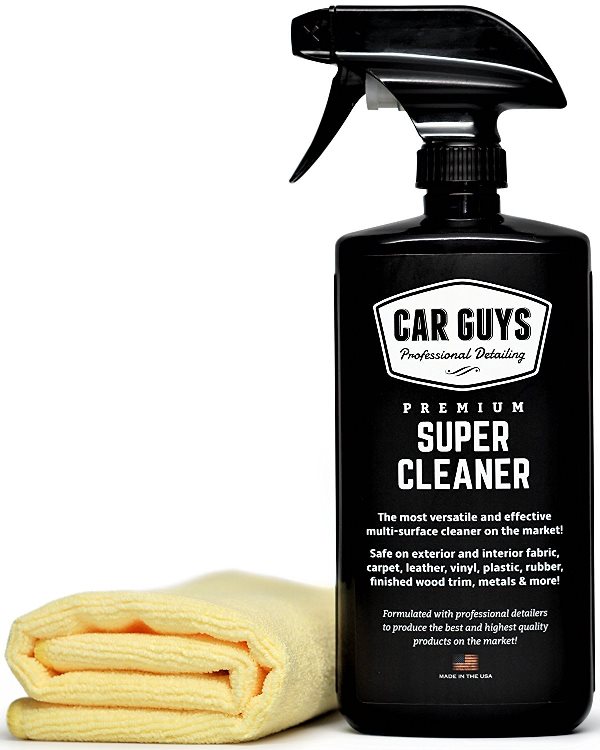 Still loving these liners I purchased for my air fryer last month. I've used them every time I've cooked in my Ninja Air Fryer and they have continued to work great. If you hate scrubbing out an air fryer, you'll find liners for every size air fryer here: Air Fryer liners. The ones I purchased for my Ninja, dual-compartment air fryer are available here: Liners for Ninja Air Fyer.
Had to mention this DeLonghi Coffee Maker after hearing my son's rave reviews. He absolutely sings its praises! If you're looking for a great coffee maker, check out the reviews for this one here: DeLonghi Coffee Maker.
Another awesome gadget that my daughter-in-law purchased last month is this pull-out tray designed especially for appliances. They use it under their coffee maker to pull it out from underneath their cabinets before using it.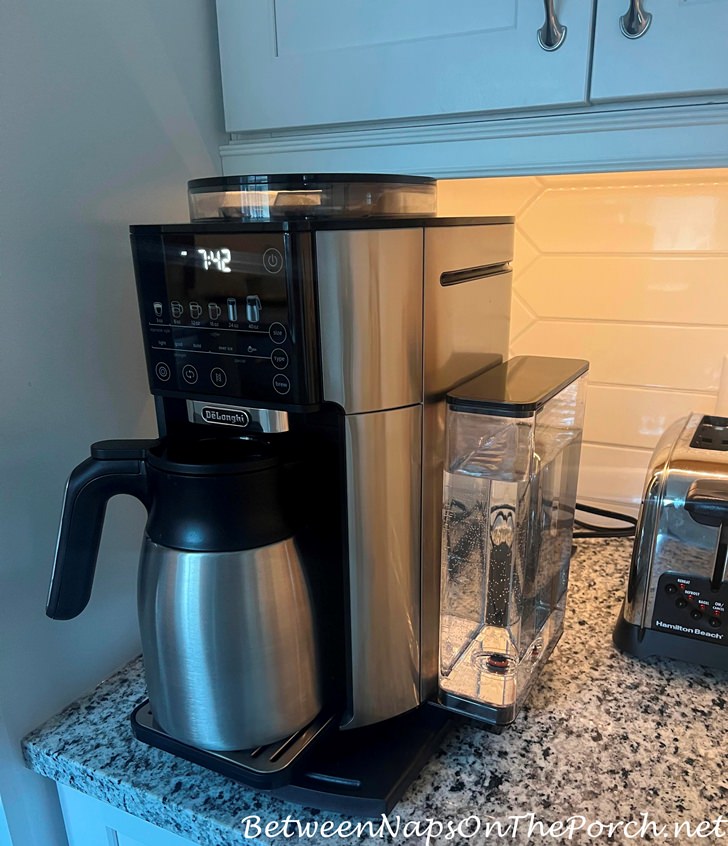 I got to see it in action during my recent visit to Ohio and loved how well it worked, so when I got back home, I ordered one for my heavy KitchenAid mixer. It works great and will make pulling it out to use so much easier in the future! If you have a heavy kitchen appliance that's hard to pull out when you want to use it–or something that heats up like a toaster or coffee maker and you don't want the heat/steam damaging your cabinets or under-cabinet lighting, you'll find this handy appliance tray here: Tray For Moving Out Kitchen Appliances.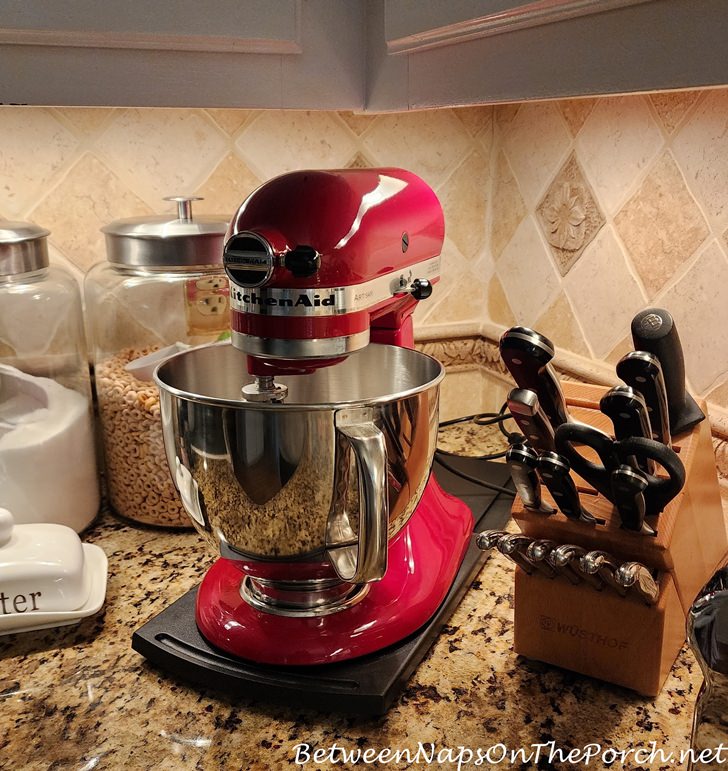 When I shared the appliance tray in another post, I had several people ask me about the measuring scoops inside the large canisters on my countertop. They are by Nuscup and were purchased many, many years ago from the Sierra Trading Post. I couldn't find the exact same ones online now, but I did find some that look very similar here: Measuring Scoops. They work great for rough measuring, but I would probably still use a traditional measuring cup if you are making something that requires very precise measurements of the ingredients.
You may remember a few weeks back when I shared this crazy, fun Magic Puzzle Company puzzle named, The Happy Isles.
That puzzle was a lot of fun and definitely not your everyday puzzle. It even had flat-edged end pieces going up the center of the puzzle! What?!
Once the puzzle is completed, following the instructions, sections of the puzzle end up being moved around to create a big hole in the middle of the puzzle. That hole gets filled with additional pieces that are in a separate envelope…and that solves the mystery! I don't want to show you the solution and ruin it for you, but I will say, this is a truly delightful, fun, magical puzzle to complete! I enjoyed this one so much, I purchased a second one last month.
This time I worked a puzzle called, The Gnomes' Homes. Here's how it looked once completed and before I shifted sections around as the directions instruct.
After completing the puzzle, I opened this envelope next.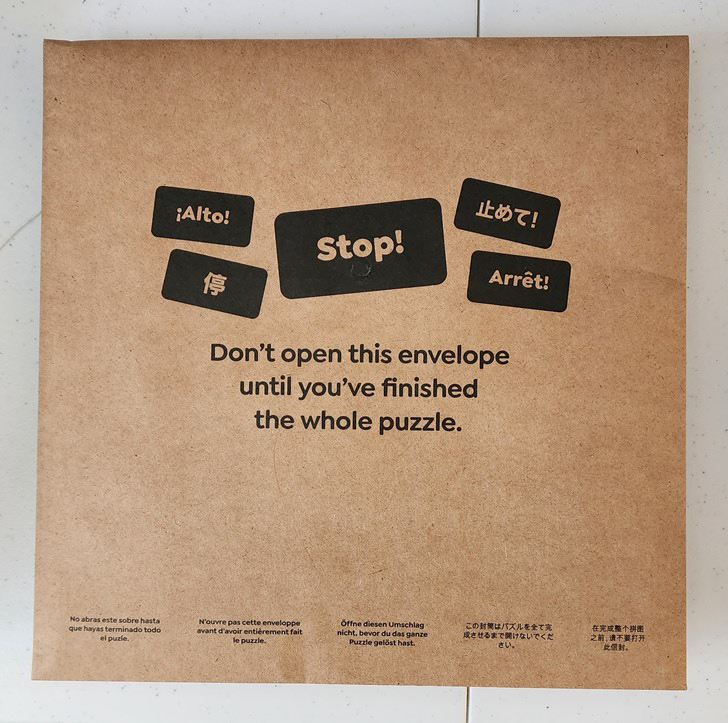 Inside the envelope, I found another envelope. 🙂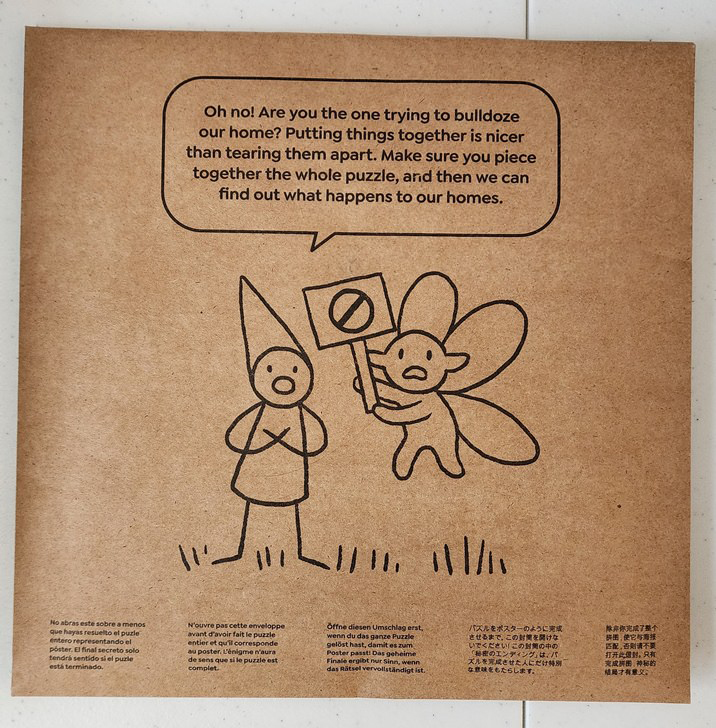 I shifted two sections of the puzzle around as the directions instructed. NOTE: This puzzle is best done on a large, flat table, but tempting the fates as usual, I did it on my puzzle board. That definitely adds an element of complexity to moving the sections, but I love doing puzzles on this board so much, I don't mind the hassle.
Here's how the puzzle looked after I moved all the sections as instructed. I can't show you the answer/solution to the mystery that gets revealed when the final pieces from the envelope are assembled inside the hole, but it's awesome! lol In another couple of years, I'm going to pass these puzzles down to my grandsons because I know they will love them as much as I do! If you love doing puzzles and want something that's a bit different, you'll find these mystery puzzles all available here: Mystery Puzzles. The two I've done so far are available here: The Happy Isles AND The Gnomes' Homes.
I'm still very much enjoying this utility table I purchased in April. I love it for holding the large puzzle trays I use for sorting puzzle pieces. It came in handy for holding all my files when I was working on taxes this year. If you could use a table like this for camping or whatever, you'll find it here: Adjustable Height Craft, Camping Utility Folding Table.
Not a March purchase but wanted to share this solar-powered, birdbath fountain I ordered a few days ago. It should be arriving today and I can't wait to get it up and running!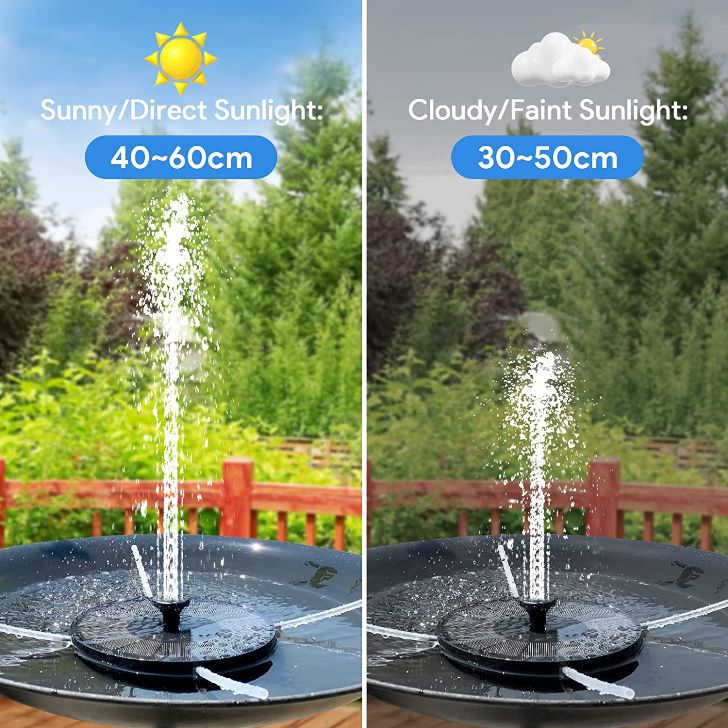 My backyard birds love, love, love the heated birdbath that I keep out for them year around. I unplug it in the spring once the temps are no longer dipping below freezing.
From my experience, water seems to draw birds to my yard almost more than the bird seed I put out for them. They really appreciate the fresh water during the hot summer months when it's not raining as much.
The bird bath gets a lot of visitors during the winter months when other water sources are frozen over.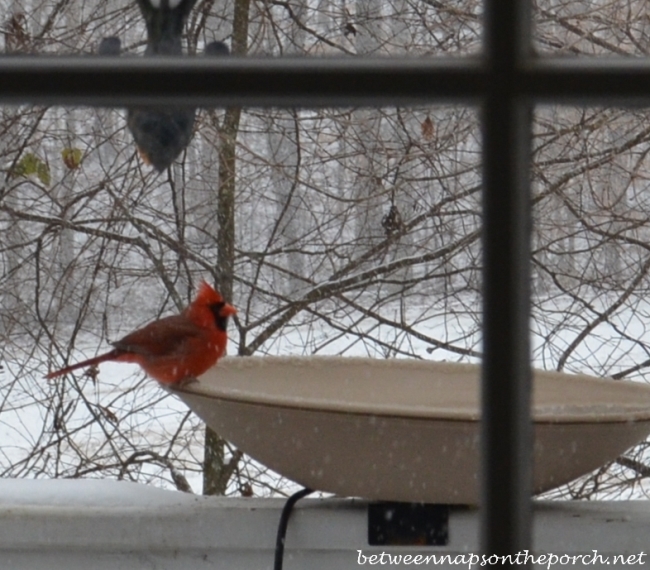 And it's not just the birds who love it! 🙂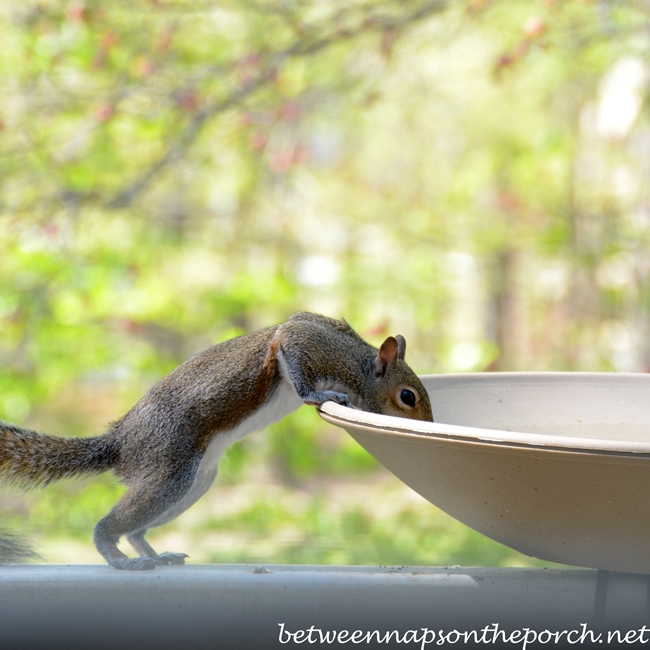 If you could use a deck-mounted birdbath, you'll find this heated one available here: Heated Birdbath.
The solar fountain that I purchased to go inside, and that should be arriving today, is available here: Birdbath Fountain.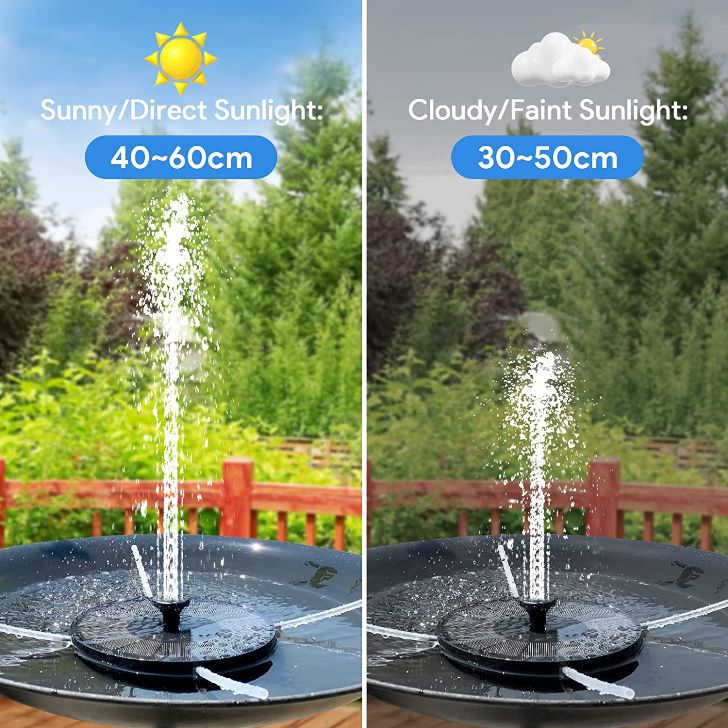 Have a fabulous weekend! See you on Monday for Metamorphosis Monday!
*If a post is sponsored or a product was provided at no charge, it will be stated in post. Some links may be affiliate links and as an Amazon Associate, I may earn from qualifying purchases. *