Welcome to the 756th Tablescape Thursday! If you've been reading BNOTP for a while, you know that I store a lot of the goodies I use in table settings in these cabinets here in my garage. I've been doing this for quite a few years now and it has worked out really well. It's super convenient having so many things grouped in one place and so close to the three areas where I normally set tables in my home.
When I renovated the garage last summer, I add a few additional cabinets, including one more in the 2-drawer style. This week, I thought it would be fun to take a peek into how I organize the napkins I store in those drawers, including the 5 new napkin designs I just recently added to my napkin collection.
For the most part, I try to store napkins based on color. That seems to be a good starting point when I'm choosing napkins for a table setting. Beginning with the two drawers in the far left cabinet, the top drawer is filled with napkins in colors of cream/off-white, white, and yellow. A few pastels snuck in since I really don't have a great spot for those since they are a mix of green yellow and white.
You may remember the white butterfly napkin fold I've used over the years in a few tables. The lacy-edged, white napkins are the only napkins that I stored away, folded–since they are the only napkin design that I currently have that really works well for the butterfly fold. Notice the yellow and white buffalo plaid napkins on the far right.
These were a fairly recent purchase that I've tried twice now to use in a table, but each time, they have been just a bit too sunny-yellow to work. I seem to always need a napkin that's a bit more toward the gold side, as opposed to this bright, sunshine yellow. I love the color, though! One day they will be exactly what I need for a table–hopefully this summer! Do you have any napkins that you love but just can't seem to use? (Buffalo plaid napkins are available in many, many colors here: Buffalo Plaid Napkins.)
In the drawer below, you'll find napkins in the colors blue and green. Sorry about the shadows, these photos were taken late in the evening. This drawer contains two new napkin designs that were just purchased over the past couple of months.
One set is a nautical design that I think I may have shared in a previous post. The other set is a tropical design in green and white. Love both of these designs and hope to use them this spring and summer. Both are still available here: Tropical Napkins AND here: Nautical Napkins.
Moving to the right and starting with the top drawer again, you'll find a collection of napkins in the colors orange, rust, and gold. This drawer gets opened a lot in the fall, although a few of the designs stored here are great for summer, including three new ones I just added.
These three designs were all recent purchases.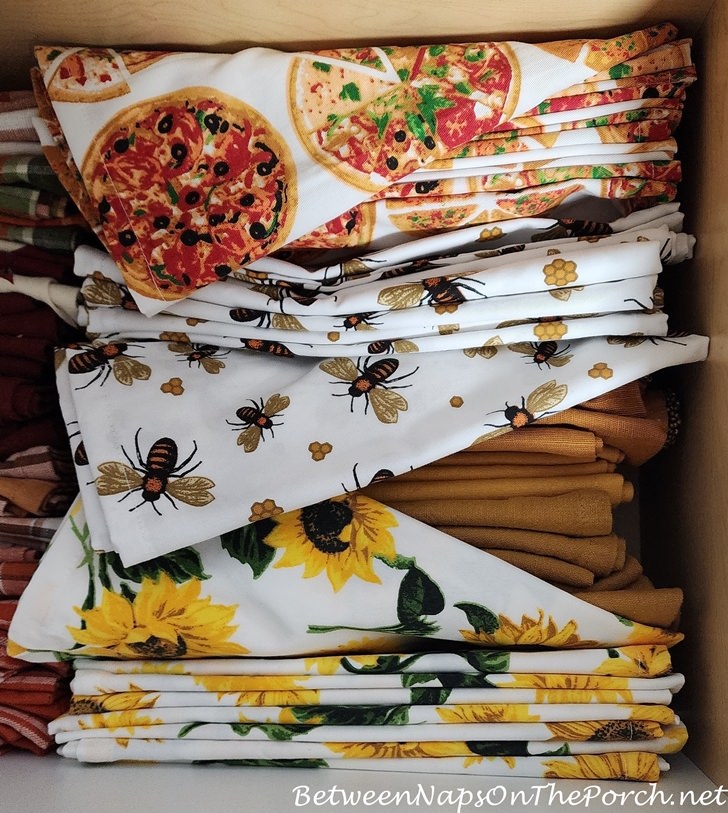 You may remember seeing the bee napkins in this recent spring tablescape. (Bee napkins are available here: Bee Napkins.)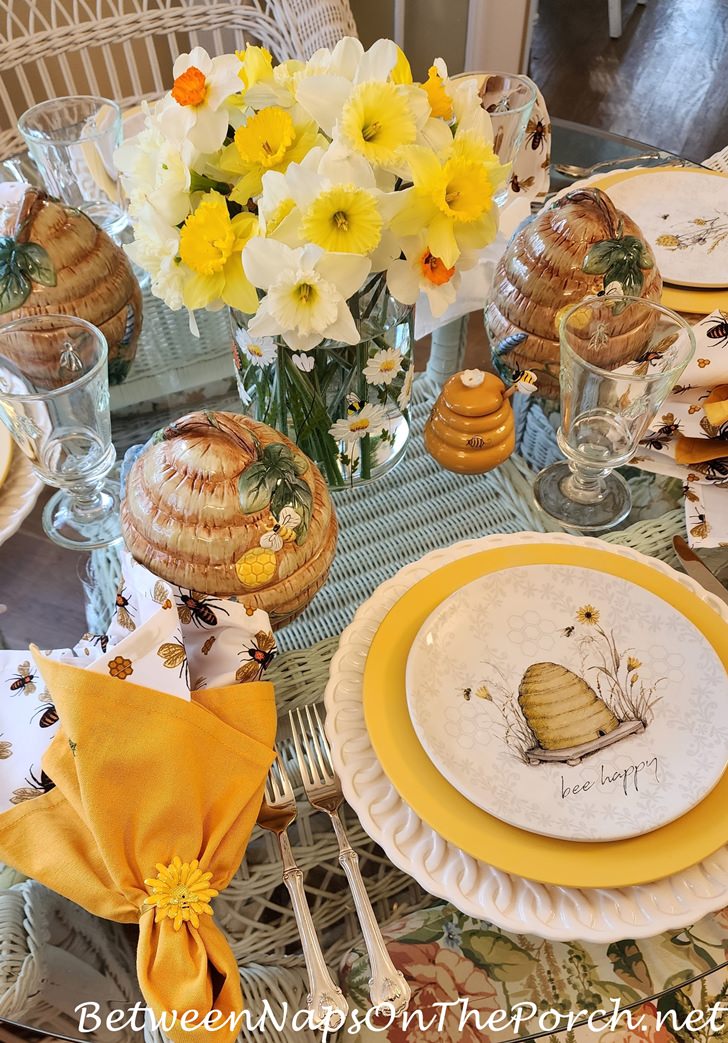 I can't wait to set a table and use these happy sunflower napkins this summer! They are beautiful! I couldn't resist the funny "pizza" napkins! I actually purchased a dozen of those thinking how perfect they would be for a pizza party one day. lol You'll find both designs available here: Sunflower Napkins AND here: Pizza Napkins.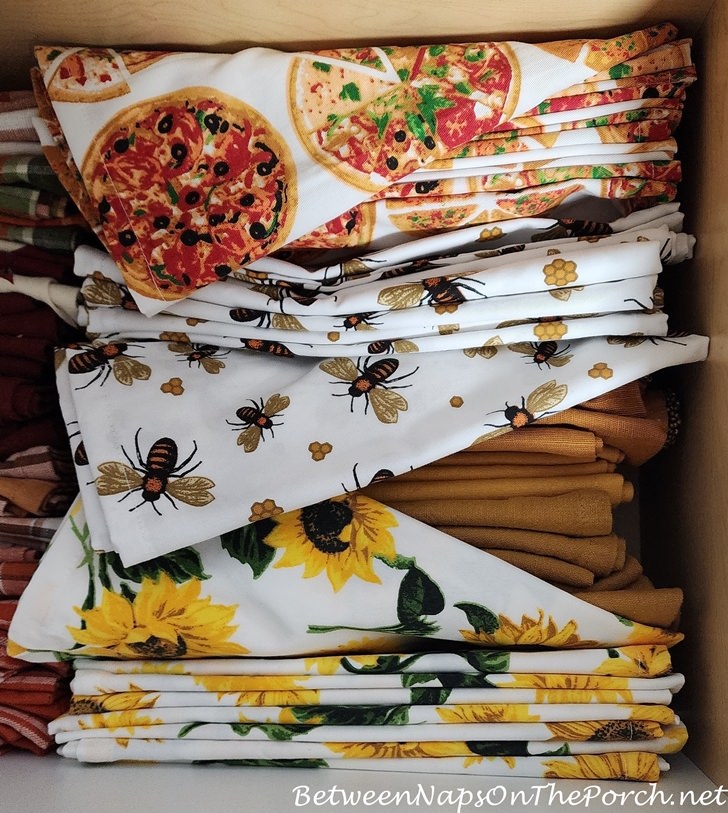 Moving to the drawer just below, you'll find napkins in various shades of red including a set that's trimmed in dark red velvet trim. A lot of these napkins end up on tables I set for Valentine's Day, the 4th of July, and Christmas.
Moving over to the final "drawer" cabinet–when I added this cabinet last year, I decided to take one drawer and group together all the napkins that I primarily use in "holiday" table settings. I say "primarily" because the first 4 sets of napkins on the left, though bunny-themed, really work great all spring and summer. I do find myself mostly using those in the spring and for Easter. Those are followed by two napkin designs that are definitely St. Patrick's Day themed since they feature shamrocks in their design. The black and white napkins at the front in the middle are strictly Halloween, followed by orange and black buffalo plaid napkins that have only (thus far) been used in Halloween settings. Those are followed by two designs (star-covered & red/white/blue) that always seem to end up in my 4th of July tables. The last row is filled with napkins that really only work for Christmas due to their colors or their embroidered design. If I'm setting a holiday-themed table, I almost always check this drawer first, just to remember what I have in case one of these designs will work best.
The drawer below is currently filled with a row of placemats, rolled and stored in such a way that I can see their colors/designs. There are a few more miscellaneous "table" things tucked into this drawer. I'm sure the day will come when these will get moved elsewhere and this drawer will become additional napkin storage.
Hope you enjoyed this peek into my napkin storage, including a little preview of some of the possible tables you may be seeing in the upcoming spring and summer months. Looking forward to all the beautiful tables linked for this week's Tablescape Thursday! If you enjoyed this post, subscribe for free email updates when a new post is up here: Subscribe for post updates.
Tablescape Thursday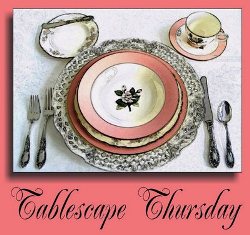 If you are participating in Tablescape Thursday, please be sure to add your permalink below, and not your general blog address. To get your permalink, click on your post name, then copy and paste the address showing in the address bar, into the "url" box when you link up. You'll need to include a link in your post back to the party to link up and participate. That's so visitors to your blog will be able to find the party and the other Tablescape Thursday participants. Please link up table-setting-related posts only for Tablescape Thursday. Please link up table-setting-related posts only for Tablescape Thursday.
You are invited to the Inlinkz link party!
*If a post is sponsored or a product was provided at no charge, it will be stated in post. Some links may be affiliate links and as an Amazon Associate, I may earn from qualifying purchases. *