Welcome to the 553rd Metamorphosis Monday!
How about a little silly fun for your Labor Day? Happy Labor Day to you, btw. I hope you are resting somewhere with your feet propped up, fruity drink in hand. Those are my plans for this afternoon! 🙂
First off I have to state, this is NOT where I store my linens. I put this bit of fun together last night just so I could share a hilarious, adorable idea that Mary Beth, a BNOTP reader–now friend, shared with me during our recent literary trip to England.
Mary Beth collects whimsical rubber duckies. She came up with the cutest idea to mix them in with the bath linens in her guest linen closet. So when guests open the closet to help themselves to a towel, they are greeted with something along these lines. Ha!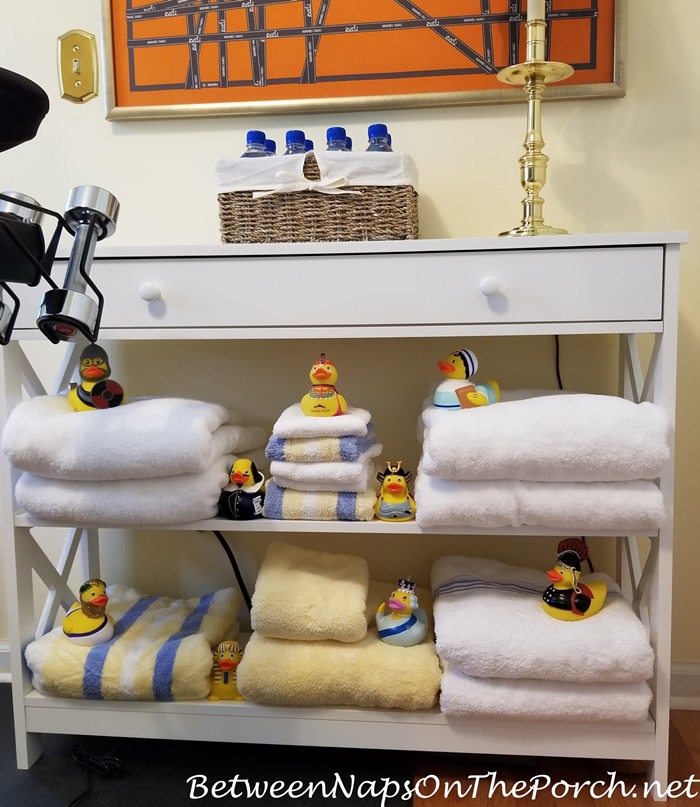 I'm totally blaming this new souvenir addiction on Mary Beth! After touring one of the homes where Jane Austen lived and wrote during her lifetime, we headed over to the gift shop nearby. That's where we spotted this adorable Jane Austen ducky and of course, several of us had to buy one. I think our group almost wiped out the Jane Austen ducky inventory during that single visit.
Note: The book Jane is holding is nonother than, Pond and Prejudice. Har, har. If you need a Jane Austen Ducky, I just found one here: Jane Austen Rubber Ducky.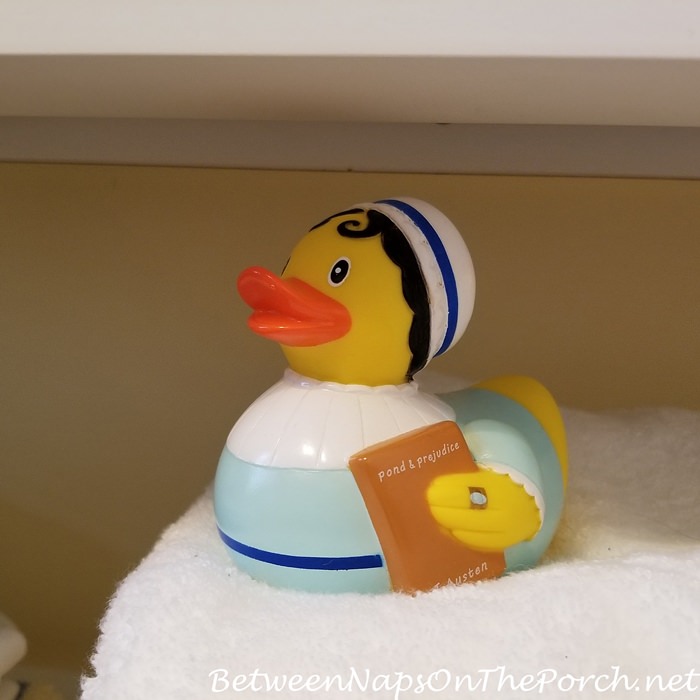 I already had a wee start on this little ducky obsession from a previous trip to Kenya where I stayed in Richard Branson's Mahali Muzuri bush camp.
(Thinking of visiting Kenya for a safari? Find my previous posts about that trip linked here: Travel to Kenya: Mahali Mzuri and Giraffe Manor.)
During that trip, I was presented with a Maaisi Warrior ducky in my bath.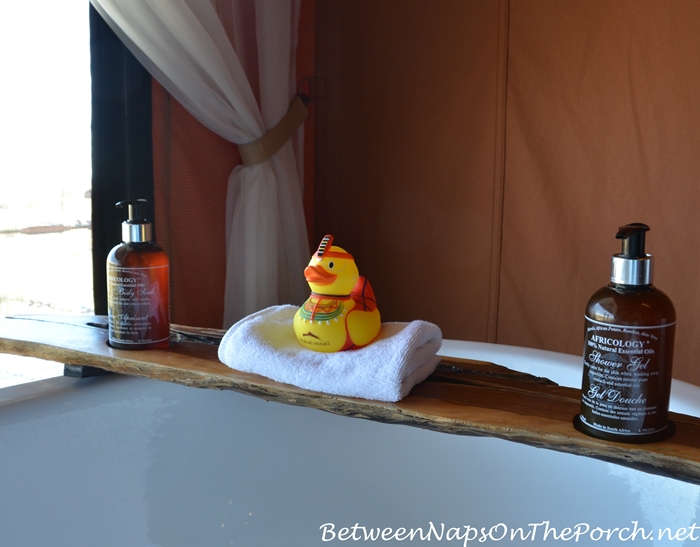 He's been a lonely little ducky up until now, but not anymore! He has tons of new friends, now! lol
I was surprised and delighted to discover a William Shakespeare ducky in the gift shop of the Globe Theatre during my visit to see Henry IV, Part 1.
According to the scroll in his hand, uh, I mean under his wing, he appears to be contemplating whether "To Quack or Not to Quack." 😉
In The British Museum, I came across a Queen Elizabeth ducky. Of course, she greeted me with the royal wave!
The British Museum Gift Shop had an extensive rubber ducky selection. Excited to get this ducky collection underway, I went a wee bit crazy there picking up quite a few more. While there, I picked up a Samurai Rubber Ducky…
…a Roman Gladiator Rubber Ducky…
…a Viking Rubber Ducky…
…a Zeus Greek God Rubber Ducky…
and finally, a Sphinx Rubber Ducky. I would love to have collected this guy during my recent trip to Egypt but I hadn't yet met Mary Beth, so wasn't in rubber ducky collecting mode at that point. I think I'll restrict my future collecting to picking them up during my travels–one at the time. Ha!
I wanted to share this idea because I think it would be beyond cute on open shelving in a bathroom. I could totally see them all peeking out from under towels and wash clothes, delighting unsuspecting guests.
Come to think of it, why save it just for guests?! Consider adding a few rubber duckies to your bathroom linen closet or linen shelves. You'll find a large selection available here: Rubber Duckies.
Thanks so much to Mary Beth for sharing this adorable idea during our recent trip! Such a simple, inexpensive way to add some fun to what's normally a pretty boring space!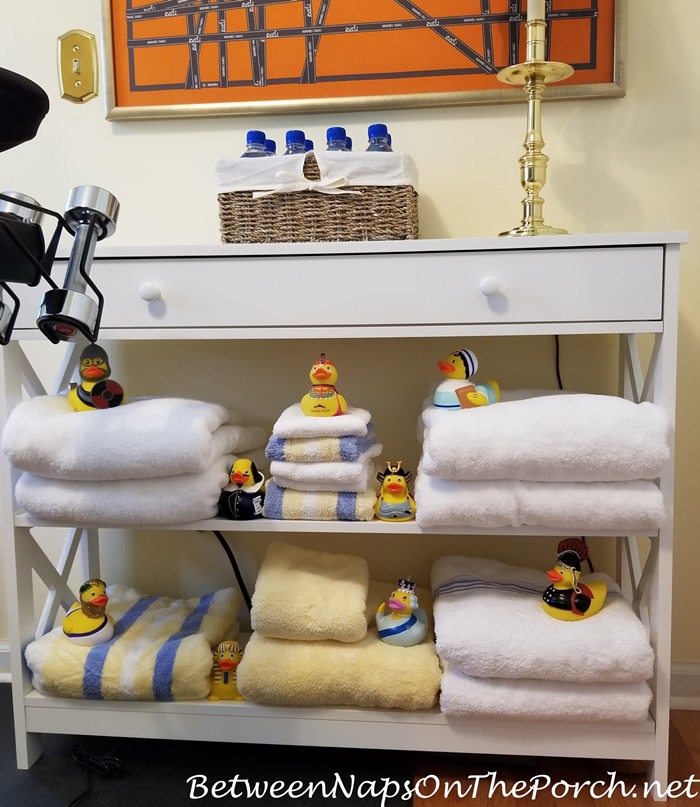 Looking forward to all the great Before and Afters for this week's Metamorphosis Monday!
Pssst: Did you know Between Naps On The Porch is on Instagram? Would love to have you follow me on Instagram here: Between Naps On The Porch.
Like to know when a new blog post is up and available to read? Subscribe for email updates, it's free and your email will never be shared.
Subscribe here: Subscribe for free post updates via email here: Subscribe.
Metamorphosis Monday
Metamorphosis Monday is a party that's all about Before and Afters. If you are participating in Met Monday, please link up using the "permalink" to your MM post and not your general blog address. To get your permalink, click on your post name, then just copy and paste the address that shows up in the address bar at the top of your blog, into the "url" box for InLinkz when prompted.
In order to link up, you'll need to include a link in your MM post back to the party so the other participants will have an opportunity to receive visits from your wonderful blog readers.
Feel free to link up Before and After posts that are home, gardening, decorating, crafting, painting, sewing, cooking, fashion, travel or DIY related. Please do not link up to the party if you're only doing so to promote/sell a product.
To those linking up, if you notice a shop or online store linking up to sell products (yes, unfortunately, that happens) please let me know so I can remove their link and block them from participating in future parties.
This party has ended, click button below for the links to all who participated.
*If a post is sponsored or a product was provided at no charge, it will be stated in post. Some links may be affiliate links and as an Amazon Associate, I may earn from qualifying purchases. *