Do you own a Speed Queen washer or are you thinking of getting one? If so, be super careful if you use the bleach dispenser that's located in the left front corner! After I shared a post recently with a quick update on how I'm using and loving my SQ washer, I heard from a lovely reader, Cathy, who warned me about using the bleach dispenser. Her Speed Queen washing machine is around 4 years old and she is having a big issue with rust in that area, and apparently, that isn't included in their warranty.
When I read Cathy's email, it brought back bad memories because that was a huge issue with my GE washer that lasted 43-1/2 years. My GE had the exact same style bleach dispenser–it was even located in the same spot on the machine. It took quite a few years but eventually, that area of my GE washer also rusted very badly–it even rusted/deteriorated the lid of the washer where it touched that corner when closed.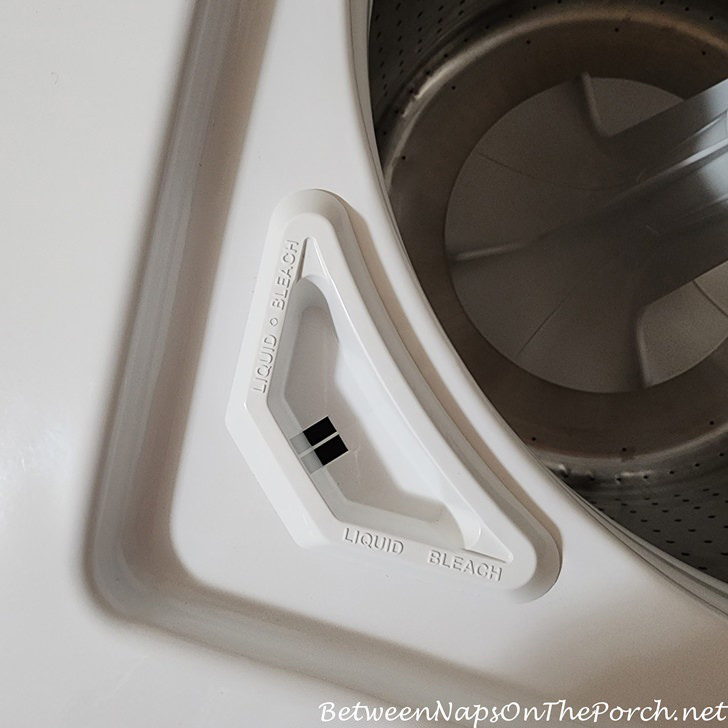 What happens is when you pour liquid bleach into the dispenser, often a small amount will splash out around the opening. You may not notice it since bleach is clear, but you'll definitely notice once rust starts appearing–and then it's too late! So, my advice is to avoid using that dispenser as much as possible. Bleach is now available in little pods that can be added to the wash. It's also available in powder form. I rarely use bleach–if I have a bad stain on a pair of white jeans or a white top, I usually use a Clorox bleach pen that I purchased years ago (not sure if those are still being made) or I sprinkle a small amount of Clorox bleach powder on the spot and immediately dilute it with water to scrub away the spot. When washing white sheets, I often use a brightening detergent like OxiClean White Revive. I try to avoid using actual bleach as much as possible since I know it can be harsh on fabrics. I have zero intentions of using the liquid bleach dispenser on my Speed Queen because I do not want my SQ washer rusting out in that area the way it did on my GE washer. Just wanted to share this in case you already own, or, plan to buy a Speed Queen washer in the future.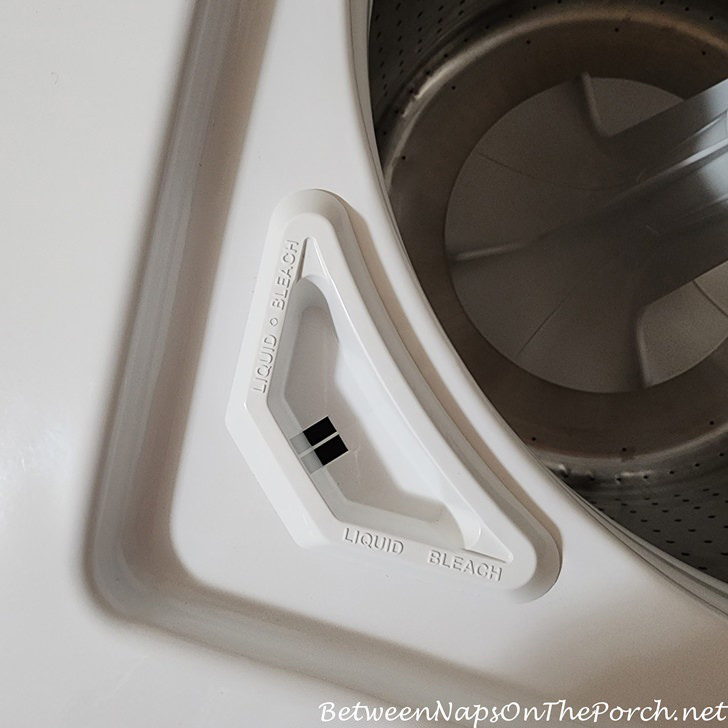 Okay, on to something fun! A few days I visited my local Williams Sonoma to purchase these chargers (shown below) that are currently on sale here: Chargers.
While there, I saw so many pretty holiday table settings!
I have this serious love affair going on with Tartan Chargers, love them so much! I was happy to see the red and green tartan chargers I purchased so many years ago are still being made.
I love this gorgeous red tartan charger because it goes with so many different china patterns! (Red tartan chargers are available here: Tartan Chargers.)
They've brought back their beautiful berry collection, too!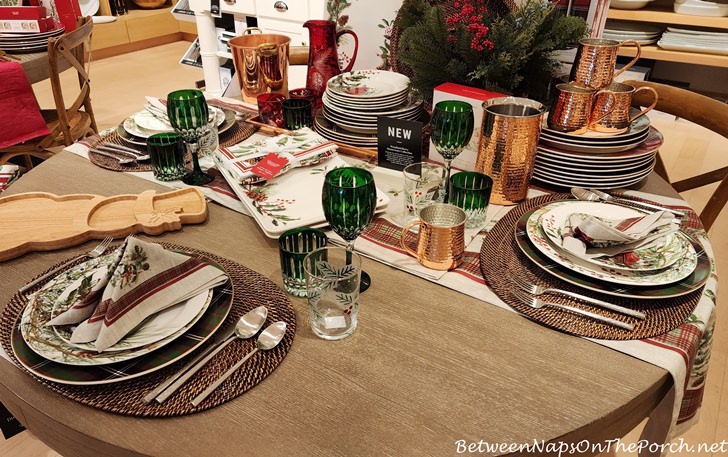 I don't think the chargers are available in the berry pattern this year, or at least I didn't see them online.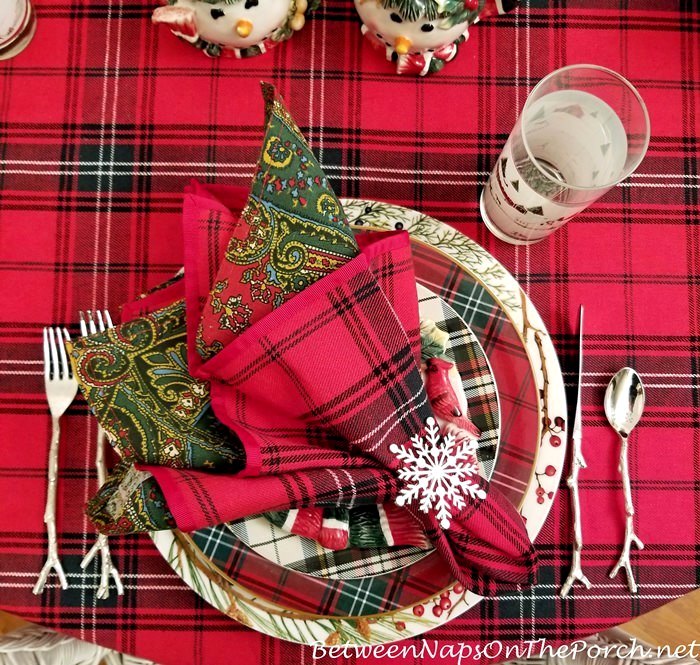 But the rest of the beautiful woodland berry/bird dinnerware is back and available here: Woodland Berry/Bird Dinnerware. I really hope to collect some of the green tartan charger plates this year–love them so much! They are available here: Green and Red Tartan Charger.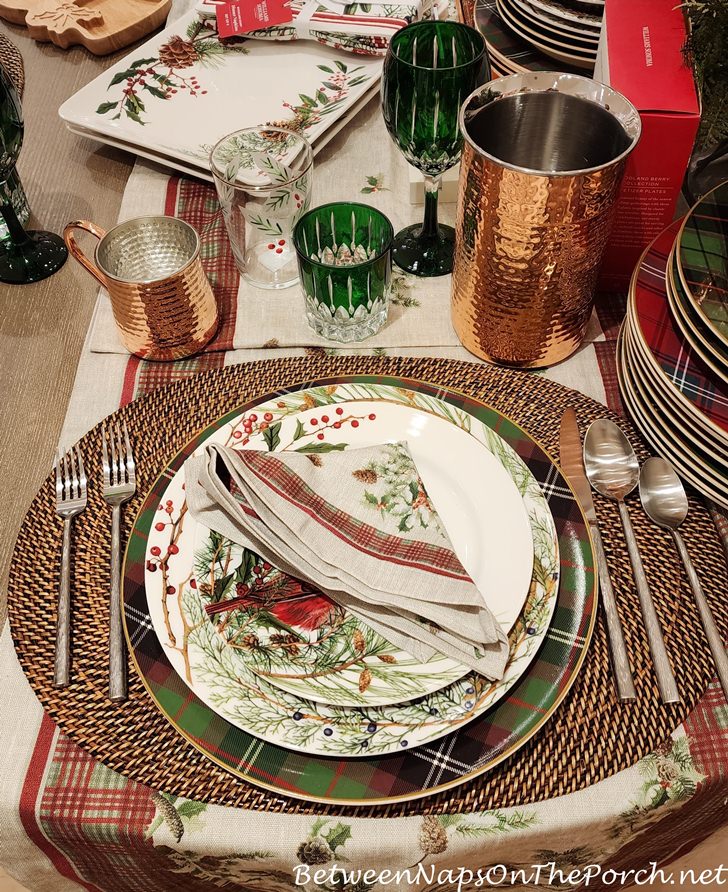 Another absolutely gorgeous charger that I saw during my visit was the red and gold charger. Pictures do not do it justice–it's stunning in person, truly elegant and so sparkly and beautiful!
I love this place setting from the WS website–a great example of how patterns can be combined beautifully together. You'll find the red and gold charger plates available here: Red and Gold Charger.
I would love to collect some of this tartan design, as well! Tartan must be very popular still since Williams Sonoma is carrying so many wonderful tartan charger designs this year. You'll find these charger plates available here: Tartan Plaid Charger.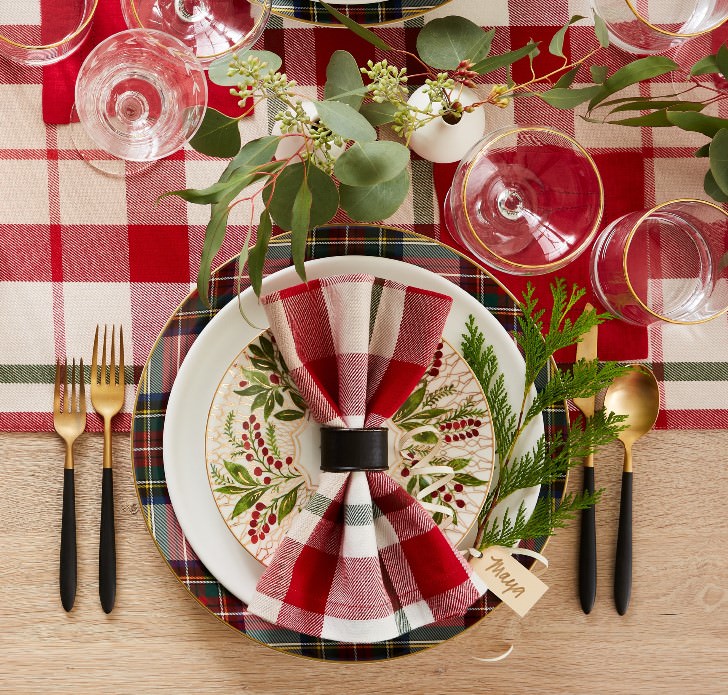 I'll close this post with a cute gift idea for the little ones. Whenever I visit my grandsons, I almost always have a small gift for them. It's usually LEGOs since they love them so much. For Halloween, they each received this set that's still available here: Halloween Cat and Mouse LEGO Set. After they finished putting it together, we placed them in both corners of the kitchen window to enjoy. I wish I had thought to take a photo, they were so cute on display in the window!
I just purchased two of these to take when I see them for Christmas. I love these small sets because they are very affordable and they don't take forever to assemble like some sets do. The Christmas Polar Bear set is available here: LEGO Polar Bears in Wintertime. It would make a great gift or even a really nice stocking stuffer.
See you tomorrow for Tablescape Thursday!
*If a post is sponsored or a product was provided at no charge, it will be stated in post. Some links may be affiliate links and as an Amazon Associate, I may earn from qualifying purchases. *