A few days ago I took you shopping with me in Pottery Barn and Williams Sonoma. There were a few more items I saw and snapped photos of that I didn't get to share in that post, so I'm back today with those, plus some spring clothes inspiration that I think you will love. They even brought back my favorite goes-with-everything polka dot shirt!
Do you ever watch Shark Tank? This cutting board was apparently featured on the show. It was designed by a New York City firefighter and chef who sadly ended up passing due to cancer. His children decided to continue his legacy and memory by making his invention available to purchase.
This cutting board is made of Richlite which is a combination of wood fiber and recycled paper composite. It's also reversible and has a tray to catch food scraps. I thought it was really interesting and innovative. If you want to read more about it, you'll find it here: Cutting Board.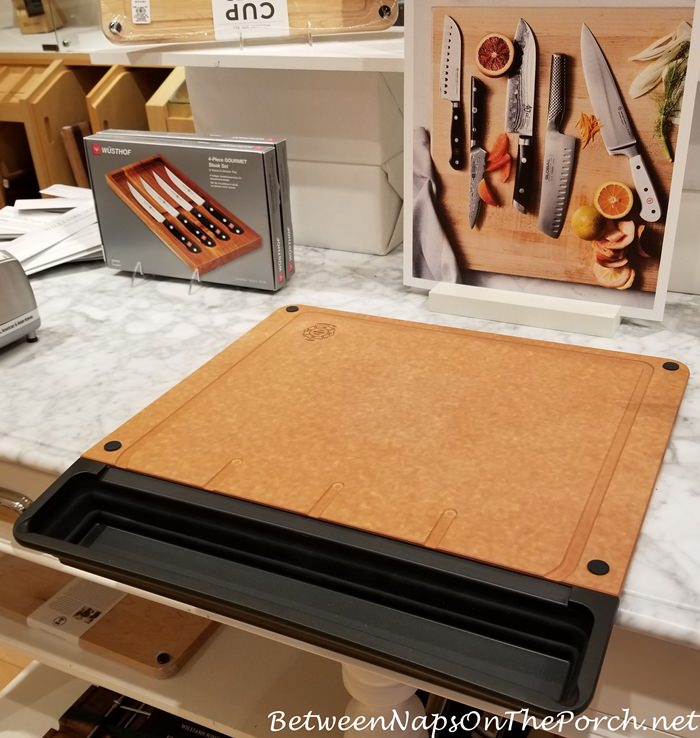 Spring is in the air and we'll all be setting our spring/Easter tables soon. Love these sweet figural napkin rings! They are available here: Sculptural Napkin Rings.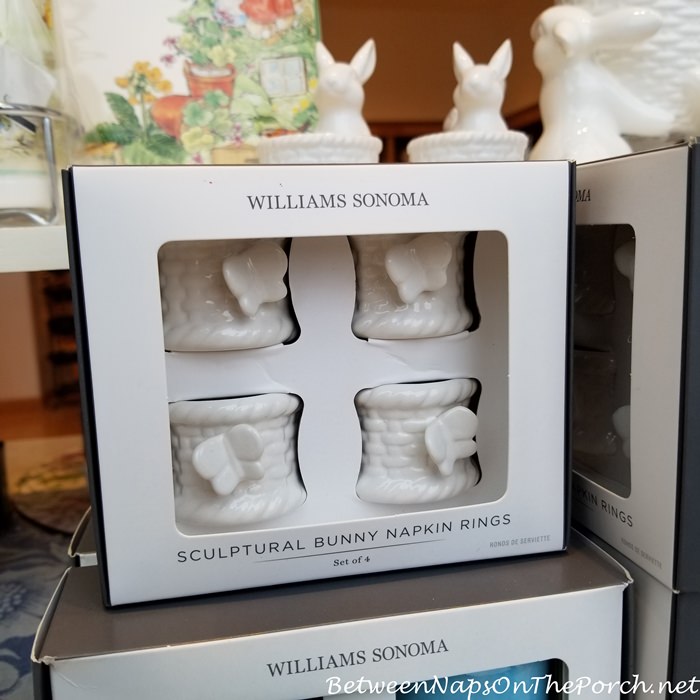 These cracked me up! If you live where winter will be around for a few more weeks, especially since Easter will come early this year, you'll find these adorable mugs here: Bunny Mugs.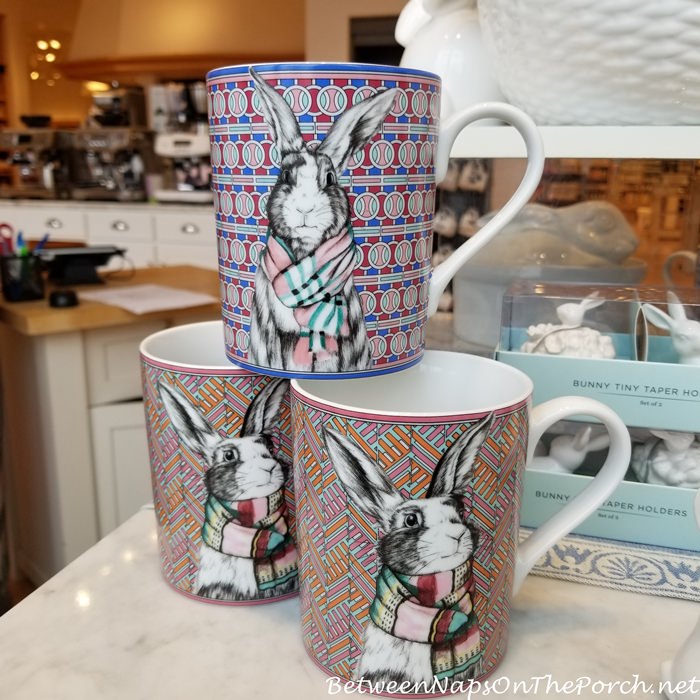 I fell in love with this table as soon as I saw it!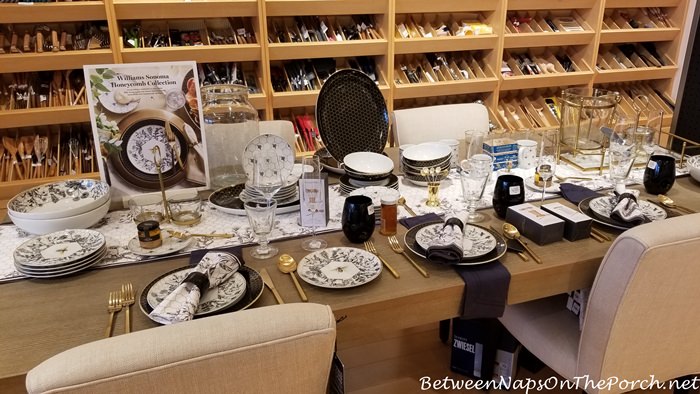 Everything is done in a fun bee and honeycomb motif.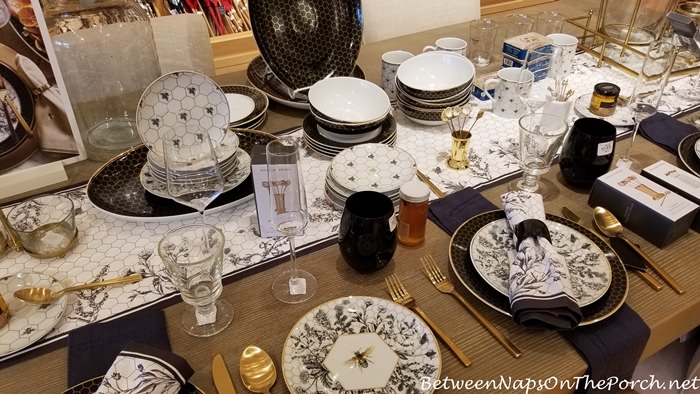 Gorgeous plates! I love how they look with the gold flatware, really brings out the bee in the center.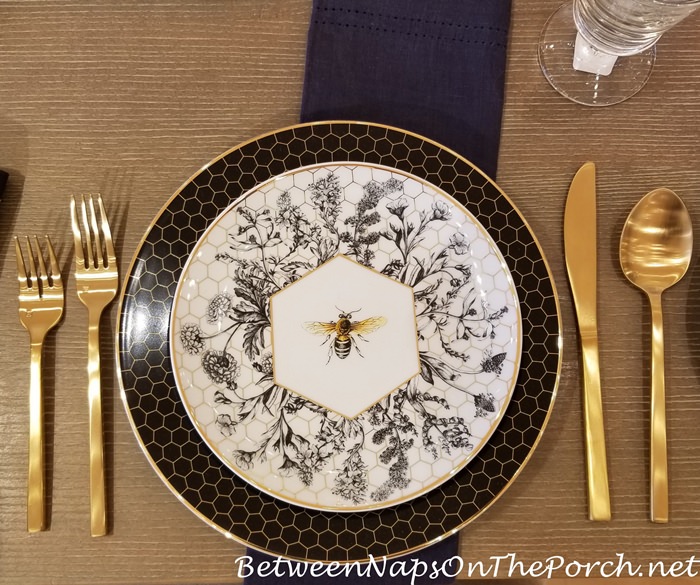 After seeing this flatware paired with this delightful bee china, I started searching for gold flatware patterns online and found quite a few that are very affordable here: Gold Flatware. I have several china patterns with gold rims so I need to add some gold flatware to my flatware collection.
Cute bee bowl!
I love how these gold chargers work so beautifully with this pattern. You'll find them available here: Gold Charger Plate. To see more of this bee-themed pattern, you'll find it all here: Bee-Themed Dinnerware.
Just as I was ending this post, I discovered Talbots has a huge spring sale going on. This looks like one of their best sales because in addition to everything being 25% off, shipping is free and you get another $50 off if your order reaches $175. Savings on top of savings–love that!
The first thing that caught my eye was this beautiful sweater. I love the longer length– very flattering! I was surprised a few years back to discover that orange is actually a good color on me. The sweater is available in two color combos here: Sweater. It's also available in several solid colors here: Solid Color Sweaters.
I really love the shirt they paired with the sweater–it looks amazing with the sweater! The shirt is available here: Colorful Shirt. Just love these colors together so much!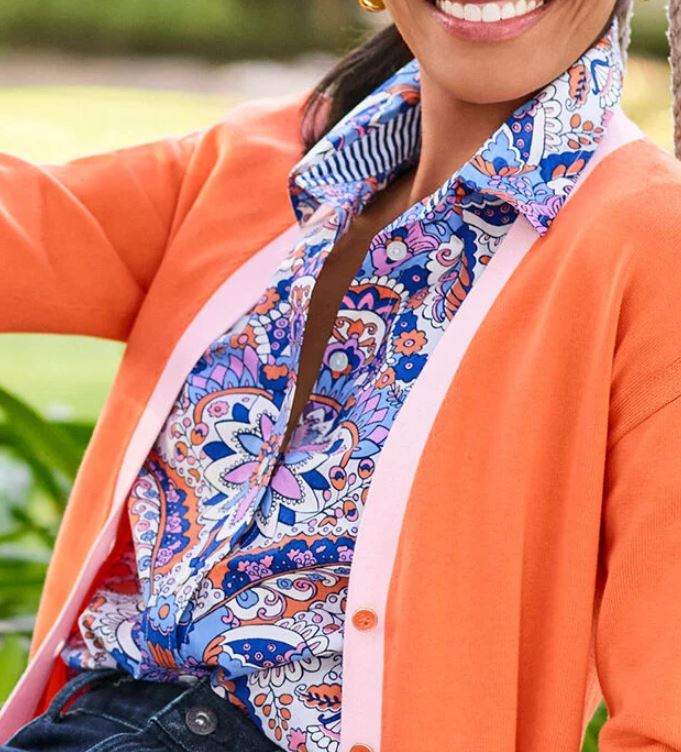 If you've been reading BNOTP for a while, you may remember this polka-dot shirt I bought from Talbots several years back. Every single time I wear this shirt, I get tons of compliments on my outfit, even from total strangers in stores! Since I love the shirt so much, I purchased two so I'd have a backup. I like to do that with clothes I really, really love.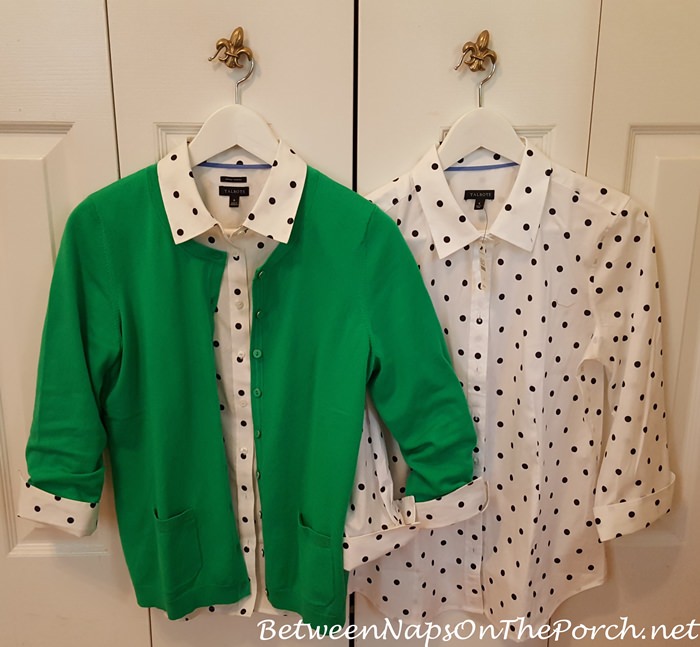 A polka-dot shirt acts very much like a neutral and will pair with many sweaters. It must be a popular seller because I noticed Talbots has brought it back again this year. You'll find it available here: Polka Dot Shirt.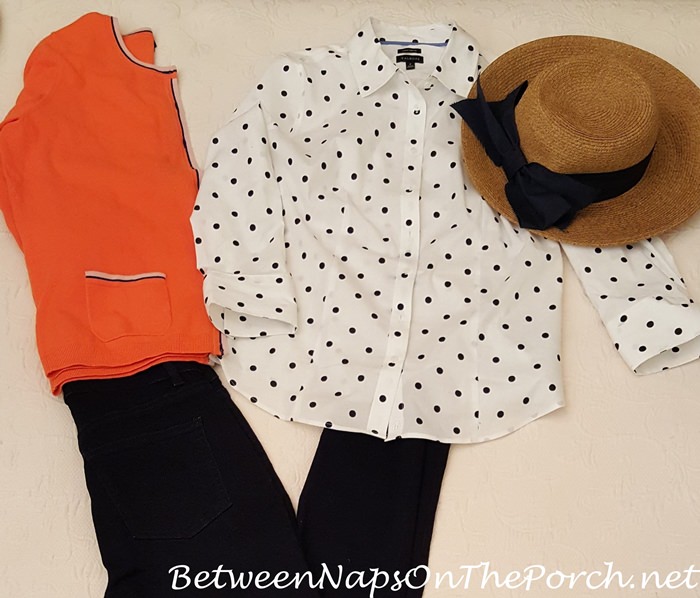 This is another shirt that I would love to add to my summer wardrobe! I love how it looks with blue jeans but it would also look great with the white shorts I wear so much during the summer. It's available here: Summer Shirt.
Remember the French Rose-colored jeans I shared a few weeks back? They are also on sale 25% off. They are available in Talbot's curvy fit here: Curvy-Fit and their regular fit here: Regular Fit.
The curvy fit (only available online) is perfect for those of us who find regular jeans leave a gap in the waist if they fit in the hips. I love Talbot's Curvy fit jeans! Not sure why they are only available online and not in their stores. I find they fit true to size, they are my favorite jean!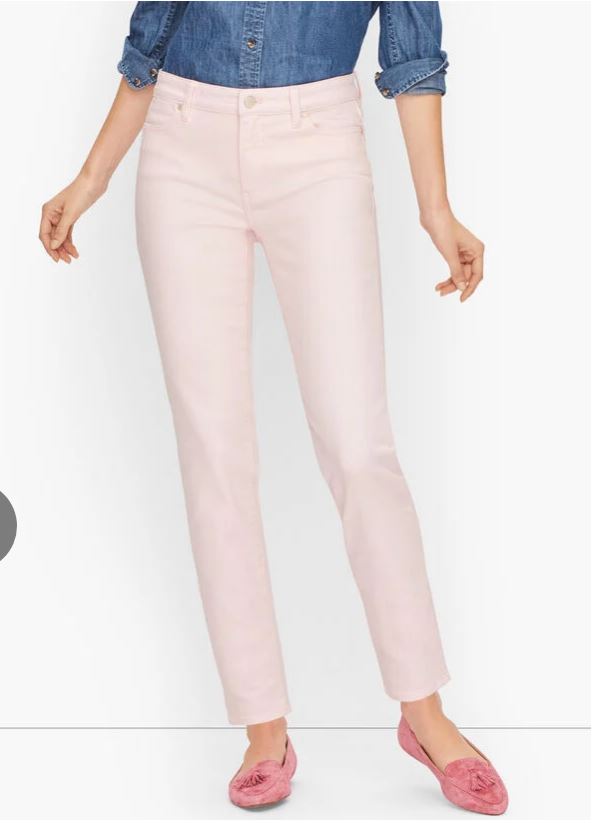 If you would like to see all the other fresh, beautiful designs that have just come in for spring, you'll find them all on sale here: Triple Play Sale.
Happy spring shopping!
*If a post is sponsored or a product was provided at no charge, it will be stated in post. Some links may be affiliate links and as an Amazon Associate, I may earn from qualifying purchases. *