Welcome to the 789th Tablescape Thursday! My favorite table settings, especially during the fall and winter, are always by candlelight.
This time of year, when nightfall begins arriving so early, I crave anything that feels cozy, warm, and comforting. Candlelight definitely gives me that.
A few days ago I purchased these rattan chargers that are currently on sale. I couldn't wait to use them in a table setting.
It's been ages since I used my Better Homes and Gardens dinnerware. I used to collect a few pieces every year when they would start appearing in the store around the holidays. It was so reasonably priced, I collected quite a few pieces over the years. I haven't checked for it in years, though–so I'm not sure if it's still being made.
For this table setting, I chose salad plates from my collection that were not specifically Christmas-themed. I love these woodland scenes so much!
Love these beautiful resting deer… such a gorgeous fall-winter scene! I love how the artist who drew these beautiful scenes included a cardinal in almost every plate. I see a little chickadee down toward the bottom, too. ♥
For some of the designs, I had enough to use the same scene for all 4 place settings, but I decided to go with a different salad plate/scene instead.
Notice all the wonderful details! Love the chipmunks, the white bark on the Birch trees, and there's our beautiful cardinal.
This was one of the first salad plates I collected from this BH&G collection.
At the time, I didn't know that they would be coming out with new salad plates every single year, so I bought quite a few of these. Did you collect any of these plates during the time the collection was being produced? Again, we see our beautiful cardinal.
I didn't have a fourth "deer" design to use so I decided to use another wonderful winter scene for the 4th place setting.
Love this scene with the horses, foxes, swans, and ducks. Notice the pretty red barn in the distance. ♥
I'm not sure if some of the red tartan dinnerware is finally being retired. It's been available for many, many years and I keep expecting it to one day vanish. I wish they would keep it around forever! I wasn't able to locate the dinner plates, maybe they will still get those in, but the tablecloth and napkins are still available. The round tartan tablecloth appears to still be available in two sizes here: Round Tartan Tablecloth.
The linen, burgundy, velvet-trimmed napkins were from Pier 1 many years ago. You can really see the beauty of the rattan chargers in this picture. I love their open design and they made them the perfect size to show from under large dinner plates. (Rattan chargers are on sale here: Rattan Chargers.)
The red and tartan napkins are still available here: Red/Green Tartan Napkins. The pinecone napkin rings were from Pier 1 many years ago. I love those for fall table settings! I decided to use a mix of flatware for this table.
The antler-handle fork and knife are vintage, not exactly sure how old. I found them on eBay around 12-15 years ago.
The leather, velvet, and satin storage case they came in says: Made in Sheffield, England.
A small card was included inside the case that said, Argyle Triple Plate, A Lifetime's Wear.
I think we should make it a rule that all fall and winter dinners must be enjoyed by candlelight. Are you with me? 😉
I kept the centerpiece simple with a beautiful Baldwin Brass lantern I purchased over 30 years ago in the Baldwin Brass store in Atlanta. Sadly, it closed many years ago.
The pine cones were collected here and there over the years. I love decorating with pine cones. They keep for a very long time which makes them great for pulling out to use during the fall/winter months. I placed a small pine cone on the brass surface of the lantern. It serendipitously came in handy later giving me something to hide behind when I started taking photos of the table. Ha!
Hope this table warms you up today if you're in an area where it's really cold right now.
Resources for Table That Are Still Available:
Round Red/Green Tartan Tablecloth in 2 Sizes
Red/Green Tartan Napkins.
Tartan Dinnerware
Rattan Chargers
Looking forward to the beautiful tables linked for this week's Tablescape Thursday! (If you enjoyed this post, subscribe for email updates when a new post is up here: Subscribe for post updates.)
Tablescape Thursday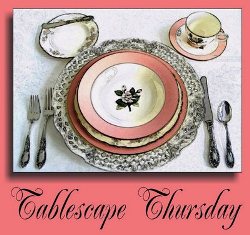 If you are participating in Tablescape Thursday, please be sure to add your permalink below, and not your general blog address. To get your permalink, click on your post name, then copy and paste the address showing in the address bar, into the "url" box when you link up. You'll need to include a link in your post back to the party to link up and participate. That's so visitors to your blog will be able to find the party and the other Tablescape Thursday participants. Please link up table-setting-related posts only for Tablescape Thursday. Please link up table-setting-related posts only for Tablescape Thursday.
You are invited to the Inlinkz link party!
*If a post is sponsored or a product was provided at no charge, it will be stated in post. Some links may be affiliate links and as an Amazon Associate, I may earn from qualifying purchases. *