Welcome to the 581st Tablescape Thursday!
I'm making the long trek back home today. I was set to do that yesterday but my son asked me stay a day longer for an event we attended last night together. But today is the day!
I didn't get a chance to set a table this week. I thought about posting a roundup of Thanksgiving tables or something similar, but then I decided on something completely different that's sorta table-related. I've always wanted to share a special place with you. It's a place I visit multiple times whenever I'm here in the Dayton area called, Dorothy Lane Market.
First off, you have to know this girl does not really enjoy cooking. As I've mentioned before in previous posts, the only time I really like to cook is when it's for family or for a party I'm throwing. I think I enjoy it then because I'm thinking about the dinner or the party and how much fun it will be.
About the only thing I dislike more than cooking is grocery shopping. Grocery shopping on the "fun" scale ranks right up there with cleaning toilets or vacuuming. It's a necessary evil that I put off as long as humanly possible and then try to get done as fast as possible.
At the grocery stores near me back home in Atlanta, especially Publix and Kroger, you have to park a million miles out. Once inside, you spend much of your time dodging other customers in an attempt to find the items you need and waiting in long lines at the deli for formulaic, mediocre offerings. This impersonal, frustrating experience all culminates in you becoming an unpaid employee of the store as you are forced to either check yourself out or face standing in long checkout lines.
I refuse to check myself out in any store. Call me a rebel, but I feel if I'm patronizing your store and giving you my hard-earned money, the least you can do is ring up my groceries! Thankfully I've found a way to cope with this lack of customer service by doing my shopping late in the evening around 9 or 10:00 PM. If I'm stuck going earlier in the day, I make the checkout line time more productive by replying to emails or blog comments on my phone while I wait. The whole experience leaves me feeling drained.
Oh, how different things are when I'm in Dayton and it's all because of one store. I will almost make up excuses to go grocery shopping, as long as it's shopping in Dorothy Lane Market. Grocery shopping in DLM is not just grocery shopping, it's an event, an experience! The employees who work there are so nice and even those who patronize the store are nice. They smile at you, apologize if they walk in front of you while you're standing back scanning a shelf for an item. It's just another world!
If you ever find yourself in the Dayton area, check out Dorothy Lane Market. There are three locations and I've only been to one, so I can't say what the others are like, but the one on Far Hills Road in Oakwood is great!
There are two entrances. When I go, I normally parallel park on the side facing Far Hills. If those parking spaces are taken, I drive around to the other side and park there to go in through that entrance. You can see that parking lot in this photo below. If you park on that side, you enter into the store between the bakery and the coffee shop. I usually visit the bakery for a few desserts once my shopping is all done. When my son is with me, we usually stop by the coffee shop as soon as we enter so he can grab a hot coffee to sip on while we shop.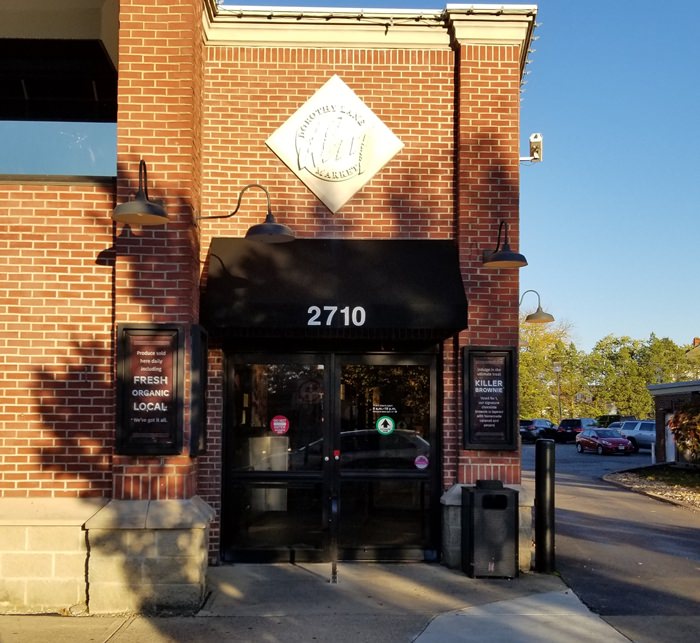 There are signs just outside each door that let you know this store isn't going to be your typical store.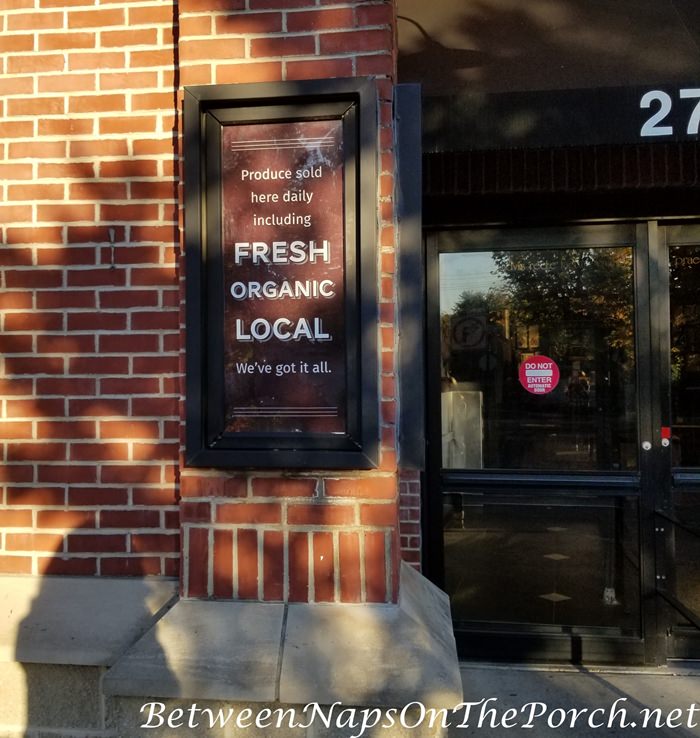 Dorothy Lane is known for its Killer Brownies. I purchased two of their Christmas tins recently, each containing 4 Killer Brownies. I plan to keep one and give the other as a gift to a friend for Christmas.
No matter which door you enter, you will most likely end up on the aisle where the deli is located first. I can never walk by this area because I literally want to purchase some of every single item they make!
My photos do not do it justice, but the best way I can describe the food you find here is that it all tastes like your mom made it that morning.
It doesn't taste like the homogenized, formulaic deli food that you get in a Publix or a Kroger; it's anything but that! See that salad toward the back…the one with the bow tie pasta? That's Pine Club Salad and it is insanely addictive. The Pine Club is a famous, local restaurant, several Presidents and quite a few celebrities have dined there. I guess this is one of their wonderful recipes and apparently The Pine Club allows DLM to offer it to their customers. My son and I have dinner at The Pine Club almost every time I visit. (Google "The Pine Club" to read more about the restaurant.)
I snapped these photos quickly since I didn't want to draw attention to myself, so sorry about the quality. But I knew I had to share this special store with you.
The Asiago Chicken is a big-time favorite of my family. If I ever move here, I'm sure I'll be in here buying it regularly for my dinner. It tastes homemade (as so many of their foods do) and is excellent. Nancy and I both pick it up for dinner sometimes and the boys love it!
I had one of the salmon patties for lunch recently and it was great!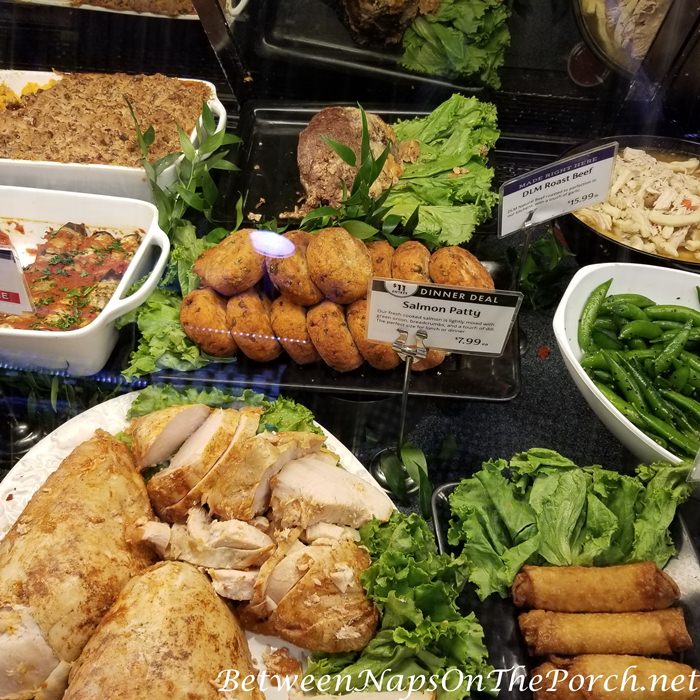 There are so many more dishes from which to choose here in the deli area…tons of salads! I took just a few quick photos as I passed by the counter. On the other side of the store, there's a large salad bar where you can put together a salad to take home for lunch.
The broccoli salad is another favorite of ours, I buy it a few times during each of my visits.
Across from the deli, there are many DLM foods packaged up that you can grab when you're in a hurry. There are ready-made salads, quiches, pizza ready for cooking, sandwiches–just everything. This side of the aisle is about three times the size I'm showing here, so lots of offerings.
One thing I didn't mention, this location of Dorothy Lane is quite cozy. You would think shopping here would be a frustrating experience due to the fairly narrow aisles and the smallish size of the store, but it's not. Everyone is so nice and polite and it's never overly crowded unless they are having one of their wine tastings or a special event.
My son and I love coming here to pick up steaks for grilling. He loves grilling on his Big Green Egg, no matter the time of year.
Their hamburgers are amazing! The day I was shopping and took these photos, one of the guys behind the counter came out and we chatted. That's how everyone is at this location, so friendly! Anyway, he shared something I didn't know. They have a grill in back (he pointed it out through an open area) and they will grill up for you anything you like…steak, burger, whatever at no extra charge. As long as it doesn't require an oven and can be grilled, they will cook it for you. He said they do it all the time for customers. There's an upstairs area where you can eat in the store. I've seen the tables there when I've glanced up, but I've never been upstairs to check out that area. So you could just eat right there.
My son and I often come here for their shrimp, which he also cooks on his Big Green Egg.
The prices in Dorothy Lane are probably a bit higher than say a Publix or Kroger, but I will gladly pay more for the atmosphere, the exceptional quality of the food and the service you get when shopping there. There are no self-checkout lanes (Yay!) and I've never had to wait very long at all to check out.
They have 2-3 fast checkout lanes for when you're only getting 10 or so items and the other lanes are always well-staffed. The employees who check you out are all wearing black slacks, white shirts and black bow-ties. Shopping in Dorothy Lane, at least at this location, is like shopping in the Hermes or Louis Vuitton of grocery stores. 😉
The employees must love their jobs because they stay here for a long time. A gentleman named, Jerry, helped me with my groceries on one of my recent trips. As we walked toward my car, I told him how much I liked shopping in Dorothy Lane Market and how I wish they had a location in Georgia. I quickly added that turning into a chain store might change them, though…and I didn't want that!
He shared that he has worked there for 50 years and hoped to be there a few more. When I expressed how awesome that was, he told me that several others, a few who had just retired, had also been there for 50+ years. Amazing! We had such a great time chatting, Dorothy Lane is truly a special place!
The produce is always so fresh and beautifully displayed. I've never seen anything that looked old or questionable.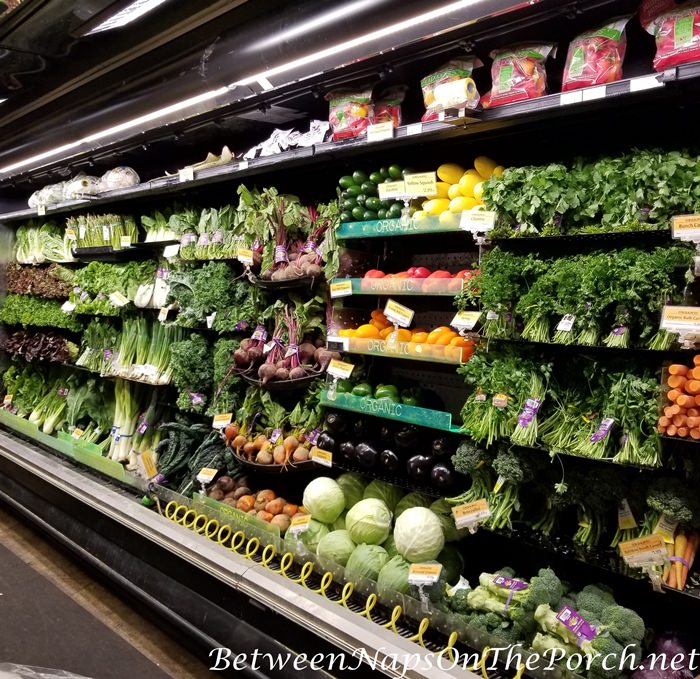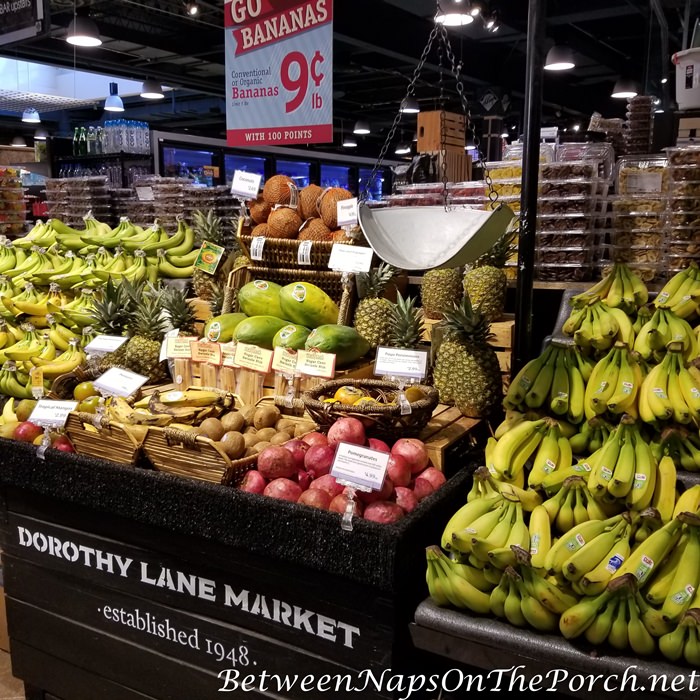 Recently, my daughter-in-law had a craving for pumpkin seeds. They had them here, already shelled. They were delish!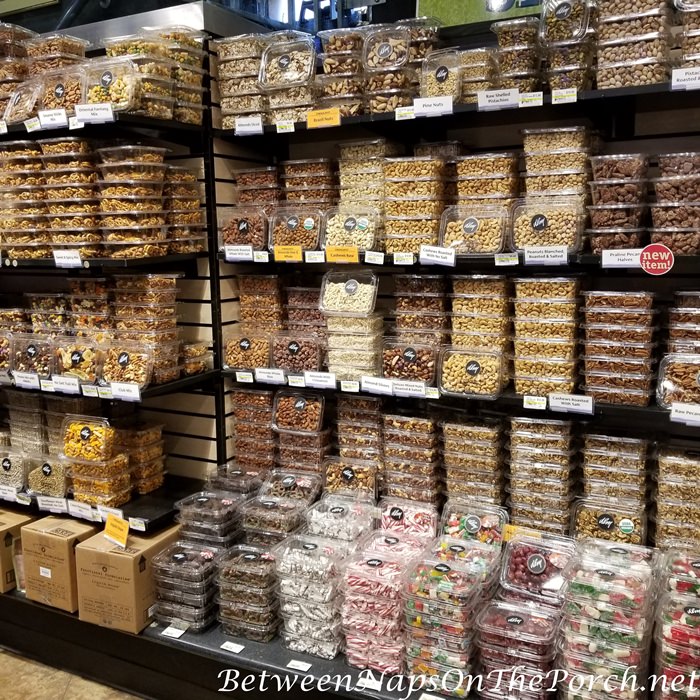 If you're ever in Dayton, check out the Dorothy Lane Market on Far Hill's Road. You gotta try one of their Killer Brownies!
For an "I've-died-and-gone-to-heaven" experience, heap a few scoops of Graeter's ice cream on top. Graeter's is made locally in the state of Ohio and Dorothy Lane carries it. Graeter's also has an ice cream shop within walking distance of Dorothy Lane for when you want a large gallon size of their offerings. It's another one of my favorite haunts when I'm here.
I especially LOVE their peppermint ice cream that's sadly only available starting around Thanksgiving, disappearing again once Christmas has passed. It's the best peppermint ice cream I've ever had because the bits of peppermint that are all throughout the ice cream, don't get all mushy and dissolved like they do in so many other brands of peppermint ice cream. I love running into those bits of crunchy peppermint when devouring a bowl! I've tried my best to get Graeter's to consider offering it all year round, but they wouldn't listen to me. Why is peppermint icecream only a Christmas thing?! Grrrr!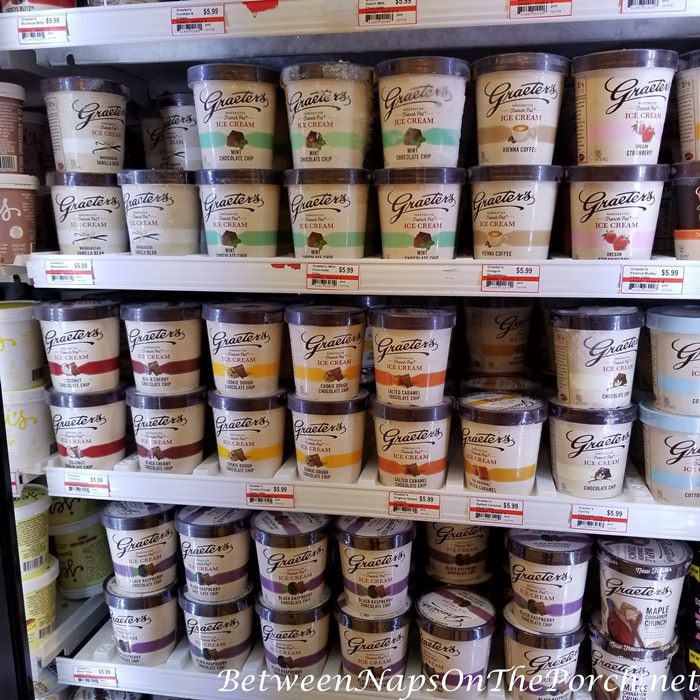 I didn't get a chance to take any photos of the wine shop, the bakery or the coffee shop inside Dorothy Lane Market, but oh my gosh, the bakery is insane! Everything in the bakery is wonderful, I think I've tasted it all over the last few years! Ha!
The desserts are amazing and the bread is wonderful. If you're interested, on my next trip back (Christmastime) I'll take a few pics of those areas to share. I could spend hours in this store, not to mention all my monies! lol It's a dangerous place to shop because everything is "the best!"
Okay, it's 10 am and I need to get this post published, pack my suitcase and start the long drive home. I don't like driving in the dark on the interstate, but it won't be avoidable on this trip since it gets dark so early now.
See you back home for the next post!
Pssst: Did you know Between Naps On The Porch is on Instagram? Would love to have you follow me on Instagram here: Between Naps On The Porch AND here: Under Moonlight and Magnolias.
Like to know when a new blog post is up and available to read? Subscribe for email updates, it's free and your email will never be shared.
Subscribe here: Subscribe for free post updates via email here: Subscribe.
Tablescape Thursday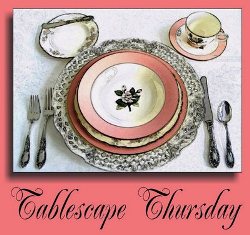 If you are participating in Tablescape Thursday, please be sure to add your permalink below, and not your general blog address. To get your permalink, click on your post name, then copy and paste the address showing in the address bar, into the "url" box when you link up.
You'll need to include a link in your post back to the party to link up and participate. That's so visitors to your blog will be able to find the party and the other Tablescape Thursday participants. Requiring a link back also prevents scammers from linking up to sell their products. Please let me know if you click on a link and find it isn't a tablescape or table related so I can remove it.
This party has ended, click button below for the links to all who participated.
*If a post is sponsored or a product was provided at no charge, it will be stated in post. Some links may be affiliate links and as an Amazon Associate, I may earn from qualifying purchases. *