A few months ago I went through a stack of old magazines I've been saving, some for several years. I tore out the pages I really loved and recycled the rest. This evening I was looking through them and noticed many were of beautiful beds.
More fuel for my blue and white addiction. This is truly a timeless look that will never go out of style.
from publication: Beautiful Bedrooms, 2001
I love the soft muted colors of this room along with the bedtime message above. There is something so crisp and fresh about a white matelasse coverlet or spread. Do you like a bed skirt puddled on the floor?
This bed was just so clever. It has the look of a canopy bed, even though it's not. The article shared that the bedposts are made from gauze draperies hung from large cup hooks that are attached to the ceiling. I love the vintage fashion photos on the wall and the chandelier hung nice and low over the bed where you can really see and appreciate it.
Country Victorian, Winter 2008
This would be an adorable room for children or visiting grandchildren. The beds are painted with a floral design that coordinates with the fabrics/upholstery in the room! Next time you see those old beat up four poster beds in a thrift store, think paint!
Bedroom and Bath, Summer 2001
This pic is a bit grainy since I had to enlarge it a lot for this post. But I just loved it and had to share it in this post of beautiful beds. I'm not sure if you can still find them, but once upon a time, you could buy these hand-tied canopies for sale in the resource pages/ads in the very back of magazines. I remember Colonial Homes, which became Classic Homes, used to have ads for these in the very back. I bet they are still available online, too. Come to think of it, I believe I've seen these for sale at Country Curtains, online. The linens on the bed are from Venice, Italy.
Stately and beautiful! I really miss Southern Accents magazine.
Love the subtle pattern of the wallpaper in this room. The dark wood of the four-poster bed is so beautiful contrasting against it. It creates its own silhouette, like the silhouette pictures above the bed.
This bed was in the master bedroom of the Southern Idea home in Senoia, Georgia, last year. Remember when we took that tour HERE, HERE and HERE, HERE and HERE.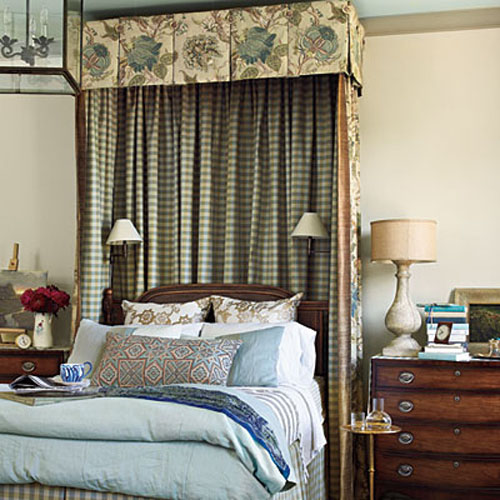 Southern Living Idea House, Senoia, GA
Another beautiful canopy bed…can you tell I have a thing for canopy beds? Most of the pics I save featured this style bed.
Southern Accents, January-February 2004
When we're talking fantasy beds, I had to include this one from Posh Tots online. I think it's pretty much a guarantee a little girl would awake feeling like a princess in this bed.
Christmas is just a few weeks away. I may steal this idea for my guest room bed.
I could stare at this picture all day long…soooo pretty. This could be a little pricey to do with real greenery and then there's the sap factor. lol But if you can find the pine garland on sale…it would be oh, so tempting. Just imagine drifting off to sleep looking up at beautifully draped pine boughs. The scent would be wonderful.
Country Living, December 2004
*If a post is sponsored or a product was provided at no charge, it will be stated in post. Some links may be affiliate links and as an Amazon Associate, I may earn from qualifying purchases. *