Welcome to the 478th Metamorphosis Monday!
Recently I was watching a YouTube video where the vlogger had just purchased a large, floral wreath for her front door. It had huge hydrangea blossoms all around it, and I loved it. Update: It may have been peonies now that I think about it! I checked to see if I could order one online for my front door, but was unable to locate the shop. The vlogger had indicated the wreath was a bit of splurge, plus I'm sure it would have been quite expensive to ship since she lives in the UK.
I had thought about buying large, faux hydrangea blooms and making my own, but sometimes that can end up costing more than just buying a wreath ready made. So I decided to look locally for a similar wreath, unsure what I'd find available.
I got frustrated in Michaels yesterday because even though they were having an awesome sale (50% off) the wreath I wanted to purchase was double the price of another one that looked exactly like it except for a slight color difference in some of the flowers. I was sure the wreath was priced incorrectly since they were identical except for the slight color difference, but the store manager said, nope, the price was right and the wreaths had come priced that way already.
Today I drove over to a local nursery that carries a lot of decorative accessories for the garden. Their prices are normally on the higher side, but I was hoping they would have a nice selection of wreaths. Unfortunately, the selection was quite meager, and I didn't find anything.
Discouraged, I headed for home which took me right by a Marshall's where I often shop but hadn't visited in a while. I decided to stop to see what goodies they had in for spring. At this point I wasn't even thinking about a wreath anymore, so imagine how surprised I was to see they had several spring wreaths in stock. Though not covered in hydrangea blossoms, one particular wreath stole my heart.
Tulips don't grow that well in Georgia, failing to come back after their first year, but at least I can have them on a wreath! lol
Are you ready for a bit of spring gardening? My Limelight Hydrangeas are just starting to send out little green leaves. Can't wait until they are in full bloom again!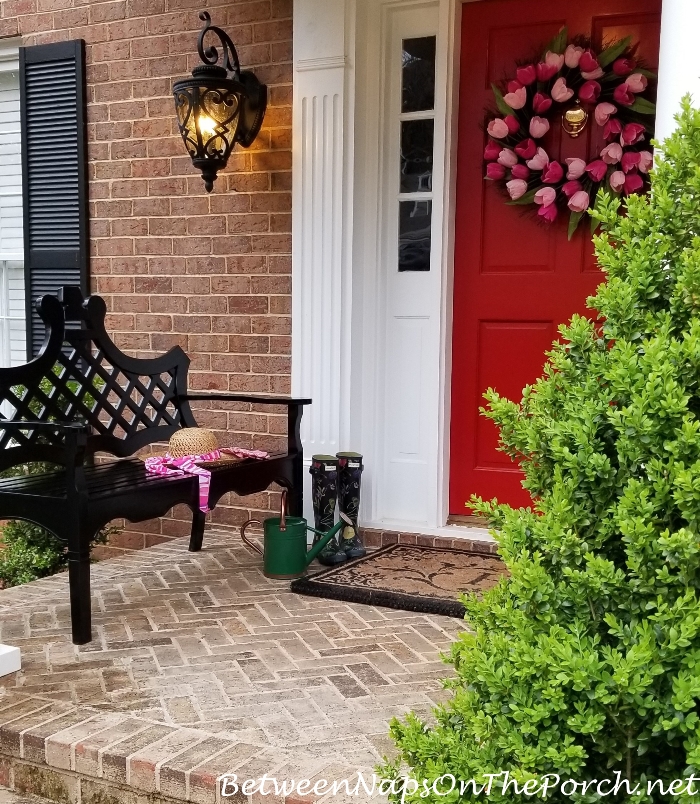 I added a few spring touches to the porch for this post. Do you remember the floral Hunter boots I bought a few years back?
Here's a close up of them from that previous post where I shared them right after I had purchased them. They are great to wear on rainy days, but also look cute displayed on a spring/summer porch.
When I was out shopping for a spring wreath, I had hoped to find one with large green and white hydrangea blossoms, thinking those colors would be pretty against my red door.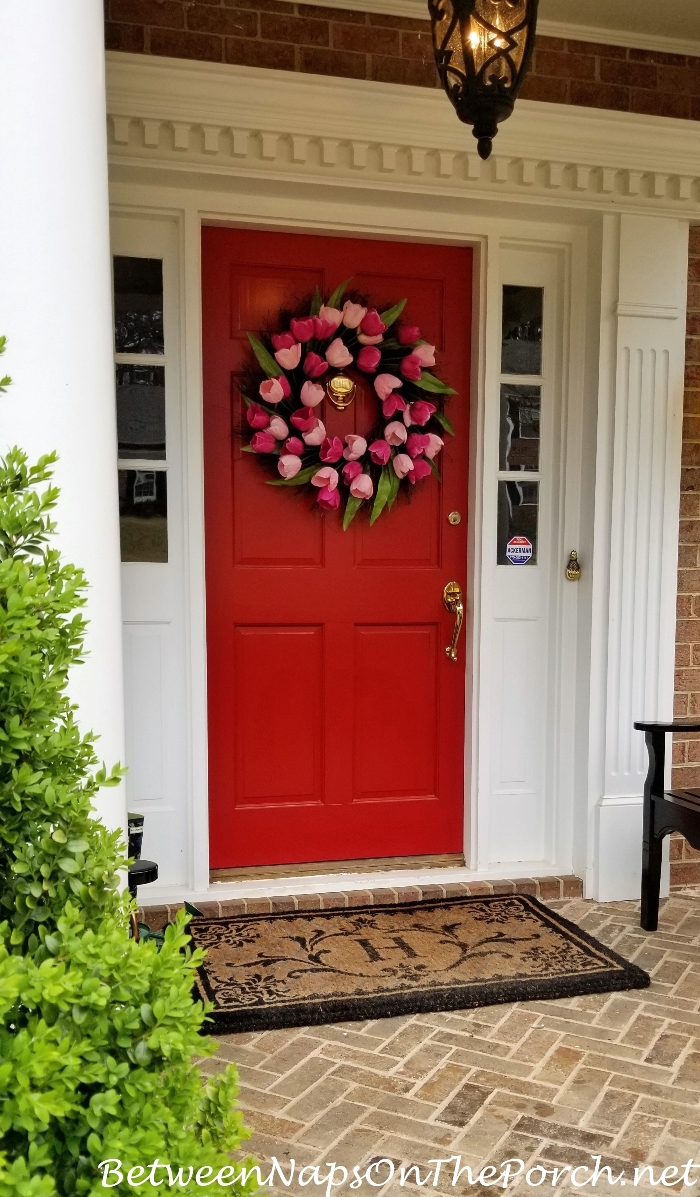 When I first spotted this wreath, I wasn't sure how the colors would work against a red door, but I really like it!
This wreath was only $29.99. I would never have been able to make it for less than that, so I'm happy to have stumbled across it today. If you have a Marshall's near you and you're in need of a spring wreath, you may want to check 'em out. They had several hydrangea wreaths in stock, but unfortunately, they were all a little too small for my door.
Happy Spring, dear Friends!
Looking forward to all the wonderful Before and Afters for this week's Metamorphosis Monday!
Pssst: I post almost daily on Instagram. Follow Between Naps on the Porch on Instagram here: Between Naps On The Porch. If you enjoyed this post, subscribe for free email updates when a new post is up here: Subscribe for post updates.
Metamorphosis Monday
Metamorphosis Monday is a party that's all about Before and Afters. If you are participating in Met Monday, please link up using the "permalink" to your MM post and not your general blog address. To get your permalink, click on your post name, then just copy and paste the address that shows up in the address bar at the top of your blog, into the "url" box for InLinkz.
In order to link up, you'll need to include a link in your MM post back to the party so the other participants will have an opportunity to receive visits from your wonderful blog readers.
Please observe these few rules:
Please link up Before and After posts that are home, gardening, decorating, crafting, painting, sewing, cooking, fashion or DIY related.
Be sure to include a link back to the party in your post, so your readers will be able to find and visit the other bloggers who are participating.
Do not link up to the party if you're only doing so to promote or sell a product.
To those who are linking up: If you notice a shop or online store linking up to sell products (yes, unfortunately, that does happen) please let me know so I can remove their link and block them from participating in future parties. No one wants to click a link expecting a Before and After, only to find a spam link to an online business/store.
*If a post is sponsored or a product was provided at no charge, it will be stated in post. Some links may be affiliate links and as an Amazon Associate, I may earn from qualifying purchases. *