Welcome to the 643rd Metamorphosis Monday, a blog party sharing fabulous Before and Afters!
Is there something you love to collect? Maybe you have a beautiful doll collection. Or, if you love handbags as I do, perhaps you have a growing handbag collection. If I were a guy, I think I'd have a big necktie collection. lol I love shopping for ties for my son–both Hermes and Vineyard Vines make really fun ones!
These days, I try to avoid starting any new collections because I tend to go whole-hog once I start. I guess that's the way it is with any collection–if you are passionate about whatever you collect, it's natural to want to add to it.
I've been collecting Hermes Perfume Atomizers now for a few years. Can't remember where/when I first discovered Hermes made these colorful atomizers, it may have been at the Purse Forum. That's a dangerous site to visit–so many pretties posted every day!
When I started my collection a few years back, Hermes was still producing these colorful, leather-covered atomizers on a yearly basis. Typically they would produce them in the same leather colors they were making their handbags and wallets in for that year. The year I started my collection, Eglantine (the pale pink, third from the left) was one of the leather colors for that year. Etoupe (fourth from the right), Chocolate Brown, and the famous Hermes Orange (third from the right) are their staple colors that I think Hermes has always made available year to year. They continue to produce and sell those now at that website online.
This was my collection a few years ago–9 colorful, leather-covered atomizers. No one does color like Hermes! They are the expert in dyeing leather in the most beautiful, rich, pure colors! I think that's one of the reasons I enjoy collecting their atomizers–it's an easy, affordable way for me to enjoy each of the beautiful colors they create for their handbags and leather accessories.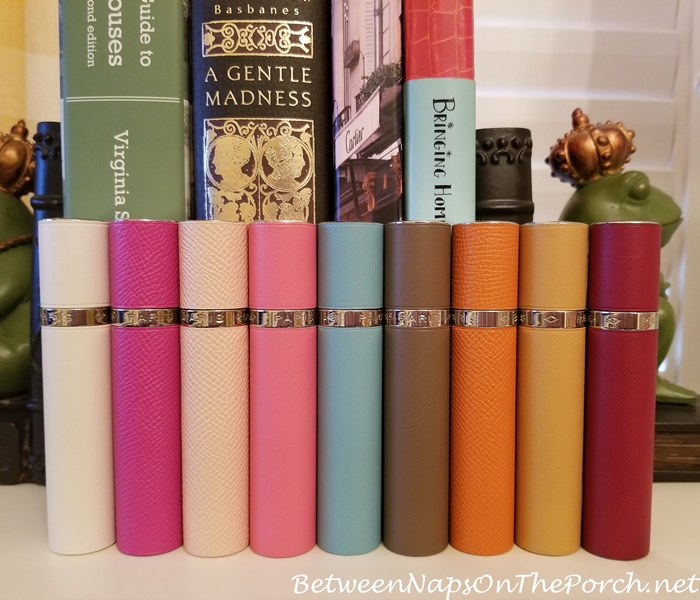 You may remember when I shared my atomizer collection in this previous post: My Hermes Perfume Atomizer Collection & the Perfumes They Hold. At that time, I had fun pairing some of my favorite perfumes with the atomizers, trying to match the perfume to the atomizer in the most logical, natural way. For example, the perfume Love in White, had to go inside the white atomizer. The only perfume I have by Cartier, Cartier Carat, definitely belonged inside the red atomizer. I'm not sure which Hermes "red" that is because Hermes has literally hundreds of different shades in any particular color that they make! My Tiffany perfume paired beautifully with the only blue atomizer I had which I think may be in the color Bleu Atoll. Or it could Hermes's Ciel Bleu.
Though this was a fun system because I could easily remember which atomizer held which perfume, as my collection has grown, I found this system was no longer working.
Now there were two blues–and a green, a purple, and a yellow.
As my collection grew, I started keeping them in a small, acrylic container that I think was designed to hold lipsticks.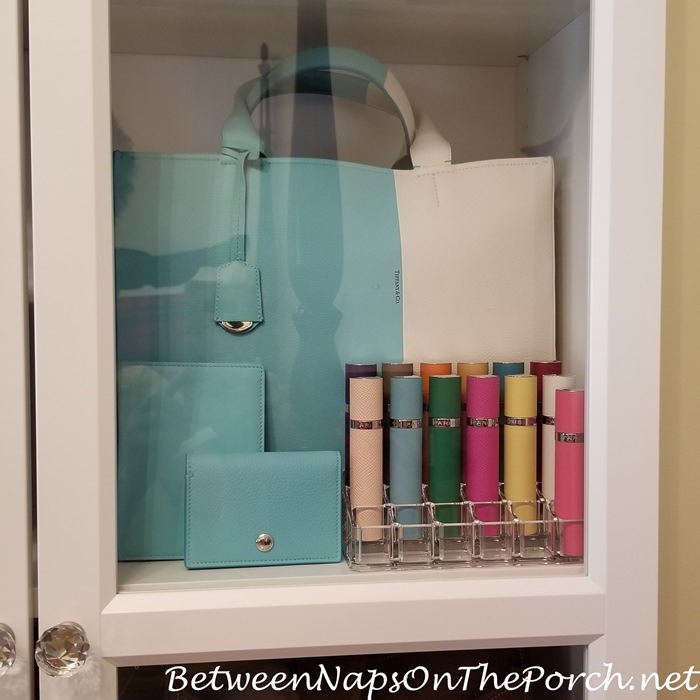 I normally store my atomizers in the same cabinet where I keep my small handbag collection. That's convenient because I can match the atomizer to the bag and pop it into the bag before I head out the door.
Though this has worked quite well over the years, recently I began to wonder if a chemical reaction could ever occur that would cause one of the atomizers to spontaneously combust or explode. Hermes atomizers are very well made and I've never had one even leak, but I know that it's possible for any liquid to potentially become unstable and weird stuff can happen.
One night while lying in bed thinking about this, I "Googled" the topic on my phone. Sure enough, I found a few articles where perfume bottles (not just atomizers) had suddenly broken or exploded. None of the articles mentioned the brand of the perfume. It's very, very rare for something like that to happen, but it made me think twice about storing my atomizers in the same cabinet with my handbags.
Over the past couple of years, I've added three more colors to this collection. I added a golden-brown atomizer in the Hermes color "Gold" seen on the 2nd row, far left. Hermes "Gold" was a color I had wanted to collect for a while since I have a handbag in that exact same color. I've also added one in Chocolate Brown (back row, third from the left) and a second red atomizer (second row, far right) in a bright red color.
I would still love to find a Hermes atomizer in the lime-green color that Hermes calls, Kiwi, as well as this darker green color shown below. I know they are out there somewhere! lol
About the only place you can find these atomizers today is on eBay. You can see those that are currently available here: Hermes Atomizers.
A Big Change
I've completely changed how I store my atomizers. Now, it's just the empty leather container that I keep stored here inside my handbag cabinet alongside my bags.
The actual perfume vials are stored in the vanity/sink area of my bathroom…
…the same area where I keep the rest of my perfume collection shared in this previous post a few days ago: All the Perfumes Currently in My Fragrance Collection.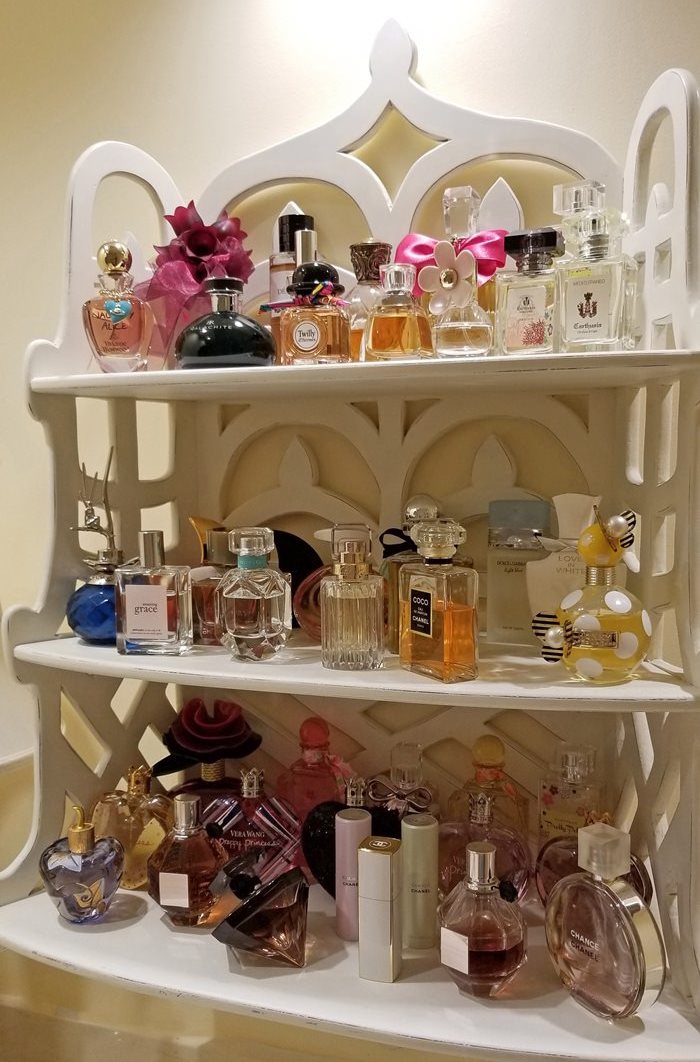 This system is working out well. Now I just choose the perfume I wish to wear that day and pop it into the leather perfume case that I'm using for the day. Even when I don't freshen up my perfume during the day, I love seeing that happy color inside my bag whenever I open it throughout the day.
I feel much better storing the actual perfume further away from the handbags. Again, chances are very slim that a bottle would ever suddenly leak, break, or explode, but I'd rather be safe than sorry. Hindsight is always 20/20, right?
Before I end this post, I have to share these towels I just ordered recently. Have you ever tried Turkish Cotton towels? They are AMAZING! I ordered them in white initially and loved them so much, I immediately ordered another set, this time in a summery lemon-yellow color.
They are sooo soft and so absorbent. I hate it when a bath towel (or dishtowel, for that matter) isn't absorbent and you have to rub and rub to remove the water. These are super absorbent and a definite improvement over my old towels. If you're in need of new bath towels, you'll find these in full 3-piece sets (towel, hand towel, and washcloth) for a great price here: Beautiful, Soft, Absorbent Towels.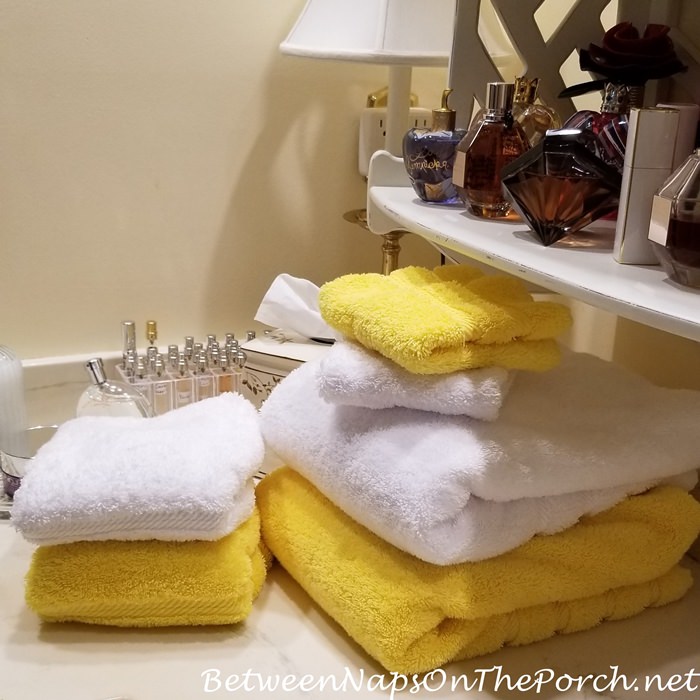 Looking forward to all the great Before and Afters linked for this week's Metamorphosis Monday!
Pssst: Did you know Between Naps On The Porch is on Instagram? You'll find me on Instagram here: Between Naps On The Porch.
Like to know when a new blog post is up and available to read? Subscribe for email updates, it's free and your email will never be shared.
Subscribe for free post updates via email here: Subscribe.
Metamorphosis Monday
Metamorphosis Monday is a party that's all about Before and Afters. Please link up your Before and After projects like DIY projects, room makeovers, craft projects even recipes. Any Before and After is great! Please do not link up Table Settings, save those for our Tablescape Thursday party on Thursday.
If you are participating in Met Monday, please link up using the "permalink" to your MM post and not your general blog address. To get your permalink, click on your post name, then just copy and paste the address that shows up in the address bar at the top of your blog, into the "url" box for InLinkz when prompted.
In order to link up, you'll need to include a link in your MM post back to the party so the other participants will have an opportunity to receive visits from your wonderful blog readers.
This party has ended, click button below for the links to all who participated.
*If a post is sponsored or a product was provided at no charge, it will be stated in post. Some links may be affiliate links and as an Amazon Associate, I may earn from qualifying purchases. *