Welcome to the 668th Metamorphosis Monday!
Last night I finally got around to changing from my spring/summer bedding…
…to my tartan fall/winter bedding. I'm slow getting it done this year, normally try to make the switch in early October. I think I delayed this year because I was still really enjoying the summer bedding–but it was time.
One of the things that always drives me crazy about my winter bedding is the limp, floppy flange around the tartan shams. Every year I hope to find a solution to make it stand up better, but so far that has not happened.
I took this photo early this morning with only the lamps turned on. The bed skirt is still a bit wrinkled, having just been unfolded last night. The wrinkles will finish falling out today. The flange on the tartan shams didn't miraculously fix itself while in storage in the closet over the summer, but I think I may finally have a solution–and it's been right under my nose all along!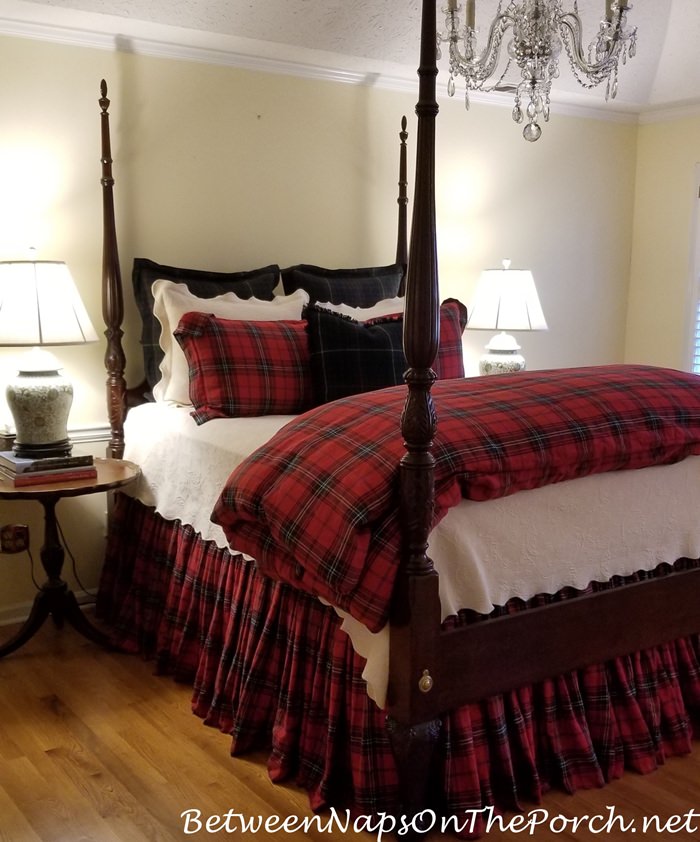 Last night when I was just finishing making up the bed with the tartan linens, I noticed this opening across the top of the tartan sham case. What is this?! Then a light bulb went off! How have I not ever noticed this before?!?! Oh My Gosh–I think that's an opening where you're supposed to put something inside to help the flange stand up! That opening/pocket runs the entire length of the top of the flange. I wish I still had the original packaging–wonder if it mentioned anything about that top pocket across the top?
Last night I was thinking about what I could put inside that long pocket to make the flange stand up, but not look completely unnatural. I ended up ordering this foam stuff that's 1/4 inch thick. It will arrive on Tuesday.
I know it looks a lot thicker in the photo, but it's supposed to only be 1/4 inch thick. Once it arrives, I'll cut a strip from the roll and try it in the pocket across the top to see how it looks. Last night, just for fun, I put a longish piece of cardboard in the pocket. It was too thin and the flange fell right over, but it does appear the pocket runs the full length across the top. Hopefully, the foam will work a lot better, especially since it will be a lot longer than the cardboard I experimented with last night. (Foam is available here: Foam Roll.)
Have you ever purchased shams with a pocket across the top? Does everyone know about that pocket except me? lol How have I not ever noticed it before?! I feel like such a dummy that in all my time trying to think of a fix, I never noticed that long pocket! I could have fixed the floppy flange issue a lot sooner!
I hope the foam will help, but I don't want it standing at attention like a soldier. If the foam makes it too stiff, I'll have to think of something else. I don't want to use stuffing because I want a nice clean, straight edge, but again, don't want it to be ridiculously stiff. I'll let you know if the foam works–I'll share a photo either way so you can see how it looks with a strip of foam inside the pocket.
Would love to hear your thoughts and if you've ever bought shams with a pocket like this across the top. If so, what did you place inside the pocket? (Tartan Bedding is available here: Tartan Bedding.)
Looking forward to all the great Before and Afters linked for this week's Metamorphosis Monday!
Pssst: Did you know Between Naps On The Porch is on Instagram? You'll find me on Instagram here: Between Naps On The Porch.
Like to know when a new blog post is up and available to read? Subscribe for email updates, it's free and your email will never be shared.
Subscribe for free post updates via email here: Subscribe.
Metamorphosis Monday
Metamorphosis Monday is a party that's all about Before and Afters. Please link up your Before and After projects like DIY projects, room makeovers, craft projects even recipes. Any Before and After is great! Please do not link up Table Settings, save those for our Tablescape Thursday party on Thursday.
If you are participating in Met Monday, please link up using the "permalink" to your MM post and not your general blog address. To get your permalink, click on your post name, then just copy and paste the address that shows up in the address bar at the top of your blog, into the "url" box for InLinkz when prompted.
In order to link up, you'll need to include a link in your MM post back to the party so the other participants will have an opportunity to receive visits from your wonderful blog readers.
This party has ended, click button below for the links to all who participated.
*If a post is sponsored or a product was provided at no charge, it will be stated in post. Some links may be affiliate links and as an Amazon Associate, I may earn from qualifying purchases. *