Welcome to the 167th Tablescape Thursday!
It was a gorgeous day here so I spent some time playing outside on the porch. The leaves are changing and the fall colors are spectacular. I brought those colors to my table setting for Tablescape Thursday. I shopped the house and snagged a floral arrangement from the family room for my fall tablescape.
I liked it, but ultimately I changed it out for…
…this lantern I purchased at Old Time Pottery a few months back. I loved how the lantern looked with the dark metal flatware.
Now that some of the leaves have fallen from the very tops of the tall trees in my backyard, the sun is finding its way onto the porch on these beautiful fall days.
I just noticed this pic was taken before I removed the witch from the swing. lol I did move her at some point during the picture taking today. I still have a bit more Halloween decor to put up. Do you have all yours put away?
It's so rare that I get to use these heavy amber glass chargers. I found these in the clearance isle of Hobby Lobby a couple of years ago. They ended up being only $22 for all six.
Remember the acorns I had hanging from mugs in THIS fall tablesetting and THIS fall teascape? Today they are napkin rings for our fall table.
The dinner plate and bowl in this table setting are from the Colorwave Collection by Noritake. The brown color of the bowl and red on the rim of the plate were a perfect mix for a fall tablescape.
One of the nice things about the Colorwave china is how well the solid colors, pair with a patterned salad plate. This means that by just changing out your salad plates, you can create a whole new look for the seasons. The acorns on the salad plates mimicked our acorn napkin ring. Flatware is Gourmet Settings Treble Clef available HERE.
You may remember these cute striped glasses from this previous fall table setting, HERE. Written in lovely script, the glasses convey several mesaages. Around the top they say: "Smiles, Laughter, Hugs ♥ Family, Memories are made of this. ♥ " And around the bottom: "Home is where my heart is." and "Enjoy the little things." The words "Friends," "Family" and "Home" appear in large script in various places on the glasses, too. That just says it all, doesn't it?
The beautiful amber stemware is "Breeze Amber" by Noritake. It's considered casual glassware but it is sophisticated enough to easily use in a formal setting, too. I love this color for a fall or Thanksgiving table setting!
A few evening views just before nightfall…
The black lantern is so pretty silhouetted against the colorful fall leaves on the trees.
Looking forward to seeing all the beautiful table settings for this Tablescape Thursday!
Resources:
Chargers: Hobby Lobby, 2-3 years ago
Dinner Plate and Bowl: Provided by Noritake from their Colorwave Collection
Salad Plate: Walmart, this season
Flatware: Gourmet Settings Treble Clef available, HERE
Striped/Script Glasses: Dollar Tree, 1-2 years ago
Amber Stemware: Breeze Amber, provided by Noritake
Beaded Napkins: Pier 1, a few months ago
Rustic Acorns: Hobby Lobby, 2-3 years ago
Lantern: Old Time Pottery, a few months ago
Mosaic Glass Votive Holders: Kohls, 3 years ago
Looking forward to your beautiful tablescapes!
To receive the latest posts, as well as updates about blog parties, subscribe via an RSS Reader or have BNOTP delivered right to your Inbox. You'll find links to subscribe via RSS and Email on the sidebar to the right. Thanks for reading; so glad you are here!
Reading this post via e-mail or RSS feed?
*If you are reading this via email or RSS feed, to view all the tablescapes linked for Tablescape Thursday, click HERE.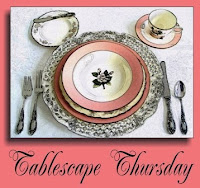 Please Read:
If you are participating in Tablescape Thursday, please be sure to add your permalink below, and not your general blog address. To get your permalink, click on your post name, then just copy and paste the address that shows up in the address bar, into the "url" box when you link up.
If you would like to use the Tablescape Thursday logo button in your post, just copy and paste it to your computer and upload it to your post as you would any photo. Or, grab the html code you'll find under the "BNOTP Parties" heading at the top of this blog.
Please link back to the party so your regular readers will find all your fellow Blogger's tablescapes, too.
Please, don't add your post name/blog name ALL IN CAPS…it tends to create big spaces between the rows of links. Thanks!
Let's try something fun today! Please visit the person who linked before you and after you…that way everyone will get some visits. Hope you'll visit more, of course.




Welcome! Thanks for coming to the party!